End of Joko Tjandra's flight
Criminal fugitive in the case of the Bank Bali payment rights, Joko Soegiarto Tjandra, was brought back to Indonesia by the police on Thursday, July 30.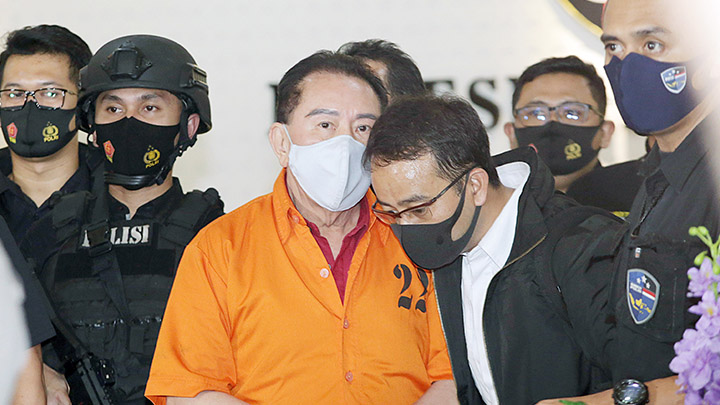 CHIEF of the National Police Criminal Unit Comsr. Gen. Listyo Sigit Prabowo stated, Joko was apprehended by the Malaysian police. "The entire process happened very quickly because he was handed over to us by the Royal Malaysia Police," said Listyo at the Halim Perdanakusuma Airport, Jakarta.
According to Listyo, Joko was nabbed in a spot in Kuala Lumpur. Prior, Indonesian Police Chief Gen. Idham Azis had corresponded with the Malaysian police upon knowing the whereabouts of Joko's position. The cooperation with the Malaysian police continued for two weeks. Sigit said Joko Tjandra's arrest was at the direct command from President Joko Widodo.
Joko entered Indonesia to submit a request for review of his case to the South Jakarta District Court on June 8. This owner of the Mulia Group even had time to have an electronic ID card (e-KTP) and passport issued. Joko had fled to Papua New Guinea in 2009. Recently, he is suspected of often doing activities in Malaysia.
The police have also placed Joko's attorney, Anita Kolopaking, as suspect. She allegedly lobbied the former chief of the crime unit's civil servant coordinating and oversight division, Brig. Gen. Prasetijo Utomo, to issue Joko a letter of permit to travel from Jakarta to Pontianak, West Kalimantan, on June 18, and return to Jakarta on June 22. Prasetijo, who accompanied Joko to Pontianak, was sacked from his position. He has been made a suspect of forging a fake letter.
Anita cannot be asked to respond because her cell phone is inactive. Chief of the Police Public Relations Division Insp. Gen. Argo Yuwono said Anita was deemed a suspect after investigators examined 23 people. "They comprised 20 persons in Jakarta, three persons in Pontianak," said Argo. Another sacked high ranking officer is chief of sub-section for monitoring and evaluation junior attorney general planning bureau for nurturing activities, Pinangki Sirna Malasari, who met with Joko and Anita in Malaysia.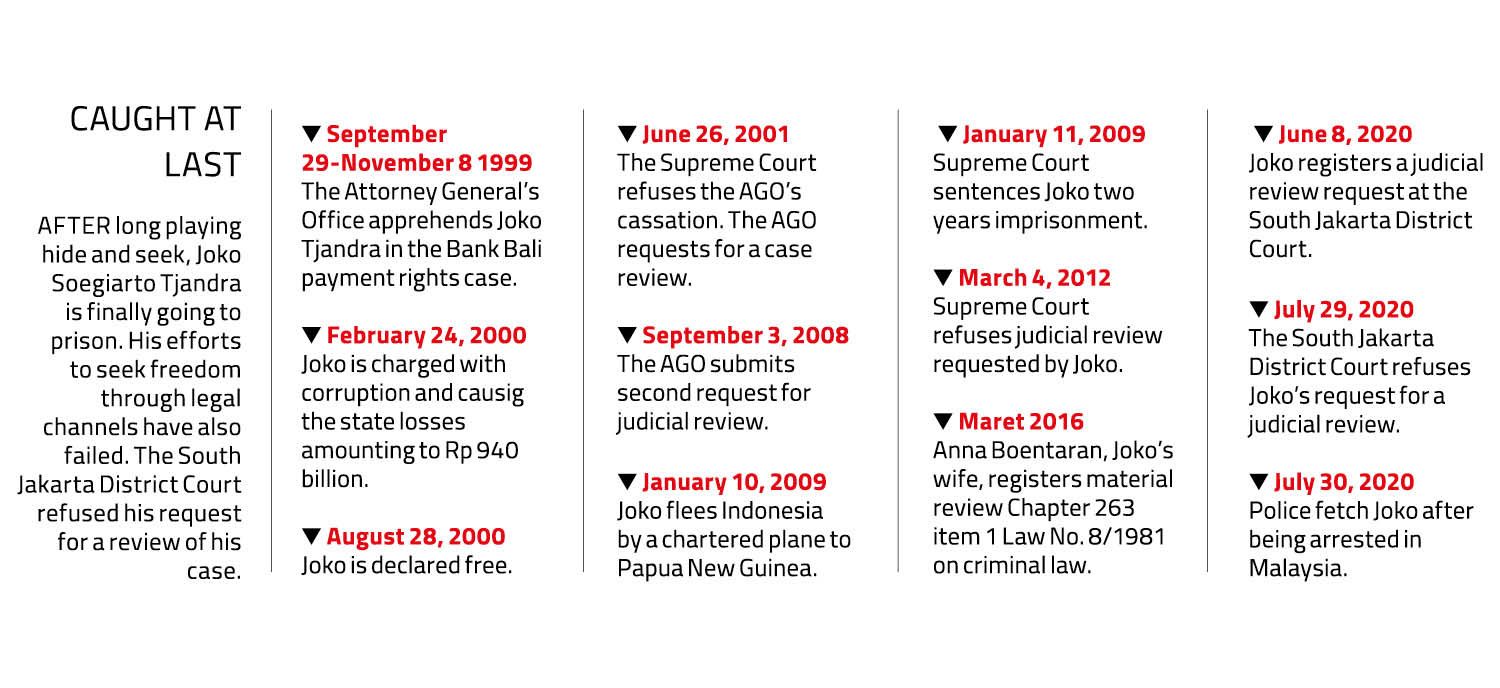 ---
Corona Clusters in Offices
THE Covid-19 response acceleration task force has noted 459 corona positive cases in 90 offices in Jakarta up to July 28. Of that, 141 cases are from 34 Jakarta provinical government offices. "In ministry offices we found 20 clusters with 139 cases, and10 clusters in government agencies and institutions with 25 cases," said expert task force member, Dewi Nur Aisyah, on Thursday, July 30.
Positive cases in State-Owned Enterprises offices number 35 and occurred in eight clusters. Meawhile 14 clusters with 92 cases occurred in private company offices.
Task force spokesperson, Wiku Adisasmito, on July 28, said positive cases in the capital city increased from 1,880 to 2,679 cases in the span of one week. Jakarta Deputy Governor Ahmad Riza Patria said the spike in positive cases occurred for lack of discipline complying to health protocols ever since large-scale social restrictions were relaxed.