He Never Betrayed Poetry
ESTEEMED poet Sapardi Djoko Damono breathed his last on Sunday, July 19. Esthetically speaking, his work achieved a level of its own in the Indonesian literary firmament.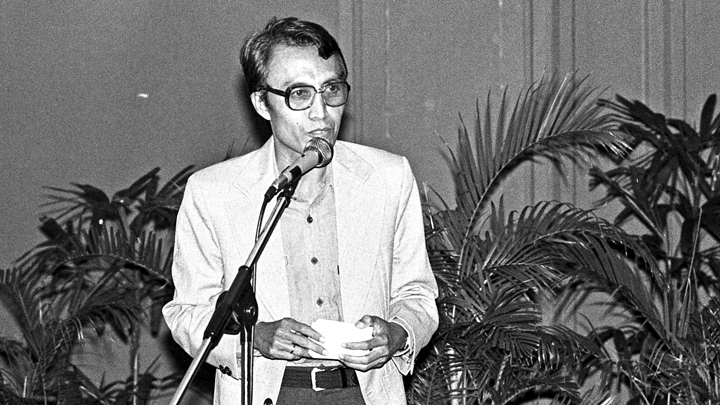 SOME of Sapardi Djoko Damono's poetry is much like an endless lake which waters if scooped will gel in the hand and transform into whatever they wish it to mean. But the way to delve into his body of work is to sail on those self-same waters.
Sapardi's words represent a life which on the surface looked like it was mainly made up of calm waters. In fact, the poet's life was filled with many contradictions: treading between a life not making any sense and one of calculated logic; between the Javanese language in thought and the Indonesian language in text; between a form so simple conveying content filled with complexity; between a wish for peace and facing unavoidable conflict.
Fellow poet Sutardji Calzoum Bachri once said, it was as if Sapardi's poems were written in Javanese and translated into the Indonesian. Many saw that statement as sharp criticism towards Sapardi's stilted use of language in his poetry. Yet Sapardi welcomed the comment. "Indeed, I do think in Javanese."
This admission explains several things, among them the matter of his poetic form which was orderly, disciplined, and calm, with words carefully selected from the dictionary so that readers would have no need to use one to get at what he was saying. Because of it, his poetry managed to achieve elevation and a certain pureness. He could focus on trying to get across a deeper message, while navigating playfully between a childlike cheerfulness and the deep pondering of a prophet
This is not to say he paid no heed to words. Instead he glorified them. The word is all in a poem, he once said in a talk that rocked the literary world, in 1969, when he launched his first anthology.
Sapardi was born on March 20, 1940, from a high-born Javanese family, bearing the full title Raden Sapardi Djoko Damono Mangun Sadyoko. He went to the Sekolah Rakyat Kasatriyan, an exclusive grade school for boy children from within the court of Surakarta, Central Java. "I really feel I was educated into becoming a Javanese," he once said.
Mangun Sadyoko, his father, Sapariah, his mother, together with Sapardi and his brother, moved addresses several times. His father gave up his work as a serving courtier and became a civil servant at the Public Works Office. While still in high school, young Sapardi would go to his father's office to beg for paper and to type up his poetry there.
Sapardi's story was a life of wrestling with language. Sapardi completed high school from SMA Margoyudan as the star student of the entire Surakarta regency, achieving a score of 9 for foreign languages, and only 7 for Bahasa Indonesia. With an average score of 8 plus, he could choose any university he wished. Yet he had not planned for tertiary education. "My father and mother's siblings had all said, 'Damono should just go to work, so that he will not become a burden,'" Sapardi related. Nevertheless, Sapardi got into Gadjah Mada University and elected English Literature after his school principal convinced his parents for him to do so.
Sapardi had already fallen in love with literature and poetry in his encounters with the works of T.S. Eliot, the British 1948 Nobel Prize winner for literature. While in high school, aside from being in awe of Indonesian poet W.S. Rendra, he was also agog with the verse drama Murder in the Cathedral. While Rendra's Balada Orang Tercinta (Ballads of the Beloved) was a dramatic piece of poetry, Eliot's Murder in the Cathedral was a poetic piece of drama. Observing the possibilities opened up by the combination of language and genre, Sapardi's old love for literature was fired anew in university. He saw a means to convey that which did not make sense in ways that would make people feel it was acceptable.
Sapardi's first foray into what he loved most was a story he wrote in the Javanese language. While in middle school, he wrote about being sent off by his mother to go with his father to stay over for a few days at his stepmother's house. He submitted the story to a well-known Javanese language periodical, Panyebar Semangat. The editor, Pak Sin, rejected the piece because, "The story does not make sense."
The rejection made Sapardi realize that, in his life filled with things that made sense, there were things that 'did not make sense!' If he wrote about those no-sense things, people had a right to reject the work, but he himself could never refute them because they were his very own experience. Little by little his wish to convey all things that did not make sense continued to recur.
What did young Sapardi feel when writing poetry? I would say he came to an interesting sense of awareness. In several of his first works, Sapardi consciously positioned himself as poet. In a piece he composed on August 15, 1958, Dara Seorang, he related a character with the role of poet to keep his poem running smoothly.
dara melintas
pada penyair kenang melintas
(young girl passing by
to the poet memories pass by)
And so it was with the poem Pagi (Morning), Sapardi placed a poet in a situation that allows the reader to understand the poet's position through layers of querying.
di sisiku seorang penyair memegang cangkir kopi
dan aku sendiri memandang halaman muka
terkadang yang dinanti pantang menepi
dan duka tiba-tiba meloncat lewat jendela
(next to me a poet holds a coffee mug
and I, myself gaze at the front yard
sometimes that whom we wait for refuses to side over
and sadness suddenly jumps in through the window
Who is the poet next to me holding that coffee mug? An imaginary friend? Most likely the teenaged Sapardi, no longer a child, had no more need for imaginary chums like that. But a poem is a poem. It is a restructure of experience, and above all imagination. Something was calmly contained within Sapardi, which he expressed with the metaphor of a poet holding a coffee mug.
Sapardi began his life as a poet with a certain awareness, that the language he used was his second language—not wishing to outright call it a foreign language—and that reality was only for today. Things that had passed immediately became fairytales. This was why he never wrote a memoir, nor an autobiography. The stories of his life he simply slipped into his prose works, in particular in Pengarang Telah Mati, Suti (The Author Has Died, Suti).
Sapardi came to Yogyakarta with his head held high. He was a brand-new student yet he was a published poet who had already passed muster with H.B. Jassin, the editor of the renowned Mimbar Indonesia literary periodical, and also several other important periodicals in Jakarta. Education in his day was more 'relaxed', making it possible for Sapardi to actively participate in drama performances, play music, have radio shows, and become a productive writer.
His foray into all things artistic almost made him too lax about his studies. If it was not for Professor Kenneth Lendon, the dean of the Gadjah Mada University Faculty of Literature, being kicked out of the country by the Sukarno regime, Sapardi may never have completed his undergraduate studies at a rapid clip. In that year, 1964, Sapardi needed only two weeks to finish his mini-thesis, the requirement to graduate, about—what else?—Murder in the Cathedral.
Sapardi attended the Conference of Indonesian Working Authors in Jakarta, in March 1-7, 1964. That very first gathering of some 400 literary-minded people resulted in a declaration to support the Cultural Manifesto. Sapardi willingly and with awareness signed the declaration, in fact he became its 'campaign advocate' in Yogyakarta. This was one of the sources of tension in the life of Sapardi, the poet. His steadfastness in keeping pure the poetry he upheld was not only an ideological stance but was also driven by his sense of esthetics.
This is apparent when one reads Sapardi's letters to H.B. Jassin and Goenawan Mohamad, two people he trusted absolutely.
To Jassin, in a letter in early 1964, Sapardi wrote, "Some Indonesian poets have taken disgusting steps to 'uphold' poetry. They are enmeshed in their own bewilderment, thinking that poetry has lost its footing in the community, in the development of society. They have even resorted to make themselves so-called heroes. And are posing as if they are helping poetry from its 'downfall'. Also, they have created 'poems' filled with speeches and sermons concerning humanity and progress. They have betrayed poetry. They have pushed 'values' which they think are 'practical', and as a result have shoved aside poetry itself. I personally will always refuse to dub such verses with the name poetry."
To Goenawan Mohamad, among other things he grumbled about the imbalance of the center and regions. "As for so long now I keep grumbling to you, the sky for the regions are becoming ever lower." But then he quickly humbles himself. "Ah, maybe it's only I, myself thinking too much of himself. I, who all this time think I am experiencing intellectual solitude, really do need to hurriedly end this, even if it is only through being in correspondence with you."
The literary magazine Horison as if opened a pathway for Sapardi to come to Jakarta. In 1973, poet Taufiq Ismail went to Semarang to offer Sapardi the positions of executive director of the Indonesia Foundation and managing editor for Horison. Sapardi left his posting at the Diponegoro University. He continued his career as civil servant at the University of Indonesia, up until the period he became the dean of the Faculty of Literature.
In the hands of Sapardi, Horison, the periodical which had already made a name for itself, strengthened its position as the compass and barometer of literary development. But it also created other tensions which came to a peak with the 'Poetry On Trial' incident in 1974. His name was specifically mentioned in the charge by prosecutor Slamet Sukirnanto: "The editors of literary periodicals, Horison (Sapardi Djoko Damono) in particular, are put on long furlough."
Horison also forged a path for never-ending conflict. In 1993, Sapardi submitted a letter of resignation published openly in the pages of Horison, "…some things have happened which I do not fully comprehend, and which is causing me a slight bit of anxiety. Because of this, I herewith tender my resignation…" In 1997, Sapardi began publishing the three-monthly Jurnal Puisi (Poetry Journal).
Sapardi's biggest fight to defend poetry was after reaching his pension age, when he withdrew all his books from the publisher. He was disgruntled that his author's rights had never been taken care of. He was convinced that poetry had a market and that poetry anthologies could sell. He proved this with Editum, the indie publishing house he managed himself. "I never counted how many times we reprinted. The main thing was when we ran out, well, we simply ran off another reprint," he said.  
It took two full years for a major publisher to reinstall Sapardi's trust in the book industry. I think Sapardi passed on Sunday morning, July 19, with pride and happiness. All his books, at Gramedia Pustaka Utama publishing house, have gone into reprint and are best-sellers. The same went for his novel, Hujan Bulan Juni (Rain in June) which had even been made into a movie.
While Chairil Anwar completed the initial work of modernizing Indonesian poetry, Sapardi was a person who spread much fertilizer, who made sure new shoots had started to grow, and tended diligently to their progress, keeping them safe from—borrowing the words he had used in his letter to Jassin—"those who had betrayed poetry." To be sure he was not alone in doing this. But to the end of his life, Sapardi never wanted to stop doing the work he was doing.
HASAN ASPHANI, WRITER