Animal Defenders Indonesia Founder Doni Herdaru Tona: This Shelter is Not Paradise
Having established the Animal Defenders Indonesia Foundation in 2011, Doni Herdaru Tona tries to rescue stray dogs and cats from abuse.
Edition : Monday, August 10, 2020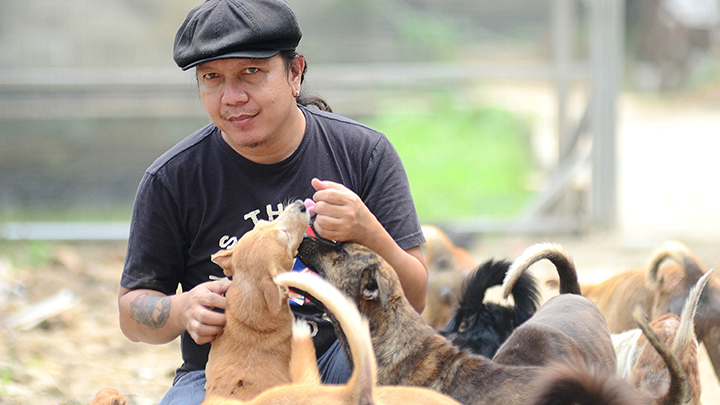 HOWEVER, Doni has been reported by musician Melanie Subono in 2017 for mishandling dogs in his shelters. Melanie reported Doni again to the Jakarta Metropolitan Police in June 2018 for fraud in gathering donations. To Tempo journalist Mustafa Silalahi, Doni reacted to all those accusations at the Animal Defenders shelter in Parung, Bogor, West Java, on Thursday, August 6.
You have been accused of mishandling dogs in shelters...
That's not true. You can see for yourself how enthusiastically these dogs welcome me. Dogs dying in shelters or clinics is not unusual. A shelter is not some paradise for them to live eternally. But they die surrounded by love, not discarded on the street.
Melanie Subono accused you of abusing her dog till it died in April 2017.
I invite her to come up with proof. If it turns out to be true and there's evidence, I will hang myself. If it is unproven, the police won't pursue it, which is what they are doing now.
How did the dog die?
The dog was called Nina. She died curled up in front of the door in the room where she slept. She was ill, and the medical records are right there. I paid for her treatments. I have all the evidence. This accusation is not valid. Many dogs die because of illnesses they contracted on the street. I even placed the dog in my employee's room which had air-conditioning unit.
What are the treatment costs of dogs and cats at this shelter?
We have some 100 animals now. Every month health treatments cost about Rp50 million. For dogs we rescue from the streets, it usually takes between Rp2 million and Rp4 million. One time, we spent Rp20 million to rescue one dog in Samarinda, East Kalimantan.
Where do you get the funds for those treatments?
We used to campaign to get donations. The social affairs ministry embargoed our foundation because of the report in 2017. But now there are parties that donate without being asked. If people send us money and food, why would I refuse that?
It is said that some donate up to tens of millions of rupiahs?
No. Those amounts usually come from groups. We once announced our request through Instagram. We obtained up to Rp120 million. That money was immediately used up as monthly treatments are quite expensive.
You were accused of embezzling donations to the foundation.
In fact, we're deep in debt. There's nothing ostentatious about me. My car is my in-law's. We don't throw money around. We are currently trying to obtain more funds by developing operations, from offering animal maintenance services to consultancy. Once we're financially independent, we will give daily reports of any donation sum.
Why do you use your personal account to receive donations?
It is indeed my mistake to use my personal account. In fact, the foundation has its own account. However, the process of making funds liquid is complicated and long. There are three accounts under my name, divided into personal, operational (of the foundation) and business accounts.
Is it true that you and Animal Defenders Indonesia have been banned from one of the donation-gathering institutions?
I chose to get out as we were undermined when trying to cash in public donations. It had to do with a sum of some Rp50 million. There were other institutions that were in the same boat.
W251bGwsIjIwMjEtMDQtMjEgMTU6MTM6MTkiXQ