Agus Dwi Susanto, Chairman, Indonesian Society of Respirology: Covid-19's Manifestations Are Getting More Varied
The number of health care workers dying from Covid-19 continues to climb. The Indonesian Medical Association has recorded that as of August 4, 74 doctors in total including three lung specialists who directly handled Covid-19 patients have died.
Edition : Monday, August 10, 2020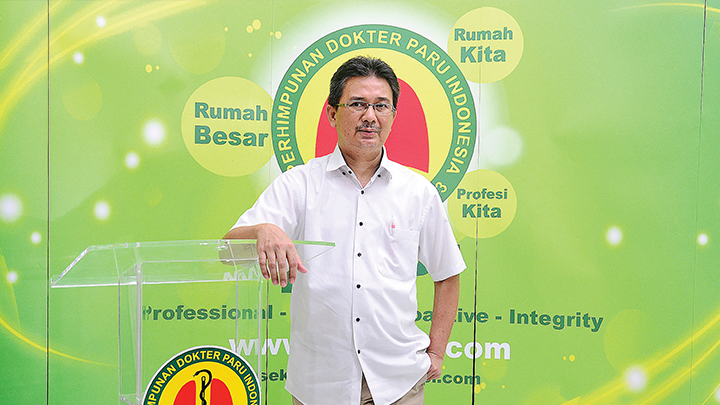 THE third and the last last lung doctor to lose life while fighting the deadly virus was Andhika Kesuma Putra of the Dr. G.L. Tobing Hospital in Deli Serdang Regency, North Sumatra who passed away on August 1 after battling the disease for two weeks.
Agus Dwi Susanto, Chairman of the Indonesian Society of Respirology (PDPI), said 36 out of 1,167 pulmonologists in Indonesia were Covid-19 positive and three had already died albeit their adherence to the prescribed health protocols. "This shows that medical professionals are still susceptible to infection," Agus told Tempo last Monday, July 27.
He added that the Covid-19 management faced a highly dynamic situation given a wide variety of early symptoms shown by Covid-19 patients. The medical community has even dubbed the Covid-19 "a disease with a thousand faces." As the disease continues to evolves, the challeges doctors face in treating the burgeoning number of patients become even more unsurmountable. "I got information that there's an increasing demand for ventilators," Agus, 45, told Tempo.
Agus received Tempo reporters Mahardika Satria Hadi and Nur Alfiyah at the PDPI headquarters in East Jakarta. The doctor who manages Covid-19 patients at the Persahabatan General Hospital in East Jakarta explained various Covid-19 symptoms, the vulnerability of medical professionals to the coronavirus as well as the strategy to cope with the limited supply of medicines. The interview was supplemented with additional WhatsApp chats on August 4.
Since the large-scale social restrictions were relaxed, the number of Covid-19 cases has ballooned. How are the referral hospitals coping?
Cases are escalating. Lung doctors reported on August 3 of increasing demand for ventilators. Hospitals particularly in the regions where there are large outbreaks including referral hospitals in Jakarta are full. The intensive care unit in the Persahabatan hospital is also full.
How are the conditions of the patients being treated at the Persahabatan hospital?
On average, serious as it is a referral hospital. Most patients are between 30 and 70 years old and the majority of them—around 70 percent—have comorbidity, usually diabetes or hypertension. From the total 510 confirmed cases since March, around 26 percent has died.
The death toll among doctors also continue to climb inspite of government's statement that we have more than sufficient personal protective equipment (PPE). What exactly has happened?
We coordinate with the Indonesian Medical Association (IDI) to look into this. The association has set up a team to audit why so many medical professionals were infected. For lung specialists alone, 36 out of 1,167 specialists have been tested positive for Covid as of today. Three have died. This shows that medical professionals are still vulnerable to getting infected. The question is how they contracted it. Did they get it from patients or from other people? IDI needs to look into it.
Did they not strictly follow the health protocols?
That is one of the points IDI is evaluating. We and IDI always stress that the health protocols must be adhered to even among medical professionals within hospitals, from wearing masks, keeping distances to washing hands regularly. There may have been some laxity there such as taking off masks during group lunch or chatting. I can't draw conclusions yet as the audit is still ongoing.
How big is the risk faced by medical professionals who treat Covid patients?
How often they meet or visit Covid patients in isolation rooms plays a huge role even though they wear complete PPE. The more frequent their contacts with the patients, the higher their chance of getting infected. That's why there should be a regulation on how many times in a month a health care professional should come in contact with Covid patients to minimalize infection risk. On the other hand, fatigue is also believed to contribute to increased risk of infection.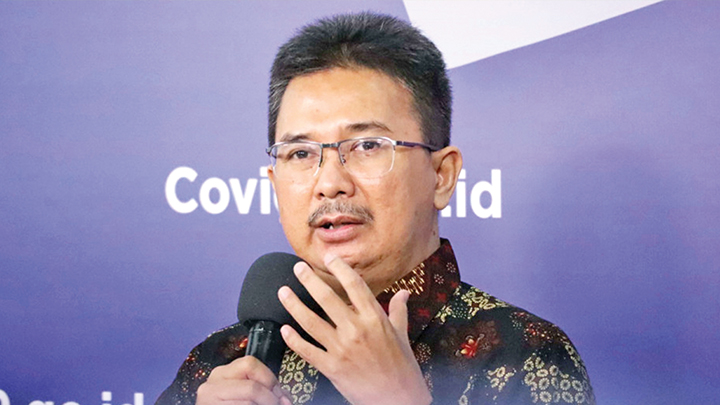 Agus Dwi Susanto at the media center of Covid-19 task force, Jakarta, last June./ National Disaster Mitigation Agency doc.
Are there any routine medical checkups for health care professionals?
PDPI advises all its members particularly those who have physical contact with Covid patients and those in the red zone to undergo periodic swab tests, at least every two months. In fact, we prohibit doctors over 60 to work due to their heightened risks. One of the facts about the high number of cases is that many occurred outside referral hospitals. We will analyze the proportion of non-lung specialists who were infected. There are not many lung specialists among infected specialists.
Is it contributed by the relaxed health protocols since non-lung specialists don't directly handle Covid patients?
Specialists other than pulmonologists usually work in non-referral hospitals. They do wear PPE, but what type of PPE do they use? Do they only wear surgical masks when some patients who come for non-Covid complaints can have Covid? For instance, a patient went to see a psychiatrist for anxiety turned out to be Covid-19 positive.
Covid symptoms are evolving. Are there new symptoms that the public should watch out for?
Previously, symptoms used to be only fever, cough, sore throat, headache, weakness, shortness of breath and nasal congestion. But more and more new symptoms have emerged. Now patients show symptoms such as diarrhea, nausea, vomiting without respiratory problems.
Does it mean Covid-19 can also attack the digestive system?
Yes, because besides on the respiratory tract and lungs, the ACE2 receptor is also present on the digestive tract, heart, kidney and the brains. All the blood vessels have this receptor, therefore, Covid-19 can attach to the blood vessels and attack the organs. Some patients reported smell and taste dysfunction or some have headache as a more dominant symptom.
Have you seen cases with unusual symptoms?
There was a report from our colleagues at the hospital of the University of Indonesia in Depok (West Java) that a patient was tested Covid-19 positive via the spinal fluid test although the swab test result was negative.
How could that happen?
The patient had a persistent headache, a sign of central nervous system problems. After the patient was tested negative via the swab test, they performed a lumbar puncture and tested the spinal fluid and the result came back positive.
Are there more cases with unusual symptoms?
A patient in Banten had itchy and red skin. The x-ray showed the patient had pneumonia so a swab test was performed and the result showed he/she had Covid. So urticaria in this case is the early manifestations of Covid infection. The book titled Skin Manifestations of Covid-19 published in Europe explained about Covid-19 patients who exhibited symptoms via skin disorders. This is one of the reasons why so many non-lung specialists get infected. They didn't suspect that those were Covid symptoms. There was also an incident in another country where a patient went to an eye specialist with red watery eyes supposedly from conjunctivitis. The doctor swabbed the eye discharge and the test came back positive.
Amid the soaring number of infections, how is the distribution of medications in hospitals going?
There are no antiviral drugs available for Covid-19. The medication guidelines by healthcare associations aim to help mitigate the disease's impact on the patients. But the drug (supply) has been an issue from the beginning. That's why our medication guidelines were based on the available drugs in Indonesia. We can't possibly recommend sophisticated drugs that aren't available here.
For example?
For instance, vitamin C and E with zinc usually suffice for mild symptoms. The regions should dispense drugs in accordance with their available supplies. Give highest dose for vitamins only.
What drugs are still scarce?
The drugs currently being used for Covid are remdesivir, lopinavir-ritonavir, favipiravir, and oseltamivir. The most effective based on research is remdesivir but we don't have it in Indonesia. Then there's a combination of HIV drugs lopinavir and ritonavir which is not available in every region. Favipiravir or Avigan is a Japanese drug that must be imported. That's why we are using oseltamivir which was used for the bird flu. All the regencies have this drug. So, we recommend easily accessible drugs. Each region has its own drug distribution system.
How about hydroxychloroquine?
We recommended it from the start. Research in various countries show positive results. The drug which is used to prevent malaria is also available in Indonesia. We have quite a large supply. We also have significant supplies of antibiotics such as azithromycin and levofloxacin, so we use them in combination. Doctors in the regions have many options from such a variety of drugs we recommend. They usually give vitamins in combination with oseltamivir, vitamin combined with hydroxychloroquine or vitamin with azithromycin.
Are there patients who cannot be treated with these drug combinations?
Of course, there are. Deaths occur when there are no drugs to treat severe cases. Before we didn't have other treatment options such as convalescent plasma, stem cells, anti-interleukin-6, tocilizumab, dexamethasone, intravenous immunoglobulin therapy which are all expensive treatments. So, critical patients in the regions where advanced drugs are not available eventually die.
Is it true that drug distribution is still a major problem?
It is, at the beginning of the pandemic, but the government has been able to provide and distribute sufficient drug supplies to all the regions. What has now become the government's focus is in fact additional treatment options to stem the mortality rate. These options are not included in the treatment guidelines we published earlier. Now we're recommending them for critical and severe cases.
World Health Organization (WHO) once issued a warning against using hydroxychloroquine and chloroquine. What is your response?
To this date, we agree to still recommend both hydroxychloroquine and chloroquine. The WHO did indeed forbid the use because a research said that hydroxychloroquine could increase the risk of death. But the Lancet journal eventually retracted the article due to incomplete data. The WHO later recommended the drugs again.
Why did PDPI recommend hydroxychloroquine from the beginning?
Based on our experience. Even when the WHO banned it, we continued to use it. Several overseas studies have declared the drug to be effective. Reports from several medical associations also said that side effects did not increase mortality risk. Its efficacy is quite good on patient recovery. That's why we consistently use it.
What is the recovery rate among the patients who were treated with hydroxychloroquine?
We documented almost 900 patients from PDPI branches which reported the drug efficacy and fatality rate. We used the data during the discussions with the Covid-19 task force, the food and drug authority, and health care associations to rationalize the continued use of hydroxychloroquine. We also urge our colleagues to do clinical trials which are currently underway. We will again reevaluate (the results). If the results are not good, well, we will recommend to discontinue the use.
(The PDPI recorded the treatment history of 870 Covid-19 patients in Aceh, Medan, Padang, Riau, Jambi, Jakarta, Banten, Solo, Surabaya, Malang, Bali, and East Nusa Tenggara. Out of 506 patients who were given hydroxychloroquine, 416 or 82.8 percent survived. Another 364 were treated without it and 79.4 percent of them survived).
How does hydroxychloroquine work to combat the disease?
In principle, it inhibits viral replication reducing viral load and prevent cell damage.
Doesn't it have rather serious side effects?
It can cause nausea and vomiting. The Indonesian Heart Association reported that the risk of arrhythmias from the drug leading to death is low. However, in our recommendation, we advise against using it for patients with irregular heart beats. In addition, patients must be below 50 years of age and must be hospitalized because they should be monitored.
Recently, there has been a public uproar over statements from some celebrities that Covid-19 is a harmless disease. What did the PDPI do to straighten out the misinformation?
The Covid-19 pandemic is real and it affects the entire world including Indonesia. There are new cases everyday both in referral and non-referral hospitals with patients showing a vast array of symptoms. It means Covid-19 has a broad range of manifestations. The most common indeed are respiratory manifestations such as the upper respiratory tract infection, fever, cough, sore throat and shortness of breath. The public must be vigilant and strictly follow the health protocols.
---
AGUS DWI SUSANTO
• Place and date of birth: Kudus, Central Java, August 14, 1974 • Education: Bachelor of Medicine, University of Indonesia (1998); Master of Respiratory Medicine, University of Indonesia (2005); Consultant, Occupational and Environmental Pulmonary Diseases, Collegium of Pulmonology and Respiratory Medicine, Indonesian Society of Respirology (2012); PhD in Health Sciences, Gadjah Mada University, Yogyakarta (2014) • Career: Coordinating Medical Officer K-3, Blue Bird Group (2000-2015); Pulmonologist, Pandeglang General Hospital, Banten (2006-2007); Consultant JPK-3, Blue Bird Group (Since 2016); Staff Member, Department of Pulmonology and Respiratory Medicine, University of Indonesia (since 2008); Lung Care Team, Persahabatan Central Hospital, Jakarta (since 2008) • Organization: Secretary-General, Central Board of Indonesian Society of Respirology (2014-2017), Chairman, Indonesian Society of Respirology (2017-2020), Deputy Chair, Indonesian Sleep Society (2019-2021)
---
How do you tell the public that the perception that Covid-19 is not dangerous is very wrong?
Actually, whether it's dangerous or not is relative. The mortality rate in Indonesia which initially was around 10 percent is now 4.8-4.9 percent. The public clearly don't understand the numbers. Therefore, they need to be educated about how dangerous the Covid-19 is, which population is most susceptible and at high risk, and, most importantly, what can contribute to a better chance of recovery if one gets sick. The global recovery rate is around 80 percent. But it needs to be mentioned that around five percent of the population has died.
The WHO said that Covid-19 can spread through air. How dangerous is this?
Initially, airborne transmission was found to occur during special medical procedures such as intubation or installation of breathing aids, bronchoscopy, suction, inhalation, and nebulization that produce aerosols within a close distance. Personnel should wear level III PPE, a complete PPE, when performing these procedures. Later, it was found that the infection could spread via much finer microdroplets which can travel fast and linger in the air longer. They can float in the air for three to six hours. The airborne transmission raises the infection risk even at a distance of five meters.
How can we prevent ourselves from being infected?
Avoid crowds in closed areas particularly those with poor air circulation. Air purifier should be used if there is no ventilation to circulate the outdoor air into the room. Choose the ones that are capable of filtering out particles of 01.-0.2 microns, the size of the virus. These are quite effective ways although not 100 percent foolproof. And adhere to the health protocols at all times.
W251bGwsIjIwMjEtMDQtMjEgMTU6MTk6MjEiXQ