Research Collaboration to Build Innovation
Research and development institutions in Indonesia produce a number of strategic innovation products. Development and commercialization are accelerated through collaboration between research institution and the industry.
Edition : Monday, August 10, 2020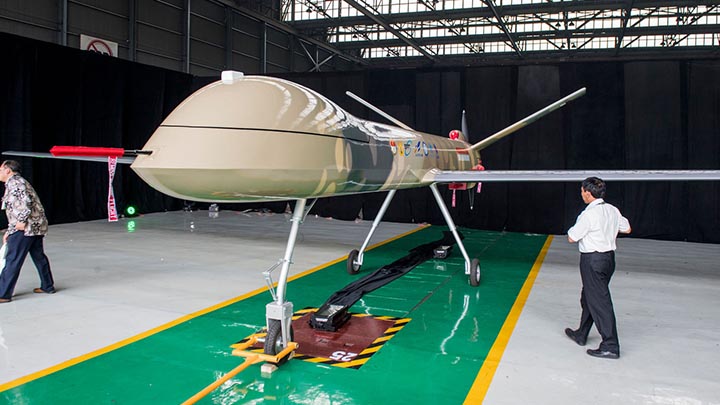 SEVEN kilometers of fiber optic cable stretches from Siberut Island, Mentawai Islands, towards the Indian Ocean. The Cable Based Tsunameter (CBT) was installed by a team from Baruna Jaya III research vessel from the Technology Assesment and Application Agency (BPPT) on Saturday, July 25, as part of the Indonesian Tsunami Early Warning System (Ina TEWS). Connected to the information network of the Meteorology, Climatology, and Geophysics Agency, this system is designed to detect tsunami along the Mentawai-Siberut megathrust segment.
The engineers employ a new method based on combination of CBT and wireless undersea sensors to build communication system technology for earthquake and tsunami early detection. This technology is jointly developed through collaboration between the BPPT, Pittsburgh University and Woods Hole Oceanographic Institution from the United States, the Bandung Institute of Technology, and Andalas University, Padang. "The success of this method marks a significant contribution that strengthens Ina TEWS and Indonesia's research community, it can also be used globally," said BPPT Chief Hammam Riza.
The BPPT had previously installed CBT in Sertung Island near the Anak Krakatau volcano at the Sunda Strait, and also in Sipora Island, Mentawai Islands. Last year, the BPPT laid four tsunami sensor buoys to enhance the Ina TEWS system. These equipments were put in locations prone to earthquake and tsunami, such as the waters south of Kuta, Bali; south of Malang, East Java; south of Cilacap, Central Java; and the Sunda Strait. Development of this earthquake and tsunami detection system represents the collaboration between Indonesian researchers and engineers in natural disaster mitigation effort.
Indonesia had once established a buoy network at sea after the devastating 2004 earthquake and tsunami in Aceh. However, due to limited funding, development and maintenance of these equipments came to a stop since 2013. The tsunami sensor network further deteriorated after the buoys were stolen.
Disaster mitigation is one of the priorities in national research program, as explained in the Research, Technology, and Higher Education Minister Regulation No. 38/2019 on national research priorities of 2020 to 2024. The regulation mentions nine focuses of research, namely food, energy, health, technical engineering, defense, maritime, humanities, arts and culture, and cross-sector. "Development of Ina TEWS early detection system is a major program of the BPPT," said BPPT Main Secretary Dadan M. Nurjaman.
W251bGwsIjIwMjEtMDUtMTEgMTg6NDU6MDUiXQ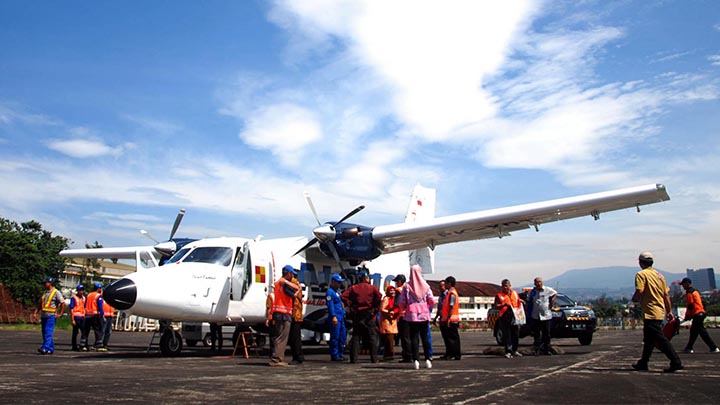 N219 aircraft in Dirgantara Indonesia's runway, Bandung, February 2018./TEMPO/Prima Mulia
Another successful collaboration between research institutes and the industry takes form in the development of Elang Hitam (Black Eagle) medium-altitude long-endurance unmanned aerial vehicle (PUNA MALE). Designed by engineers from a number of research institutes and ministries since 2016, the aerial surveillance vehicle may be modified into a combat version, which the BPPT has made as research priority for five years. "It would not be optimal if the BPPT worked on everything," said Dadan.
Hammam said that successful transformation of research into usable, and even marketable products is made possible by the driving force of the technology innovation ecosystem. The combination of human resources, facilities, and funding from a number of research institutes enabled the Covid-19 Research and Innovation Consortium, whose members include the BPPT and dozens of research institutes and universities, to produce various medical equipments such as ventilators, rapid test kits, and vaccine candidates, in just around three months. "If done individually, it could take up to two years to finish," he said.
Alongside the BPPT, main research institutes of the government like the Indonesian Institute of Sciences (LIPI), the National Institute for Aeronautics and Space (Lapan), and the National Nuclear Energy Agency (Batan) make up the backbone of the Indonesia's technology innovation ecosystem. They have a number of flagship programs. Even so, according to Dadan, the research and development process of innovation is made more effective by collaboration between research institutes, the industry, academicians, and the government. "Commercialization could be accelerated," he said.
The role of research is further expanded after President Joko Widodo signed the Law No. 11/2019 on national system of science and technology in August last year. The regulation also supports a planned interagency research collaboration within the National Research and Innovation Agency. LIPI Deputy of Technical Engineering Sciences Agus Haryono said that research results should be made as the foundation for policy making and national development. "Referring to that law, the state will be supportive towards science and technology," he said.
Another major project listed in the 2020 to 2024 national research priorities is the amphibious version of N219 twin-propeller light aircraft. This is a further development of the N219 born through research collaboration between Lapan and Dirgantara Indonesia (DI) since 2009. The 19-passenger aircraft took its first flight off the runway of Husein Sastranegara Airport, Bandung, West Java, in 2017.
The plane, which is modifiable to accommodate either for civilian, medical, or military transport needs, is expected to receive its airworthiness certificate by the end of this year. "Next, DI will begin production," said Lapan Chief Thomas Djamaluddin through WhatsApp message on Wednesday, August 5.
Djamaluddin said the amphibious N219 is jointly developed by the BPPT and DI. This aircraft is meant to serve as a transportation means between islands that do not have inland runways. "Development of the amphibious version (N219 A) is targeted to finish in 2023," he said.
Many research programs in Lapan, according to Djamaluddin, are still being restricted by limited human resource and fund. In order to improve the quality of their researches, Lapan engineers have been taking scholarships with major programs covering micro satellite, transport and unmanned aircraft, and remote sensing system in the last five years. As for the budget, Lapan requires at least Rp1.3 trillion in funding. Lapan's budget currently averages around Rp800 billion. "Aeronautics and astronautics research are considered as high technology, expensive, and risky," he said.
Djamaluddin said that it is not easy to convince the industry to enter partnerships in order to establish aviation and space industry ecosystem. Research results also have a long way to go before being admitted to production. Moreever, it also takes a long time for them to be included in the state policy because that would require proof of reliability and market potential. "Researchers only formulate policy drafts based on research data," he said.
Batan also encourages its younger researchers to pursue further education to accelerate the transfer of knowledge. Half of the around 2,300 employees in Batan are researchers and engineers. Batan is also facing a crisis of losing potential critical competence in the field of nuclear since far more of its employees are over 50 years old. "LIPI is coordinating graduate and post graduate study programs, by adopting a model that enables participants to remain in employment while conducting research. We are not losing employees," said Batan Chief Anhar Riza Antariksawan.
Anhar explained that Batan makes research on radiopharmaceutical—radioactive materials for medical purposes—as one of its priorities, aside from continuing the research on nuclear power plant infrastructure. Within the next five years, five radioisotope will be tested to be eligible for distribution permit from the Food and Drug Monitoring Agency. "Previously, we had six radioisotopes that have obtained distribution permit and are being used," he said.
One of the radioisotopes produced by Batan is Samarium-153. This radioactive element is used in therapies for late-stage cancer patients in a number of hospitals, particularly Dr. Kariadi General Hospital, Semarang, Central Java. Anhar said that Batan is capable of producing radiopharmaceutical materials. However, after innovations like this have passed the test and obtained distribution permit, their production is entrusted to the pharmaceutical industry, such as Kimia Farma. Their use in hospitals is also monitored by nuclear medicine specialists. "Cooperation with third parties is needed, Batan is not working on its own," said Anhar.