Government Rushes to Prduce Corona Vaccine
President Joko Widodo has allocated Rp25.4 trillion for public health, which also encompasses a budget to produce the Covid-19 vaccine.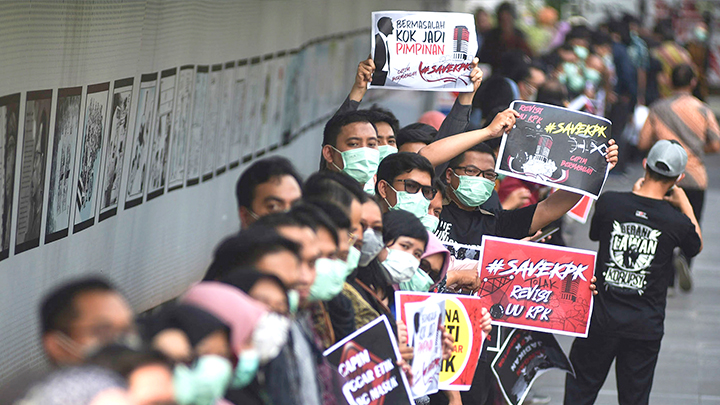 THIS was conveyed in a House of Representatives plenary session after the government presented the 2021 State Budget Bill and financial report on Friday, August 14.
Prior, the government had explored possibilities for a joint-cooperation with several countries to create a vaccine, the latest being with the United Arab Emirates (UAE). Coordinating Minister for Maritime Affairs and Investment Luhut Binsar Pandjaitan said Indonesia and the UAE are exploring a possible joint venture to produce a Covid-19 vaccine. Meanwhile on home turf, the government has also stepped on the gas to produce a Red-&-White (Indonesia) corona vaccine. "It will be the fruit of research by local scientists, so our Covid response will also maintain our independence," said Luhut. The government declared that vaccine injections will begin to be carried out starting January 2021.
---
KPK Staff To Become State Apparatus
PRESIDENT Joko Widodo signed Government Regulation No. 41/2020 on transformation of Corruption Eradication Commission (KPK) staff into state civil apparatus. KPK Deputy Chair Nawawi Pomolango said his institution is currently drafting the regulations supporting the transformation. "It is still in the drafting stage," said Nawawi on Sunday, August 9.
Former KPK chair, Abraham Samad, assessed the regulation contained the potential to weaken the militancy of KPK staff. "They were militant for being recruited into the KPK. And now they will no longer be 'KPK people'," he said.
Lecturer at the Gadjah Mada University Faculty of Economics and Business, Rimawan Pradityo, said the shift will produce inefficient performance in the KPK, because performance by civil servants is measured by their ability to absorb the budget, and is not based on active performance.