Letters from The Editor
It has been 20 years since Tempo English published its first edition. From the beginning, we always strive to provide the best quality journalism about the most important topics in Indonesian social, culture, business, legal, and political landscape. Of course, we had our ups and downs.
Edition : Monday, August 17, 2020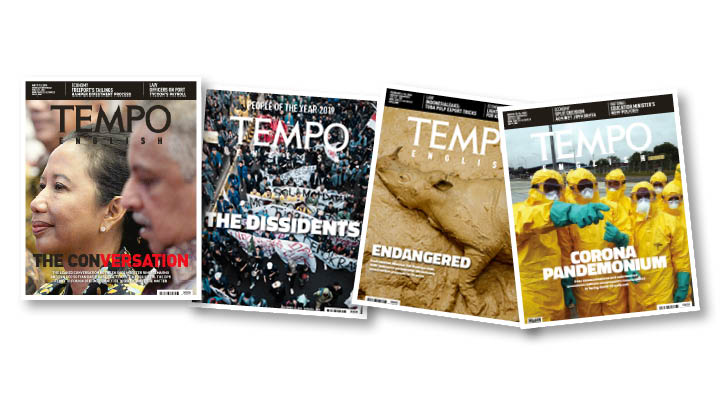 SOMETIMES that endeavor meets great challenge and criticism, and in other time we got appreciation and acknowledgment. No matter what happened, we keep on moving forward, because we understand the necessity of having a clear, reliable, and trustworthy voice about this country.
For two decades, we choose to keep publishing hard-hitting investigative journalism and insightful in-depth reports because we believe in you. We believe in your wisdom and in your choices, as long as you get the most complete, honest and accurate stories about things you care about. That is the reason why we exist: to help you understand the signals and remove the noises. Therefore, we are always ready to face legal threats or a wave of massive online protest from irritated parties, each time we publish a new investigative report. We are prepared to face the impact of our stories, because it is worth it when the public get the story right.
This August, almost one year into President Joko Widodo's second term, Indonesia's outlook has changed dramatically compared to last year. With a new cabinet filled with political appointees, Jokowi keeps making controversial decisions such as the omnibus law proposal, the new capital plan in the middle of Borneo's jungle, and repeated mishandling of Papua. Coupled with the President's deliberate move to let the House of Representatives issued a new law that weakened the respected Corruption Eradication Commission, and his blessings for his son and son-in-law to run in the next regional head elections, no wonder many that used to support Jokowi were left scratching their heads.
The Covid-19 pandemic made matters worse. It is almost certain that Indonesia will enter a recession this year. The whole country fell into a crisis after the first patient with Covid-19 was announced back in March. Soon after, it was followed by not-so-strict social distancing protocols and temporary closures of all big business and offices across Indonesia. It is fair to say that many of us have not recovered from that shock ever since. Up until today, most companies are still asking their employee to work from home. Many schools and public spaces are still closed. However, the government rushed to open up the economy although a better tracking and tracing methods are not yet implemented.
Nevertheless, the pandemic also provides opportunity. With the economy shrinking, our environment finally has space to breathe. For ordinary citizens, it is time to embrace the digital technology and fully utilize it to help navigate our new normal. Small and medium enterprises can also optimize this opportunity to catch up with bigger businesses, with smarter and more efficient strategies. For us in the legacy media, it is time to start the process to fully switch into digital platform.
W251bGwsIjIwMjEtMDQtMjEgMTQ6NTA6NDciXQ
One of the key success for a digital media is engagement. That is why we want to hear more from you. We want our relationship to be more conversational and interactive. Starting from this anniversary, Tempo English will be more active on social media. We also plan several multimedia formats and a podcast to help you get the latest news digitally. Last but not least, we want to create an online community that can provide a chance for you and our newsroom to discuss and debate important topics. The medium might change, but our journalism's principle and ethics will stay the same.