Unifah Rosyidi, Chair of the Executive Board, Indonesian Teachers Association: Government Should Not Pit Teachers Against Parents
Education and Culture Minister Nadiem Makarim's decision to implement distance learning system during the Covid-19 pandemic has opened a Pandora's box of problems. Countless teachers particularly those in the regions have found themselves overwhelmed.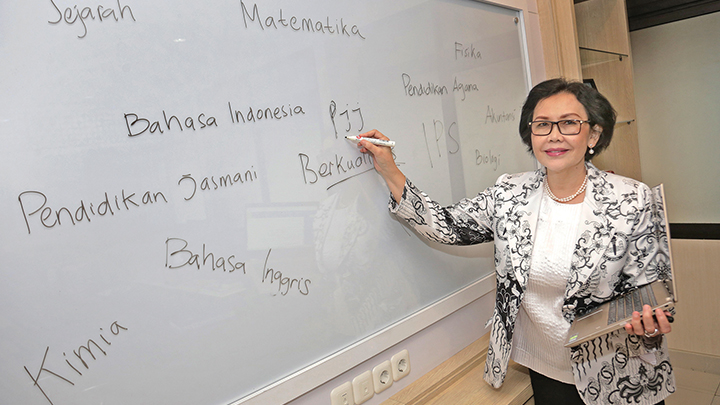 "They were unprepared and confused," Unifah Rosyidi, Chair of the Executive Board of the Indonesian Teachers' Association (PGRI), told Tempo during a special interview on Tuesday, August 11.
Besides the uneven access to the Internet and their own lack of technology savviness, teachers also lament about their inexperience about effective distance teaching methods. In many places in the regions, teachers do not have direct interactions with students in transfer of knowledge. It only involves a one-way communication as teachers are compelled to resort to using a more affordable instant messaging application.
Unifah, 58, said distance teaching and learning have gotten even more complicated as the government was unable to provide special curricula. As a result, teachers must meet the basic competency standards of the students amid abnormal conditions. "We asked the (education) ministry last March to provide us with special online curricula to be used during the pandemic era," Unifah said.
Unifah received Tempo reporters Mahardika Satria Hadi and Nur Alfiyah at her office for the interview. The mother of two who was installed as professor by the Jakarta State University last year discussed various matters, from the issues surrounding the distance learning program, the reason behind PGRI's withdrawal from the Mobilization Organization Program (POP), to the fact that PGRI is often approached by candidates contesting the general elections.
How does the PGRI evaluate the implementation of distance learning activities?
There are several major problems. Perhaps only 60 percent of the country has access to the Internet. Not to mention the social-economic conditions of the people. The inequality between the urban and rural areas, among rural areas or even among large provinces still exist. There is also the unpreparedness of teachers.
To what extent are teachers in the regions prepared to carry out online teaching?
Our mainstream before this had been direct teaching and learning. We almost never trained teachers for remote teaching. How teachers should master the devices, understand the substance, design quality material and teach through minimal interaction with students are the often-highlighted issues.
How did teachers in the regions react when Minister Nadiem announced the learning from home policy last March?
They were unprepared and confused. Many lamented they didn't know what or how the remote learning was. Some don't have Internet access.
Many students complained about piles of tasks and short time slots to work on them. How do things go in actual practice?
Exactly right. Teachers in general never received training on effective remote teaching. In many cases, teachers and students only communicate via WhatsApp to reduce Internet quota usage. That's the cheapest, right? But consequently, teachers can't check students' participation. If we want the distance teaching and learning activities to go effectively, we need at least three things: the Internet, adequate curricula, and a focused policy.
Didn't the ministry communicate with the PGRI about the learning from home policy?
The ministry's public communication is our concern. We always remind (everyone) that the education system cannot stand alone. It must listen. It must not be elitist only reflecting the conditions in Jakarta. Perhaps (Minister Nadiem) hasn't had time to meet with us. But for us whether we are counted in or not is not a big issue.
What sort of support does the PGRI offer to teachers facing constraints?
Last April, we gathered PGRI board members to set up a crisis center with the aim to help the public, parents and particularly teachers. We raised funds for honorary teachers who were facing economic hardship. Then, through the PGRI Smart Learning and Character Center across the regencies and towns, we provide teachers with necessary training on distant teaching.
What is the training material like?
For instance, how to design good distance teaching and learning materials including evaluation, how to involve students, etc. as teachers often face difficulties in getting the students involved. For example, about waste, we can urge students to learn from various aspects of lessons. Teachers can ask them what they should do with the waste. Topics can be adjusted with the level of students' capacity and capability.
The number of Covid-19 cases are still rising. Should distance learning be extended?
Yes, it can be combined (with face-to-face learning). We've entered the new normal era and we cannot predict when the pandemic will end. As such, the emergency situation should nonetheless end in December. That's why the government must focus on initiatives to overcome constraints, for example, adding Internet networks. I learned from my chats with some regional heads that they solicited collective participation of the communities and businesses. One of the villages in East Java, for example, has warung belajar (learning stall).
What about the special online curricula?
We've proposed to the government since March to prepare special curricula which we named school curricula in the pandemic era. We've asked the ministry too many times.
Has the PGRI also proposed curriculum concept to the ministry?
As regards the concept, there is Curriculum and Textbook Center. We have said that an emergency situation like this calls for guidelines for teachers. We call it guidelines because initially the government left it up to teachers to implement the policy. They said the bottom line is to provide meaningful education. What is meaningful education? It is still being debated.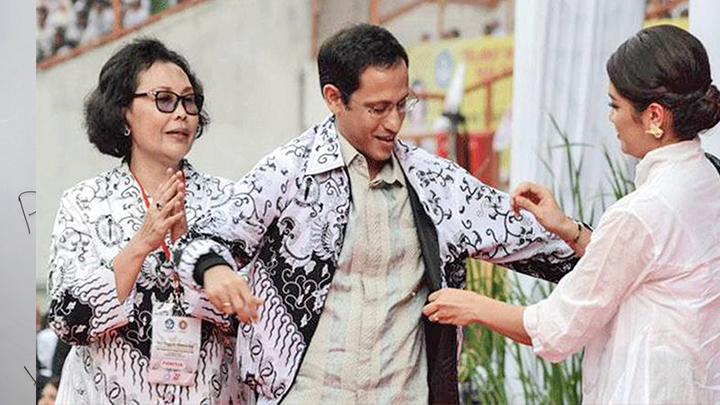 Chair of the Executive Board of the Indonesian Teachers' Association (PGRI) Unifah Rosyidi (left) and Education and Culture Minister Nadiem Makarim (center) at the celebration of 74th Anniversary of PGRI in Wibawa Mukti Stadium, Cikarang, Bekasi, West Java, November 2019./ANTARA
How does the PGRI communicate with the ministry?
Mostly via letter.
Did the ministry provide guidelines as requested by the PGRI?
They finally did. Some kind of guidance for teaching and learning during the pandemic but not specifically. In the guidelines are the 2013 Curriculum and the emergency curriculum but without attachments. We were asked to pick one.
(On August 7, the government released a document titled Adjustment of Learning Policies During the Covid-19 Pandemic containing among others mapping of hurdles faced by teachers, parents, and students at each school level in the remote teaching and learning process. The document also discusses expansion of in person learning in the yellow zone, emergency curriculum options as well as learning modules based on simplified basic competencies which refer to the 2013 Curriculum.)
How do teachers respond to the guidelines?
There are two curricula suggested in the guidelines. Will it make them confused? We are in an emergency situation. Why didn't the government expressly say that the emergency curriculum should be used so that all the regions can achieve a minimum standard. The regions can add more lessons based on the national curricula or regional context. This way, teachers in the regions will have a picture. That is important. In a situation like this, let's not cause 'knowledge deficit' in students, or competency deficit in teachers because they were never trained.
The PGRI decided to withdraw from Mobilization Organizations Program (POP) after receiving input from members and regional boards. What is their input about?
We, in making decisions, always use bottom-up and collective collegial approaches. We invited regional board members to speak up so everybody knows that we are a moral and intellectual force, not a political force. As regards POP, we don't mean to disagree. We just believe that the timing is not right. Imagine receiving a massive amount of money suddenly during a crisis like this. Do the organizations qualified to receive the money have the capacity to train the teachers? We also raised concerns about potentials for conflict of interest and fraud.
(The education and culture ministry announced 183 proposals from 156 organizations which passed POP's selection process. The organizations will receive funds based on three categories: Gajah (Elephant) which will receive maximum Rp20 billion per year, Macan (Tiger) Rp5 billion, and Kijang (Deer) Rp1 billion.)
The PGRI views that there are potentials for fraud in the program. What is the basis of this view?
Because there is a huge amount of money involved and we are the one to be held accountable for it. Just imagine, that huge money is for training in a short period of time and we don't know the mechanism. Perhaps it's possible to report in terms of administrative procedures before the actual work is completed. Instead of being impressed by the massive fund, we think about the aspect of integrity.
Do teachers really need POP?
The purpose is to increase the competency of teachers and school principals. If we want to be effective and efficient, there are already many institutions which can improve teachers' competency. For instance, Education Quality Assurance Agency and Center for Development and Empowerment of Teachers and Education Workers. They are present in all the provinces and they could be mobilized.
What are PGRI's recommendations to the Mobilization Organization Program?
We requested a comprehensive evaluation, including of new recruitments. A program must have a clear concept. Recruitments must be transparent, accountable and consistent. If we want to train teachers, we should be clear about what they will be trained for. Is it for teaching numeracy, literacy or character?
The Corruption Eradication Commission (KPK) is monitoring POP and views that the verification process is not adequate. What is your view?
Last Monday, we attended an online audience with KPK's research and development directorate and were asked to give our view on POP. I gave my explanation and let PGRI provincial board members speak so that everyone could grasp real problems in the field and why we didn't participate in the program.
What did they convey to KPK?
A lot. One of the issues we emphasized was that the government should not make statements that can cause a rift between teachers and parents. For example, the dysfunction of School Operational Assistance (BOS) fund as a populist, political budget. BOS's purpose was already defined but suddenly it was diverted to buy phone top up (for online learning). So, parents en masse went to teachers and school principals for the money which wasn't even there. This should not happen.
(The PGRI handed over an 11-page document containing its views and stance towards the POP to the KPK on August 10. In a copy which Tempo obtained, the PGRI explained, among others, the chronology—from its initial participation in to withdrawal from the program—the reasons, and its suggestions for evaluating the program's proposals.)
Is it true that the PGRI did participate in the POP's selection process?
We registered online in March. We have many members and boards under us. So, they all joined the crowd but failed because they belong to one legal entity. More or less the same happened to Nahdlatul Ulama and Muhammadiyah. The three organizations were rejected for the issue of legal entity although we have been standing for ages.
How did the PGRI react that time?
We were all anxious because we worried PGRI members below wouldn't get. Eventually I called the committee myself. "Do you seriously want to reject the PGRI?" The decision was deferred for two days until they said we were qualified after a strict verification process. We got two Gajah, however we had internal debate. Some questioned the accountability for such a huge amount of fund, whether we will be able to follow the government's accounting standard.
How did the debate go down?
There were pros and cons. I personally did not find the program suitable. But there were other friends who had been working hard since March for registration. Finally, we had a plenary meeting. When the debate was taken to the PGRI provincial boards, they unanimously asked to withdraw from the program. They said the PGRI had been a mobilization organization even before the independence movement. We've already had training programs with teachers' associations from five countries—US, Australia, Norway, Sweden, and Japan—in the past 20 years.
After the decision to bow out, did the PGRI release teachers from participating in POP's training?
The PGRI doesn't prohibit them. Teachers have the autonomy to choose activities especially those beneficial to them.
What about the fate of teachers in the regions who have been working on honorary status for many years?
It's Sad. It's difficult for me to talk about it on the international front. Abroad, they have contract teachers but they are different from honorary teachers. We have to improve our teacher management system. Only 1.2 million out of 3.4 million teachers are civil servants. The rest are either private school teachers or honorary teachers. To stop the mushrooming honorary teachers, there need a regulation only allowing the regional governments, not schools, to appoint honorary teachers. But the school's need must also be fulfilled. Currently there is a moratorium prohibiting regional governments to appoint honorary teachers. On the other hand, we have an extraordinary shortage of teachers.
How high is the shortage at the moment?
The current shortage is close to 1 million. According to the education and culture ministry's data updated in 2018, the shortage that time was 700,000.
What efforts did the PGRI make to improve the fate of honorary teachers?
We see that the State Civil Apparatus Law does not allow them to be recruited arbitrarily without tests. We lobbied the government about the importance of this issue and eventually the regulation on government employee management with work agreement came out. After that, we asked the government again to allow honorary teachers of 35 years and above to be tested by their fellow honorary teachers in order to give them opportunities. These are our efforts.
How often does the ministry involve the PGRI in formulating education policies?
Almost never. I think there's a shift in values. It doesn't happen to the PGRI only. So, it would be unfair for the PGRI to judge.
---
UNIFAH ROSYIDI
• Place and date of birth: Cirebon, West Java, April 5, 1962 • Education: Bachelor's Degree in Psychology and Counselling, Institute of Teacher's Training and Education (IKIP) Bandung (1986), Master of Education Administration, IKIP Bandung (1993), PhD in Public Administration, Faculty of Social and Political Sciences, University of Indonesia (2007), Professor of Teacher and Education Worker Management, Jakarta State University (2019) • Career: Lecturer, Jakarta State University (since 1987); Deputy Director, Institute of Education and Professional Development, UNJ (2002-2003); Chair, Center for Women's Studies, Research Institute, UNJ (2002-2004); Chair, Teacher Certification, Monitoring and Evaluation Team, Teacher Certification Consortium, National Education Department (2008-2010); Head, Center for Professional Development for Teachers, National Education Ministry (2010-2015) • Organization: Member, Indonesian Education Scholar Association (since 1988), Committee Member, Education International for Asia-Pacific (2018-2020), Chair, Executive Board, Indonesian Teachers' Association (2017-2019, 2019-2024) • Awards: Satya Lencana Karya Satya from Presidents Abdurrahman Wahid, Susilo Bambang Yudhoyono, and Joko Widodo
---
How about the previous (education) ministers?
They usually came here (PGRI) and discussed with us. There wasn't a single minister who didn't come to the PGRI. Pak Muhadjir Effendy frequently came here. So did Pak Anies Baswedan. I repeatedly sent letters (to the current minister) asking for an audience but he never responded.
Is it true that all presidential or vice-presidential candidates always pay visits to the PGRI ahead of the elections?
Oh, always. All the candidates. And we always welcome them. But notice that I've never made any statements as to which candidates you should vote. Never.
Does the PGRI allow room (for members) to engage in political campaigns?
From the beginning I told teachers to always be cautious. There can be problems if they are known to have political aspirations different from the winning candidate. It is better for us to maintain neutrality. We don't want to fall victim to politics. We want to give a message to the public that the PGRI is not a political movement. The PGRI is not a pathway to political goals.