Additional Quota for Japfa
As the price of chicken falls at the poultry farm level, the agriculture ministry approved a proposal from Japfa to increase the import quota for breeding stock. Their lobby began with the minister's son.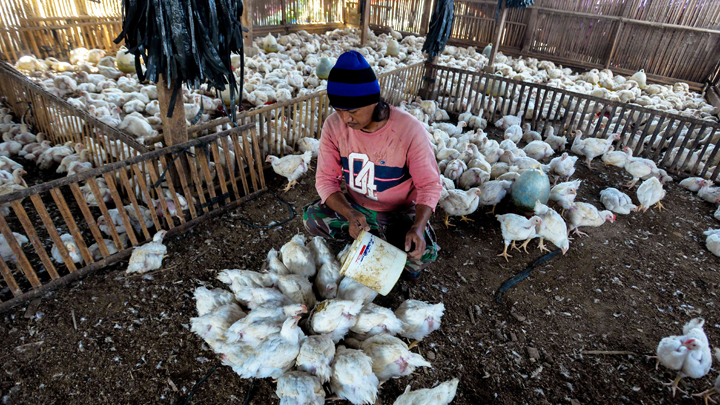 NASRULLAH was busy meeting with commercial producers of broiler birds raised for chicken meat before becoming the director-general of animal husbandry and health. On July 27, for instance, he met with chicken farmers in Bogor, West Java, in an attempt to get the National Association of Public Animal Breeders (PPRN) to cancel their protest against Agriculture Minister Syahrul Yasin Limpo the next day. "It so happened that the director-general was ill, so I stepped in as the secretary of the director-general," Nasrullah told Tempo on Friday, August 14.
When visiting Bogor, Nasrullah was in the final evaluation stage to become a candidate for director-general of animal husbandry. News of the plan to replace this echelon 1 position at the ministry of agriculture had been heard a week earlier.
Nasrullah's mission was successful. Those animal breeders called off their protest, and the agenda changed to a meeting with Minister Syahrul at the Animal Husbandry Training Center in the City of Batu, East Java, on August 14. During that meeting last week, Nasrullah had a new title after having been appointed director-general of animal breeding and health. He replaced Ketut Diarmita on Thursday, August 6. "We just had a friendly meeting with animal breeding representatives and associations while having a casual discussion," said Nasrullah.
PPRN's threat was the culmination of the problems caused by the drop in the price of broiler chickens at the breeding level. Since the start of this year, the price of broiler chicken meat has continued to decline, far below the limit of Rp19,000 per kilogram as set out in the Trade Minister Regulation No. 7/2020 on reference purchase prices at the farmer and consumer levels.
The Indonesian People's Association of Poultry Husbandry (Pinsar) notes that the price of chicken had fallen as low as Rp10,000 per kilogram. This is far below the average production cost of Rp18,000 per kilogram. Lower demand and excess supply are the main reasons for the fall in chicken prices at the breeding level, even though the price at the consumer level has not changed much.
The agriculture ministry has attempted to stabilize prices by working with 22 large companies to purchase chicken from small poultry farms. The lowest price it sold for was Rp15,000 per kilogram. Those companies, which included integrators which runs a full-range poultry-raising business, promised to purchase 4.11 million chickens from breeders. However, this is still not enough for breeders, because the potential for an oversupply for chicken in 2020, based on the calculations of the agriculture ministry, could reach 462.9 million chickens.
---
Since 2012, when this quota system went into effect, the allocation set by the ministry strongly determines the market share of each company. "Some of the considerations do indeed use market share."
---
Some unsettling news came during this price drop being caused by oversupply. Japfa Comfeed Indonesia (JPFA), one of the largest integrators, asked for an additional quota to import breeding stock (day-old chicken or DOC) in the grandparent stock (GPS) category. This stock can used for breeding chickens, producing final stock as a primary product in the poultry industry. "We know that Japfa requested additional GPS import in February," said Pinsar General Chairman Singgih Januratmoko in Jakarta on August 5.
This news sparked concern among breeders. A rumor circulated that Japfa had asked for the help of the son of the agriculture minister and a politician from the Indonesian Democratic Party of Struggle (PDI-P) to get their request approved.
•••
THE import quota for breeding stock for broiler birds is key to the poultry industry. One breeder produces 40 parent stock. One parent stock lays eggs for 140 chicks for final stock which are ready for fattening and to be consumed. This means that one breeder can produce 5,600 final stock.
The agriculture ministry uses this import quota to control the chicken supply. Each year, companies which have breeding facilities submit their production plans. Based on these plans, GPS chicken import needs are issued. The provision and demand for pedigree chicken and eggs for public consumption analysis team then calculates company needs and potential domestic demand.
Since 2012, when this quota system went into effect, the allocation set by the ministry strongly determines the market share of each company. "Some of the considerations do indeed use market share," said Nasrullah.
Charoen Pokphand Jaya Farm is one the companies with the largest market share, followed by Japfa, Bibit Indonesia (Malindo), Cheil Jedang Superfeed, and Wonokoyo Jaya Corp. The market share of other companies is less than 3 percent.
That is why, according to Ministerial Decree No. 13791/KPTS/PK.230/F/12/2019 on the 2020 national production plan for pedigree chicken breeding stock for chicken meat and egg vendors, Charoen also received the largest import allocation for GPS broiler birds, at 252,045 chickens or 35.8 percent of the total quota of 675,999 chickens. Japfa came next with a quota for 137,159 chickens.
Since 2018, their domination has been disrupted when the government rolled out the red carpet for Berdikari, a state-owned enterprise which has no animal breeding facilities, to join in importing chicken breeding stock. The government appointed Berdikari to represent the country as a stabilizer of the poultry industry, whose majority market share is controlled by Charoen and Japfa. This year, Berdikari, which relies on the facilities of other companies, received an import quota for 43,425 parent stock birds or about 6.42 percent of the total import allocation.
With this large import quota, Berdikari has become a frontrunner. "We realize that we are a prima donna. So now we have control over who is contracted and the business arrangements," said Berdikari CEO Harry Warganegara at his office in Jakarta, August 14.
However, this quota system has complicated the industry. A number of companies consider that they are not receiving sufficient allocations for breeding stock. Moreover, some of them have exported parent stock and processed chicken products.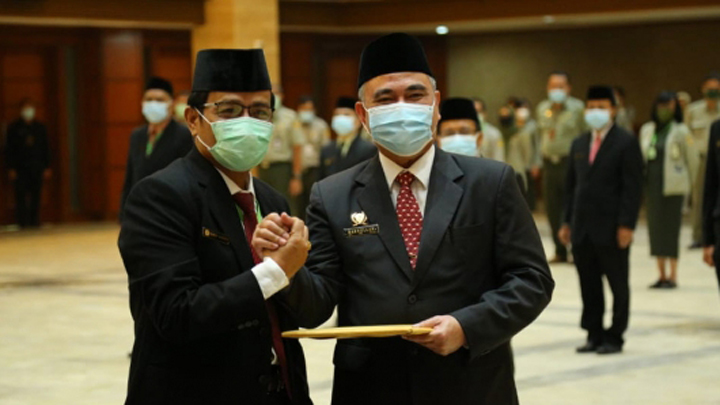 The innauguration of Nasrullah (right) as director-general of stock husbandry and health, in Jakarta, August 6./ ditjenpkh.pertanian.go.id
Japfa is one company which considers it has the right to receive a larger import allocation of parent stock. Towards that end, this company owned by the Santosa family—founded by businessman Ferry Teguh Santosa (Ometraco)—submitted a request for an additional quota for 50,000 broiler bird breeding stock. Three Tempo sources who know about Japfa's efforts said that this addition is to be used for export needs.
Two players in the poultry farm business said that Adrian Irvan Kolonas, from the third-generation of the Santosa family (grandson of the founder of Japfa), met with Director-General of Stock Husbandry and Health Ketut Diarmita at the agriculture ministry last February, before the Covid-19 outbreak. During this meeting, Irvan invited Kemal Redindo Syahrul Putra, the son of Agriculture Minister Syahrul Yasin Limpo, and conveyed a request for that additional quota. However, at that time Ketut did not grant his request.
Help arrived from Sudin, a PDI-P politician who is chairman of the Agriculture Commission in the House of Representatives (DPR). A Tempo source said that Sudin, who is a friend of Hendrick Kolonas—vice president commissioner of Japfa who is also Irvan's father—contacted Ketut and asked that the request for an additional GPS import quota from Japfa be granted. This effort to persuade Ketut also failed.
When met at Plaza Indonesia, Jakarta, on August 13, Irvan Kolonas, who was accompanied by Japfa Director of Corporate Affairs Rachmat Indrajaya and Government Relations Manager Dimas Insani, answered all of Tempo's questions about the request for an additional import quota, as well as those about the involvement of Kemal Redindo Syahrul Putra in the meeting with Ketut Diarmita. However, Irvan did not want his answers to be quoted.
Sudin, who was contacted on the morning of Saturday, August 15, denied the news that he asked Ketut to grant Japfa's request. "Yes I know Hendrick, but I didn't help," he said. "I don't want to get involved." Meanwhile, Kemal Redindo could not be reached at two separate cellular phone numbers.
Ketut, who was contacted starting on July 29, declined to answer questions about Japfa's request for an additional grand parent stock import quota. When he declined Japfa's initial request, he was nearing the end of his term in office.
Since the era of Minister Amran Sulaiman, the agriculture ministry has auctioned off that position held by Ketut. While there were candidates available to replace Ketut—one of them being Nasrullah—the end of President Joko Widodo's first term in office was drawing to a close. The decision to make a replacement was delayed because at the time the President was holding back on replacing officials holding strategic government positions, including at the echelon I level.
Nasrullah was again considered as a strong candidate to become director-general of animal husbandry when Minister Syahrul resumed the auction process. Poultry farmers and some officials at the agriculture ministry spoke negatively about his nomination. This was because Nasrullah was once embroiled in a case of suspected bribery of Rp1.5 billion in the Carabao Development Center project in Banyuasin Regency, South Sumatra, in 2018.
This suspicion was revealed in a report of Nugroho Budi Suprijatno as head of the center for superior animal breeding stock and livestock greens in Sembawa, South Sumatra, on August 7, 2018. Nugroho—who has since retired—had reported this issue to the inspector of investigations at the agriculture ministry's inspectorate-general office. Some work was done on this case, but no conclusion was reached.
Speaking to Tempo, Nasrullah denied receiving any suspected bribes from that project in Banyuasin. "Please check with the project executor. Ask if they ever met with me. God willing there is no such thing."
•••
AFTER being held up, some clarity regarding Japfa's request for an additional import quota for grand parent stock emerged last June. The agriculture ministry brought up their request to an open meeting. They invited officials from some government ministries, such as the trade ministry and the coordinating ministry for the economy, and the director-general of animal husbandry and health asked Japfa to make a virtual presentation of their request.
Irvan Kolonas, who presently helps with matters of government relations at Japfa, directly explained the company's intention in asking for an additional quota and what it was to be used for. One person who attended this virtual meeting said that Japfa assured that this additional grand parent stock would not reach the domestic market. Still, this new stock would become final stock after two years.
It was after this virtual presentation that Ketut, who had not yet been replaced, issued Japfa an additional import quota for chicken breeding stock. However, it was only for 18,000 chickens. "If it is for export then there is no problem. It will not flood the domestic market, which is already oversupplied," said Nasrullah, Ketut's replacement.
As it turns out, Japfa was not the only company which has asked for an additional GPS import quota. Berdikari also made such a request, twice, but failed. Berdikari CEO Harry Warganegara said that he accepts those rejections. "We want to make internal improvements to our system," he said.
At present, Harry continued, Berdikari, through rented production facilities, is only able to convert 15 percent of its grand parent stock to become final stock. The company sells the remainder after it becomes DOC parent stock.
Charoen Pokphand claimed that it did not ask for any additional GPS import quota this year. According to Director of Charoen Pokphand Jaya Farm, Jusi Jusran, their company respects the decision of the agriculture ministry in setting the initial GPS import quotas. "We deem that the government's decisions are surely made in the greater interest and in the interests of the industry," said Jusi through a virtual conference on August 14.
It seems that this commotion over the GPS import quota, the issue of oversupply leading to falling prices, and the threat of protests by poultry breeders, is not over. The new director-general of animal husbandry is going to maintain the quota system, despite years of criticism. "Perhaps later exports and needs audits will be the factors in determining the basis for granting breeding stock imports," said Nasrullah.
KHAIRUL ANAM, AISHA SHAIDRA