THE Lobby for Zero Competition
In the upcoming regional elections later this year, many areas may only have single candidates. It is an exploration for the 2024 general election.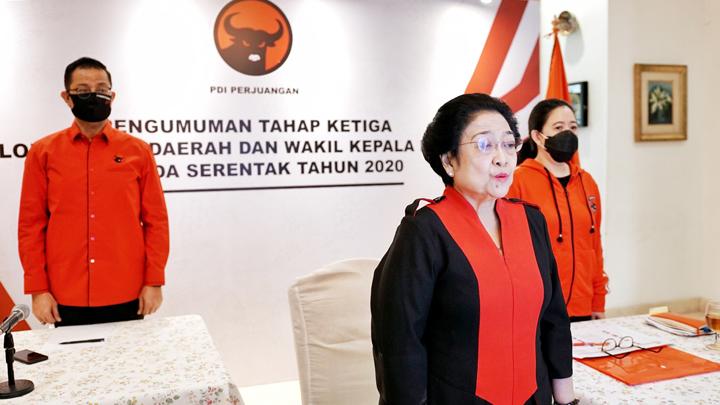 THROUGH a teleconference call on Tuesday, August 11, Indonesian Democratic Party of Struggle (PDI-P) Chair Puan Maharani announced the names of 75 pairs that will take part in the 2020 regional elections. Accompanied by her mother, PDI-P Chairperson Megawati Soekarnoputri, Puan released the names at Jalan Teuku Umar in Jakarta. After the announcement, Megawati said the candidates were not chosen by her, but by the party. "All candidates are chosen by the party, not by me," she said.
The running pairs complete the list of candidates previously released by the PDI-P in February and July. Among the names, a number of pairs would potentially be the only candidates vying for office. If no other names appear, they will have no competitors.
Bambang Wuryanto, PDI-P's election victory chair, said that several regencies and cities in Central and East Java could potentially only have one pair as candidates. In Central Java, Bambang said, that possibility appears in some 10 regencies or cities: the regencies of Kebumen, Wonosobo, Boyolali, Sragen, Grobogan, Pemalang, Kediri, Demak; and the cities of Semarang and Solo. "But everything can still change. We will wait for the registration period of 4-6 September," he said.
In Solo, Central Java, for example, chances are high that Gibran Rakabuming Raka would be the only candidate, although lately the names of independent candidates Bagyo Wahyono-F.X. Supardjo have appeared, though still awaiting verification of Solo's elections commission. Gibran—the eldest son of President Joko Widodo—is pairing up with Teguh Prakosa, a regional Solo legislators for the last three periods. The pair has clinched support from almost all political parties except for the Justice and Prosperity Party (PKS). The parties supporting Gibran amount to 40 out of the 45 regional parliamentary seats.
That strong support cannot be separated from PDI-P's lobbying efforts. Bambang said that in Central Java, his party has pushed for single candidacies. He pointed out that single candidates are more beneficial for the parties and candidates. Coalitions involving a lot of parties, he continued, could avoid scars that regional elections could potentially leave. "Deliberation is better than battle," said this PDI-P chairperson for Central Java.
Bambang said he is in active communication with officials from other parties in Central Java. Bambang, who is deputy chief for the House of Representatives' (DPR) Energy Commission, said he has been in contact with Eddy Soeparno, the secretary-general of the National Mandate Party (PAN). "Regarding Central Java's elections, I often communicate with Pak Bambang as we both are commission leaders," Eddy said.
In Central Java, PAN is in coalition with the PDI-P in 19 regencies/cities, or 95 percent of the 21 election sites. Eddy said PAN's support for candidates does not just come from the central leadership, but his party also considers input from regional officials. Eddy said that in addition to regional support, PAN also backs Gibran since he is a millennial personality. "In Solo, he has strong public support. His father has also left a good legacy in Solo. So, it's ideal for us to support Gibran," Eddy said.
According to a number of party officials familiar with the lobbying, this support did not come free of charge. They said PAN's support for PDI-P candidates will lead to securing PAN during the 2024 general elections. Votes for PAN in the parliamentary elections in 2019 were dismal: the party lost all its seats in that province. This despite the fact that in the 2014 general elections, PAN clinched eight seats.
PAN Chairman Zulkifli Hasan, however, disputed this. "No party would assist another in general elections. That's impossible," Zulkifli said via WhatsApp. He further said that success in elections is up to the party itself. Meanwhile, Bambang Wuryanto did not deny that coalitions in regional elections are assessments for coalitions in the 2024 general elections. "The most important thing in a coalition is trust," he said.
In a number of regions, the PDI-P also agreed to support regional heads from other parties who have the potential to be single candidates. In Kebumen, Central Java, for example, the PDI-P supports Arif Sugiyanto, a candidate from the Golkar Party, as regent. This despite the fact that, given the seats it controls, the PDI-P would be able to have its own candidate. The PDI-P has 12 seats, followed by the National Awakening Party (PKB) with nine seats, Gerindra with seven seats, and Golkar with six seats.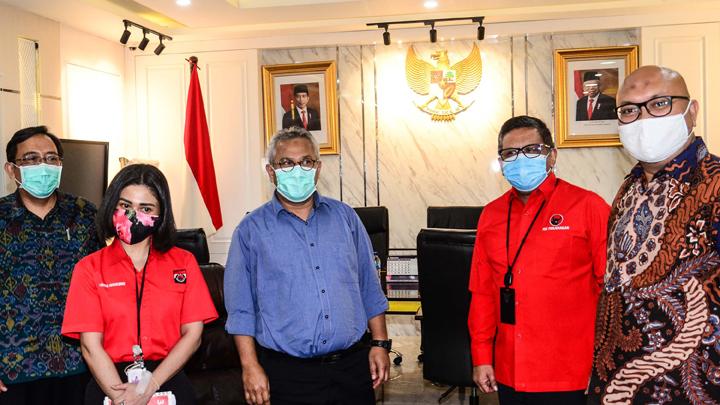 PDI-P submits the documents needed to compete in the 2020 regional elections to the General Election Commission, August 4. TEMPO/Nurdiansah
Arif is currently Kebumen's deputy regent. In the regional elections set for December 9, Arif will pair up with Ristawati Purwaningsih. Ristawati is Kebumen PDI-P's deputy chief for women's empowerment, and the wife of former Kebumen parliamentary speaker Cipto Waluyo. The Arif-Ristawati duo has the backing of eight political parties, and are practically assured to be the only candidates. The eight parties control 48 out of the total of 50 seats in Kebumen's local parliament.
Iqbal Wibisono, Golkar's chairman for elections victory for Central Java-Yogyakarta, said the coalition emerged because of an agreement between the PDI-P and Golkar. Iqbal pointed out that the coalition was mutually beneficial. "When we jointly support people, it has to be beneficial for both parties," he said. Iqbal further said that out of the 24 regions in which Golkar is competing in Central Java and Yogyakarta, it would be in coalition with the PDI-P in half of them. Iqbal said that he is in frequent communication with Bambang Wuryanto and other party officials.
Single candidates are possible, Iqbal continued, when they have a good chance of winning. Moreover, a number of single candidates are incumbents, including Arif-Ristawati. He did not deny that single candidates are also good for party coffers. "It's more efficient," he said.
Utut Adianto, PDI-P's deputy secretary-general, said his party hopes to secure its candidate for Kebumen regional head. Since 2004, the PDI-P has yet to be successful there. "If all goes well, this will be the first time since 2004," said Utut, who is also PDI-P's faction head in the DPR. In this year's regional elections, the PDI-P hopes to win in 83 areas, Utut said.
Elections watchdog Association for Elections and Democracy (Perludem) predicts that there will be single candidates in 31 regions in the upcoming regional elections. Perludem Executive Director Titi Anggraini said that this number could still change, as candidacies are still ongoing until registration closes in September. Titi points out that single candidates limit people's choices. "Single candidates are risky, because the public may become increasingly skeptical and choose the empty ballot," she said.
DEVY ERNIS, PRAMONO, NOFIKA DIAN NUGROHO (NGAWI), AHMAD RAFIQ (SOLO), HARI TRI WARSONO (KEDIRI), JAMAL A.NASHR (SEMARANG), DAVID PRIYASIDHARTA (BANYUWANGI)