Independence
Edition : Monday, August 24, 2020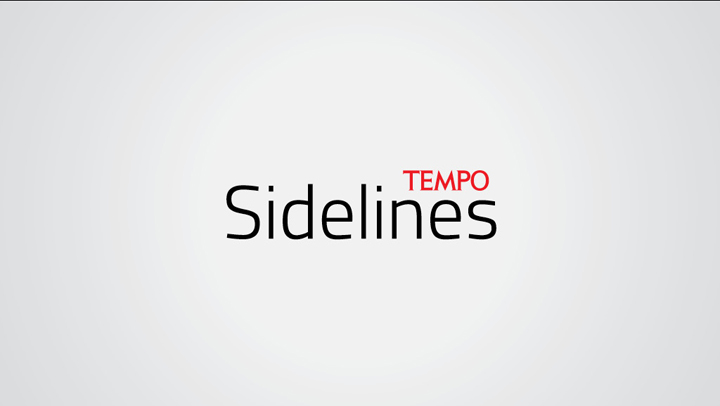 WHEN Chairil Anwar wrote
I want to be free from everything
Independent
Also from Ida
he surely knew—or would quickly find out—that what he wanted was impossible. In the midst of a world that stores the traces of history, even the wildest of poets cannot be 'free from everything'.
One could say that he did not believe in destiny, that he did not care about social norms around him. Yet still: he operated within 'the prison house of language', to use Fredric Jameson's term—even though that same language helped him proclaim himself. In language, he was connected to others who helped shape conversation. He was not entirely uninhibited, alone, untied to consensus.
But Chairil's cry was certainly an independent one. When he passionately declared his will 'to be free…', he expressed it with and within free spirit. At that moment, liberty was something actual. He was not constrained or limited by certain relationships.
We can draw an analogy with the proclamation of independence. On August 17, 1945, the entity which at that moment declared itself 'kami, bangsa Indonesia', 'we, the people of Indonesia', was actually just a hope—perhaps imagination, perhaps also delusion. The use of the Indonesian exclusive first person plural pronoun 'kami' (we, excluding the addressee) declaring independence at that moment assumed that the 'we' was addressing others; the proclamation was declared with the idea that there were other people who would hear and reply—even though that assumption actually had no firm basis. On August 17, 1945, the 'bangsa Indonesia' or 'people of Indonesia' had no clear meaning; the words were rhetorical, not a concept. Many did not know there was an entity that called itself 'bangsa Indonesia'.
For on the morning of August 17, 1945, armed Japanese troops were still guarding Jakarta, along with the office of the administrative government. Over in The Hague, the Kingdom of the Netherlands still considered the territory to be the 'Netherlands East Indies', its possession. It was not clear what legal basis and what kind of economic strength the archipelago possessed to be called 'independent'.
W251bGwsIjIwMjEtMDQtMjEgMTU6MTc6NTkiXQ
But on that day none of that mattered, when an entity—'bangsa Indonesia' saw itself as 'free from everything': a daring leap into the Unknown, a projection that broke through, with certainty, into the region of uncertainty.
The independence voiced was probably not correct, but it was actual: not just possibility, desire or wishful thinking. The Proclamation produced the subject, 'kami', 'we'. The militance and spirit of the day made it manifest.
Later, after the euphoria of the proclamation died down, after the cry 'merdeka' was picked up by the course of history, gradually people realized that independence was something relative and contingent. It was full of potential, it could inspire either confidence or the opposite, anxiety, depending on the situation. It was multi-layered probability. It contained elements that did not guarantee its own stability. The subject that started out solid began to melt.
But not on that morning.
That morning was an example that human independence is not an objective 'condition'. Independence is a decision—to be precise, the decision to act.
People might say that this freedom—and human free will in general—is just a kind of illusion. For instance, Noah Harari, the author of Homo Deus, says that free will "isn't a scientific reality. It is a myth inherited from Christian theology." Science does not recognize that.
"Humans certainly have a will," Harari says in his essay in The Guardian of September 14, 2018, "but it isn't free… Humans make choices, but they are never independent choices. Every choice depends on a lot of biological, social and personal conditions that you cannot determine for yourself. I can choose what to eat, whom to marry and whom to vote for, but these choices are determined in part by my genes, my biochemistry, my gender, my family background, my national culture etc—and I didn't choose which genes or family to have."
Harari is only half right. One cannot ascertain that the belief in human free will comes from Christian theology. In general, religious teaching does not stress this independence. Rather, the opposite: in Islam, the followers of Jabariyah reject the existence of human free will, because God has determined all. Harari is right, humans do not possess free will if one analyzes their behavior—if humans are seen as objects of scrutiny. But the moment Bung Karno voiced the resolve for liberty from colonial shackles, the moment that Chairil yelled his desire to be free, their will, to them, was not the product of neurology or biochemistry, nor was it the product of an evolution.
"Free will is not a scientific reality," Harari says, but not everything has to be 'scientific reality' to be actual. When someone opposes repression—fighting against "the Inquisition, the divine right of kings, the KGB and the KKK," as Harari mentions, they become and project themselves as independent humans.
Myths?
Myths can change history, just as they can produce poetry and science. And we do not mind fighting for them, and tending them.
GOENAWAN MOHAMAD