Black
Edition : Monday, August 31, 2020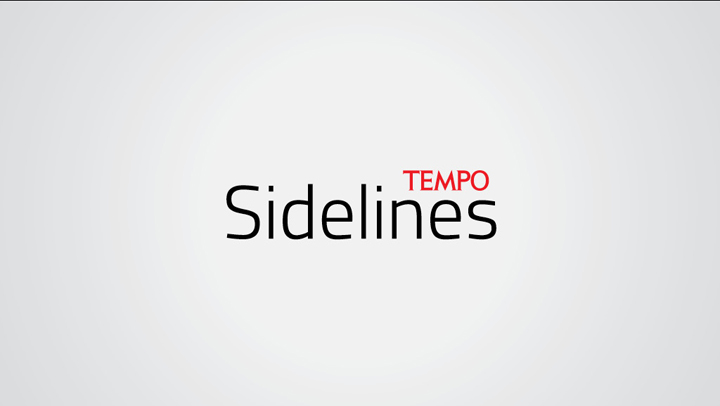 COLONIALISM, until 1945 at least, is synonymous with the modern world: machines, capital, the military, skin color called 'white', peoples with scientific discoveries, entrepreneurs who roam the world.
Beneath their power, people of varied skin pigment bowed low. Especially Black: the color that, like a dark blanket, covers, protects, unites, marks and stigmatizes those forced outside the fence.
This was noted long before 'Black lives matter!' was heard as a cry yelled by so many, everywhere. Around 1956, when Nelson Mandela was mobilizing his opposition to the White rulers of South Africa, the Indonesian poet Subagio Sastrowardoyo wrote this startling poem:
…White people cry: 'Hosanna!'
And march off to heaven
W251bGwsIjIwMjEtMDQtMjEgMTU6MjM6MTYiXQ
But my skin is black.
And heaven is no place for me
the earth is black
the devil is black
sin is black
And so:
I am the wretched soil
I am the cursed devil
I am sin original
I am trash in the way.
They make railroads and trains
hotels and planes
They make schools and post offices
churches and restaurants
But not for me.
Not for me.
Segregation is oppression. Marginalized in life—or even from life—even Black yields. Or the opposite, it affirms itself, proudly, as the subject that is different.
Léopold Sédar Senghor, the poet and intellectual from Senegal, when living in France where he had been since 1928 enduring all kinds of discrimination, formulated the concept of 'négritude'. He wanted to articulate the attitude and way of looking at life that acknowledged and accepted "the fact of being black, of our destiny as Black people, of our History, and of our Culture." Senghor changed the word négre that the French used as a term of abuse into a word uttered with pride.
Senghor was an extraordinary person. He was a political activist who later became Senegal's first president after its independence from French colonialism, and he held that position for 20 years. He was also the first African intellectual elected as member of the Académie Française, the institution of cultural experts established in the 17th century. He was a graduate of an elite education in the land of his colonizer, and he absorbed its world of literature and ideas.
Senghor became a French citizen in 1932. During World War II, he even joined the army. In 1940 he was captured by German troops.
While interned, as he moved between different prison camps he wrote poetry—of fascinating surrealist color: in the spirit of surrealism of the time, pioneered by the communist poet André Breton, political liberation fuses with poetic liberation, and the contact between 'me' and 'you' is shaped not with intellectual consensus, but intuition and empathy.
In one of his poems, he meets an American Negro soldier who shared his cell. "I did not recognize you in prison under your/sad colored uniform," Senghor writes, and the phrase "I did not recognize you" is repeated throughout.
Under your closed face, I did not recognize you. I only touched the warmth of your brown hand, ………..I called myself "Afrika!" And I found once again the lost laughter, I hailed the ancient voices ………..and the roar of Congo waterfalls.
We can see here what became the theme of Senghor's thinking: the world and others are grasped not with reason, but with intuition and contact; they are not approached from the outside, but absorbed within. It is this, Senghor said, that differentiates négritude from the European view.
One can see the influence of Bergson's dichotomic view on the Senghalese poet. When Senghor referred to 'the revolution of 1889'—as Clevis Headley shows in a chapter in Beyond Bergson: Examining Race and Colonialism through the Writings of Henri Bergson (SUNY Series, 2019)—he was enthusiastically accepting Bergson's critique of the scientific-type thinking that dominated European civilization. This thinking with the 'intellect', depicted nature and man only in abstraction.
As Senghor saw it, "Until the twentieth century, the European always separated himself from the object in order to know it. He kept it at a distance. I add that he always killed it, and fixed it in his analysis to be able to use it in practice [. . .]" In contrast to this, Senghor went on, "the vital force of the Negro African, his surrender to the object, is animated by reason. Let us understand each other clearly; it is not the reasoning-eye of Europe, it is the reason of touch [i.e., of sympathy], better still, the reasoning embrace." In this way, nature is not conquered, nor are other people.
Building contrast from dichotomies of 'Europe versus Africa', 'intellect versus intuition' and 'White versus 'Black', it is easy to fall into the trap of simplifying a complex problem. Even extolling what is 'Africa' ('Black') can replace the old racism with new racism.
But Senghor's ideas can also be seen as the voice that rejected ways of viewing nature and humankind in a rationalistic way that ends up forming the hierarchy of subject over object.
Senghor rejected that. He wanted to depict what is universal when he praised 'the reasoning embrace' of the other—as antithesis to the conquest of capital, machines, the military: modern colonialism. His ideas, his poetry, are indelible parts of human liberation.
GOENAWAN MOHAMAD