Opportunities for Digital Deliveries
The Covid-19 pandemic expedited the growth of logistic service businesses, demanding a digital transformation for providing this service.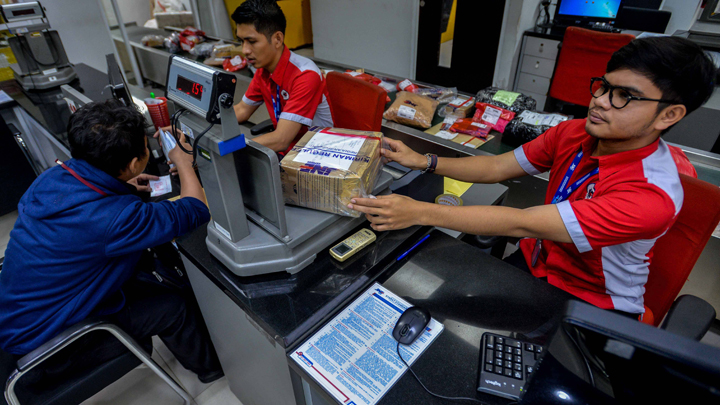 SUYANTO Tjoeng still vividly recalls the first delivery made by AnterAja in March 2019. At that time, only four items were being delivered to customers. This logistics company under the auspices of Tri Adi Bersama had only 50 couriers. "Now there are over 200,000 deliveries a day, and 50,000 couriers," said Suyanto, Chief Executive Officer (CEO) of AnterAja, to Tempo, on Wednesday, August 26.
AnterAja is a new player in the delivery business. As a part of a business unit of Adi Sarana Armada—a listed company in the field of vehicle rental—AnterAja focuses on the express courier services segment of the market, also known as last mile delivery service. Customers can access delivery and pick-up service without having to go in person to an outlet or logistic agent.
As of the first quarter of 2020, a year after beginning operations, AnterAja had earned about Rp100 billion in revenue. Demand for delivering items has continued to increase during the Covid-19 pandemic. It is why Suyanto claimed that he has been able to retain all of his employees at a time of high layoffs due to a shrinking economy.
According to Suyanto, the pandemic has expedited the growth of digital-based logistics services to a level previously believed would only be achieved two to three years from now. It is also believed that the e-commerce market will continue to grow. "This business opportunity will continue to grow. What differentiates one business from the other is its system, transparency, and people," he said.
It was this optimism which encouraged GoSend, a delivery service offered by Gojek (Aplikasi Karya Anak Bangsa), to develop an inter-city delivery service GoSend Intercity Delivery. A GoSend Web Portal feature for ordering delivery services was developed to support this new endeavor.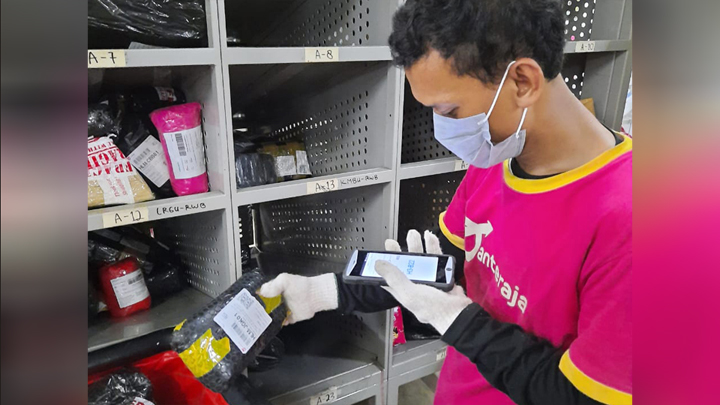 Sorting packages at the delivery company AnterAja, last March./ AnterAja Doc.
Gojek Group Head of Logistics Junaidi said that GoSend targets micro, small and medium-sized business owners who are increasing selling their products via social media, especially from last March to July. This change in shopping patterns during the pandemic has led to an increase in courier services for transactions related to food, clothing, and household items. "There has been a 90 percent increase during the pandemic," he said on, August 26.
GoSend works with Paxel Teknologi Unggul, an express logistics start-up company operating under the name Paxel which was already fully experienced in the inter-city shipping business. After offering shipping services to and from Jakarta, Depok (West Java), Tangerang (Banten), Bekasi (West Java), and Bandung (West Java), this cooperation is going to expand the reach of GoSend to Semarang (Central Java), Solo (Central Java), and Yogyakarta.
Paxel CEO Zaldy Ilham Masita said that express delivery services during the Covid-19 pandemic have grown, despite slowing down during the Lebaran end-of-fasting-month holiday last May. "Deliveries have increased 30 percent each month," he said.
•••
BEFORE the coronavirus pandemic, the volume of items shipped by express courier services increased 25 percent annually. The growth of e-commerce has been the main driver of behind the rise of the shipping business.
General Chairman of the Indonesian E-Commerce Association, Daniel Tumiwa, considers that e-commerce has not yet become the main player in the retail sector. "There has been an increase during the pandemic, but it is not significant. The issue is supply," said Daniel on August 28. He was referring to the limited and uneven access to products sold by e-commerce vendors. "Offline sales are still very large."
Even so, great potential has been predicted for the coming years. A study done by Google-Temasek entitled e-Conomy SEA 2019 indicates as much. Over the past five years, e-commerce has driven the growth rate of sales in the digital economy in Southeast Asia by threefold, from US$32 billion to US$100 billion. It is estimated that this figure will surpass US$300 billion—now equivalent to Rp4,350 trillion—in 2025. Five years from now, according to this research, the value of e-commerce transactions in Indonesia will reach Rp1,200 trillion.
General Chairman of the Indonesian Association of Logistics and Forwarders, Yukki Nugrahawan Hanafi, said that the large amount of e-commerce transactions will encourage growth of more than 30 percent for logistic businesses in Indonesia in 2020. This positive performance is not only being seen with business-to-customer and customer-to-customer delivery services, but also with warehousing services for basic necessities and retail products.
General Chairman of the Association of Indonesian Express Shipping, Postal, and Logistics Service Companies (Asperindo), Mohamad Feriadi, said that the volume of shipping inside cities and between cities and provinces is increasing, in particular for customer-to-customer delivery services. "In particular during the pandemic, most of the items are being sent to the public as the end users," said Feriadi on August 27. This boss of Tiki Jalur Nugraha Ekakurir (JNE) said that business at his company has increased 30-40 percent each year.
It is also these conditions which, in his opinion, demand express delivery and logistics companies to expedite their digital transformation process. "The member companies which have made their digital transformations are the ones which have become rather large and popular," he said. Feriadi said that half of Asperindo's members still process deliveries manually.
Some state-owned enterprises (SOEs) in the transportation sector interested in the delivery business have also undertaken such a transformation. Garuda Indonesia, for instance, has launched KirimAja, a courier service under the subsidiary Aerojasa Cargo. As Suyanto Tjoeng and Yukki Hanafi see it, the entry of this new competition from SOEs is actually an opportunity to develop collaboration. "Because each has its own strengths," said Suyanto.
Robin Lo, CEO of J&T Express, considers that his business will not be affected by the presence of SOEs in the area of digital-based logistics services. "We are truly focused on this business. The results will be different than a government company running it through a subsidiary," he said.
Zaldy Masita suggested that SOEs provide middle mile logistics services. "It is not easy to get into the express game. Some private companies have failed at it, let alone SOEs," Zaldy said.
AISHA SHAIDRA, KHAIRUL ANAM