State Courier Business
A state-owned enterprise in the transportation sector is trying its luck in the courier business, taking advantage of its idle fleet.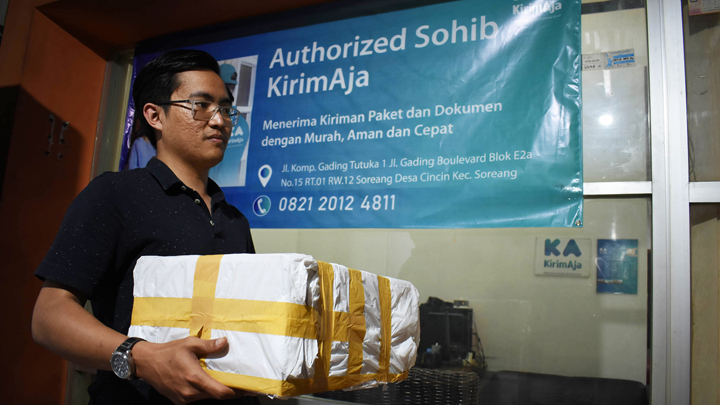 EVERY day, Ramadhani Febriantoro gets ready to travel throughout the Soreang sub-district in the Bandung Regency, West Java. From his house in Jalan Gading Tutuka, the 26-year-old man will go to consumers who want their deliveries collected.
The following day, around 10am, Rama—Ramadhani's nickname—went to the city of Bandung. Driving his motorcycle piled with packages, he travels 17 kilometers north towards the office of Garuda Indonesia in Jalan Asia Afrika. If there are too many packages, then he would go by car. "I set down regulations. If people want their packages collected, I am available from noon until 8pm," Rama said on Thursday, August 27.
Rama has been doing two jobs at once: as a courier of Sohib KirimAja who receives packages for customers, and also as a Sub-Console, who delivers packages to collection centers. The front room on the right side of his home has been turned into a KirimAja agency office, complete with a desk, a computer, a black sofa for customers to sit on, a large scale, and a glass shelf. A big KirimAja logo, which he printed himself, hangs on a wall above the computer.
A big banner is draped on the outer part of Rama's window so that his office is easily recognizable. On the light-blue banner is written "Authorized Sohib KirimAja." Rama said that he is able to collect between 20 and 40 kilograms worth of packages a day.
KirimAja is a courier service which started operating in June under the auspices of Aerojasa Cargo, a subsidiary of Garuda Indonesia. Garuda Indonesia Chief Executive Officer (CEO) Irfan Setiaputra said that KirimAja deconstructs the way most courier, express delivery, and parcel services conduct business.
For example, KirimAja lets go of the so-called first mile phase, where customers hand over their package to a courier to take to the drop-off center. This phase, Irfan said, is done by the company's partners. "We take advantage of our partners' existing assets," he said on August 25.
This was exactly what Rama was doing: he did not need to rent space for an office. He also did not need to hire delivery workers, and there was no need to pay security deposits to the company.
This simple first mile process is Garuda's answer to Go Express, its previous courier service business which did not do well on the market. Go Express, which had the usual courier business operating model, did not catch on in the courier sector, even though it was offering an App-based, door-to-door service with discounted prices. "We slowly put Go Express to rest. It sounded as if it belonged to Gojek," Irfan said jokingly.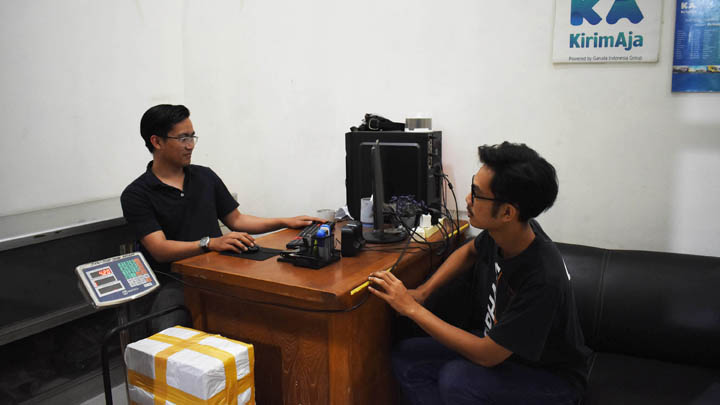 Customer service at the package and document delivery company KirimAja in Gading Tutuka, Soreang, August 28./ TEMPO/Prima Mulia
KirimAja is also a sign of Garuda's serious intentions in the courier business. In its three months of operations, until August, KirimAja has already collected between 1.3 tons and 1.4 tons of deliveries per day from about 200 transactions. These numbers, however, are still far below other couriers. "I'm hoping it could become hundreds of tons and thousands of transactions a day," Irfan said.
In the past, Garuda Indonesia has been more active in the logistics and cargo businesses. When e-commerce began rising and prompted growth of courier businesses, Garuda started getting anxious. The first parties to enjoy success in the courier business, which has the characteristics of swiftly carrying small packages, were not companies with vast air transport fleets. Meanwhile, Garuda only became the transporter, thus playing the part of middle-mile logistics.
Garuda's cargo business indeed continues to grow. In 2018, the company's income from cargo and documents was only US$266.5 million, or Rp3.8 trillion with an exchange rate of Rp14,400. This is commensurate to 7.52 percent of Garuda's total income from scheduled flights. However, in 2019, the same posts contributed US$326.9 million, or Rp4.7 trillion, which amounted to 8.66 percent of income from scheduled flights.
Nevertheless, that increase stemmed from Garuda's policy to increase cargo prices instead of creating new markets in the courier sector. Another problem was that due to the fluctuation in volume, cargo space in Garuda and subsidiary Citilink aircrafts were often unfilled during flights. "It seems that we must carve our own destiny," Irfan said.
•••
THE niche of courier, express delivery, and parcel services is a small section of the logistics business. This sector of the service industry only involves the transport and delivery of small packages, usually with a maximum weight of 32 kilograms, brought straight to the doorstep of the receiver. Delivery time usually takes between three and seven days, although lately one-day deliveries also available.
Market research conducted by Ken Research titled Indonesia Logistics and Warehousing Market Outlook to 2023 says that returns from this courier branch in 2023 is projected to be US$5.5 billion, or Rp79.5 trillion. This is still far below shipping cargo which amounts to US$38.9 billion, and the warehouse branch of US$27.7 billion.
Until now, the shipping cargo and warehouse branches have dominated the national logistics market. In 2023, total turnover for the logistics market is estimated at US$74.9 billion, or Rp1,090 trillion, with a compound annual growth rate (CAGR) of six percent since 2018.
In the same report, Ken Research points out that opportunities in the courier sector are still wide open. In 2018, even when delivery prices were still high because of insufficient logistics infrastructure, the courier service managed to clinch 5.9 percent of the national logistics market share. The significant growth of Internet usage and e-commerce between 2013 and 2108 significantly contributed towards growth in the courier market. According to the research, in 2022 e-commerce customers will reach up to 65 million people. In the years after that, e-commerce business players will reach five million.
Meanwhile LLP Mordor Intelligence, which released a market research report titled Indonesia Courier, Express, and Parcel (CEP) Market-Growth, Trends, and Forecast (2019-2024) in August 2019, predicted that the courier business market would reach US$9.76 billion, or Rp142 trillion in 2024 with a CAGR of 12.28 percent. Similar to Ken Research, Mordor Intelligence said that this meteoric growth of the courier sector goes hand-in-hand with e-commerce development. In 2024, Mordor estimated that the national e-commerce market would exceed US$50 billion, or Rp726.5 trillion.
•••
GARUDA Indonesia has not been the only party watching from the sidelines while the courier business flourished. State railway company Kereta Api Indonesia (KAI) was in the same boat. While KAI owns Kereta Api Logistik (Kalog), the subsidiary only operates in commodity transportation based on business-to-business contracts and retail cargo with minimum weight units of 10 kilograms.
For years, KAI only operated as a transport mode for courier companies. Kalog, which had been set up to create business opportunities, lagged behind private enterprises which used other trains and offered door-to-door service. "We were only the middle mile all this time," said KAI Commercial Director Maqin Norhadi on Friday, August 28.

Actually, KAI is reasonably happy with its income from the logistics business. In 2019, its cargo transport put Rp6.86 trillion in its coffers, up 8.7 percent compared to 2018. However, behind this seemingly sterling performance of cargo _dominated by coal transport—KAI hardly penetrated the parcel delivery market. Last year, its returns dropped to Rp215 billion from Rp250 billion in 2018. "We see the potential, and that's why we created Rail Express," Maqin said.
KAI launched Rail Express at the beginning of this year. Aimed at courier servicing, Rail Express currently is only able to do station-to-station delivery. "We will upgrade the business model so that we can capture the first mile and last mile branches," Maqin said.
Although it has yet to reach consumers' homes, Rail Express is already flooded by demand due to their low prices. Rosikhah Al Maris, 30, is one of them. This lecturer at a private university in Yogyakarta has been selling chocolate snacks to supplement her income during the Covid-19 pandemic. Prior to using Rail Express, Rosikhah used travel courier services in order to get orders swiftly in the hands of retailers in other cities. As these services are expensive, she was forced to increase her selling price, which in turn brings down profits for retailers.
Rosikhah sells her products through social media, including Instagram. On the same platform, she received information about Rail Express. On July 27, she sent her merchandise by Rail Express for the first time. "It happened to be that Rail Express stops at the city where my retailer resides," she said on August 28.
Thus, 11 kilograms of her chocolate snacks went by train from the Lempuyangan Station of Yogyakarta with the low cost of Rp8,000. Rosikhah now gives the option to her retailers in other cities of sending her snacks by Rail Express. "In the past, retailers in other cities usually backed out because of the high delivery costs."
Putri Novita Firdaus, a university student in her last year of study from Pasuruan, East Java, is also grateful for Rail Express. On July 14, she sent off her belongings to Yogyakarta, where she has found a job. She had so much to carry that she had to hire a becak (pedicab) to the station. At the station, her Rail Express bill to ship 129 kilograms of package only amounted to Rp41,500.
Maqin assured that Rail Express' first mile and last mile ecosystem will be ready by the end of this year. KAI is constructing this network by cooperating with existing partners, such as Grab, Gojek, and Blue Bird. "We are optimistic that we will be able to enter this market, as we are cheaper and faster compared to road transportation," said Maqin. 
While Garuda and KAI are already busy with their courier services, state shipping Pelayaran Nasional Indonesia (Pelni) are still doing internal preparations to enter the courier business. Pelni is preparing My Cargoo, an online cargo shipping service based on the ships that will be sailing. "The App is about 90 percent ready, but the internal systems and our partners are not ready yet," said Masrul Khalimi, Pelni's director for cargo and ocean toll, on August 26.
Pelni aims to clinch the market of larger cargo, between 50 kilograms and 100 kilograms. "If cargo weighing 100 kilograms is to be sent by air, the pricing might be cumbersome," Masrul said.
To make it easier for senders and receivers of cargo, Pelni is preparing strategic cooperation with Garuda Indonesia, state postal service Pos Indonesia, state pawnbroker Pegadaian, and state warehousing firm Bhanda Ghara Reksa. Cooperation with Garuda will support international cargo. Working together with Pos Indonesia and Pegadaian is focused more on taking advantage of outlets for drop-offs. Meanwhile, Bhanda Ghara Reksa will supply warehousing facilities. These plans promise to shake up the transport ecosystem of large cargo, which until now face the constraints of deadlines and merchandise handover.
KHAIRUL ANAM, AHMAD FIKRI (BANDUNG)