Email Salim, Economist and Environmentalist: Covid-19 Has Triggered Culture Shock
To Emil Salim, Covid-19 is not a mere disease.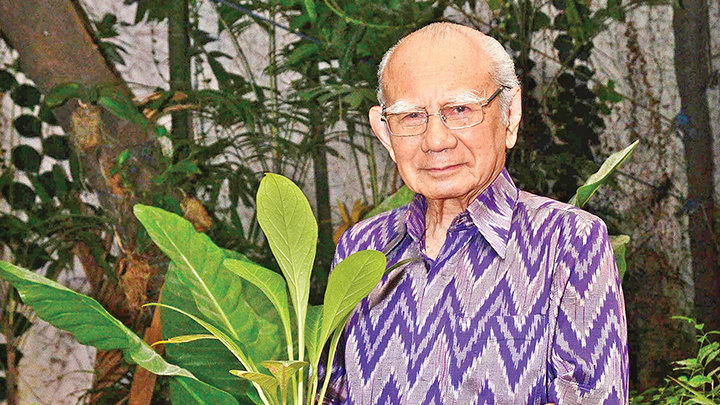 EMIL, an economist and an environmental figure, sees the pandemic caused by the severe acute respiratory syndrome coronavirus 2 (SARS-CoV-2) as a catastrophe that has not only devastated global health and economy, but also pushed virtually every country into a multidimensional crisis. "It affected communities and brought about social changes," Emil said during a special interview with Tempo last Monday, August 24.
Emil said the social distancing measures in effect had been responded differently by the Indonesian population and the western world alike. In the US and Europe, for instance, the measures did not create much impact because people there are accustomed to patembayan or gesellschaft culture associated with rationality and efficiency. Meanwhile, Indonesians who value paguyuban or communal relationships suffer culture shock from social distancing measures. "Covid has also shaken the foundation of our communities," he added.
Emil still looks sharp at 90. Apart from teaching at the School of Environmental Science, University of Indonesia, he is also active as a speaker in various online seminars. In his powerful voice, the first environment minister who went on to be part of the New Order cabinet in different ministerial positions for over two decades growled that he was irked by the environmentally-unfriendly energy policies. He highlighted the impact of climate change on the emergence of zoonosis. Emil also voiced his criticism against a number of issues, one of them being the revised Corruption Eradication Commission Law which he believed had subverted the commission and made the country slide back into the corruption era.
Emil received Tempo's reporters Mahardika Satria Hadi and Abdul Manan at his South Jakarta residence. On a table at the corner of the living room was a photo of young Emil with Mohammad Hatta, an economist and the first vice president, taken around 1970. "If you want to be a leader, follow Hatta's morality. He's my hero," he said. For over two hours, Emil discussed the pandemic's impact, his criticism towards the energy policies as well as the omnibus law.
You called the Covid-19 pandemic as an alarm bell to the eco-system disruption. How bad is the eco-system destruction to have caused this pandemic?
In the past 50 years, the human population has grown exponentially causing the animal habitats to shrink. With that, the potential for viruses jumping from animals to humans increased. That's how rats became the cause of bubonic plague, pigs of pig flu, mosquitoes of malaria, monkeys of AIDS (acquired immune deficiency syndrome), and bats of Covid. We invaded the natural habitat of many animals eventually causing the viruses to spread from animals to humans.
What are other factors?
A more devastating factor is the climate change. Greenland and Siberia are melting. Unfortunately, permafrost or the soil layer which is usually frozen is also thawing. Under the permafrost are the remains of ancient animals along with their bacteria and viruses locked inside the frozen ice for thousands of years. The climate change has a lot of people worried. The earth's temperature must be kept below the ice-melting temperature threshold by 2030.
Human activities around the world came to a grinding halt at the onset of the pandemic due to the social distancing protocol. How did it impact the climate change?
As a result of Covid-19, traffic stopped, everything stopped. CO2 emissions plummeted. The blue skies emerged over Europe, America, and even Indonesia. The air temperature fell because most human activities and mobility stopped. Experts had said before that our pre-pandemic way of life caused the climate change. Then Covid brought everything to a stop and, lo and behold, there were blue skies everywhere. Can we maintain the lifestyle that no longer depends on such high mobility? That is a budding idea nowadays.
To what extent will the social restrictions protocol affect development in Indonesia?
Large-scale social restrictions in principle are about keeping space, avoiding crowds and so on. There is a stark difference in how people in Indonesia and the West respond to the protocol. For Western societies which typify patembayan or gesellschaft or a modern and urban society, their orientation is 'kami' ('we' exclusive of 'you'). The term 'kita' ('we' inclusive of you) does not exist. Egocentrism is more dominant. Meanwhile Indonesians are paguyuban or community-oriented. In Indonesian society, you and I are connected.
Can social restriction measures be enforced in Indonesia for a long period of time?
Yes, but there is a price to pay. Why has burial of the remains of Covid-19 patients become a problem? We've been taught to respect our parents to the extent that when they die, the onus of cleaning and bathing and everything related to burial falls on the children. That is an age-old practice. And suddenly Covid-19 came and disrupted this tradition. It is a logical disruption but our belief is so ingrained that the virus does not count for us. When I saw angry people taking by force the remains of their family members, I put myself in their shoes and empathized with them. They've got a culture shock. Not everyone can deal with culture shock. So, don't take Covid-19 as just another virus or disease. It has shaken the foundation of our communities.
What role can the government play to help the people cope with this culture shock?
Not the government because this is about communities. Therefore, it is community leaders' job to keep abreast of this change. If you are a leader of a given religious community, a priest or a cleric, you are not just a priest or a cleric anymore. You are also an educator to educate your communities about changes they must adapt to.
Then what should the government do?
What I'm saying is that we should not depend on the government alone in this Covid-19 crisis. We have to face it with the total-football strategy. The government, religious leaders, teachers, educators, the press—everyone has a role to play.
Some governments such as New Zealand and Singapore have responded more vigilantly and effectively to the pandemic. Why can't we do the same?
Community ties in these countries are not so intense and strong as those in Indonesia. If you want to criticize, criticize America. President Donald Trump knows what Covid is and the dangers. But why didn't he act (more seriously)? America or Europe doesn't recognize paguyuban or gemeinschaft values which on the other hand are deeply rooted in us. I see that our analyst friends are not taking this factor into consideration. There are certainly differences in the ways how we and those outside respond.
How should we correctly adapt to the new normal way of life?
People without symptoms can cause terrible consequences. You don't have symptoms but I should treat you with suspicion. Imagine that after having culture shock, people eventually became rational. I guess we gradually are adapting to it because everyone is afraid of dying. You want to survive so you become cautious. Caution makes us more rational.
Are the government's Covid response policies already right on target?
It can still do more, but imagine Indonesia stretches a distance similar to that between London and Tehran. Some regional governments understand (the seriousness) well and some don't. Many regional officials have fallen victim to the disease.
You've said that Indonesia failed to achieve the Sustainable Development Goal 13 to fight the climate change. What do you think of the government's carbon emission reduction policies?
I haven't seen any serious steps taken to come up with a renewable energy policy. We are still dependent on oil, gas and coal. Why can't we capitalize on solar or wind energy? Or hydro or ocean energy? Our islands and beaches are very windy. We have tons of renewable energy sources.
Do you think the government is not giving due priority to renewable energy development?
Their considerations are short-term only relying on already available oil, gas and coal that give quick income and tax revenues. But I still don't understand why we don't make use of the abundant solar energy we have from being on the equator. The sun's rays vertically fall on Pontianak or West Sumatra.
How likely is our human resources able to develop renewable energy technologies?
The question is why our human resources are not developed. During his era, Pak Harto's (President Suharto) ambition was to achieve food self-sufficiency. Farmers were taught to use fertilizers and so on. They had bimas (community mentorship program) and field instructors. So, it was farmers—not the government—who increased production. Farmers knew superior varieties of seeds, types of fertilizers or irrigation. Thanks to education.
What is lacking in the government's carbon emission reduction policies?
We received aid from Norway. There is a United Nations imitated program called REDD+ (Reducing emissions from deforestation and forest degradation). The system is there and already put in practice in Kalimantan and it can be applied in social forestry management. But why hasn't it been implemented on a large scale yet? My impression is that the government lacks the will to push for environmental protection. The driving force now is coal. Just look at the recently endorsed Minerba (mineral and coal mining) Law.
What do you think of the revised Minerba Law?
In a critical situation like this, why must the House of Representatives (DPR) issue it as the first law to be passed (for 2020)? Aren't there more important issues? Electricity has become a basic necessity, not a luxury anymore. Without electricity, you can't work or learn from home. There are PLN (State Electricity Company) and independent power suppliers. They should be developed massively and pushed to create for a mechanism to develop renewable energy.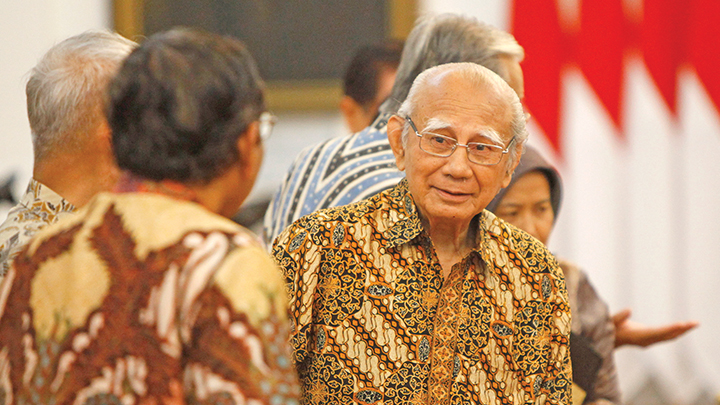 Emil Salim at the Merdeka Palace, Jakarta, September 2019./TEMPO/Subekti
The government and DPR are also adamant to continue the deliberation of the omnibus law including the job creation bill.
The essence of the omnibus law is to return the decision-making power from the regions to the central government over all sorts of time-consuming regulations. Granted, the central government is a central figure in driving the development activities. But the fact is that during this pandemic, Bapak President has already lamented twice about the central government's low budget absorption. Why is the absorption rate still below 30 to 40 percent in the pressing situation like now? Imagine if the investment decision making is centralized. With the low Covid-19 budget absorption, the social security network is still inadequate.
Will the omnibus law precisely hamper government's programs?
I just see the reality. Even the health ministry's budget absorption is low. So, there is an issue of governance. We don't tackle this issue but instead think that the regional governments have problems and revoked some of their authorities. Meanwhile, problems evidently exist at the central level and that's why Jokowi was angry.
The government always argues that layers of bureaucracy in the regions have scared investors away.
That is the pre-Covid-19 argument. The omnibus law was compiled before Covid-19. Amid Covid, we see how low the central budget's absorption has been. Doesn't this mean that the assumptions used for the omnibus law did not take into account changes or conditions for effective budget absorption? Twice during the crisis Jokowi got upset over this.
What exactly should the government do?
Change and review the assumptions.
Didn't the government delegate Covid-19 mitigation to regional authorities?
Everyone is at a loss as to how to respond to Covid-19 because no one had experienced it before. There are no directions so everyone has to play it by year. What I want to stress here is that when a social safety budget or something of the sort is not absorbed, the problem is the absorption capacity of the central government. So, the same mindset before Covid-19 is not necessarily applicable now.
Does Indonesia need the omnibus law right now?
Please consider that the atmosphere, rationale, mindset, the global economy before Covid-19 are different. Covid-19 has upended everything.
One of the government's arguments is that the omnibus law is needed to create plenty of job opportunities to boost the economy.
The key to development is human resources, not capital. People say South Korean nationalism emerged mainly because of North Korea. Likewise, West Germany because of East Germany, US because of Russia, and so on. It's always been that way. But the fact is that they all prioritize human resources in developing their nations.
What do you think about the quality of human resources in Indonesia at this time?
I was concerned when I saw the PISA (Programme for International Student Assessment) scores last year. China ranked the highest among 77 countries, followed by Singapore. Indonesia was at 72. PISA assessment is conducted every three years. Both in 2015 and 2018, Indonesia fell behind in mathematics, reading, and science skills. Our friends in the education and culture ministry noted that our kids are not reading enough. So, examiners assessed them by asking them to read. After 15 pages, the examiner stopped the students and asked them to explain what had they just read. Many couldn't answer. It means they lack the ability to concentrate and absorb.
What needs to be improved from our education system to raise the PISA score?
I think a greater emphasis should be placed on human resource development. Look at Singapore. It is not resource-rich but it has brain power or quality human resources. I admire China. They are great. During Mao Zedong's leadership, the country descended into extreme poverty with the people in the countryside getting even shorter end of the stick. Deng Xiaoping came to power and told the people to study. Children were pushed to study hard from the primary levels. Then graduates went overseas for further study and came back with expertise. That's what incensed Donald Trump. China has developed its education sector. Also look at India. So many CEO (chief executive officer) of global tech companies nowadays are Indian. The next champion after China will be India, not America.
---
EMIL SALIM
• Place and date of birth: Lahat, West Sumatra, June 8, 1930 • Education: Bachelors of Economics, University of Indonesia (1958); Master of Arts, University of California, Berkeley, US (1962); PhD in Economics, University of California, Berkeley (1964); Professor of Economics, University of Indonesia (1975) • Career: State Minister for Improvement of State Apparatus/Deputy Chairman National Development Agency (1971-1973), Minister of Transportation (1973-1978); State Minister for Population and Environment (1978-1983); State Minister for Development Supervision and Environment (1983-1993); Professor, Faculty of Economics, University of Indonesia (since 1983); Lecturer, The School of Environmental Science, University of Indonesia; Chairman, National Economic Commission (1999); Member, Presidential Advisory Council for Environment and Sustainable Development (2007-2010); Chairman, Presidential Advisory Council (2010-2014) • Awards: Bintang Mahaputera Adipradana (1973), Doctor Honoris Causa from National University, Malaysia (1994)
---
You've been in the government for quite long time garnering a wealth of experience in the economic and environmental fields. Has the President ever asked any advice from you?
I'm nobody. Of course, he didn't. How come I say, "Emil Salim's here." I've retired. As a retiree, I should know my place.
Since when you became concerned about environmental issues?
I attended the first United Nations environmental conference held in Stockholm, Sweden, in 1972. I was still with the national development planning agency at the time. At the conference, the Inter-Governmental Group on Indonesia (IGGI) and Paris Club discussed foreign debts. Heated discussions went on about wood export ban to protect the environment. I came into the government when the debts were larger than export-import revenues. How would Indonesia repay the debts if there were bans on this and that. The Brazilian delegation and I challenged the ban that time. Then came Indira Gandhi (Indian Prime Minister) and the three of us chatted. Indira Gandhi said, "It's true we have a problem with development from the ban. But if we are not careful with activities that destruct the environment, those who suffer will be the poor, not the rich. I experienced that in India." From that I realized the connection between environmental issues and poverty. That's what I brought back to Jakarta.
What was the concept that you brought that time like?
The environment is also beneficial in combating poverty.