Shopee Account Unsafe
ON July 4, 2020 I made a transaction to purchase a bicycle via the Alwihoop5555 account and I succeeded in my virtual account transfer to the Shopee account worth Rp1.7 million.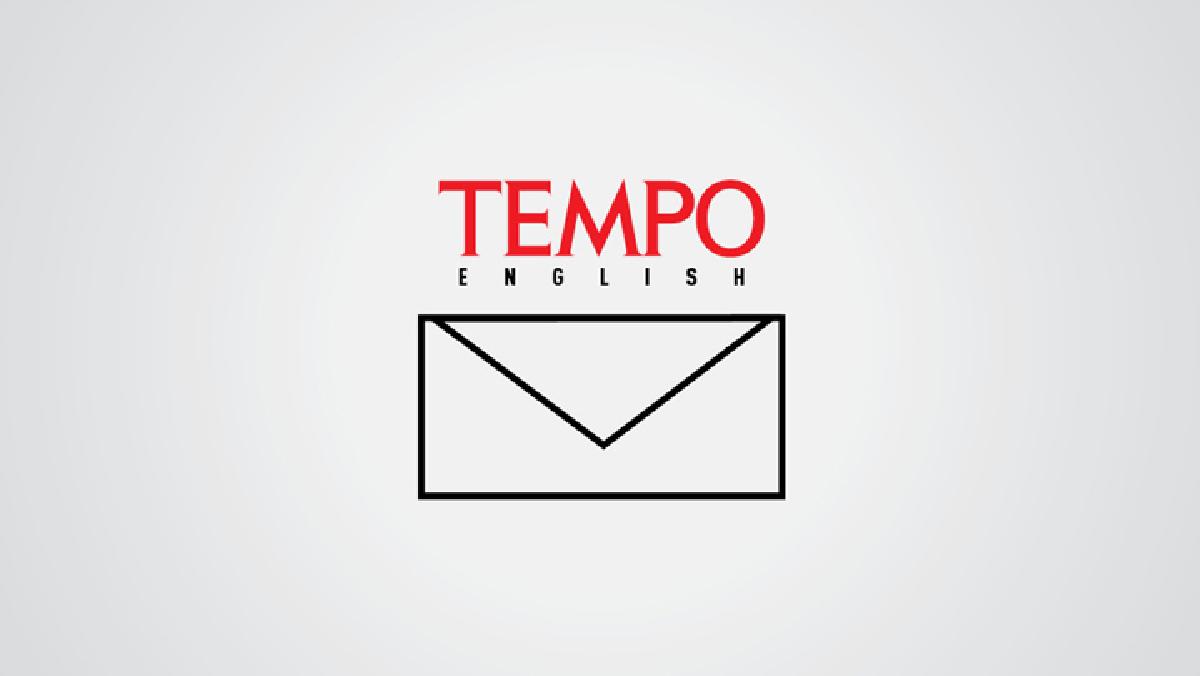 The next day my order was unilaterally canceled by the seller and I got a notification for the cancellation. I could not log in again because my account was frozen by the Shopee management.
After I contacted the call center I was asked to wait and on July 9, 2020, my account was reactivated. The refund that should have entered Shopee pay totaling Rp1.7 million turned out to have been used by a third party. The call center obtained information that the user had bought prepaid phone credit three times. I had to wait for four days for its settlement. The promised refund by means of a voucher has not been realized either. I am disappointed.
Susanto
South Tangerang, Banten
Shopee replied to this complaint by email to Tempo but there was no content in it. The complainant informed that Shopee promised to settle the issue—Ed.
---
Cigarettes and Pandemic
CIGARETTES may be a necessity for some people. Every time I travel or linger in public facilities, I always notice people smoking freely. It is like what I often experience while waiting for city transportation. Similarly, while on a bus, smokers are freely belching out smoke without minding other passengers.
Amid the pandemic, I hope cigarette smoke will not fill public spaces. Sadly, it has been the same. When I visited Taman Safari Indonesia in the new normal period on June 30, the view of cigarette fumes remained. At the time I was at an eatery, where there were infants, toddlers, and children, but a middle-age man was smoking at his ease.
Meanwhile, my husband, three children and I were engulfed in smoke that made us hard to breathe. I made a gesture by covering my nose and moving to another seat, but the man still did not feel that other visitors were uncomfortable with his smoking behavior.
It is indeed difficult to eliminate cigarettes in our life, especially in this country. The cigarette industry absorbs manpower and there is yet no news about cigarette companies laying off their employees. This industry even enjoys a boom amid the pandemic.
So, what we need to do is to educate smokers. Hopefully smokers can exercise restraint by avoiding smoking in public places in respect to nonsmokers, and security officers will strictly deal with those who violate smoking norms in public spaces.
Mas Subchiatun Fitriah
Tangerang, Banten

---
A Suggestion for Telkomsel
IN the Covid-19 pandemic period nearly all economic sectors are undergoing contraction. But the information and communication sector keeps growing by 2.97 percent (Central Statistics Agency, 2020).
This is natural because the government is applying the system of online learning. Strangely, Telkomsel is just losing 5.7 percent of its subscribers.
According to Telkomsel's vice president of corporate communications, the loss is due to the prepayment registration program currently underway. In fact, an OpenSignal analysis indicates that Telkomsel has remained the best cellular operator.
Recently the building of Riau Telkomsel caught fire so that it disturbed the Internet connection. Telkomsel's Sumatra network also disrupted. This prompts the public to question the network engineering system of Telkomsel. While other providers make significant quality enhancement, Telkomsel is just declining.
As a loyal user of Telkomsel since 2004, I have not noticed many significant improvisations by Telkomsel. When it rains, Telkomsel frequently loses its 4G network, which even sometimes happens in normal weather. The quality of its network using Zoom is also often disturbed, forcing me to turn to the cellular card. Moreover, Telkomsel's rate remains the highest in the GSM category. Telkomsel needs to carry out improvements.
Esti Pasaribu
Bengkulu
---
Can Domestic Products be Competitive?
ONE of the interesting points in the speech of President Joko Widodo at the annual conference of the People's Consultative Assembly 2020 is that the ideology and noble values of the nation should not be exchanged for economic advancement. Even economic progress obviously requires a strong spirit of nationalism. We should be proud of Indonesian products. We should purchase domestic products.
The economic progress of Indonesia is among others determined by the support of the society that buys domestic products. Without public support, it is impossible to realize it. The fact is that loving, buying, and producing domestic goods are not easy to do. Amid the massive influx of foreign products at low prices into the Indonesian market, the easy entry of foreign companies through the marketplace, the closing down of local production due to capital constraints, the rising prices of basic materials, and the complication being faced by young entrepreneurs including me is mounting.
Essentially, the sovereignty of a nation is its freedom from foreign economic influence. Actually we can make progress if we have the spirit of independent society, the mindset of loving domestic products, and government policies to restrict the inflow of foreign products. Therefore, cooperation between all the existing elements is very important. Individuals, the public, and the government apparatus should love domestic products rather than mere discourses.
Deasy Rafianty
Cirebon, West Java