Artjog Not All Out
Due to the Covid-19 pandemic, contemporary art exhibition Artjog 2020 has to be held online while direct visits are subject to health protocols. Paintings are the dominant form of art this year.
Edition : Monday, August 31, 2020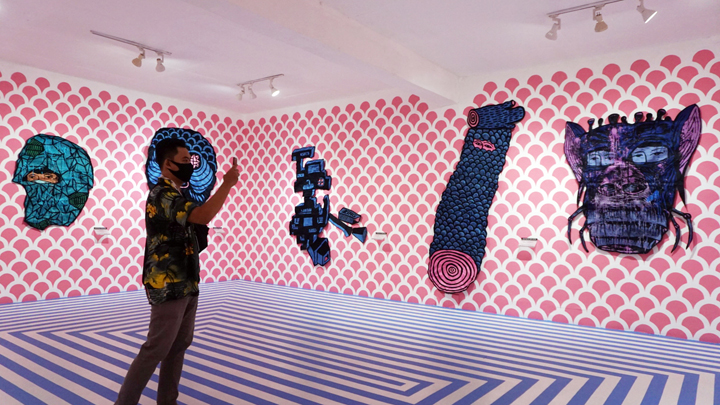 THERE is no more breathtaking work of art on the facade of Jogja National Museum, Yogyakarta. Only a corridor walled with blue iron plates and a sign that reads "Artjog", guiding visitors inside to see paintings, sculptures, and installation arts by 78 featured artists. Paintings are predominant this time, and no interactive work is present due to health protocols. For years, Artjog contemporary art exhibition has always been featuring the main works of artists to attract visitors. Last year it was Teguh Ostenrik's installation about scenes under the ocean that stood on the courtyard of the exhibition hall.
Artjog originally intended to display an installation art by Jompet Kuswidanando as one of its special projects from July 23 to August 30. However, the Covid-19 pandemic put a stop to the plan. During the crisis wrought by the virus outbreak, organizers decided to cancel the Time to Wonder theme and replaced it with Resilience. There are also fewer sponsors now. "We could not be all out like before," said Artjog founder, Heri Pemad, to Tempo at the Jogja National Museum on Sunday, August 9.
Organizers sought to get around the restrictions by opening an online exhibition at www.artjog.co.id, and limiting the number of visitors to comply with health protocols. Open to public from August 8 to October 10, not every work of art on display is new, despite Artjog's claim as an annual festival of contemporary arts. An installation art by well-established artist Heri Dono, The Guardian of Angels, were created in 2018. This work also feels disconnected with the Resilience theme. Curator Bambang 'Toko' Witjaksono said the featured artists were not ready to produce new works of art in a short time.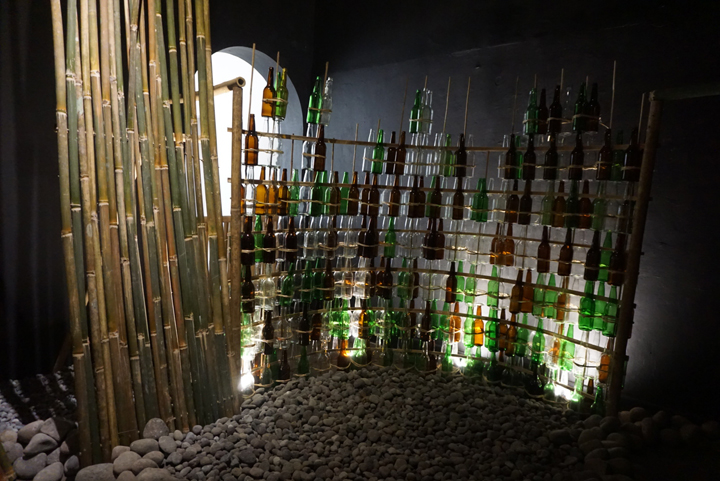 An installation work Tembang Laras by Murakabi Movement. TEMPO/Shinta Maharani
Particularly interesting is the work by artists from an interdisciplinary arts movement, the Murakabi Movement. The work by the Murakabi group became the special project in Artjog this time, representing the quietness and reflective nature of it, in contrast to previous Artjogs which were full with crowds and all the bells and whistles. "Murakabi's work gives a rejuvenating social therapy in the atmosphere of the pandemic," said another curator of Artjog, Ignatia Nilu.
W251bGwsIjIwMjEtMDUtMTEgMTg6NDk6NTUiXQ
Murakabi, whose members include artists, architects, intellectuals, and social movement activists, presents an installation art constructed of bamboo, river stones, and used bottles, in line with the theme. The work is titled Tembang Laras Murakabi. Architect Eko Prawoto arranged the bamboos into a corridor welcoming visitors, complimented by river stones and used bottles facing the ceiling. The bottles serve to contain rainwater, which then goes through filtration and electrolysis to make it ready to drink.
Bamboo is chosen as the main material of the installation to invite people to reflect, to get closer to nature during the pandemic. The bamboos filled two rooms depicted as human lungs and heart. The arrangement of the bamboos represents the energy in the middle of the heart. "Balancing the material and spiritual," said Santi Ariestyowanti, a member of Murakabi.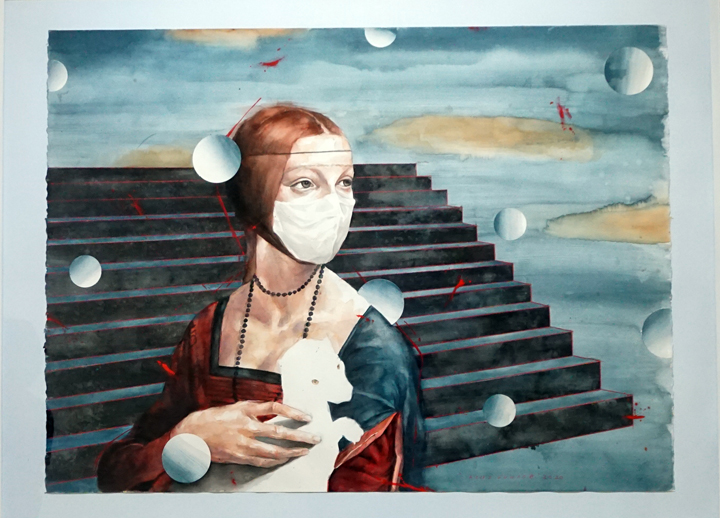 Agus Suwage's painting Droplet Series-After Da Vinci. TEMPO/Shinta Maharani
Visitors can also meditate in these bamboo-filled rooms. Bamboo bicycle initiator and Papringan Market activist, Singgih S. Kartono, is currently preparing an addition to further support the meditations, in the form of long bamboos where visitors can put their phones. Every person will be able to play a favorite music from the phone while contemplating in meditation. One can imagine the bamboo rooms are like chapels, or meditation chambers.
The quiet atmosphere is enhanced through a collaboration by Murakabi, involving poet Joko Pinurbo and artist Gunawan Maryanto. Murakabi invites the public to participate in an online poem listening session, Hening Cipta, every Sunday morning (4am to 5am), starting from August 30. The early hours of morning are chosen for the quietness, and also because it is the time when Jokpin—as Joko Pinurbo is known to friends—usually writes his poem. Right from their homes, participants can listen to the poems while making tea, burning incense, or smelling essential oils to further add to the calmness of the soul.
Jokpin's poems are known for their relatedness to the daily life and simplicity. His poems pertain to spiritual matters without being patronizing or dreamy. That is why Murakabi is interested to collaborate with Jokpin. "Jokpin's poems are close to our daily lives and people can relate to them. Just like Murakabi's goal of making art present in our lives," said Santi. One of Jokpin's more spiritual poem is Apa Agamamu (What is Your Religion). My religion is the water that washes your question into the bottle filled with rain water. The bottle where the poem is written on becomes a reflection of how humans view their relationship with nature.
Closeness to nature and the pandemic is also evident in artist Eko Nugroho's combination of embroidery and panting. His work, entitled Museum of New Norm, occupies a entire room on the second floor. The room contains 11 works, each displaying an image of humans in strange forms, some look like aliens or monsters. All the faces are obscured by random forms and bright colors.
Being confined at home by the pandemic gave Eko the inspiration to create a series of embroideries atop paintings. He began work when the coronavirus first struck China in late 2019. Eko designed the visualizations of his works, employing six embroidery workers in his studio. The works are done using manual embroidery machines similar to treadle sewing machines. The embroidery is sewn on the paint whose colors closely resemble that of the threads. The painting resides inside this embroidery.
The embroidery cutting into the painting, said Eko, illustrates the pandemic that changes human character and behavior, both as an individual and a social being. For example, the requirements to keep a distance, avoid crowds, maintain communication, and stay clean, which are changing the way human live their lives. "The pandemic became a new norm which human then apply," said Eko.
The pandemic also became inspiration of works by artists Agus Suwage, Sunaryo, and Djoko Pekik. Agus Suwage created the face mask-themed paintings hung on the third floor of the museum, exploring this protective equipment during the Covid-19 pandemic. He painted an image resembling Mona Lisa by Italian maestro Leonardo da Vinci, entitled Droplet Series—After Da Vinci. Another painting in the series, Droplet Series—Tolak Bala After DeLacroix, (tolak bala means to ward off catastrophes) depicts a woman in white face mask looking at the sky.
Sunaryo, the artist from Bandung, explored dancers clad in masks in his pandemic-themed painting. The 1.6 x 2 meters painting shows each dancer in their own movement. A balinese dancer is putting on a head covering, while another dancer is busy moving that the mask becomes loose. The dancers are moving in various poses, in close proximity to one another. Sunaryo calls his work When the Dancers Stay at Home.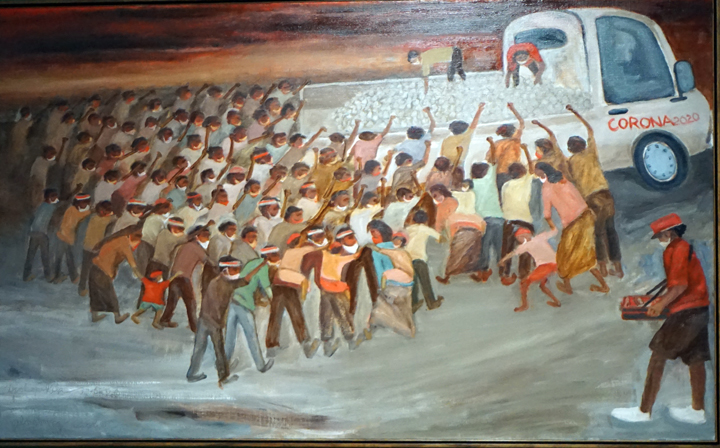 Gelombang Masker by artist Djoko Pekik. TEMPO/Shinta Maharani
Face masks emerge once more in the work by senior artist Djoko Pekik. Djoko, who was once a member of the People's Cultural Institute and subsequently became a political prisoner after the 1965 incident, created a painting of a crowd of humans, both men and women, old and young, with their right hands in the air. Everyone in the painting is wearing a face mask and walking towards a pick-up truck emblazoned with the word "corona." The painting, oil on canvas 1.5 x 2.5-meter wide, is called Gelombang Masker (Wave of Face Mask).
A prominent artist known for the high price of his works in the market also incorporates the theme of pandemic his painting. I Nyoman Masriadi, the artist whose paintings are valued at billions of rupiah, painted Batman the superhero in his Batman's Promotion. The 2020 painting displays Batman in purple suit, black cape, and black mask. Masriadi wrote "Buy 2 Get 1 Free" in the 202 x 145 centimeter-wide acrylic on canvas painting.
Other well known artists who also contribute their work to this year's Artjog include Nasirun, Ugo Untoro, Jumaldi Alfi, Ivan Sagita, and sculptor Nyoman Nuarta. Some artists, according to exhibition curator Bambang Toko, are not affected by the pandemic and instead become focused working in making art in their studios. "One of them is Ivan Sagita," he said.
SHINTA MAHARANI (YOGYAKARTA)