Songbirds in Boxes
It is estimated that about a million songbirds from Sumatra, including some protected species, have been smuggled off the island over the past year. The lucrative nature of this business threatens the populations of a number of bird species as well as the balance of the ecosystem. It is suspected that this smuggling involves authorities from a number of institutions. Tempo made this report in cooperation with Internews' Earth Journalism Network.
Edition : Monday, September 7, 2020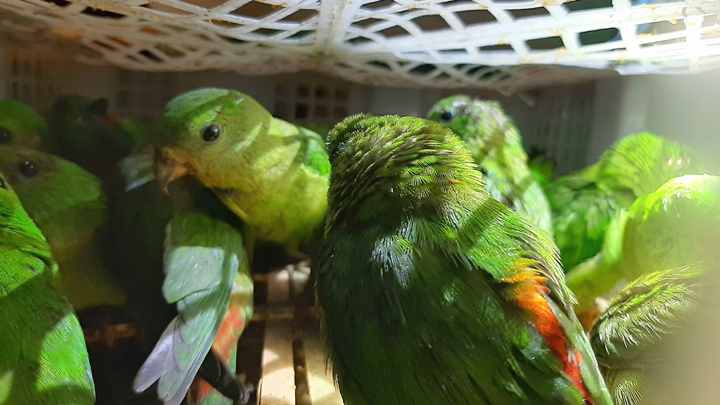 A plainclothes police officer approached a white Daihatsu Xenia car at the ticket checking post at the Bakauheni Port, Lampung, on Tuesday night, July 7. That car was queuing to board a ferry bound for Merak Port in Banten. The officer reached the driver's side door and took a look back into the cabin where he saw a pile of boxes of fruit.
He then opened the front door and took over the driving seat. The driver slid over to the left, moving to the passenger seat occupied by Diah Bayu, 42. The vehicle then headed to the Bakauheni Port Police Department, just a kilometer away from that post. "I was surprised, but I just follow it," said Bayu, who gave an account of what happened to Tempo, a day later.
Police investigators questioned Bayu that night. He was arrested, and 400 birds kept in 43 plastic fruit boxes were taken as evidence. Among those wild birds were the bar-winged prinia (Prinia familiaris), yellow-vented bulbul (Pycnonotus goiavier), Javan white-eye (Zosterops flavus), and purple-throated sunbird (Leptocoma sperata). Bayu is suspected of intending to smuggle those birds to his home in Purwokerto, Central Java. "It's a way to make money," he said.
The next day the police turned Bayu and all of the birds over to the Bandar Lampung agricultural quarantine center. He was lucky. He was released a few days later. "He was given guidance and asked to write a statement that he would not be a repeat offender," said Adj. Comsr. Ferdiansyah, chief of the Bakauheni Port Police (KSKP), on Friday, September 4.
From January to August, the Bakauheni Port Police has prevented 32,000 wild birds from being smuggled through the harbor. All of those birds were turned over to quarantine officials. "Such sending of wild birds is illegal because it is done without papers on the domestic transportation of wild plants and animals," said Muhammad Jumadh, chief of the Bandar Lampung agricultural quarantine center.
W251bGwsIjIwMjEtMDQtMjEgMTQ6MTk6MzIiXQ
Law No. 21/2019 on the quarantine of animals, fish and plants requires that all birds taken from the forest must undergo an inspection by quarantine center officials. If not, there is a maximum punishment of 10 years imprisonment and a maximum fine of Rp10 billion.
If the animals are protected by law, violators can be charged under Law No. 5/1990 on the conservation of biological natural resources and their ecosystems as well as under Law No. 14/1999 on forestry. Violators can face a maximum sentence of five years imprisonment. In 2020, there were nine smugglers who were sentenced to four to six months imprisonment in Lampung.
However, the threat of imprisonment and fines has not deterred smuggling. It is estimated that the number of birds smuggled is much higher than the number intercepted at Bakauheni. Marison Guciano, executive director of Flight: Protecting Indonesia's Birds, estimates a million birds have been illegally captured in the forests of Sumatra over the past year. This data was obtained by counting the number of birds caught over the year and the estimated number of smuggled birds which evade being detected by the authorities.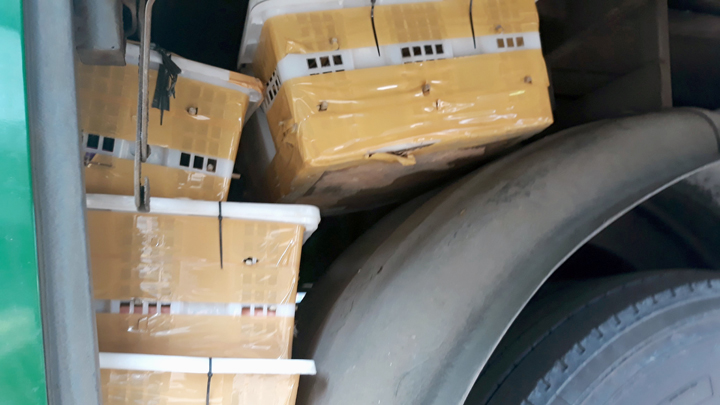 Plastic boxes filled with smuggled birds which were confiscated by officers in Merak Port, Banten, July 2019. /Flight Protecting Indonesia's Bird
For the past five years, Marison calculated that there are about 14 million wild birds, including some protected species, which have been taken to Java by land, sea and air. He made this calculation with Flight's data on sales from over 2,000 bird stores in Sumatra and Java. "This is because the demand from the songbird community is rising every year," he said.
Makhfudz Solaiman, a businessman and founder of the Nusantara Bird Breeders Association, estimates that there are 13 to 14 million songbird enthusiasts in Indonesia. The high potential of this market has increased interest in the songbird business. "The financial turnover in this business is Rp3-5 trillion annually," said this man better known as Kang Ebod, on Wednesday, September 2.
Minister of Cooperatives and Small and Medium Enterprises (SMEs) Teten Masduki said that the songbird trade involves many parties. There are bird breeders, bird catchers, makers of bird cages and accessories, bird feed and medicine producers, and people who run bird competitions. "The 'songbird mania' community is very large and is found in every region," he said to Tempo on September 1. Teten held a songbird competition called the Minister of Cooperatives and SMEs Cup in February. He also proposed the Indonesian Songbird Community Cooperative to accommodate bird breeders.
This business in increasingly endangering the songbird population, in particular for birds from Sumatra. Hifzon Zawahiri, Chief of the Natural Resource and Conservation Center (BKSDA) Section III for Bandar Lampung-Bengkulu, said that the high demand for songbirds has resulted in a growth in smuggling over the past two years.
The highest demand is in Java. Those involved in this business favor Sumatran birds because of the variety of their warbling and chirping. One popular bird which is often entered in competitions is the oriental magpie-robin (Copsychus saularis). "They can smuggle up to 1,200 magpie-robins at a time to Java. Just imagine how many buyers there," said Hifzon.
It is believed that this smuggling goes on every day, in the morning and at night. Occasionally protected songbirds are smuggled, such as the blue-winged leafbird (Chloropsis cochinchinensis), crested jay (Platylophus galericulatus), and blue-crowned hanging parrot (Loriculus galgulus), which are popular among bird enthusiasts.
Tempo found some blue-winged leafbirds being sold in Curug, Bengkulu. Banners for bird shops selling such birds could also be seen around Bandar Lampung last July.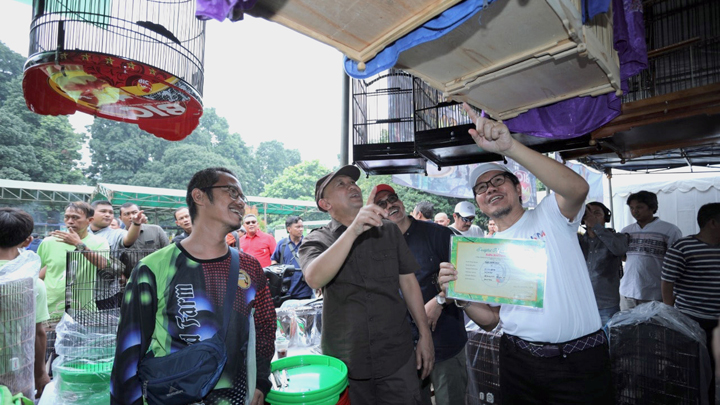 Cooperative and SMEs Minister Teten Masduki (center) at the opening of the Minister of Cooperatives and SMEs Songbird Competition in Bogor, West Java, February 2020./ www.depkop.go.id
Not all of the smuggling has been exposed. Each week, the police and the quarantine center expose three to five smuggling attempts. Marison Guciano said that undetected smuggling is estimated 20 times higher. He referred to information he obtained from bird sellers in a number of provinces.
The smugglers, according to Marison, do not only use Bakauheni Port as an entry point into Java. "The smuggling utilizes many other ports in Sumatra and airports in Medan and Batam," he said.
Smugglers use various methods in order to send wild birds. The most common way is to send them over roads traversing Sumatra. Vendors sneak them onto buses traveling between provinces.
Before heading out, tens of birds are put into plastic fruit boxes. The smugglers fool officers by hiding the boxes on the bus.
Tempo found that these boxes are hidden under the rearmost passenger seats. Some are hidden in the baggage area near the wheels and engine. This often results in the birds dying along the way. "Half of the birds can die due to heat from the engine," said Marison.
The latest method is to smuggle birds using a rented vehicle. Diah Bayu rented his friend's car to pick up a load of birds from vendors in Bengkulu, West Sumatra, to Jambi. He used a car with tinted windows. Bayu covered the boxes containing the birds with black netting. "I rented that car for Rp275,000 a day," he said.
Sellers with more resources use other methods. They send birds via cargo planes. Musokib, a wholesale songbird vendor in Muaro Jambi, said that the airport in Medan, North Sumatra, is the most-frequently used location for sending birds off the island. "It can all be 'taken care of' through the airport in Medan," he told Tempo.
However, he prefers land routes due to the lower costs involved. Musokib said that he often uses the services of insiders at a number of institutions when sending songbirds to Java. He said that all bird vendors do this so that their shipments are not stopped by officials.
Musokib uses the insiders to monitor the situation. For instance, he knows when officials are planning raids in the field. "If this is not done, the birds won't get through," said this man who has been selling birds for seven years. They refer to these insiders as umang-umang.
Traders do not hesitate to pay informants on account of the lucrative nature of selling wild birds. Musokib buys Javan white-eyes (Zosterops flavus) from bird catchers or suppliers for Rp6,000-8,000 each. He sells them to sellers in Java for Rp18,000.
If he sends 1,000 of them, he could make up to Rp11 million. He claimed that each shipment will be completely bought up by vendors in Java. "The turnover of funds in the songbird business is very fast," he said.
Despite being caught by the police, Diah Bayu also used the services of an umang-umang. This particular informant was a worker at the Bakauheni Port named Pawan. He paid him Rp400,000 when passing the port checkpoint. Bayu said that he does not know what institution Pawan works for. "He does not wear a uniform," he said.
Hifzon Zawahiri verified the involvement of officials in smuggling songbirds. He shared his experience when attempting to confiscate protected songbirds at an airport. His team was actually intercepted by officials there as they attempted to enter the airport. "As thieves, they outsmarted us," he said.
•••
Dozens of protestors went to several locations in Bandar Lampung in mid-2018. They were protesting the the Environment and Forestry Minister Regulation No. P.20/2018 on protected plant and wildlife species, which was signed in June 2018. "The protestors came in Toyota Fortuner and Mitsubishi Pajero cars," said Bandar Lampung BKSDA Chief Hifzon Zawahiri.

A similar protest was organized by 'kicau mania' (songbird mania)—a nickname for songbird enthusiasts—in Jakarta. This regulation placed the white-rumped shama (Kittacincla malabarica), pied myna (Gracupica jalla), and straw-headed bulbul (Pycnonotus zeylanicus) on the list of protected species. These three types of birds are frequently entered in songbird competitions.
This pressure was effective. Two months after the Regulation No. P.20 went into effect, Minister of the Environment Siti Nurbaya took those three species, plus the small shrike thrush (Colluricicla megarhyncha) and Sangihe shrike thrush (Collurincincla sangiherensis) off of the list of protected birds through the Environment and Forestry Minister Regulation No. P.92/2018.
Four months later this regulation was changed again, becoming Regulation No. P.106/2018. It continued to keep those five species off of the list of protected birds. "The straw-headed bulbul, blue-winged leafbird, and oriental magpie-robin are very popular with the songbird mania group due the quality of their voice," said SMEs Minister Teten Masduki.
Teten claimed that he has met Minister Siti. "I had a short meeting with her to talk about the matter of songbird breeding," he said. He denied influencing Minister Siti to change that regulation.
Wiratno, director-general for conservation and natural resources and ecosystems, did not respond to Tempo's interview request as of Saturday, September 5. Director of Biodiversity Conservation Indra Exploitasia did not respond as well. Director of Forest Prevention and Security Sustyo Iriyono was reluctant to comment. "My apologies, I cannot not yet (speak) on this," he said via WhatsApp message when asked about songbird smuggling and the existence of any pressure to change the Environment and Forestry Minister Regulation No. P.20/2018.
Marison Guciano said that Minister Regulation No. P.106 indicates that the government is not concerned about the preservation of wild birds. He considered that removing those five birds from the protected species list encourages songbird smugglers and enthusiasts. "Today the bird population is much lower due to exploitation," he said.
Birdlife International notes that today there are only 600 to 1,700 straw-headed bulbul birds in the wild. The number of pied myna is even less, just 49 birds.
Ganjar Cahyo Aprianto, a researcher from Burung Indonesia, said that the Sangihe strike thrush population is down to just 50 to 249 birds. This bird, he said, can only breed in the wild. "The Sangihe strike thrush is in the critically endangered category. It should be protected," he said.
Dewi Malia Prawiradilaga, a bird researcher at the Indonesian Institute of Sciences (LIPI), said that her team's research last year concluded that the selling of the straw-headed bulbul, white-rumped shama, and other wild birds has endangered populations in Sumatra. "They are being over-caught," said this professor of zoological research.
Birds play an important role in pollinating flowers and spreading seeds in the forest. They also control the pest population. Dewi said that the decline in the bird population endangers the balance of the forest ecosystem.
She has personally noticed that the sounds of songbirds in the forests in Sumatra are disappearing. "The more popular a type of songbird becomes, the rarer it is in the wild," she said.
MUSTAFA SILALAHI, HENDRY SIHALOHO
(BANDAR LAMPUNG)