New Ambitions for Dieng-Patuha
Geo Dipa is getting ready to continue developing power plants in Dieng and Patuha, after more than two decades of stagnation due to disputes and lack of funding.
Edition : Monday, September 7, 2020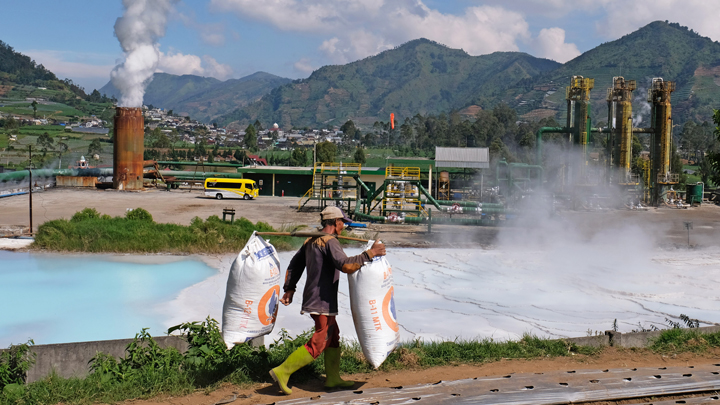 RIKI Firmandha Ibrahim is delighted. He is convinced that he will be able to restore the geothermal working areas (WKPs) in Dieng and Patuha, respectively in Central and West Java, which had been dormant for almost three decades. This chief executive officer (CEO) of Geo Dipa Energi has started to revitalize assets in both working areas, which have a total geothermal energy potential of 800 megawatts (MW). Retrofitting with Japanese technology will also be installed in existing units. "The turbines will be replaced, but not the casings," Riki told Tempo on Friday, August 28.
Cash shortage, which has plagued the development of Dieng and Patuha WKPs in the past several years, is no longer a problem. Geo Dipa's opportunity to realize its original plan opened up again after it was assured of funding worth US$300 million, or Rp4.4 trillion, from the Asian Development Bank (ADB). This is to fund the Dieng 2 geothermal power plants (PLTP) and Patuha 2 PLTP, each with a capacity of 55 MW. ADB will also manage loan allocations worth US$35 million from Clean Technology Fund.
The credit agreement was signed on August 19, at the same time as the signing between ADB and Penjaminan Infrastruktur Indonesia (PII), which operates under the finance ministry.
Simultaneously, PII and Geo Dipa also signed a performance bond for two power plants with an estimated investment of US$469.2 billion. The ADB loan is indeed linked to the finance ministry, through PII, which is to guarantee Geo Dipa's debt payment risks. This is worth Rp6.12 trillion.
ADB Director for Indonesia, Winfried F. Wicklein, said that this guarantee is in line with Indonesia's long-term goal to maximize domestic energy resources, add energy diversification, and ensure environmental sustainability. On the other hand, the government also needs to expand the potential of geothermal energy to support Indonesia's commitment in reducing carbon emission, in line with the Paris Accord in the 25th Conference of the United Nations Framework Convention on Climate Change (UNFCCC-COP 25).
W251bGwsIjIwMjEtMDUtMTIgMDk6MDA6MzIiXQ
Separated State Assets Director at the Finance Ministry's Directorate-General for State Assets Management, Meirijal Nur, said the government has also allocated Rp3.1 trillion to finance geothermal infrastructure. There is also a World Bank grant worth US$55 million for the geothermal energy upstream development project, and US$197.5 million for geothermal resource risk mitigation, managed by Sarana Multi Infrastruktur. "The maximum funding facility for one project is US$30 million," Meirijal said on September 3.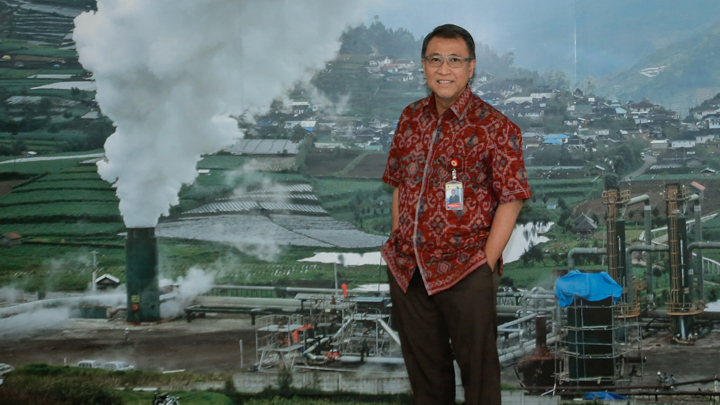 CEO Riki Firmandha Ibrahim at Geo Dipa Energi office in Jakarta, August 28 (right)./ TEMPO/M Taufan Rengganis
Ida Nurhayatin Finahari, geothermal director at the ministry of energy and mineral resources, said that using funds from the state budget is a sign of the government's involvement in geothermal energy projects. "The development of renewable energy is still expensive because of its many challenges. The government is starting with this, in particular with geothermal energy," Ida said.
In line with the development of new and renewable energy, the government has targeted geothermal power plants to reach 8 gigawatts (GW) by 2030. Until the first semester of 2020, PLTP's installed capacity was only 2.1 GW. "We hope that it won't take until 2045, but that by 2030 we would already reach the target of some 8,000 megawatts," she said.
•••
THE Dieng and Patuha geothermal working areas have a dark history. The government halted these projects following the 1997 financial crisis, three years after construction had been started by two US companies: Himpurna California Energy Ltd (HCE) and Patuha Power Ltd (PPL). This ended in international arbitration, which forced the government to pay US$261 million to the Overseas Private Investment Corporation, an institution which insured risks for HCE and PPL.
After paying the fines, all the assets of HCE and PPL were handed over to state oil company Pertamina and state electricity firm PLN, which then together formed Geo Dipa Energi in 2002. In 2011, Geo Dipa became a state-owned company under the finance ministry.
Plans to optimize geothermal energy at Dieng and Patuha—400 MW each—ran into problems again in the hands of Geo Dipa. In the past 16 years, the project had been stuck in legal wrangling due to the dispute between Geo Dipa and Bumi Gas Energi, the company which won a 2002 tender to build Dieng 2 PLTP x 60 MW and Patuha 3 PLTP x 60 MW. This endless chain of civil suits finally ended last year after the Supreme Court upheld a verdict from the Indonesian National Board of Arbitration saying that Bumi Gas Energi committed a breach of contract.
At that time, the Dieng 2 PLTP and Patuha 2 PLTP were actually part of a 10,000-MW power project during the term of President Susilo Bambang Yudhoyono. Under the current President Joko Widodo, it was also deemed as a strategic national project, especially in the 35,000-MW power program. However, the long civil suits against past contractors were not the only problem: there was the ongoing shortage of funds.
Until now, Geo Dipa only has the Dieng 1 PLTP with a capacity of 55 MW. Meanwhile, the Patuha 1 PLTP has a 60-MW capacity. Last year, Geo Dipa started construction on the Dieng Small Scale PLTP with a capacity of 10 MW, targeting to start commercial operations by the end of 2020.
Riki Firmandha said that funding assurance from ADB gives the project new hope to resume building new power units within the next five years. He explained that Geo Dipa is ready to drill 10 new wells in the Dieng 2 project, and 12 wells in Patuha 2 in the middle of 2021. Riki's target is that both projects will be concluded within the next two years. "My hope is that Dieng 3 and Dieng 4 are already built by 2025. In 2022-2023, I hope to have the funding for them," he said.
These are not impossible targets. ADB has already given signals that it will not stop at Dieng 2 and Patuha 2. The next capital loan for some US$300 million will be prepared for the following projects, at the latest by 2025.
AISHA SHAIDRA, RETNO SULISTYOWATI