Retno Lestari Priansari Marsudi, Foreign Minister: Rivalry Is Getting Fiercer During the Pandemic
A Mid her desperate hunt for Covid-19 vaccines, Foreign Minister Retno Lestari Priansari Marsudi managed to successfully led Indonesia's presidency over United Nations Security Council (UNSC) in August.
Edition : Monday, September 14, 2020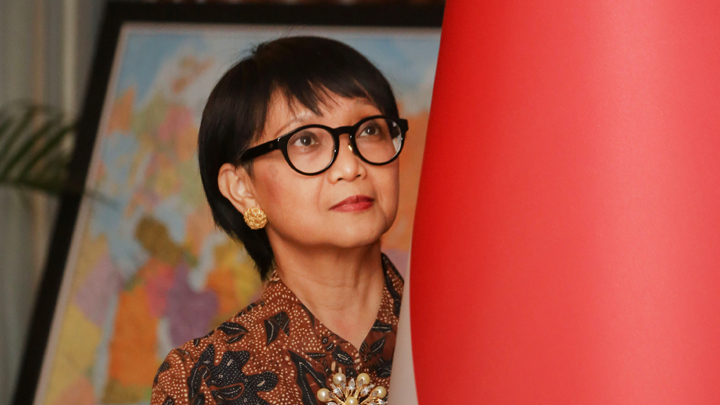 ON August 28, UNSC members agreed to adopt Resolution 2538 on female personnel in UN peacekeeping missions proposed by Indonesia. "This is the first Indonesia-sponsored resolution during our membership in the UNSC," Retno, 57, enthused during a special interview with Tempo last Friday, September 4.
Indonesia, one of 10 non-permanent UNSC members, also proposed a counter-terrorism resolution, but the draft failed to get passed after the United States of America blocked it albeit the support from the remaining 14 members including the four members with veto power. Retno said the US wanted foreign fighters be included in the resolution, although it was not intended to address the issue.
As for Covid-19 vaccines, together with State-Owned Enterprises (SOEs) Minister Erick Thohir and Bio Farma's Chief Executive Officer (CEO) Honesti Basyir, Retno traveled to China and United Arab Emirates where they secured commitments for 340 million doses of vaccines to be supplied until the end of next year. "We've also spoken to various parties including AstraZeneca, Imperial College of London, Gavi (Vaccine Alliance), CEPI (Coalition for Epidemic Preparedness Innovations), and COVAZ facility" she added.
During the video interview from her office, Retno talked to Tempo reporters Sapto Yunus, Mahardika Satria Hadi, Abdul Manan, and Hussein Abri Dongoran about various issues, from Indonesia's role during its presidency of the UNSC, the search for Covid-19 vaccines, to entry bans against Indonesian travellers by several countries. The interview was supplemented with WhatsApp chats on Wednesday, September 9.
What were Indonesia's considerations behind the proposal of the resolution regarding female personnel in UN peacekeeping missions?
This is the first Indonesia-sponsored resolution during our membership in the United Nations Security Council. If you look in the recent years, issues such as women, peace and security have always been mainstreamed in our foreign policies. We see that women always are part of solutions including in peace and security matters.
How was it lobbied until it was passed?
There were a series of initiatives prelude to it. Last year, for example, we conducted training on women, peace and security for female diplomats from the Association of Southeast Asian Nations (ASEAN) countries. This year, we trained not only diplomats but also negotiators and mediators. We want to establish a network of female negotiators and mediators in Southeast Asia that is connected to other (similar) networks around the world. We also set up Indonesia-Afghanistan women's network.
How far did Indonesia's presidency help facilitate the endorsement of the resolution?
Quite significantly, especially when I am a woman. This is the second time Indonesia held presidency and it was not easy this time because first of all, we were at the height of the (Covid-19) pandemic. Secondly, we were in the middle of fierce rivalries among the major powers on almost all fronts, a situation that clearly influenced the discussions within the UNSC. We were consistent in using diplomacy to 'bridge' all kinds of differences.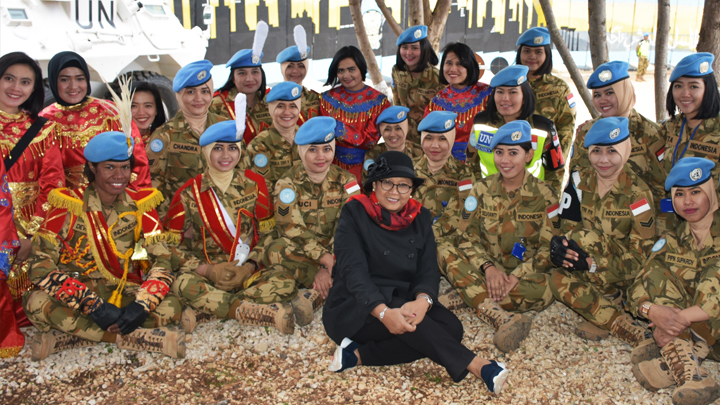 Foreign Minister Retno Marsudi at the Indonesian peacekeeping Garuda Indobatt UNIFIL Contingent camp in Adshid al-Qusayr, Lebanon, February 2018./foreign ministry doc.
Did you expect Resolution 2538 to receive unanimous support from all the UN member countries?
We were also surprised. We initiated this resolution from the UNSC and it turned out any countries wanted to co-sponsor it. So, Resolution 2538 was supported and co-sponsored by all the UNSC members plus other non-UNSC members. In total, 97 countries co-sponsored it. The huge support signifies that women empowerment is the cause the whole world is keen to champion.
How about the role of Indonesian women personnel in UN peacekeeping missions?
I've visited our peacekeeping forces on UN missions. The last was in UNIFIL (United Nations Interim Force in Lebanon), Lebanon where we have our largest force. I saw how critical women's role in many conflict areas because, for example, by traditions or customs, women are more comfortable talking to women. Women and children are more eager to accept female personnel especially when it comes to services for health care and counseling for psychological trauma. If I'm not mistaken, we currently have 158 female personnel among the total 2,800 Indonesian personnel in UN peacekeeping missions. It's still a small percentage.
Does Resolution 2538 also highlight the need to increase the number of female personnel in UN peacekeeping troops?
Not just the number or percentage, but more importantly the capacity. In the field, not only military or police hard skills are needed, but soft skills are also essential. How we communicate with locals, language skills, understanding locals' psyche or culture at a given country, etc.
Indonesia also proposed a counter-terrorism resolution which was approved by 14 members but vetoed by the US. Please tell us about it.
The draft counter-terrorism resolution is about prosecution, rehabilitation, and reintegration (of terrorists). The content includes, among others, strategic prosecution and legal measures which are part of a hard approach. Then it also covers strategic rehabilitation and reintegration including empowerment and involvement of civil society. This is a soft approach. In essence, it contains a comprehensive approach to tackling terrorism issues. If it is adopted, the resolution will provide countries with guidelines to develop and implement comprehensive prosecution, rehabilitation, and reintegration strategies. It can also serve as a tool for the UNSC, UN members and the UN system in strengthening counter-terrorism cooperation.
What prompted the US to block the resolution?
I want to stress here that the draft resolution is not intended to address foreign terrorist fighters as we truly understand that almost all the UNSC member nations are not ready to address this issue.
Why?
They need to prepare themselves. On the other hand, the US wanted to include the issue of foreign terrorist fighters in the resolution. But we will not waver in our commitment. We will continue to prioritize the comprehensive approach in handling terrorism issues and in every terrorism discussion in international forums.
Did the Indonesian delegation lobby the US?
We have pulled out all the stops to get the consensus but, in the end, we didn't get it. Then the US used veto to block it.
What was the response of the four permanent UNSC members which also have the veto power?
We needed time to convince one of four countries besides the US. We eventually succeeded in convincing it to give flexibility. Finally, 14 countries supported and one vetoed it.
The United States under President Donald Trump's leadership which prioritizes the domestic interests and is continuously embroiled in hostilities with China has pushed forward a new map for global diplomacy. How far did this situation cause inconveniences to Indonesia during its presidency over the UNSC?
During this pandemic, we should all be united to collectively solve challenges. But on the contrary, we see increasingly fierce rivalries among major countries which in many ways create difficulties for the UNSC to make critical decisions.
Like what?
Resolution 2532 regarding Covid-19. It is a follow-up action to the call by UN Secretary-General António Guterres for a ceasefire during the pandemic. The resolution was proposed to the UNSC on March 31 but only passed on July 1. It took more than three months to adopt the draft resolution that actually responds to emergencies. Granted, every country naturally has its own positions, but we also are responsible to the world.
China has significant investments in Indonesia. To what extent does that affect our diplomatic efforts and relations with the United States?
In line with our free and active foreign policy, we are friends with all the countries. Some sides ask if it is relevant now. I said it was still very relevant. By being free and active, we are not held hostage by partialities. We have only one partiality, that is our national interest.
Donald Trump also cited national interest when he withdrew from a number of international initiatives. So, what's the difference?
I think all the countries maintain the same position. Indonesia First. America First. China First. The reality is we live in a global village. We have responsibilities as global citizens to make the world safe, peaceful and equitable.
Is the US's report about China building military bases in several countries including Indonesia true?
I've informed Indonesia's position that in line with our foreign policy, Indonesia's territories cannot and will not be open for any military base or facility for any country.
W251bGwsIjIwMjEtMDQtMjEgMTQ6Mjk6MzUiXQ
• • •
Together with SOEs Minister Erick Thohir and Bio Farma CEO Honesti Basyir, you are on Covid-19 vaccine hunting mission to several countries. What kind of vaccine supply commitments has the government secured?
From our visits to China and United Arab Emirates, we managed to reserve 20-30 million doses for this year and 290-340 million doses to be delivered next year.
Is the government also seeking cooperation with other countries?
Apart from the two countries, we've been in talks with many parties from the start including AstraZeneca and Imperial College London via a bilateral route.
How about other routes?
With the World Health Organization (WHO) in collaboration with Gavi, CEPI (Coalition for Epidemic Preparedness Innovations), and COVAX (Covid-19 Vaccines Global Access) Facility. The multilateral initiatives seek to collect and distribute vaccines to countries with low, middle to high incomes. For sure there are requirements which will determine prices and so on. This is being discussed in Geneva (the WHO headquarters) and Oslo (the CEPI headquarters). We are also in talks with CEPI for manufacturing cooperation with Bio Farma on bulk to single dose production.
What are the results?
Bio Farma is already on CEPI's shortlist as a potential manufacturing partner.
Is it true that the government is also looking into cooperation with Russia for Sputnik V vaccine?
I think we did communicate with them once where we discussed vaccine supply, price, safety, etc. I'm not an expert on that. My job as a diplomat is to pave the way and facilitate access. Meanwhile, experts assess safety, efficacy, etc.
The United States is home to many pharmaceutical companies which are vying to produce Covid-19 vaccines for its domestic need. Are our diplomats exploring possibilities to collaborate with the US?
We check WHO references periodically. The WHO has data on hundreds of prospective vaccines that are on clinical trials and those already on advanced phase. Coincidentally, the ones that we are seeking are already in the WHO list. But we also maintain communication with many sides. AstraZeneca's vaccine is one of those in the most advanced phase.
AstraZeneca and University of Oxford decided to suspend the trial of their vaccine after volunteers in the United Kingdom clinical trial experienced severe side effects. How will this affect the cooperation with the government?
We are aware of this development and looking into it.
The vaccine developed by Gavi and Serum Institute of India is expected to be cheaper than Sinovac's. Will there be further efforts to go into a venture with Gavi?
Once again, we are not the expert on pricing. There is a team to calculate that. Having said that, it does make a lot of sense if Gavi's vaccine is cheaper. They received subsidies from many parties including philanthropists as the vaccine is intended for many countries. The price for each country will be different depending on the country's income. Discussions are underway and will go on till the end of September.
Besides Bio Farma's venture with Sinovac, Kimia Farma is also working together with the United Arab Emirates. What is the cooperation like?
Two of our pharmaceutical companies namely Kimia Farma and Indofarma are collaborating with G42 (Healthcare Holdings) of the UAE. Kimia Farma for manufacturing and Indofarma for artificial intelligence-based laser technology which is capable of detecting the Covid-19 virus fast and with the 90 percent precision. They want to partner with Indonesia for distribution.
The Malaysian government bans Indonesian citizens from entering the country to prevent import of Covid-19 cases. What is your view?
It is their right to enforce the ban. The Malaysian defense minister said the country had imposed a temporary entry ban on people from 12 countries with more than 150,000 positive cases. But don't forget that the Indonesian government reminds all the citizens to suspend overseas travels except for very urgent reasons. Indonesia has not lifted restrictions for foreign travelers either to this date.
What about business activities that are in the national strategic projects?
We created safe corridors to accommodate essential business activities. Urgent business travel is another exception (for travel).
---
RETNO LESTARI PRIANSARI MARSUDI
• Place and date of birth: Semarang, November 27, 1962 • Education: Bachelor of International Relations, Gadjah Mada University, Yogyakarta (1985); Master of European Law, Haagse Hogeschool, Netherlands; Human Rights Studies, University of Oslo, Norway • Career: Director for Intra-regional Cooperation of America and Europe, Ministry of Foreign Affairs (2002-2003), Director for West Europe, Ministry of Foreign Affairs (2003-2005), Ambassador Extraordinary and Plenipotentiary to the Kingdom of Norway and the Republic of Iceland (2005-2008), Director-General for America and Europe, Ministry of Foreign Affairs (2008-2012), Ambassador to the Kingdom of the Netherlands (2012-2014), Foreign Minister (2014-now), • Awards: Royal Norwegian Order of Merit (December 2011)
---
Which countries are these corridors open to?
The UAE, South Korea, China, and now we're negotiating with Singapore. Safe corridors are for facilitating interests which are deemed essential. My visits to China, the UAE and Singapore were on special permissions and followed strict protocols because in general they haven't lifted travel restrictions for foreigners.
Several countries deny entry to Indonesian citizens because of Indonesia's poor handling of Covid-19? What is your response?
Indonesian citizens are also urged not to travel overseas, right?
Are there criticisms from other countries towards Indonesia's Covid-19 management?
We focus our energy on fighting Covid-19 and managing its social-economic impact.