Booze River
Each dry season, Solo Regional Drinking Water Company's (PDAM) Chief of Public Relations Bayu Tunggul Pamilih agitates.
Edition : Monday, September 14, 2020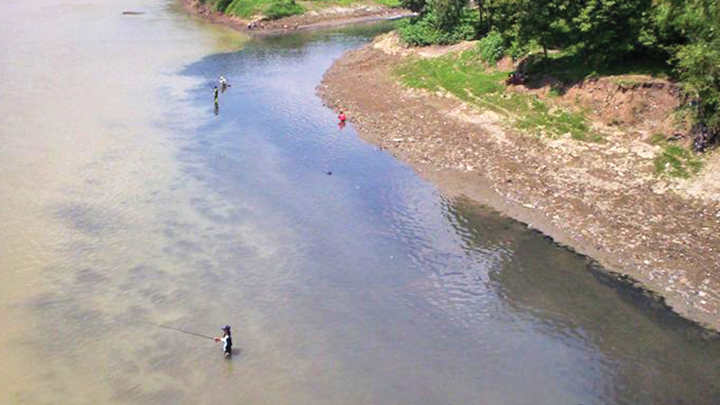 EVERY day, he and his colleagues have to take turns observing the water condition at Bengawan Solo River, which is part of the company's water treatment plant. When the longest river in Java's water discharge decreases, the level of pollution increases. "Just today, we had to stop our water treatment operations for several hours because of the severity of the pollution," Bayu said on Friday, August 28.
The termination caused disruption in clean water services to around 16,000 customers. Not only the residents, Solo PDAM employees are also forced to get water from other water treatment plants, using trucks, and delivering them to customers.
The head of Bengawan Solo is in the Sewu Mountains, southwest of Solo, Central Java. This river stretches 600 kilometers across 21 regencies and cities before ending in the north of Surabaya, East Java. There are at least eight drinking water companies that rely on Bengawan Solo for their water supply. Like Solo PDAM, drinking water processing companies in other areas are also troubled by the high level of pollution in Bengawan Solo.
One of the sources of pollution is the industries located near Bengawan Solo's watershed and tributaries in Karanganyar and Sukoharjo, two neighboring regencies of Solo. In those two regencies, there are dozens of industries and factories that dump waste into the river.
In Karanganyar, the worst pollution occurs in the Sroyo River, which empties into Bengawan Solo. This 14.68-kilometer rainfed river only flows during the rainy season. Over the years, this river has been used as a disposal site for factories' liquid waste. In the dry season, the water is black and foul smelling.
W251bGwsIjIwMjEtMDYtMjUgMDc6NDM6MDciXQ
Conditions in Sukoharjo are no better. According to the Sukoharjo environmental office, there are 85 industries that dump waste into Langsur River, which also empties into Bengawan Solo. Some of these industries do not have wastewater treatment plants.
Another river that flows waste to Bengawan Solo in Sukoharjo is Samin River. Currently there are 147 breweries of ciu, a local liquor, that dispose of untreated waste into the river. Last year, Solo PDAM stopped operating for one week because the river smelled of alcohol.
Sabariyono, chairman of the Mojolaban Sukoharjo Alcohol Craftsmen Association, said that some ciu production houses have tried to process waste into fertilizer. However, some are unable to do so because of the high costs.
The Sukoharjo environment office had designed a waste processing installation for home industries in 2019. The government has also allocated a budget of Rp17 billion. However, the plan cannot push through, as the ministry's budget was cut to handle the Covid-19 pandemic.
Executive Firector of Ecological Observation and Wetlands Conservation (Ecoton) Prigi Arisandi said that it takes full cooperation between regional and central governments to restore Bengawan Solo. The Indonesian Center for Environmental Law's Head of the Pollution Control and Environmental Damage Division, Fajri Fadhillah, urged the government to take action against river-polluting industries.
"The government can force them to stop industrial waste disposal methods that are against rules," he said. "If the government does not act, citizens who feel disturbed by the pollution can file a lawsuit."
ZAKKI AMALI for TEMPO