Luhut Leads covid-19 Mitigation Efforts in nine Provinces
PRESIDENT Joko Widodo appointed Coordinating Minister for Maritime Affairs and Investment Luhut Binsar Pandjaitan and National Disaster Mitigaton Agency Chief Doni Monardo to supervise coronavirus mitigation efforts in nine provinces. Luhut said these provinces see the highest transmission rates in the country.
Edition : 22 September 2020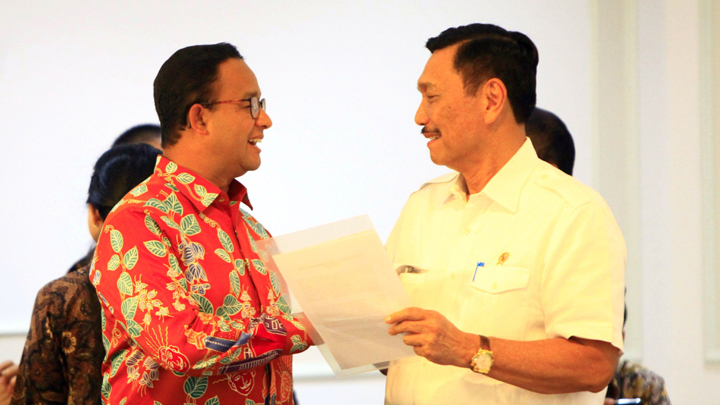 "The President instructed that, within two weeks we must achieve the three goals of reducing daily case counts, increasing the number of recoveries, and reducing the number of fatalities," said Luhut on Monday, September 14.
The nine provinces are Jakarta, West Java, Central Java, East Java, South Kalimantan, South Sulawesi, Bali, North Sumatra, and Papua. Together, they make up 75 percent of the country's total tally of Covid-19 cases. Health Minister Terawan Agus Putranto has yet to play a visible role in the pandemic mitigation efforts in these regions.
Luhut's appointment raises doubts in some parties. One of the reasons is that Luhut, as a coordinating maritime affairs and investment minister, does not have a direct link to coordinate with the regions. "The president gave the mandate to the wrong person," said epidemiologist from the University of Indonesia's School of Public Health, Pandu Riono.
Senior Adviser for the Director-General the World Health Organization (WHO), Diah Saminarsih, said Covid-19 mitigation efforts should ideally reside under the health sector. She said that control must be held by the corresponding technical ministry. Surveillance efforts which include testing and tracing, for example, are within the responsibilities of the health ministry. "So are hospitals and community health centers, or health infrastructure," she said.
National Covid-19 Task Force Spokesperson, Wiku Adisasmito, said Luhut's appointment is based on his capacity as deputy chairman of the National Economic Recovery and Covid-19 Response Committee. A leading expert at the Office of the Presidential Staff, Donny Gahral Adian, said President Jokowi trusts Luhut because he is seen as capable of carrying out President's orders.
Three covid-19 teams
PRESIDENT Joko Widodo has thrice formed a team tasked with mitigating the coronavirus pandemic. Instead of leading the Covid-19 response directly, the President now appoints Luhut Pandjaitan to handle the pandemic in regions where the number of cases are highest.
Covid-19 Rapid Response Task Force
Formed: March 13
Executive Chairman: National Disaster Mitigaton Agency Chief Doni Monardo
Advisors: Coordinating Minister for Human Development and Culture Muhadjir Effendy, Coordinating Minister for Political, Legal and Security Affairs Mahfud Md., Health Minster Terawan Agus Putranto, Finance Minister Sri Mulyani.
National Economic Recovery and Covid-19 Response Committee
Formed: July 20
Executive Chairman: State-Owned Enterprises Minister Erick Thohir
Policy Committee Members: Coordinating Minister for the Economy Airlangga Hartarto (Chairman), Coordinating Minister for Maritime Affairs Luhut Binsar Pandjaitan, Home Minister Tito Karnavian, Mahfud Md., Sri Mulyani, Terawan Agus Putranto
Covid-19 Mitigation Task Force
Chairman: Doni Monardo
National Economic Recovery Task Force Chairman: Deputy Minister for State-Owned Enterprises Budi Gunadi Sadikin
National Team for the Acceleration of Covid-19 Vaccine Development
Formed: September 3
Chairman: Research and Technology Minister Bambang Brodjonegoro
Deputy Chairpersons: Terawan Agus Putranto, Erick Thohir
Advisors Team: Airlangga Hartarto, Muhadjir Effendy, Mahfud Md.
---

PAM Swakarsa members at the Parliament Complex, 1998. TEMPO Doc./Rully Kesuma
PAM Swakarsa to be Revived
NATIONAL Police Chief Gen. Idham Azis is planning to revive the civilian security (Pam Swakarsa). The plan is outlined in the National Police Chief Regulation No. 4/2020 signed on Tuesday, August 4. The regulation mentions three types of Pam Swakarsa: security unit, neighborhood security unit, and security as mandated by local customs or social institutions such as pecalang in Bali
Commission for Missing Persons and Victims of Violence researcher, Rivanlee, sees the revival of Pam Swakarsa as reminiscent of the situation in the past. "This will only bring fear to the public," he said on September 15. Back then, Pam Swakarsa was a civilian group tasked with securing the People's Consultative Assembly General Session in 1998.
The police, however, dismiss the view. "This is not a mass organization," said National Police Spokesman Brig. Gen. Awi Setiyono.
---
Kendari Demonstration Ended in Riot
RIOT broke out in Kendari, Southeast Sulawesi, following a demonstration by hundreds of young people in Jalan M.T. Haryono in Thursday afternoon, September 17. Two police officers were wounded in the riot, and public facilities, including city lights and buildings in the surrounding areas, were damaged. Five demonstrators were arrested.
"If found to be involved in the riot, they will be facing legal process. If not, they will be returned," said Southeast Sulawesi Regional Police Spokesman Sr. Comr. Ferry Walintukan.
The police are currently identifying the group of youth in the demonstration. They were allegedly protesting the police's handling of a case of hate speech involving a particular tribe on social media. Demonstrators urged the police to process the case.
---
BIN Special Squad Polemic
NEWS about the Rajawali armed squad, said to be part of the State Intelligence Agency (BIN), has triggered a polemic. The Civil Society Coalition for Reform on the Security Sector said the squad's existence is a violation of a corresponding regulation.
Coalition representative Nelson Nikodemus Simamora said Law No. 17/2011 on state intelligence prohibits the BIN from forming an armed squad. "BIN has overstepped its authority as stated by the law," said Nelson on Sunday, September 13.
The 'Rajawali' squad went viral on social media after People's Consultative Assembly (MPR) Speaker Bambang Soesatyo uploaded a video of the squad to his Instagram account on September 10. BIN Deputy VII Wawan Hari Purwanto said the video is only showing a staged performance, part of the intelligence training under the code name Rajawali. "The naming of Rajawali special squad is a code, which always changes in each type of training," he said.
---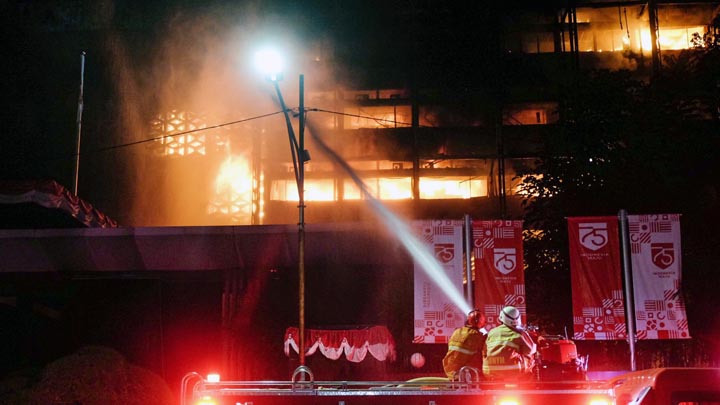 Firefighters try to put out the fire at the Attorney General's Office building in Jakarta, August 22. TEMPO/Hilman Fathurrahman W
Arson Suspected to be Behind Fire of Attorney General's Office
NATIONAL Police Criminal Investigation Department Chief Comr. Gen. Listyo Sigit Prabowo said there is indication of a crime behind the fire that ravaged the Attorney General's Office Building on August 22. "Based on the findings so far, investigators say there is suspicion of criminal acts behind the incident," he said on Thursday, September 17.
The indication, among others, is the discovery of a hydrocarbon substance contained in cleaning oil found on site. The blaze was allegedly started by an open fire such as lighter, torch, or candles. Police investigation says a number of workers were renovating a room on the sixth floor at the time.
The fire is suspected to have originated from the Personnel Bureau room and quickly spread to the other rooms. The burned building was used as the office of the attorney general, deputy attorney general, planning and finance bureau, coaching bureau, intelligence bureau, and personnel bureau.