There has been Increase in Domestic Violence during the Pandemic
Andy Yentriyani, Chair of National Commission on Violence against Women:
Edition : 28 September 2020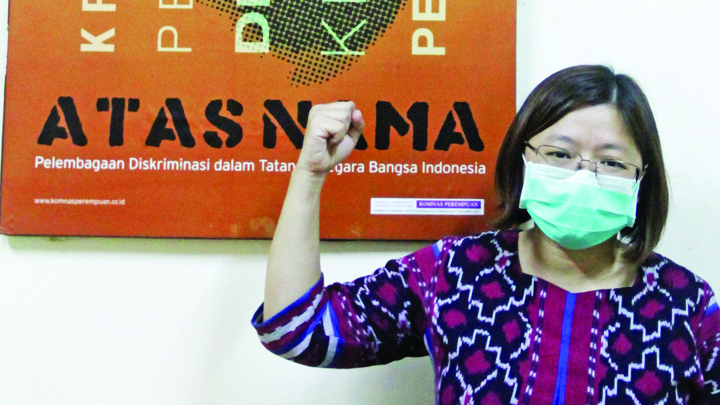 THE National Commission on Violence against Women (Komnas Perempuan) is seeing a surge in domestic violence since the Covid-19 pandemic struck the country. Violence not only involves physical, but also psychological, sexual to economic abuses. Komnas Perempuan did in fact predict at the onset of pandemic the impending spike in cases. "There would be increased domestic abuse cases albeit anomalies in reporting," Komnas Perempuan Chief Andy Yentriyani said during a special interview with Tempo on August 31.
During the period January-May of this year, the commission received more than 900 reports compared to around 100 reports per month the previous year. Yentriyani also highlighted the data reading method which focused on comparing the year-to-year cases. She said the method should instead compare the number of reported cases against the resolved cases including at court, while adding that the mechanism for resolving domestic abuse cases in court had not been optimal to this date.
According to the commission's records, only less than 30 percent of reported rape cases reached court. The commission is currently exploring ways to solicit the participation of other law-enforcement institutions such as the prosecution, police and judiciary to reexamine the incoming data starting at the first level up till the prosecution. "The justice system in Indonesia is still unable to listen well to victims," said Ani as she is familiarly called.
Yentriyani received Tempo reporters Mahardika Satria Hadi, Abdul Manan, and Nur Alfiyah at her Central Jakarta office for this interview, during which she also talked about the importance of having the sexual violence elimination bill endorsed. In addition to protecting sexual violence victims, the draft law aims at increasing effectiveness in case resolution through report monitoring.
What is the impact of the Covid-19 pandemic most felt by women?
At the start of the pandemic, Komnas Perempuan has focused its attention on two things, the pandemic's impact on women and the vulnerability of women exposed to the virus, and the response policies. Data show that the majority of working women work in the service sector as frontline staff such as receptionist, customer service staff, bank tellers, etc.
How about those working in the sector more susceptible to the virus such as the health care sector?
We also pay attention to the health care personnel. Besides doctors, many nurses and other health care staff are women. As well as those working in offices and factories where protection for women has not been optimal. They have a high chance of getting infected when working in a place with inadequate health standards. In a family, when family members are sickened with Covid, the burden of taking care of the patient usually falls on female family members, increasing their chance of getting infected.
How big is the impact of the pandemic-related policies on women?
The large-scale social restrictions (PSBB) which come with the learn-from-home and work-from-home regulations, for instance, caused a lot of hassle to women who have school-age children. Since online schools don't always give a chance to kids to comprehend the lessons or homework, mothers are advised to accompany their kids. Our online survey from April to May recorded that one out of three female respondents said that their daily work hours increased by more than three hours. Although both women and men help with kids' homework, women feel more stress than men. The situation becomes even tenser for families with pre-existing problems when they are confined to the same place for a long period of time.
The tension becomes a source of abuse?
Correct. Based on our survey, there is less tension among couples over the age of 40 with kids approaching adulthood. Meanwhile, tensions are high among couples of below 30 with young children, earning less than five millions a month, and facing layoff due to the pandemic. Respondents also said that they increasingly experienced abuse, particularly psychological violence such as quarrels. Many international forums also say that domestic violence peaks during pandemic with more cases being reported.
Indonesia saw increased cases?
The commission received around 900 reports during the period January-May this year. This is a higher number compared to last year's. In the past, it was around 100 per month. From the start, we suspected that the number was not normal since not everyone in Indonesia has gadgets or knows how to use them to report or where to report. The switch to online reporting in fact has made things complicated for victims in many places. As the perpetrator and the victim are compelled to remain under one roof due to the PSBB, it is more difficult for the victim to have access to communication (with outside). She must wait for an opportunity where the perpetrator cannot hear.
It means many cannot report abuse?
Correct. Our survey shows that 80 percent of the women with access to communication and knowledge on how to report, for instance those with higher level of education, are also reluctant to report.
Why?
The reasons vary. Some want to report but don't know where, but most of them are disinclined to report. We suspect that this has increased during the pandemic. Before the pandemic, people can go to work, go out or confide their problems to others. There are many options for diversion. Then suddenly, they all have to be at the same place for a long time.
What kinds of cases are mostly reported?
Domestic abuse cases for sure. By the time it is reported, the level of abuse is already severe with girls being victim of 29 percent of sexual abuse, inflicted by their blood relatives living under the same roof, be it father, uncle or grandfather. They are also vulnerable to online abuse in the forms of sexual revenge or bullying and so on usually done by former boyfriends.
What about the sexual abuse by a husband towards a wife?
Such cases are rarely reported. When they are reported, they are usually marital rapes involving objects, forced intercourse, or forced prostitution.
Did the commission predict all these problems?
At the beginning of the pandemic, we anticipated three things. First, a jump in domestic violence in spite of the anomalies in reporting. Second, an increase in online violence. The rate of online sexual exploitation against children was already high even before the PSBB. With the PSBB in effect, everyone turns to online media. Third, more widespread exploitation of women following economic hardships from loss of employment.
Recently, sexual harassment in Catholic churches came to light. How does Komnas Perempuan assess sexual abuse within religious institutions?
They've existed for ages but the awareness is increasing. Several religious institutions are beginning to openly discuss the issue. Especially Catholic leadership has taken revolutionary steps. The Pope declared his determination to stop all of that. There is also rampant sexual violence against boys there. We also see churches' effort to respond to the reports of sexual violence that occur within their communities. For Muslims, Ibu Shinta Nuriyah (Shinta Nuriyah Abdurrahman Wahid, the widow of former President Abdurrahman Wahid) who understood that sexual abuse could occur in religious environments has set up a pesentren (Islamic boarding school)-based crisis center called Puan Amal Hayati. What we need to make sure is a stronger response system.
What distinguishes sexual violence in religious institutions from other types of sexual violence?
It is massive and repetitive. More often than not, it claims multiple victims. It's extremely hard for victims to explain what has happened to them as perpetrators are religious figures who among the communities are considered good, noble or almost holy. So it is usually the victims who eventually end up bearing the brunt because they are considered as slandering these community figures. We also find that the most difficult abuse cases are those committed by powerful people such as law enforcement personnel, public officials and leaders, political elites, businessmen with political power.
Sexual harassment cases in educational institutions, particularly in campuses, also often occur...
It's easy to take action against rape cases. But if the abuse occurs in the form of sexual exploitation or when there is a dimension where the victim agreed to the exploitation for the sake of grades, then it becomes very complicated because we don't have the legal umbrella for that. I think the circular memo of 2019 by the Islamic education director-general of the religious affairs ministry instructing all faith-based campuses to build sexual violation prevention and mitigation mechanism is an interesting initiative. We haven't seen immediate results yet but it was an initial step towards a better response management.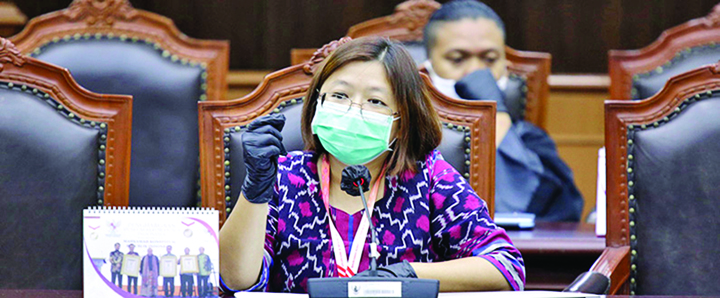 Andy Yentriyani at the Constitutional Court, Jakarta, August 31. Constitutional Court Public Relations/Gani
What sorts of problems are there in handling campus sexual abuse cases?
If the incident is between students, the campus usually takes swifter action through suspension, etc. But it's different when the offender is a lecturer, even more so when he brings in big projects (to the campus) or is a notable campus figure. Power relations including those in the education sector are quite complex.
As regards sexual bullying, has there been any influence from outside, for instance from the Me Too movement on the movements in Indonesia?
There sure must be although it's hard to say how big or small. The current information and communication technologies allow a more fluid atmosphere for advocacy. Sexual violence against women and difficulties faced by women to disclose the violence they experience do not just happen in Indonesia, but in many other countries as well.
***
The House of Representatives has omitted the sexual violence elimination bill from the 2020 national legislative priority program (Prolegnas). What actually happened?
During the 2014 presidential election campaigns, all the presidential candidates and their supporter parties declared their support for the bill, pushing it to be included in the 2014-2019 Prolegnas. The fact that it wasn't finalized in five year was a different matter but the political strategy is also starkly different. The problem, in my opinion, is that from the beginning, when our national legal system was constructed, sexual violence was included as a moral issue although in reality it is the manifestation of inequality in a relationship.
Is this related to sexual relationships outside marriage which was excluded from the draft law?
The most frequently used word for sexual relationship outside marriage is zina (illicit sexual relationship). We don't include zina in the draft jointly proposed by Komnas Perempuan and Alliance of Civil Society Organizations because the act of zina, whether we agree or not, is a consensual act without coercion. Whether it is an extra-marital affair, etc. is another matter. When we decided not to include it in the decency regulations, we are viewed as permitting zina and accused of not having morality. It is a different issue that cannot be addressed under the same bill.
Is the zina issue not included in the bill because it is already covered in the criminal code (KUHP)?
The act of zina is not part of the decency chapter in the KUHP. Zina becomes a crime only when the spouse of one of the violators files a complaint. Some groups say that the sexual violence elimination bill should regulate this issue. But zina has a different dimension from the act of rape. We need to take a leap, not just make reforms. We are now discussing a sexual act (rape) where one party is disadvantaged.
Was the bill dropped from the Prolegnas for the morality reason?
I think it wasn't for a single factor only. Perhaps some lacked the political will. I heard some fear terror if it is endorsed. Some didn't see it as a priority but felt there were high potentials for controversy. But there were also those who wanted to include the regulations on morality. The dominating factor is confusion. The process needs input from a lot of sides. Learning from the pornography bill, we were concerned that if we could not distinguish between criminal acts and immoral acts, we could end up criminalizing those we should be protecting.
Will the bill resolve some of the problems of sexual violence experienced by women?
This is not the law made of assumptions. It is born out of real problems of women who do not receive fair treatment for sexual violence they are subject to. For example, there is no sexual harassment regulation in Indonesia, including in the KUHP. Also for forced abortion, forced contraceptive use and sexual torture, etc. We are trying to fill this void. The sexual violence elimination bill also corrects overlapping regulations, for instance about different exploitations stipulated in many laws such as the pornography, the human trafficking and the electronic transaction and information laws.
What will happen without the sexual violence elimination law?
We will drag on like this. Our aim is to ensure that this bill will be included in the 2021 priority program this coming October.
Komnas Perempuan is now 22 years old. What areas still need to be improved?
I feel that our data reading method is not effective because we always compare a given year's data to the previous year's to see whether reported cases increase or not as if the decrease in cases is the barometer for our efforts to eliminate violence against women. The increase in reported cases could also mean increased awareness to report abuses, higher trust in the responding institutions, and better documentation.
How should the data be read?
We need to change the way we process data. So, we should not just look at the number of reported cases but also how many of these cases are processed. Our data for 2016-2019 shows that for rape cases alone, only less than 30 percent were settled in court. Now we are working to solicit the participation of the prosecution, police, and judiciary to reexamine how much data we have starting from the first line level service providers up to prosecution.
At which level is the process usually stalled?
It could be at the police due to lack of evidence. If someone was raped a year ago and only reported now, it's extremely hard to find evidence. Since rape is assumed to involve violence, without evidence it is very difficult to process the report. Not to mention if the incident is alleged as consensual. The justice system in Indonesia is not yet able to listen to victims well.
Is data reading also stipulated in the draft law?
It is. Monitoring is included so we can push for effectiveness. For instance, we should have the target for reported cases that reach court from 30 percent to 40 percent next year and 50 percent the year after. We also should set scales for outcome of prosecution and victim's recovery. It should not be only about how many violators are convicted but also what kind of punishment is handed down, whether it is comparable to the pains inflicted on the victims and their lifelong impact. We need to make a longitudinal assessment.
---
ANDY YENTRIYANI
Date of birt
» January 24, 1977
Education:
» Bachelors of International Relations, University of Indonesia (2000); Master of Media & Communication, Goldsmith College, University of London, UK (2004)
Career:
» Chair, Komnas Perempuan (2020-2024)
» Commissioner, Komnas Perempuan (2010-2014)
» Chair of Executive Board, Suar Asa Khatulistiwa Foundation, West Kalimantan (2016-2019)
» Coordinator, Perkumpulan Rukun Bestari (2018-2019)
» Member, Ethics Council, Forum of Service Providers for Women Victims of Violence (2018-2019)
» Coordinator, Asia-Pacific Women's Alliance for Peace and Security (since 2017)
» Lecturer, Gender and International Relations, University of Indonesia (2012-2016)