The Ants Against the Elephant
It is suspected that residents of East Sumba who came out against the activity of a sugarcane plantation have been criminalized. While a report on Muria Sumba Manis is not progressing.
Edition : 28 September 2020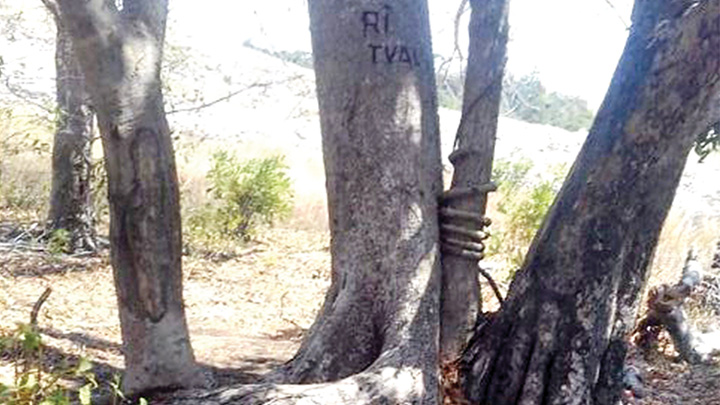 EIGHT men went to a tent belonging to workers of Muria Sumba Manis (MSM) in Patawang village, Umalulu subdistrict, East Sumba Regency, East Nusa Tenggara, in mid-February. In a matter of minutes they took down the wood-frame tent covered with an old banner. "We had asked the foreman for permission to do so because that was an unauthorized camp," said Hapu Tarambiha II, 57, to Tempo, on Saturday, August 8.
The foreman, said Hapu, did not protest the dismantling done by those followers of the Marapu belief. According to him, the tent was erected in the vicinity of Katuada Njara Yuara Ahu, four trees used as a place of worship by Marapu followers. This is where they often hold rituals devoted to their ancestors.
However, the MSM employees reported this incident to the East Sumba Police Department on February 17. Since June, Hapu and two residents of Patawang, Baron Kopenga Tana Hombo and Retang Hadambiwa, have been named suspects. On September 7, they were taken into custody and held at the East Sumba District Attorney's detention facility.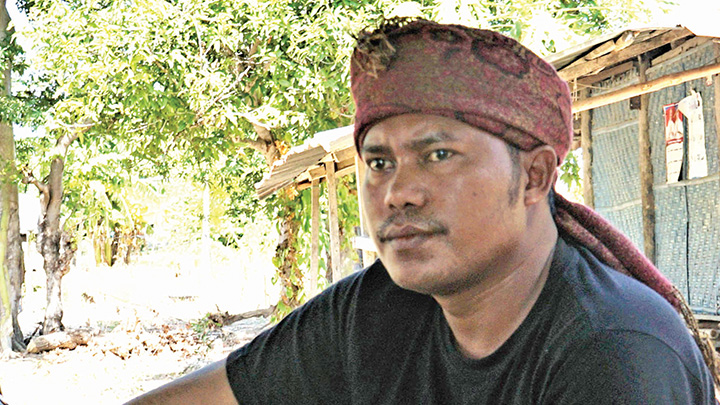 Baron Kopenga Tana Hombo/TEMPO/Budiarti Utami Putri
Since MSM cleared lands for a sugarcane plantation and sugar factory two years ago, scores of residents of East Sumba have run into legal problems. According to Rambu Dai Mami, coodinator for the Network of Joint Solidarity for the Land of Sumba, these cases are connected to the stance of the community in protesting the activities of MSM. They accuse MSM of encroaching upon the places where Marapu followers pray, and have taken over fields and ancestral lands. "They've been criminalized," said this woman who goes by the nickname Rambu Ami.
Irwan Putra Lamuru, a resident of Wanga village, was charged under the Electronic Information and Transactions (ITE) Law on the charge of slandering a village official. In September 2018, he had questioned the activity of a sub-contractor in the forest of Bulla and had connected it with that village official on his Facebook account. As of Friday, September 25, Irwan is considered to be a fugitive.
Yoseph Ndawalu, 45, a resident of Pamburu village in Pahunga Lodu subdistrict, was detained at the East Sumba Police Department's detention facility. He was reported to the police by Umbu Wanda Angu, former Pamburu village head, on the charge of forging two of the 25 signatures of village residents on a letter of objection sent to MSM in 2015. Met at the East Sumba Police Department in mid-August, Yoseph said that he signed that objection letter himself. However, he claimed that the two people in question had given their permission to do so. "They said go ahead and sign it, that they will take responsibility for it," he said.
According to him, this case of forged signatures had been settled at the Pahunga Lodu subdistrict office in 2015. Yoseph apologized to Umbu Wanda Angu, which was witnessed by the subdistrict head of Pahunga Lodu. However, for some reasons the case resurfaced last year. Verifying that the apology had been given, Umbu Wanda accused Yoseph of continuing to provoke villagers to come out against MSM and continuing to vilify him. "I feel bad because I am continually protested against here," said Umbu Wanda. He claimed that the report was a personal initiative, and was not requested by any other party.
Three residents of Patawang village, Paulus Ana Manangu, Tomi Umbu Pura, and Umbu Agung Lakar Hawula, have also become tied up with legal issues. Since May 2019, they have been named suspects in a defamation case as reported by a subdistrict head. Paulus Ana said that this started when land surveying activity began around the Umalulu subdistrict for building a horse race track area. However, there was never any discussion about turning over land for such a project.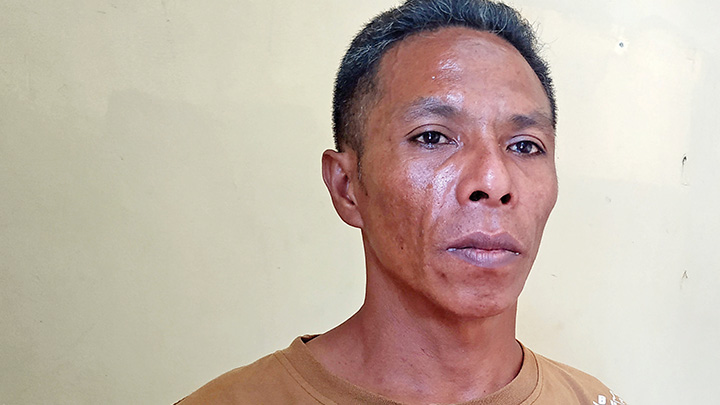 Yoseph Ndawalu./TEMPO/Budiarti Utami Putri
Objecting to this project, 41 residents of Umalulu sent a letter to the National Land Agency (BPN) of East Sumba. Copies of that letter were sent to the regent of East Sumba and the Umalulu subdistrict head. Of those 41 signatures, only Paulus, Tomi, and Agung Lakar were named suspects. Although this letter was unrelated to MSM, Paulus believes this suspect status is connected to their activity against the presence of that corporation. Paulus suspects this is being done to intimidate the community and to end opposition to the sugarcane plantation and sugar factory. As of now, the development of the criminal investigation into the case has been unclear.
Yulius Ndena, a resident of Persiapan Yubuwai village in Kahaungu Eti subdistrict, also faces possible legal penalties. He and three other villagers were questioned on suspicion of violating Law No. 39/2014 regarding plantations on the charge of taking over lands in MSM plantation. The police asked for proof that they owned the lands in question. "From the time of our ancestors we have had land there," said Yulius.
He questioned MSM's claim of ownership of the lands. He was previously accused of encroaching on a land owned by a cotton plantation. According to Yulius, that cotton company claimed that it had cultivation rights title to the land until 2048. "Who actually owns the land?"
The Marapu customary community and some environmental activists once reported MSM to the police last year. Four reports were made, two of them for suspected desecration of the Katuada Njara Yuara Ahu worship site. The other two were for suspected environmental crimes for damaging the forest in Lairoka, Umalulu subdistrict, and the forest in Palakang, Pahunga Lodu subdistrict. However, none of those reports reached the criminal investigation stage.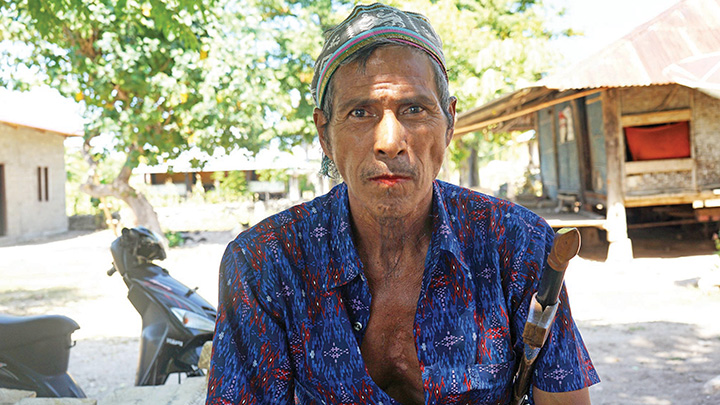 Hapu Tarambiha./TEMPO/Budiarti Utami Putri
Adjunct Sr. Comr. Handrio Wicaksono, chief of the East Sumba Police, denied there has been any legal discrimination against the Marapu community. "There was insufficient evidence," said Handrio at his office, last August. Brigadier Alex Talahatu, chief of the specific crimes unit at the East Sumba Police, said that those reports on environmental crimes were stopped because Lairoka and Palakang are not forested areas. "Their status is APL (other use area) and they had location authorization." Another criminal investigator at the East Sumba Police, Brig. Jujun Permana Bunga, said that there was no evidence about damage to the ritual site of Marapu followers.
Muria Sumba Manis denied being behind the legal cases against residents of East Sumba. In a written clarification, MSM Corporate Communications Officer Dumaria Panjaitan claimed that the company works with the people of East Sumba as respected strategic partners. "There is no intention or effort to damage that spirit." She denied that any places of worship have been encroached upon or that any community land has been taken. "Muria is compliant with the legal provisions, from the licensing process to the implementation of activities," she wrote.
Rambu Dai Mami said that they are going to continue to fight for their rights. "We will continue to fight back, even though it is like an ant facing an elephant," said Rambu Ami.
BUDIARTI UTAMI PUTRI