Governors' Virtual Marketplace
A number of regional heads are using their personal social media accounts to promote local small and medium businesses.
Edition : 28 September 2020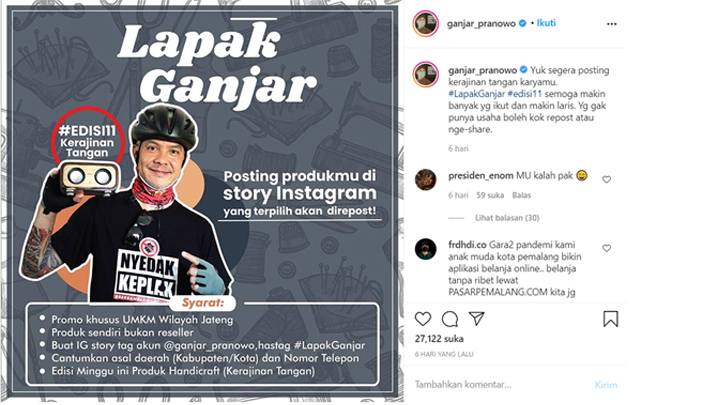 THE Stories feed of @ganjar_pranowo Instagram account is filled with #LapakGajar, one edition coming after another. Every Sunday, Central Java Governor Ganjar Pranowo displays goods for sale from micro, small, and medium businesses (SMEs) on his virtual shop. There have been so many of them, Ganjar said he lost count of the exact number. "(Maybe) thousands," he told Tempo on Thursday, September 24.
Ganjar is not transforming into a merchant. As a regional head, he said that he is trying to help small businesses which are struggling amid the Covid-19 pandemic. One way of doing this is by promoting their products through his personal social media accounts, which have amassed a large following. His Instagram account, @ganjar_pranowo, has 3.1 million followers, while his Twitter account, @ganjarpranowo has 1.6 million.
At first, Ganjar proposed the idea to his social media team. It was later transformed into #LapakGanjar. "They did that. I did not have time," he said. The first edition was launched on July 12.
Ganjar said that it is not difficult to get his endorsement. The SMEs interested in having their products displayed on Ganjar's Instagram need only tag the account by adding the #LapakGanjar hashtag. His social media team would then re-upload the content. The only requirements are that the SMEs has to be based in Central Java and producing their own goods, not reselling items.
The #LapakGanjar initiative is unique in that it runs weekly topics for uploads. Its 11th edition on September 20, for example, highlighted handicrafts. Previously, the 10th edition on September 13 was about coffee products from farmers and entrepreneurs in Central Java. "Wow, let's drink coffee because Central Java is rich with coffee. This 10th edition of #LapakGanjar is dedicated to coffee farmers and businesses. Drink coffee to drown your frustration. Let the goods be sold. Coffee, coffee, coffee," wrote Ganjar through @ganjar_pranowo. Ideas for the weekly themes come from Ganjar himself. "I get to decide the theme," he said.
Sri Ambarwati, owner of Batik Srihanna from Salatiga, is one merchant who promotes her goods through #LapakGanjar. She was surprised that Ganjar actually visited her gallery after she sent a package of face masks and gloves to the Governor's official residence in Puri Gedeh, Semarang, to show her gratitude. Her customers have multiplied ever since the products began appearing on @ganjar_pranowo Instagram account. "My turnover has increased by 350 percent," said Ambar, without elaborating the details.
She told that her business collapsed because of the Covid-19 pandemic. One day, she read a post about SMEs product promotion through #LapakGanjar. She decided to give it a try.
The effect was immediate. The number of orders pouring in to Srihanna Batik store, according to Ambar, skyrocketed. Buyers are coming from various cities, and even overseas. "A majority of them are new customers," she said. Most of them said they know her products from Ganjar's Instagram account.
•••
VISITING @rz_effendi58 on Instagram is a mouth-watering experience. All sorts of culinary products are showcased in the Stories feed of this personal account belonging to the Mayor of Balikpapan, East Kalimantan. Like Ganjar Pranowo, Rizal Effendi is displaying SMEs products in his virtual marketplace. Although, unlike Ganjar, Rizal does not have a special team to tidy up the digital space, or organize a weekly theme for each edition. He just collaborates with his wife, Yohana Palupi Arita, and sometimes helped by his children.
The special spot dedicated to promoting small businesses in Balikpapan began appearing through @rz_effendi58 during the fasting month of Ramadan in May. The Covid-19 pandemic had already gripped the country at the time. A number of regions imposed social restrictions. In order to suppress the spread of the disease, the Balikpapan City administration cancelled the opening of the Ramadan Bazaar which usually serves as the center of SMEs trade.
Instead of reaping large income in the moments before Idul Fitri, end of fasting month celebration, merchants and small business owners were faced with potential loss of revenue. Complaints flooded social media, some addressed directly to Rizal. Arita, his wife, also received numerous complaints in the National Handicraft Council forum.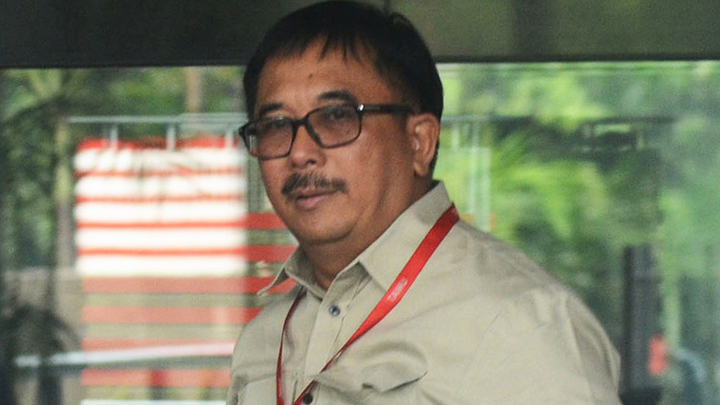 Rizal Effendi/ TEMPO/Imam Sukamto
Arita advised Rizal to open a virtual marketplace on social media. "He has more than 90,000 followers, I have 11,000. That is more than 100,000, not a bad amount," she said on September 12. Arita's suggestion was well received.
She than asked souvenir merchants, as well as culinary and handicraft business owners, to tag her in social media. "Get to my IG (Instagram) first, I will then mention it to him. So, through mine and my husband's account, the post will be made visible to up to 100,000 people," she said. "Both our (Instagram) Stories are full. We become Instagram celebrities."
Rizal said that some complained of not having enough capital to start a culinary business. Others intended to produce face masks, but lacked the materials. Rizal then began handing out loans. Some receive Rp5 million, some Rp10 million. "It is from my personal coffers because I cannot use government budget for that. My wife has been giving loans until now."
While in #LapakGanjar 'participants' are experiencing sudden increases, the effect from being displayed on @rz_effendi58 may not be as immediate. Culinary entrepreneur @blinjo.kuliner said their turnover remains similar as before, but their number of followers has grown. They are hoping to increase sales as more residents of Balikpapan are introduced to their products.
•••
THE National Statistics Agency notes that there are currently 64 million SMEs in Indonesia, contributing almost 60 percent to the country's gross domestic product. Their large contribution is what motivates some regional heads to promote small businesses, in order to help them regain their footing after being battered by the Covid-19 pandemic.
In West Java, Governor Ridwan Kamil has also announced his intention to help SMEs through his social media accounts. Some 37,000 SMEs in West Java, according to him, have been affected by the pandemic. Ridwan believes he can promote local products to his millions of followers on various social media platforms.
Slightly different from Ganjar Pranowo dan Rizal Effendi, Ridwan sets an additional requirement: he wants to be involved with the product's design in order to establish a connection to it. "Aside from marketing, I will also be designing," he said. However, said Ridwan, perhaps not all SMEs would get the opportunity of being promoted.
He added that the promotion will be made available for products from all of Indonesia, not just those made by SMEs in West Java. "But West Java will be prioritized at first," he said. "So, there will be Ridwan Kamil edition of shoes, jackets, radio designs, motorcycles, and others." Ridwan is currently curating the products to be promoted. "This is beyond marketing."
RETNO SULISTYOWATI, JAMAL A.NASHR (SEMARANG), ANTARA