Contact Tracing is Still Inadequate
Wiku Adisasmito, Expert Team Coordinator and Spokesperson for Covid-19 Response Task Force: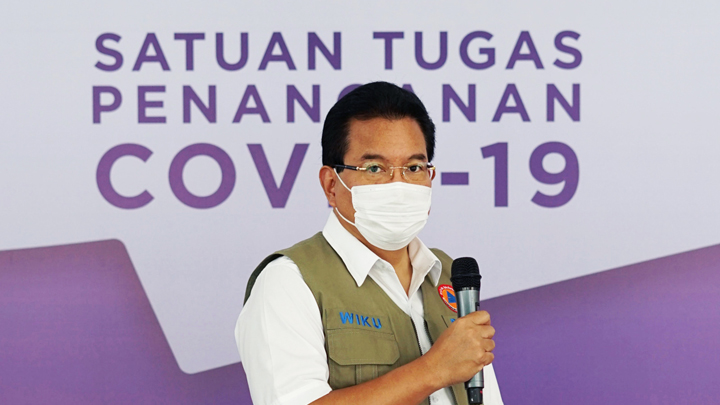 IT has been almost three months since Wiku Adsasmito has dual responsibilities at the Covid-19 response task force. Wiku who heads a team of hundreds of scientists and clinical practitioners of cross-disciplinary fields and expertise ever since the task force was established as an ad hoc agency in March was picked last July to succeed Achmad Yurianto, director-general of disease prevention and control at the health ministry, as the task force's spokesperson.
Indonesia has seen an exploding number of cases in the past few weeks. The number of new cases per day tops 4,000 almost always setting a new record each day. The 56-year-old professor said that with 320 laboratories in operation, testing has improved significantly. Alas, the testing capacity is not complemented with adequate close contact tracing for positive cases. "Tracing sure has not really been optimal," Wiku acknowledged during a special interview with Tempo via video last Wednesday, September 30.
As of October 2, Indonesia records over 295,0000 positive cases and close to 11,000 deaths. Wiku said testing and contact remain the key to break the chain of Covid transmission among the public. In Jakarta alone where the highest number of cases is registered, contact tracers are able to reach only five to six contacts per each positive case. "Tracing is hampered by social stigma and limited contact tracers," said the professor Public Health at the University of Indonesia.
Speaking to Tempo reporters Mahardika Satria Hadi and Nur Alfiyah, Wiku said the Covid-19 pandemic was a multi-dimensional crisis requiring a cross-sector cooperation. Unfortunately, he noted huge sectoral ego among both ministries and institutions. During the interview that lasted nearly two hours, Wiku also discussed the appointment of Maritime Affairs and Investment Coordinating Minister Luhut Binsar Pandjaitan to lead the battle against the pandemic in 10 critical provinces as well as the departure of Akmal Taher from the task force.
The number of Covid-19 positive cases is still climbing fast in Indonesia ranking the highest in the Southeast Asia. Why isn't the condition improving?
Contact tracing has not been optimal for sure; but for testing, the improvement has been significant. The WHO (World Health Organization)'s target for testing capacity is 1 per 1,000 residents per week. Jakarta, West Sumatra, Bali, South Sulawesi and Papua have already met that target.
What is the testing capacity at this stage?
We now have 320 laboratories. The daily testing capacity of the total equipment in these labs is 62,000 samples and today it registered 45,496.
But the national rate is still below the WHO target.
For 267 million people, the total number of tests per week should be 267,000. The current number is 189,000 which is 70 percent. This is the national average including those of the five provinces that I mentioned which already reached five to six times above the WHO standard. The testing based on the WHO standard should be prioritized for the regions with high infection rates as well as high populations, not for all the regions. Why should we be chasing the target for sparsely populated regions with low prevalence?
What about our current contact tracing capacity?
We are still lacking in this area. If I'm not wrong, the current capacity is only five to six contacts per case and that's only valid for Jakarta. From now till December, we will be focusing on tracing. We should be able to trace 10 close contacts of each positive patient. If the 10 contacts are tested in all the regions with high populations, the potentials to catch cases are automatically higher. As such, the mitigation efforts will also be better.
What are the obstacles faced by the regions in the red zone that still can't bring down the number of cases?
Usually they need reagents and PCR (polymerase chain reaction) test kits and that in my opinion is a simple issue to solve. We have no problems sending them to the regions, but the communication mechanism should be improved from time to time. We should give the thumbs up to the successful regions. For those that are still struggling should let us know urgently if they need help.
What about the regions that in fact refuse to increase the testing capacity in order to avoid being put on the red zone status?
They can't. I can understand their concerns. We can see from the data, not just from the media but also from the regional governments themselves preparing for the regional head elections. If they've never done tests, how come the regions are green. We can see what the tests look like.
Are there many regions like that?
There are those who want to be like that. I will check them all.
Is it true that testing and tracing are not boosted nationwide to keep the number of cases down?
A lot of people look at the cumulative number and get scared by the rising number. Don't be afraid if the cases continue to surge everyday. It means the testing capacity is increasing. In addition, the transmission rate would also be high. I'm sure these are the two causes (behind the fear).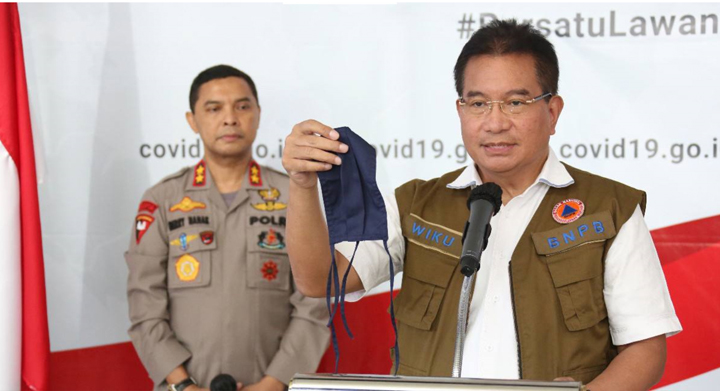 Wiku Adisasmito explaining the use of mask, last April. Humas BNPB/Danung Arifin
Tracing remains a crucial factor in breaking the chain of Covid-19 transmission but why is it still not optimal?
There are several factors. One is the social stigma. Assume that I am infected. Because of the public's stigma that being infected with Covid-19 is a bad thing, I am not likely to report myself. The stigma hampers tracing. Another hurdle is the confusion over who should do the tracing. Is it community clinics, doctors, patients themselves or will there be volunteers?
Who have been tracing close contacts all this time?
The health departments. Imagine how overwhelming it must be for the health departments with limited personnel to do the task for such a huge population with the high transmission rate. For example, if 10 contacts need to be traced for each positive case, for 10 cases, each tracer must track down 100 contacts. They don't have enough resources for that.
How will the task force overcome this problem?
We will recruit more volunteers to help the health departments.
How many tracers are needed to trace close contacts?
I haven't calculated it. The bottom line is we don't have enough tracers. Tracing should be focused on the densely-populated regions. If we can take care of these regions, the nationwide drop in cases would be huge. Since we have limited resources for contact tracing now, people's movement must be restricted. With the mobility restricted, the transmission will also be restricted and the contacts will automatically be reduced.
You said that vaccine is not a magic wand to eliminate the Covid-19 outbreak. But why President Joko Widodo is insistent on manufacturing the vaccine at the soonest?
Covid-19 is a new viral disease. In the past many flu diseases like avian influenza, H1N1, etc. came and went. Well, it turned out Covid-19 spreads faster and lingers on longer. There's no sign of the curve being completely flattened anywhere. Research institutions around the world are in the race to produce the vaccines. They all want a magic formula as they are being challenged to overcome the virus although in reality it takes years to find and produce vaccines.
What are the alternatives if there is no vaccine available?
We should protect ourselves through behavioral change. That's why I said we should not depend only on the vaccines. We don't have the experience to manufacture vaccines quickly. The vaccine won't be ready tomorrow. So, when people say there will be vaccines in November or January, they should make sure first that safety and efficacy standards are met. Why should one be vaccinated if the vaccine is not proven effective to protect us?
Do you think President's wish is realistic?
It is realistic in terms of manufacturing and timeline for clinical trials. But we can't force the results. Sinovac's clinical trials are expected to complete at the end of this year. Sinopharm and other companies are also in the process of developing vaccines. Other vaccines are not being tested in Indonesia. It means we will import the finished products. We have to make sure they have gone through complete clinical trials. For instance, how long will the efficacy and safety of Sinovac's vaccine which is now in the third phase of the trial last?
How many doses does Indonesia need?
Calculations vary depending on how many people we want to vaccinate, 60 or 70 percent of the population. That also depends on the efficacy of the vaccine itself. The higher the efficacy for protection is, the less population that needs to be vaccinated. To create herd immunity, we need reasonable quantities. Even more so if there are many vaccines, there will be different calculations. Everything needs to be measured carefully.
Apart from Sinovac and Sinopharm, what other vaccines are being pursued?
There are several, such as those from AstraZeneca dan Pfizer.
The President has tasked Maritime Affairs and Investment Coordinating Minister Luhut Binsar Pandjaitan to oversee the Covid-19 management in 10 critical provinces. What is the task force's reaction to this?
It is a unit formed via the presidential decree, so, well, we will of course follow it. The President has set the targets and we will also automatically follow them. I see that bureaucratic efforts to mobilize (the regions) to fight the pandemic are still massive. The public's understanding throughout the nation is that this pandemic is a health issue although from the beginning we had said that it would surely have economic and social consequences. All the changes it has caused shows that this problem cannot be solved by one side only. We must find ways to overcome it faster.
How far will Minister Luhut's involvement affect the ongoing teamwork?
In principle, Pak Luhut asked us to focus on the eight priority provinces which now expanded to 10. It involves an intensive work. Each region is checked for preparedness. There will surely be synergy among all the components including regents, mayors and governors in each province. The armed forces and police are involved to enforce the law. All the shortages, for example intensive care units (ICU), are checked and immediately fulfilled by the health ministry.
Who is at the command?
Pak Luhut. It is Pak Luhut and Pak Doni (Doni Monardo, the Covid-19 task force chief) who were asked to lead in coordination with the health minister, right?
Some time ago, equipment in 34 out of 39 ICUs are moved from the Athlete Dormitory Covid-19 Emergency Hospital. What happened?
It was a joint decision by the maritime affairs and investment coordinating minister, the health minister and the task force chief after a discussion.
What was the rationale?
Actually, the objective was to strengthen Jakarta which that time was suffering from ICU shortages. Then they were moved to other hospitals within the greater Jakarta area (Jobodetabek) which needed support.
Doesn't the Athlete Dormitory Emergency Hospital also need ICUs?
It was decided that the Athlete Dormitory hospital would be designated to treat mild to moderate cases and other referral hospitals for severe and critical cases. Those that need ICU are usually severe and critical cases.
Under the current composition of the team, who plays a major role in making strategic decisions?
Certainly the leaders, Pak Luhut and Pak Doni. But not all the leaders can make different decisions so Pak Luhut leads. We interact very actively almost everyday and more than once in a day.
What are the hurdles the task force faces in mitigating the pandemic so far?
We face three enemies: first, the virus itself; second, sectoral ego; and third, negative media coverage. It's easier to handle the virus. Once we know our enemy, we can try to adjust ourselves. Sectoral ego is hard to beat.
Is it still prevalent until now?
It still is, of course. But don't directly point it to the health ministry only. All the sectors suffer that syndrome. That's the hardest challenge because we haven't been trained from the start to collaborate.
How do you get rid of that?
They should develop empathy and learn to be complementary with one another. It's quite hard when everyone wants to outshine others. A leadership aware of such conditions and continues to build relation without being confrontational can eventually thaw this atmosphere and mobilize efforts better.
What is the role of the health minister in the pandemic management?
He still holds the authority to implement health related programs or initiatives. Then, with decentralization, his authority is also shared with regional authorities. This condition makes it difficult to solve problems. One side feels that the power rests at the central whereas those in the regions feel they also have their own power. Meanwhile, the current command system demands all to take similar measures. Our political and governance systems do not facilitate that. I would describe it as 50:50. President and the ministers hold 50 percent power; and governors, regents and mayors have 50 percent. So, we need to find the right chemistry.
Professor Akmal Taher, head of health management of the Covid-19 task force has resigned from the position. What happened?
The pandemic is a multidimensional problem which requires us to interact with multiple sectors in ways that we have not been familiar with. We who were not used to collaborate with others were compelled to collaborate. There are a lot of dynamics in it. If we are not used to working with the armed forces, we can experience shock when we suddenly have to work with them. The same goes for the armed forces. As I said before, sectoral ego is the biggest challenge. We must have empathy, patience and swiftness in taking actions.
Is it true that Professor Akmal resigned after he was rebuked by Minister Luhut?
That's what I'm saying. He was rebuked, so what? We are trying to synergize and sometimes there will be differences and incompatibility. Some people can accept (the rebuke), some cannot.
What was he reprimanded for?
I didn't follow the meeting so I don't know the details. The point is everyone wants to take swift actions albeit different knowledge each has.
What was it about?
About patient treatment.
---
WIKU BAKTI BAWONO ADISASMITO
Place and date of birth: Malang, East Java, February 20, 1964 | Education: Bachelor of Animal Husbandry, Bogor Institute of Agriculture (1988); Master of Science, Colorado State University, US (1990); PhD in Philosophy, Colorado State University, US (1995); Professor, Faculty of Public Health, University of Indonesia (2010) | Career: Secretary, Hospital Administration Studies, University of Indonesia (1996-1999); Chairman, Head of Research and Community Service Unit, Faculty of Public Health, University of Indonesia (2005-2006); Deputy Director, Research and Community and Service, University of Indonesia (2006-2007); Director of Partnership and Business Incubator, University of Indonesia (2007-2014); Secretary of the Board of Trustees, University of Indonesia (since 2019); Adjunct Professor with Tufts University for Global Health & Infectious Diseases and Affiliate Professor with University of Minnesota, US for Environmental Health Sciences (since 2018); Manager, Global Health True Leaders (since 2014); Manager, Global Health Diplomacy (since 2017) | Organization: Executive Director, Pelangi Indonesia (1994-1999), Head of Fund Raising, Environmental Division, Chamber of Commerce and Industry (1998-2000), Senior Vice President, Indonesian Bank Restructuring Agency (2000-2004), Deputy Chair, Matsushita Gobel Foundation (2007), Member, Avian Flu Epidemic Task Force (2006-2007), Member, Asian Partnership for Avian Influenza Research and Expert Staffer, National Commission for Avian Influenza Control and Pandemic Influenza Preparedness (2008-2010), Expert Team Coordinator and Spokesperson for Covid-19 Response Task Force (2020) | Awards: Satyalancana Karya Satya (2010 and 2019).