Bambang P.S. Brodjonegoro, Minister of Research and Technology/Head of National Research and Innovation Agency: Phytopharmaceuticals will Soon be in the BPJS Kesehatan
Heavy dependency on medicine's raw material from abroad has pushed the government to develop herbal medicine as one of the 2020-2024 National Research Priorities.
Edition : Monday, October 19, 2020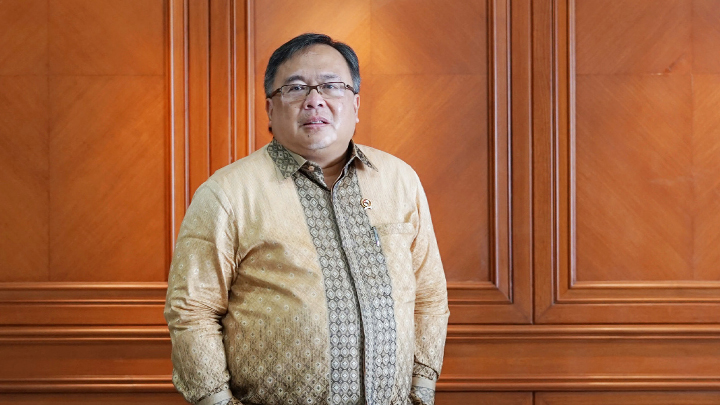 ALTHOUGH Indonesia has an abundance of herbal wealth, only 24 medicines so far have the clinched the status of phytopharmaceutical, meaning that they are equivalent to chemically-based medicines because they have passed pre-clinical and clinical tests. Bambang P.S. Brodjonegoro, Minister of Research and Technology/Head of National Research and Innovation Agency, explained about obstacles in developing phytopharmaceuticals and the government's plan to support the advancement of herbal medicine labeled modern traditional Indonesian medicine. "If the government stays mum, these developments will be very difficult," said Bambang, 54, in an interview with Tempo's Abdul Manan, Mahardika Satria Hadi, and Zacharias Wuragil on Tuesday, October 6. 
The development of herbal-based medicine is among the national research priorities. What's the urgency, and what are the plans?
Raw material for our medicine is 95 percent imported, particularly the basic chemical material. There are two kinds of basic material: chemical and herbal. We must import the chemical material, because our chemical industry is not yet able to produce the substances needed for medicine's basic material. The primary industry is present, but the applied industry is not yet there. The question is: do we want to majorly invest in applied industry, or do we use what is in front of us, what we already have, which is biodiversity? That's the source for herbal medicine. Then there is the research for that. Our priority is to produce as many modern traditional Indonesian medicines as possible. Admittedly, research for these kinds of medicine needs ample time, particularly the clinical studies' phase. This is because this medicine has to be safe and, most importantly, effective. Thus, research for this medicine cannot be done instantaneously.
Until now, there are only 24 items with phytopharmaceutical status. What are the obstacles?
Why do we still use so little of it? First of all, the research is not easy. Secondly, if the lab trials are successful, there are still the clinical tests that must be done. That takes time and money. These are likely the obstacles. That's why we have modern traditional Indonesian medicine as a national research priority. The government not only supports the research, but also the clinical tests, although the latter is actually the company's responsibility. It's better if the government supports this. For example, if an incentive such as triple tax deductions (for herbal medicine companies) is enacted, the companies will be more energized.
How do you overcome the fact that few doctors prescribe phytopharmaceuticals? Demand for it is also low, as it is not included in the national formulary and it is not yet used by the Health Care and Social Security Agency (BPJS Kesehatan)?
Yes, this is a good point. This is the first step we will take. This will be in the hands of the health minister and BPJS Kesehatan. What's already done is a Presidential Instruction for it to be immediately put on the BPJS Kesehatan list. Because that's a key factor in order for doctors to use it. Secondly, based on our experience in developing health and medical items, we have to find out who the users will be. So, don't just hope for provisions from the ministry. There must be a direct approach to users.
Is there a connection between phytopharmaceuticals' recent entrance in university curricula with the low prescription number of this herbal medicine?
We have to admit that it isn't how herbal medicine is taught at universities, but it has to do with habits. Once doctors use certain medicines, pharmaceuticals become complacent, as they know that when physicians start prescribing a medicine, then a certain quantity of it will be bought. This situation must be improved. I also look at it from a marketing strategy viewpoint. The health sector must make moves to take advantage of biodiversity for medicine.
Phytopharmaceuticals prices are still more expensive compared to chemically-based medicine. How will you overcome that problem?
The key is production scale. Thus, it is important that it enters the BPJS Kesehatan, so that there is considerable demand from the very start. If we speak about innovation in general, the first party that can push innovation is the government, by doing early procurement. After that, production on a larger scale will be possible due to increased demand. If the government stays mum, then it will be very difficult.
What does the government plan to do so that the herbal medicine industry becomes more attractive?
The government will facilitate so that researchers and the pharmaceutical industry will see eye-to-eye: agree on the outcome, and what they will produce. Also, to connect these parties with the health ministry and the Food and Drug Monitoring Agency. Secondly, creating a clinical studies standard which is not too discouraging in terms of money and time. Of course, we realize that clinical studies are very important, and must be obeyed.
W251bGwsIjIwMjEtMDUtMTEgMDU6MjA6MTYiXQ