Ruslan
Edition : Monday, October 26, 2020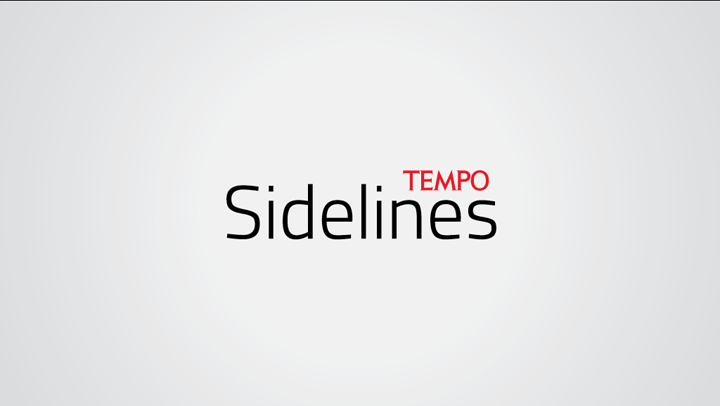 IN his village in Central Java, Ruslan has no time for shouting. While Jakarta rings with the noise of three words pitted against each other—'Workers', 'Business' and 'Bureaucracy'—he is busy planting yams. With his cracked hoe he digs the earth in his backyard. And into the 50-centimeter deep holes, he puts straw for fertilizer.
He is pleased. Already, 195 of the plants have grown. He is both anxious and hopeful. This particular kind of yam called porang is not well known, but is now attracting interest: it has been found that it can be used in cosmetics, to purify water, make glue—and for export. In 2018, Indonesia sold 254 tons to various countries in Asia. In his neck of the woods, Ruslan does not want to miss out on this opportunity, even though he is no businessman from the 'modern sector'.
Ruslan worked as a street-stall seller for a few years in Jakarta, until the pandemic and lockdown evicted him. He returned, thin, with no income and with two children in their early teens, to the village house where he was born.
Fortunately, in the village it is common to shoulder misfortune together. The pandemic is faced together: every villager returning home from outside is given a place to quarantine for 14 days. During harvest time, the villagers who owned rice fields sent rice to their neighbors who had no means of support.
But Ruslan knew this would not go on forever. He started building a pond and gathering snails and rice paddy crabs as food for the eels he farmed in the pond. Eventually, he got a new focus, porang…
W251bGwsIjIwMjEtMDYtMjUgMDg6MDk6NTAiXQ
But actually, his focus was survival. Ruslan's life has been shaped by work and uncertainty. When he was 21, he graduated from a vocational high school for teachers but then never managed to get a teaching job. He left for Jakarta and worked as a waiter in a restaurant in Ancol. When the restaurant went bankrupt, after a time of confusion he decided to go into trade. Having no capital, he started out selling potatoes for his friend. Over time, he was able to have his own stall at Pasar Senen.
Yes, Ruslan is tenacious. But if his tenacity does not attract attention, this is because there are so many Ruslans among us: family and friends who keep on rising and falling. They are not workers, not bureaucrats, and not card-waving businessmen. They are 'petty bourgeois'. We live amidst this class. "Indonesia is an ocean of petty bourgeoisie," said Nyoto, the intellectual from the Indonesian Communist Party in the late 1950s.
I do not think Nyoto was complaining. He was merely expressing a social reality—even though in the old Marxist discourse, the 'petty bourgeois' was nothing nice. The Communist Manifesto depicted them as the class "floating between the proletariat and the bourgeoisie." This class, the Kleinbürger, lived with envy and anxiety facing the capitalists. Sometimes they had socialist ideals. But their socialism, Marx and Engels said, was only 'reactionary and utopian'.
The petty bourgeoisie, in the opinion of the formulators of the Communist Manifesto, is a fragile class. Inevitably, they will be swallowed by the big capitalists. Strangely though, the anti-capitalist champions of the 'left' seem to have had no sympathy for them. They mocked.
Brecht, the famous Marxist dramatist, wrote a short play titled Die Kleinbürgerhochzeit (literally, the petty bourgeois wedding, but known in English as A Respectable Wedding). The setting is a wedding reception. Nine petty-bourgeois characters, who Brecht names only as 'Husband', 'Friend' and so forth, are sitting at the reception. They try to put on upper class airs, but after consuming numerous bottles of wine, they revert to being Kleinbürger, vulgar in taste, crass in behavior.
In 1966, the famous Belgian singer, composer and stage actor Jacques Brel issued his album Ces Gens-Là. With his baritone voice, facial expression and expressive hands, with melancholy, monotonous accompaniment, Brel sings of a petit bourgeois family that obstructed his love for their daughter, Frieda. He angrily describes 'Those people' who 'don't live/ they cheat' (on n'vit pas/on triche) and 'don't talk, they count' (on n'cause pas/on compte)...
"A maligned class," James C. Scott said in his essay, Two Cheers for Petty Bourgeoisie. Aristocrats both old and new, with their elegant homes and dress, consider this social class—farmers living hand to mouth, small food traders, hostel owners, market traders—as 'country hicks'. In Surakarta in the 19th century, the palace literati who wrote the Wulangreh considered the "wong atisudagar" (merchant-hearted people) as concerned only with money, and as a bad example. In Russia after the Revolution, Bukharin, a member of the Bolshevik Party Politbureau, said the 'petit bourgeois' had infiltrated the farmers who refused collectivization of their land. This group must be wiped out, Bukharin said. And they were.
Of course, Bukharin had no experience of Indonesia. Here, people like Ruslan, even though their life is precarious, are too numerous to be wiped out. They cannot even be easily put inside the iron cage of the modern world and managed by the State. They are slippery—and work harder than factory workers who are promoted by trade unions. The millions of Ruslans, our petty bourgeoisie, are silent, and with their silence, they keep Indonesia moving. Because they, whether defended or not, do not easily give in.