A Rainbow Flag at Police Headquarters
The Indonesian Military and National Police discharge their gay personnel. There is a debate over institutionalized discrimination and human rights violations.
Edition : 3 November 2020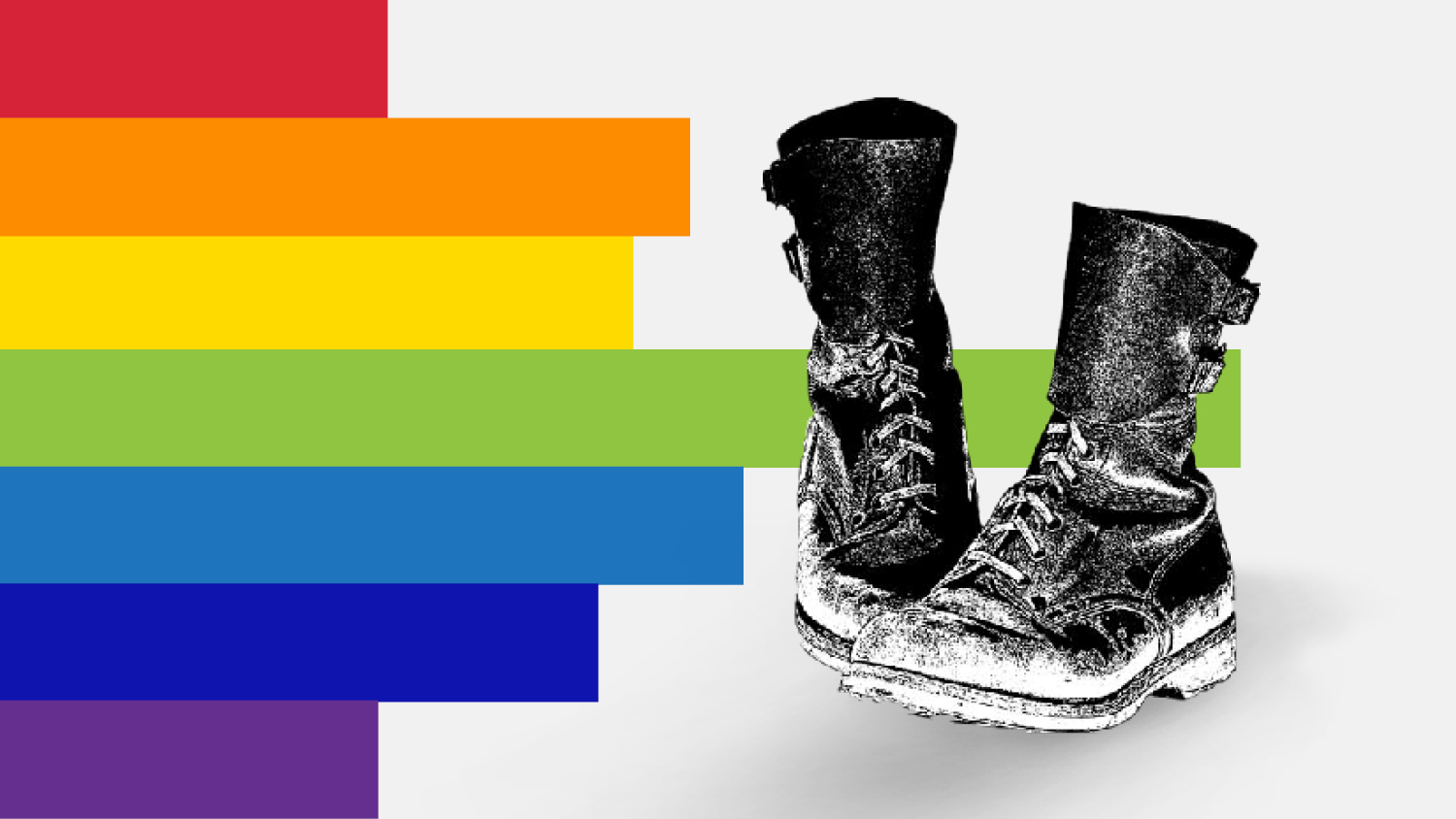 THE career of Brig. Gen. EP was over, after a hearing of the National Police's Professional Code of Ethics Commission reached the decision that this bespectacled man had violated their code of ethics on January 31. His punishment was demotion for three years. This meant that this 1988 Police Academy graduate will not reach any higher rank up until his retirement.
The hearing ruled that EP had violated Article 11 letter c of National Police Chief Regulation No. 14/2011 regarding the National Police professional code of ethics. That article states that National Police personnel are required to maintain the norms of common decency, religion, local wisdom, and the law.
He was considered to be a part of the lesbian, gay, bisexual, and transgender (LGBT) group. Even though LGBT or homosexual is not specifically mentioned in that National Police chief regulation, EP was still punished. "EP was found guilty in a professional code of ethics hearing," said Brig. Gen. Awi Setiyono, chief of the National Police public information bureau, on October 21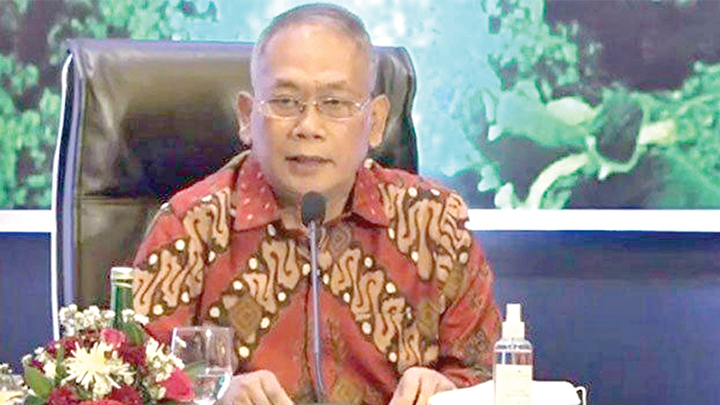 Supreme Court's Military Chamber Chairman Maj. Gen. (ret) Burhan Dahlan, October 12./Youtube.com/Mahkamah Agung Republik Indonesia
The Code of Ethics Commission also obligated EP to apologize to his associates and superiors. He must also undergo counseling for mental character, psychology, religion, and professional knowledge. "This counseling lasts one month," said Awi.
W251bGwsIjIwMjEtMDMtMDEgMTE6MjE6MzkiXQ
EP served as a regional deputy police chief in Sumatra holding the rank of brigadier general from April to October 2018. He was promoted to bureau head at the human resource assistance office at National Police Headquarters. This position holds the authority to determine promotions and further education for all police personnel.
EP's most recent position was as a mid-level government training official at the National Police Education and Training Institution's Leadership School. EP had not responded to an interview request from Tempo as of Friday, October 30.
The case of Brig. Gen. EP erupted after a recorded speech of Maj. Gen. (ret) Burhan Dahlan, chairman of the Supreme Court's military chamber, was circulated on Monday, October 12. At the Judicial Technical and Administrative Guidance in the Indonesian Court System event, Burhan talked about the phenomenon of an increase in LGBT cases involving Indonesian Military (TNI) personnel in the court as of late.
According to Burhan, the court has handled or is currently handling 20 LGBT cases this year. He said that there is a TNI-National Police LGBT association which is led by a military sergeant. The ranks of its members range from private to lieutenant colonel. "This is unique, but it is a reality," said Burhan as heard in that recording.
Burhan said that he received a complaint about the sexual orientation of those soldiers from a high-ranking officer at the Army Headquarters. Their numbers were said to be increasing. Lieutenant Gen. Dodik Wijanarko, Commander of the Army's Military Police Center, was reluctant to comment on this matter. "It is proper to interview the Danpom (Military Police Commander) about this, not me," said Dodik.
In that video recording, Burhan said that he heard the first LGBT case involving a TNI soldier in 2008. He did not punish that soldier. "I asked his commander to treat him until he was cured," he said.
Beka Ulung Hapsara, a member of the National Commission on Human Rights, said that LGBT is not a mental illness. "Because it is not a mental illness, there is no medicine for it," said Beka.
In Indonesia, there has long been a reference about LGBT. The book Second Edition of Mental Illness Categorization and Diagnosis Guidelines (PPDGJ) from the department of health published in 1983 and the third edition of the PPDGJ in 1993 notes that sexual orientations such as homosexuality, heterosexuality, and bisexuality are not mental illnesses.
In 1975, the American Psychiatric Association (APA) in the United States stated that homosexuality does not imply any problem in judgement, reliability, or social ability. The World Health Organization (WHO) removed homosexuality from classification of international illnesses in 1990. The WHO reiterated that LGBT is not a mental illness in May of last year.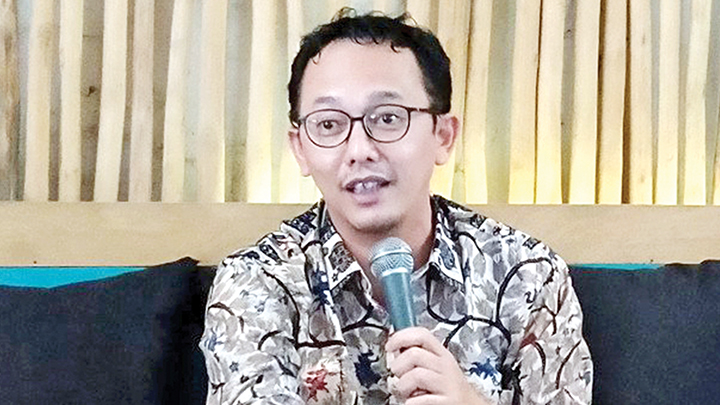 National Commission on Human Rights Commissioner Beka Ulung Hapsara./ANTARA/Nur Imansyah
Beka Ulung Hapsara said that the norms of human rights do not allow for discrimination based on sexual orientation. He emphasized that state institutions must be attentive on the matter of differing between sexual orientation and sexual behavior.
Sexual orientations such as LGBT are said to adhere to individuals. Sexual behavior includes forcing another to engage in physical relations, sexual violence, and child molestation. "It is allowable to legally punish people on account of sexual behavior," said Beka.
• • •
UNLIKE Brig. Gen. EP who was only demoted and ordered to undergo mental counseling, Brig. TT was discharged for being found guilty of deviant behavior. The Central Java Police department discharged TT on December 27, 2018, for violating the National Police code of ethics. "These differences in punishment have raised serious questions about the National Police's internal bureaucracy," said Brig. TT's lawyer, Ma'ruf Bajammal.
TT, 31, is fighting back against his dismissal. This former personnel in the vital objects security directorate of the Central Java Police department had filed a lawsuit against the decision made by his superiors at the Semarang State Administrative Court (PTUN) in the middle of last year. The motion did not move forward because a judge considered it to be a premature lawsuit. "We are refiling the lawsuit," said Ma'ruf.
Speaking to Tempo, TT previously said that he still wants to serve due to his love for the police force. His service record is free from any disciplinary measures. His career was also advancing rapidly, reaching the rank of brigadier before the age of 30. "Sexual orientation does not affect professionalism," said Ma'ruf. "He is a model police officer."
Ma'ruf said that TT's being discharge from the police force on account of his sexual orientation violates human rights, claiming that the matter of a guarantee for human rights without discriminating based on sexual orientation is regulated in National Police Chief Regulation No. 8/2009 on the implementation of the principles and standards of human rights in the conducting of the duties of the National Police.
TNI regulations also do not mention any specific punishments for LGBT personnel. In a speech at an event at the Supreme Court on October 12, Chairman of the Supreme Court's Military Chamber Burhan Dahlan indirectly recognized that LGBT soldiers cannot be criminally prosecuted. He said that judges often acquit soldiers accused of being LGBT because it is not specifically banned in the Criminal Code (KUHP) or other regulations.
Speaking to the military judges attending that event, he gave some pointers on how soldiers with LGBT orientations can be punished. He referred to Telegram of TNI Commander No. 398/2009 and Telegram of the Army Chief of Staff No. 1648/2019 regarding the discipline of soldiers and civil servants in the TNI.
The types of punishments refer to Article 103 of the Military Criminal Code. "While the KUHP does not regulate the matter of LGBT, in the TNI this is a grievous fault," said Burhan.
Supreme Court Spokesman Andi Samsan Nganro said that their institution has put 16 members of the TNI involved in LGBT on trial at the appellate level. "They were all discharged from the service and sentenced to prison," said Andi.
Colonel Sus Aidil, Chief of Public Information at TNI's Information Center, said that their institution continues to mete out severe penalties against soldiers who are proven guilty of violating decency laws, including LGBT. "The legal process is categorically applied, with criminal sentences and military discharge through a trial process in a military court," he said.
Beka Ulung Hapsara highlighted some of the regulations which are used to discharge TNI and National Police personnel with LGBT sexual orientation. According to him, those two institutions must give more details on what constitutes the norms of decency, standard behavior, local wisdom, and so forth, in order to avoid misinterpretation. "This is also to avoid arbitrary actions or punishment," he said.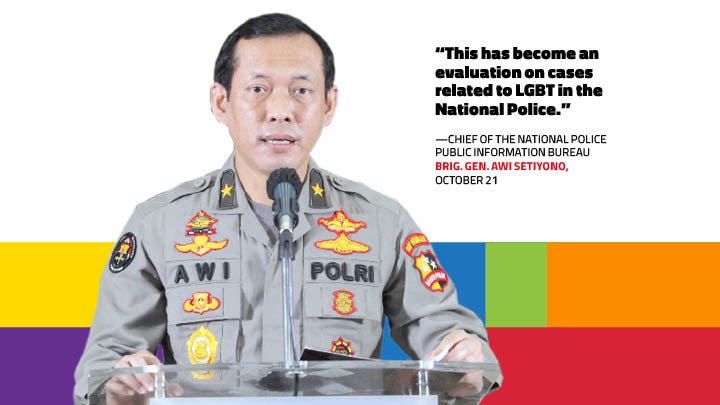 chief of the National Police public information bureau Brig. Gen. Awi Setiyono./ANTARA/Reno Esnir
He said that such punishment has also been used against civil servants in a number of government institutions. Minister of State Bureaucratic Reform Tjahjo Kumolo recognized this. However, those civil servants are not fired, but receive reprimands and counseling. "We are still working on the regulations with other institutions," said Tjahjo.
Astried Permata, General Coordinator of Pamflet—an organization which fights for human rights and diversity—said that the discharge of TNI and National Police personnel who have different sexual orientations violates human rights, in particular the right to work. The Indonesian Constitution guarantees the rights of workers of all groups, regardless of sexual orientation. Around the world, state recognition of the group which is identified with the rainbow flag is beginning to increase.
Astried is concerned that those punishments will increase. "The TNI, through its social media, has long propagandized LGBT as something which must be fought against," she said.
LINDA TRIANITA, ANDITA RAHMA, EGI ADYATAMA