Dead Elephants
Sumatran elephants are dying in worrying numbers in Riau. At least 24 elephants have died between 2015 to 2020. Fragmentation of their habitats because of forest conversion into plantation and industrial nurseries has made it easier for ivory tusk hunters. Follows is an investigative collaboration between Tempo, Tempo Institute and Mongabay.
Edition : Monday, October 26, 2020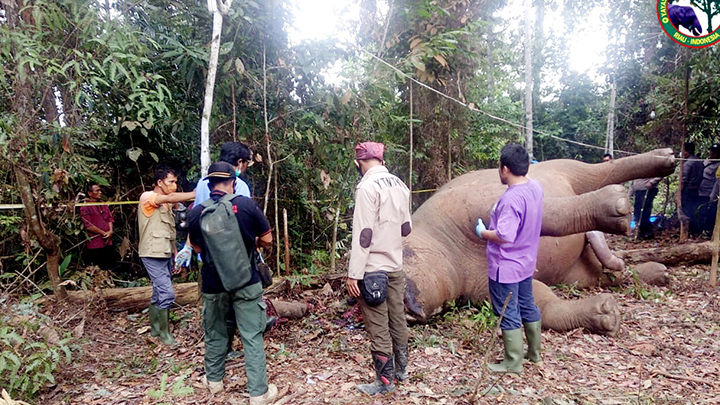 DEDDY, Bujang and two others were looking for bull elephants which had for the past several weeks barged into their oil palm plantation. That day on April 13, the four residents of Simpang Kelayang village, in Kelayang subdistrict, Indragiri Hulu Regency, Riau, roamed the area. They wanted to find the elephants and herd them away from the plantation back into the wild forestland of the Tesso Nilo National Park.
After an hour or so, they spotted some elephant dung and paw prints. They followed the trail. "We try to record it for live stream so the Natural Resources Conservation Agency (BKSDA) people can see," said one of the men. Deddy live-streamed their elephant search on his Facebook account.
Suddenly, a stranger jumped out from behind an oil palm tree trunk. He asked that Deddy turn off his camera. "I don't want to get famous," said the man. "Joni," the man in his 50s introduced himself. He had a large machete tied at his waist and claimed to be an officer from the Riau BKSDA Head Office (BBKSDA) in Bagan Limau, Pelalawan.
"Why don't you wear your uniform?" queried Deddy. "Forest wardens also have an intelligence unit," said Joni, added that there were no more elephants in the plantation. He claimed to have herded off the giant animals in the direction of Pelalawan Regency. Kelayang in Indragiri Hulu borders with Pelalawan.
Tesso Nilo is one of six Sumatran elephant conservation areas in Riau. There are 22 elephant conservation areas in Sumatra. A World Wide Fund for Nature (WWF) Indonesia study in 2007 declared Riau had lost 84 percent of its elephant population, leaving a total of only 210 Sumatran elephants in the province. Throughout Sumatra, the entire elephant population has dwindled by half, leaving only between 2,400 to 2,800 of the mammals.
W251bGwsIjIwMjEtMDQtMjEgMTQ6NTg6NTAiXQ
Joni rounded up the little group and herded them away from the spot. Suddenly, a colleague of Joni's appeared. The mustachioed man with a backpack claimed he was from Medan, North Sumatra, but did not volunteer his name. After falling into conversation while moving away from the spot, Deddy and friends separated ways from Joni and his colleague.
But Deddy was leery about Joni and the other man. He got Bujang to tell the police at the Kelayang Police Station about the man named Joni who had claimed to be from the Riau BBKSDA. After a check, the Riau BBKSDA in Bagan Limau had no-one by the name of Joni. Deddy became very suspicious that Joni and his chum were really elephant hunters.
The next day, Deddy got a call from his neighbor Srianto, better known as Tobas. "Here's an elephant, a dead elephant," said Tobas. Apparently, armed with information and the livestream on Deddy's Facebook account, Tobas and a police on duty as security guard and community safety officer named Sumadi had gone ahead to check out the location.
News that an elephant had been killed spread quickly throughout the village. Villagers rushed to the spot and found the elephant's carcass, whose trunk had been lopped off and lay about one meter away from its head. The beast lay in a spot only 25 meters from where Deddy had encountered Joni the previous day. Kelayang police and members of the the Tesso Nilo National Park Foundation's elephant patrol team camped out on the spot that night.
A Riau BBKSDA necropsy team and a team from the Riau Regional Police arrived the next day. Necropsy is an autopsy done on wild animals. The Riau Regional Police sought out further information, equipped with photographs of known elephant hunters. Two of the pictures looked like Joni and his sidekick. According to police information, the two were elephant hunters who had repeatedly gone in and out of prison. Joni's real name was Ari, alias Karyo, while his colleague was Anwar Sanusi, alias Ucok.
• • •
ROBERT woke up in the wee hours of April 16 when he heard a knock on his door in Air Molek village, Indragiri Hulu, Riau. Robert's house is located some 40 kilometers from where the dead elephant was found in Simpang Kelayang. The visitors were Ari and Anwar Sanusi. Anwar was Robert's uncle.
Before lying down to sleep, Anwar told his nephew to go take his firearm to Sukar's house in Paku hamlet, Sungai Banyak Ikan village in Kelayang, some four kilometers from Robert's house. "Sukar usually catches wild snakes. I sell the snakes for him," said Robert when met in September.
The search team of the Indragiri Hulu Police looking for Anwar and Ari arrived at Robert's house that very day. Anwar and Ari, meanwhile, had left the house at 7:30am without waiting for breakfast. Based on Robert's admission, the police apprehended Sukar, who had hidden himself in a hut in the middle of the forest. The police confiscated the firearm used to kill the elephant, which was hidden in some thick brush. But the police lost their trail of Ari and Anwar, who managed to escape.
Only much later did the police manage to nab Anwar at Simpang Pematang Ganjang, Sei Rempah subdistrict, Serdang Bedagai Regency, North Sumatra, on July 1. The police only announced their arrest of Anwar one month later. According to the police, Ari and Anwar were old players at elephant hunting in Riau. On February 6-7, 2015, Ari and Anwar had shot three elephants inside the Riau Andalan Pulp and Paper concession area in Segati village in Pelalawan.
On February 10, 2015, the duo conducted another hunt in the grounds of the Arara Abadi concession area in Koto Pait village in Bengkalis. Their team grew when Ruslan and Mursid joined in. On their way home to Pekanbaru with their cache of ivory tusks, they were arrested by a Special Crime Unit Directorate team of the Riau Regional Police.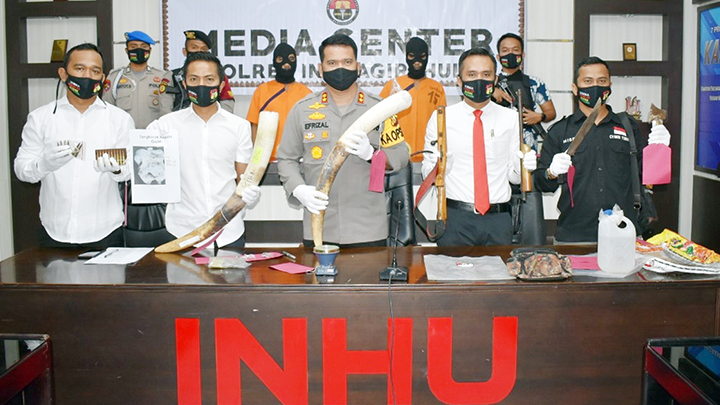 Police present the suspected elephant hunters and the evidence of their crimes at the Indragiri Hulu Police HQ, last August./polresindragirihulu.com
On July 9, 2015, the Bengkalis District Court sentenced Ari and Anwar to one year imprisonment. On January 21, 2016, the Pelalawan High Court gave the two stiffer sentence of two years and six months imprisonment each.
Apparently, before going on the hunt in Pelalawan and Bengkalis, Ari with Herdani Sardavio and Ishak had also killed two elephants in Tanjung Simalidu village, Tebo Regency, Jambi, in mid-November 2014. For the case, Ari was only sentenced on April 17, 2018. The Muara Tebo District Court sentenced Ari with three years in prison.
The court also proved Ari's elephant hunts were underwritten by Fadly, a member of a shooting hobbyist club. Further, the court proved the ivory Ari garnered from his hunts were indeed sold to Fadly. Fadly would drop off and fetch Ari and his brutes to and from their hunting locales. Fadly also loaned his firearms and supplied ammunition to Ari.
Fadly priced the ivory tusks nabbed by Ari and his thugs at Rp15.7million. Fadly once promised Ari he would purchase the ivory at Rp4 million per kilogram. But the gang was arrested before the hand-over could take place. The Bengkalis District Court sentenced Fadly to only one year imprisonment.
Special Crimes Unit Director of the Riau Regional Police, Sr. Comr. Yohanes Widodo, who handled Ari's case, regretted the light sentence meted out to these purveyors of ivory. Yohanes, who is now director of the water and air police of the South Sumatera Regional Police, said he had legally processed all the perpetrators. "Their actions are sadistic. All they are after is the ivory."
• • •
BEFORE the case of the dead elephant in Kelayang, the Riau BBKSDA and officers of the Riau Regional Police were in the throes of revealing a case of dead elephants in plantation concession grounds in Tasik Serai village, Bengkalis, on November 18, 2019.
Secretary of the Indonesian Elephant Conservation Forum Donny Gunaryadi said hunters always repeated their crimes because they got off so lightly. He said that perpetrators do not feel browbeaten because their punishments are not on par with their crime. The Bengkalis District Court verdict, for instance, only sentenced Ari and Anwar a fine of Rp3 million or a subsidiary one month detention if they were unable to pay. The same applied to Fadly, the underwriter of the hunts who was also the buyer of any ivory garnered.
The fact was, Ari and Fadly were also in illegal possession and abuse of firearms and ammunition, and held no permit of the weapons. They should have been slapped with Article 1 of the Emergency Law No. 12/1951. "With that article, they should have been sentenced with death penalty or life imprisonment, or at least 20 years in jail," said Donny.
A source who had traced the ivory route revealed, a pair of ivory tusks at 30 kilograms can fetch up to Rp50 million. In the black market, the price of ivory ranged between Rp5 million to Rp10 million per kilogram.
Tesso Nilo National Park Foundation data shows that from 2015 to April 2020, some 24 elephants were found dead in Tesso Nilo National Park, Giam Siak Kecil Wildlife Sanctuary, and the Balai Raja Wildlife Sanctuary in Riau. Seven of them were found dead in the commercial concession areas, and the remainders were in conservation land and community fields.
Besides being hunted down for their ivory tusks, Sumatran elephants in Riau die from traps, from being speared, poisoned, and getting caught in electrified fencing. Some also die because of digestive complications, alias purely from getting sick.
Executive Director of the Tesso Nilo National Park Foundation Yuliantony said, in the last five years, cases of elephants dying from unnatural causes far outnumber the other cases. In short, more elephants die as a direct result of conflict with humans. He said, liberal policies regarding forestland in Riau have carved up the elephant's natural habitat into a variety of functions. "These fragmented habitats have made it easier for hunters to hunt them down," said Yuliantony.
The WWF-Indonesia study stated, the Sumatran elephant population is declining so alarmingly, it is taking them to the brink of extinction. The biggest threats faced by the Sumatran elephant is the loss of their habitat because of forest felling, gigantic conversion of natural jungle for oil palm and paper pulp plantations, illegal hunting and black market trade.
Riau Province has an area of some 8.7 million hectares. Data from The Save the Riau Forest Working Network shows the breadth of forest concessions for industrial plantations in Riau per 2016 totaled 2.345 million hectares. Data from the agriculture ministry states, oil palm plantations in Riau per 2019 totaled 3.387 million hectares.
SUNUDYANTORO (TEMPO), SAPARIAH SATURI, SURYADI, LUSIA ARUMINGTYAS (MONGABAY)