A Road map without Contracts
Prabowo reviewed a number of defense equipment procurement contracts. It is believed they are not in favor of the local industry yet.
Edition : Tuesday, November 10, 2020
IN front of the People's Consultative Assembly's (MPR) leaders, Defense Minister Prabowo Subianto expressed his desire to strengthen Indonesia's defense system. During the meeting, held at the defense ministry's office in early June, Prabowo said he wanted to modernize the primary weapons system of the Indonesian Military (TNI) and review existing arms purchase contracts. "Pak Prabowo also explained various defense issues," MPR Deputy Speaker Fadel Muhammad told Tempo on Friday, November 6.
According to Fadel, one of the things that Prabowo discussed was the contract with South Korea to purchase diesel electric attack submarine (SSK) type 209/1400 Chang Bogo. The US$1.1 billion contract was signed by the defense ministry and Daewoo Shipbuilding and Marine Engineering (DSME) in April 2019. The agreement is a follow-up to the joint submarine-building cooperation between Penataran Angkatan Laut (PAL) Indonesia and the DSME that started in 2017. Two years later, the submarine—named KRI Aluguro-405—was inaugurated in Surabaya, East Java.
Two officials who attended the meeting said that Prabowo considered the submarine purchase contract to be too expensive. In addition, the purchase did not include some equipment, such as submarine torpedoes. As a result, Prabowo had to find and buy them separately.
The MPR Deputy Speaker from the Democrat Party Faction, Sjarifuddin Hasan, who attended the meeting as well, said Prabowo had also expressed his desire to strengthen Indonesia's defense equipment at the inaugural meeting with the House of Representatives' (DPR) Defense Commission on November 11, 2019. "He wants Indonesia to have roaring image in the defense sector—not inferior to neighboring countries," the DPR's Defense Commission member said.
Another member of the Defense Commission, Syaifullah Tamliha, said that during the meeting at the defense ministry's building in November 2019, Prabowo said he would buy a number of fighter jets and send Indonesian fighter pilots for overseas trainings. Prabowo also said that Indonesia's air power is behind neighboring countries. For example, the Air Force's missile attacking power. "Many fighter pilots cannot fly because of limited aircraft," said the United Development Party (PPP) politician.
W251bGwsIjIwMjEtMDYtMjIgMTQ6Mjk6NDYiXQ
This was confirmed by former Indonesian Air Force Chief of Staff, Marshal (ret) Agus Supriatna. Agus said that the condition of some Indonesian fighter jets is very poor. "They are old and have gone through many improvements here and there," he said. Agus also highlighted how Indonesian pilots who have to take turns training to fly planes due to the limited number of units available.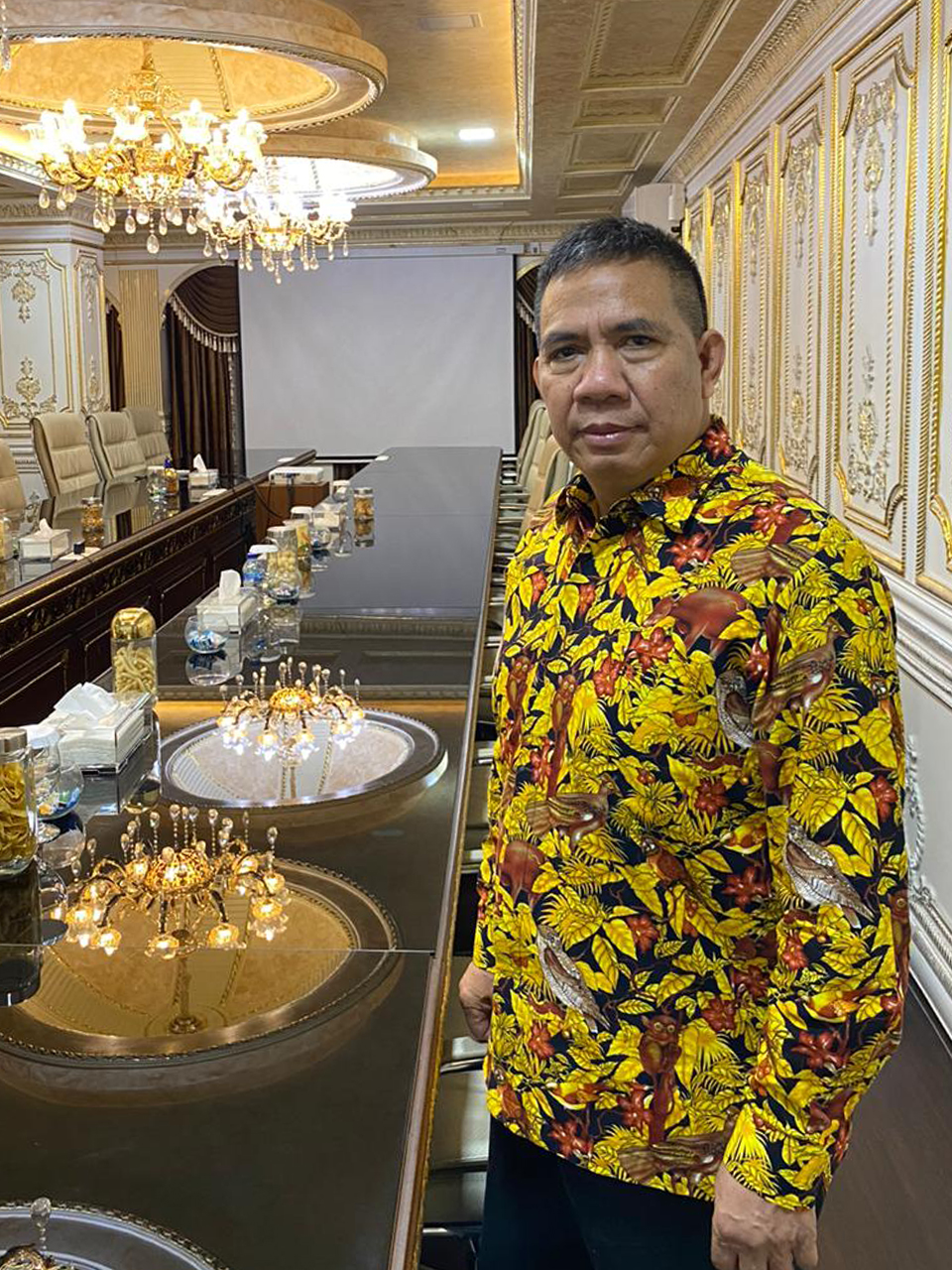 Jan Pieter Ate. TEMPO/Husein Abri
Until Saturday, November 7, Prabowo had not answered Tempo's request for an interview, which was sent to the defense ministry and his personal assistant. The ministry's Public Relations Bureau Chief, Brig. Gen. Djoko Purwanto, asked Tempo to inquire about the information from Dahnil Anzar Simanjuntak, the spokesman to the defense minister. Dahnil did not answer a number of questions Tempo asked. "I'm out of town until next week," he said.
On January 20, Prabowo issued a Defense Ministerial Decree on the 2020 state defense policy. In the policy target section, Prabowo wrote he would strengthen the air defense identification zone and system in all of Indonesia's airspace. Prabowo will also strengthen satellites to monitor border areas, especially on small islands.
Prabowo also plans to increase the strength of Air Force fighter jets by equipping them with air missiles that have a range of more than 100 kilometers. "As well as the construction of surface-to-air missiles for the defense of the nation's capital," Prabowo wrote. The former commander general of the Special Forces Command (Kopassus) also plans to reinforce Navy's warships with missiles that have at least 150 kilometers range. As for land defense, Prabowo's plans include placing air defense missiles in the Natuna Islands, Kalimantan, Sumatra, and Java.
***
THE plan to modernize Indonesian defense equipment has been carried out by Minister Prabowo Subianto since last year. Shortly after being inaugurated, he immediately made foreign visits to meet the defense ministers of several nations; seeking to purchase defense equipment. "His concern from the first two to six months was about modernizing Indonesia's defense equipment and diplomacy with various countries," Prabowo's spokesman Dahnil Anzar Simanjuntak said in January.
According to three officials at the defense ministry, Prabowo ordered another round of reviews over defense contracts that were drawn up before he took office. Prabowo also began re-exploring and renegotiating existing contracts in order to obtain investment cooperation or lower prices. The same official said Prabowo had his eyes on new defense equipment sets that were different from the ones determined in the national procurement plan strategies road map that had been decided earlier.
Because of his wish, the official said, Prabowo has not signed this year's military weaponry purchase contracts. The procurement of a number of defense equipment has also been delayed. A number of defense ministry officials and members of the DPR Defense Commission said that one of the pending contracts is the Sukhoi Su-35 jets purchase. According to them, the US$1.154 billion contract is being reviewed. Another contract being reviewed is the manufacture of KFX/IFX aircraft with South Korea, which has a value of US$8 billion. The defense ministry wants to change the financing scheme from 80-20 between South Korea and Indonesia to 85:15.
In an interview broadcasted by Gerindra Party on October 10, Prabowo claimed that he was mitigating a budget leak. "We must not let the leak continue, widen and increase," he said. Prabowo also stated that he would encourage the development of the state's defense industry.
Executive Chairman of the National Defense Industry Association, Maj. Gen. (ret) Jan Pieter Ate, said that Prabowo has not kept his promise to side with the domestic defense industry. Pieter recalled a time when his association met Prabowo at the end of last year. Back then, Prabowo promised to prepare jobs for the private defense industry, with a value of Rp10 trillion per year. "Until now, there has been no realization," he said.
HUSSEIN ABRI DONGORAN