An Expedition to Revive a Tradition
For over three decades, the tradition of planting upland rice had disappeared in the villages of Samo, Posi-Posi, and Gumira, all located on the outer edges of Halmahera Island in North Maluku. The people of those three villages prefer to buy rice to be consumed as a variation rather than take the effort to grow it themselves. Some left this practice after going to work for a lumber company which cut down forests in their area, and they began using their daily wages to purchase rice. Others initially stopped farming rice to raise funds to rebuild a mosque which had collapsed in their community. The PakaTiva Association, with the support of the EcoNusa Foundation, has been working to revive this tradition, not only for local food self-sufficiency, but also for the purpose of maintaining the forest. Tempo joined the Maluku Expedition, an activity organized by the EcoNusa Foundation, which among other things visited those three areas.
Edition : Monday, November 16, 2020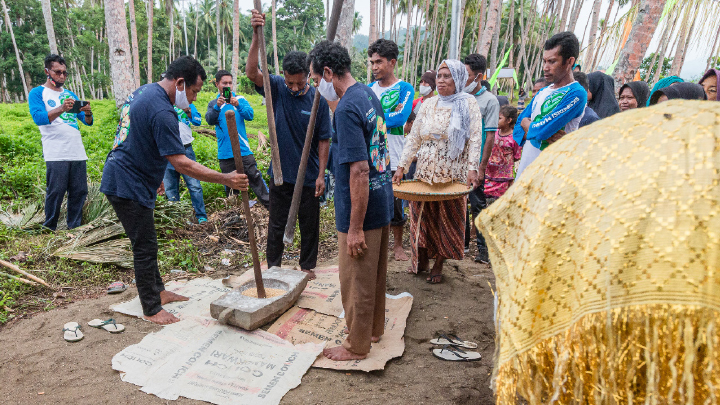 EVERY Saturday morning, Fahmi Harun takes his wife, Suhaeba Hasim, and their youngest, a two-year old, to their planting field. They walk about seven kilometers from their home in the residential area of Gumira village to the outer boundary of Halmahera Island in North Maluku. They climb up a hill and then go back down, crossing a large river, and then enter the forest.
Their field is behind a hill located behind their locale. On their three-hectare rice field they have a sedi, which is a farm shack in the Makean (Makian) language. Fahmi and Suhaeba have brought some rice, coffee, sugar, coconut oil, and kerosene to last them until Thursday of the following week. "We usually stay at the plantation to take care of the plants. Now there is rice, eggplant, and peanuts. They are all organic," said Fahmi, 41, on Thursday, October 29.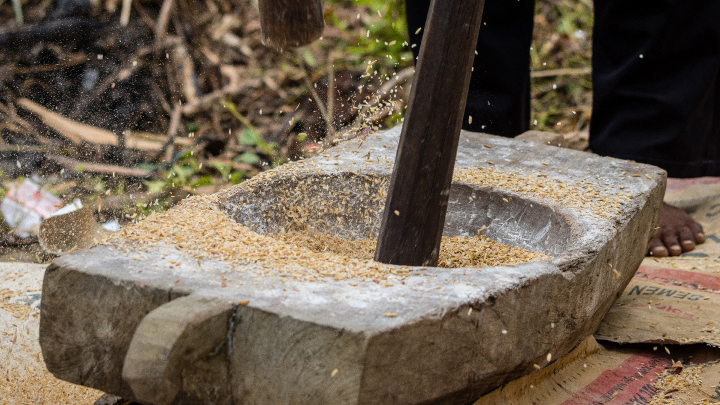 The batumbu padi tradition in Gumira village. EcoNusa/Kei Miyamoto
Despite being a farmer for 17 years, Fahmi has only planted rice twice. The first time was a decade ago when he went to the Trans Lalubi transmigration area, about 10 kilometers from his hometown. He saw rice planted in their fields. Fahmi's thoughts took him back to his childhood, when his parents often took him to the fields during school holidays. Rice was one of the crops his parents planted.
However, before Fahmi graduated elementary school, his parents were no longer planting rice. This was also true to the other residents in his area. "I don't know why," he said. After remembering this abandoned practice, he planted some rice in 2010. The family used the resulting crop as a food variation for half a year. Some of it was sold to local residents.
W251bGwsIjIwMjEtMDUtMTEgMDU6NDM6NTAiXQ
The people of Gumira are more accustomed to eating sago, bananas, kasbi (cassava), and batata (tubers/yams) than rice. The bananas, kasbi, and batata are staple foods which they plant themselves. This is also the case with the sago which grows wild on their land. Rice is eaten two or three times a week, and is traditionally served when someone dies. The mourning family makes dadang, which is a cone of yellow rice served during a traditional mourning ceremony held seven days after someone's passing.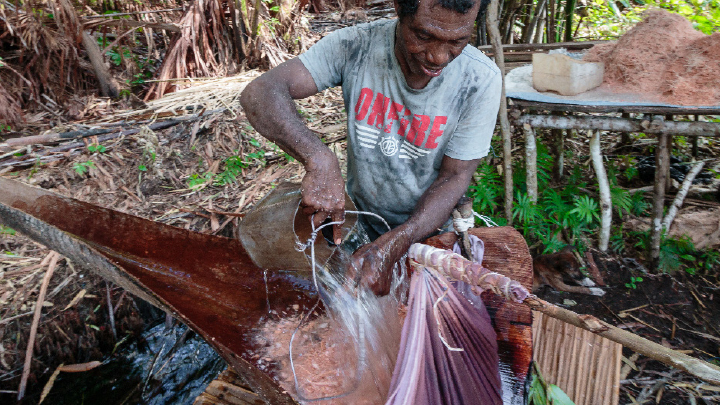 A Samo resident pours water to soak sago flakes in a process called bahalo sagu, which transforms sago tree trunk into sago powder in South Halmahera Regency, North Maluku, in October. EcoNusa/Kei Miyamoto
Fahmi has been spending about Rp300,000 per month to buy rice for himself, his wife and their four children. When he planted rice in 2010 he was able to reduce that expenditure. In fact, he made extra money by selling some of it to his neighbors. After that first harvest, he was reluctant to keep planting rice. "There is no rice hulling machine here. We have to batumbu (pound) the husked rice. It is extremely difficult," he said.
However, in the middle of this year, he planted some rice. It has grown for two months and the rice plants are now knee-high. The PakaTiva Association, with support from the Ekosistim Nusantara Berkelanjutan (EcoNusa) Foundation, has initiated a crop self-sufficiently program in the village. One way of achieving this is by returning to planting upland rice, a practice that faded away over three decades ago.
Palau Ibrahim, 74, is a witness to the loss of the rice-planting tradition in that village. It slowly diminished after strong winds hit the area in 1982. The mosque, which was the center of local activity, collapsed. "We were looking for funds to rebuild the mosque, so works on the plantations stopped," said this resident of Gumira village. The people there still grew those annual crops which did not require much care, such as cloves, nutmeg, and coconuts which could be processed into copra.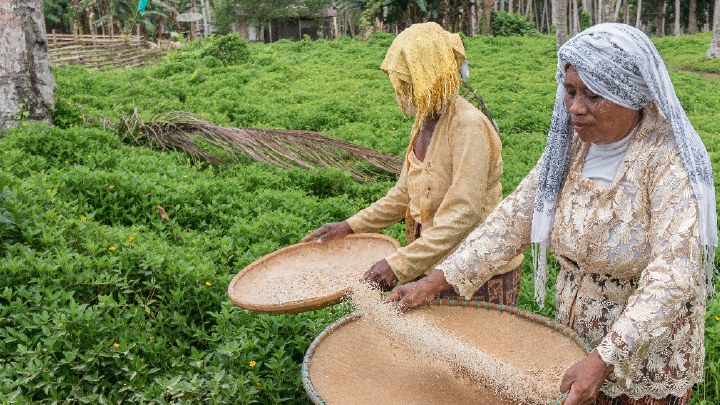 Women in Gumira village, South Halmahera, winnowing rice in a village festival, October 29. EcoNusa/Kei Miyamoto
The males sold copra outside the village to raise money to rebuild the mosque. The proceeds were used to rebuild the mosque in 1989. Afterwards the community did not resume planting rice. "Only recently have we resumed it with PakaTiva," he said.
Palau had been familiar with planting rice since his youth. His parents took him to the fields during school vacations. After dropping out of the Economics Junior High School in 1965, Palau ran his own planting field. The rice seed was brought in by ship from Buton, Southeast Sulawesi.
The young Palau and his friends took the initiative to bring together village youths to form a working group. They helped each another to plant and harvest rice, and to build bamboo-picket fencing around their fields. They were able to form two groups of 15 youths each. Palau was in charge of one of the groups. The routine activities of helping each other ended after their local mosque collapsed. The people kept consuming rice by buying it. "Those who could afford to buy it did so," he said.
During that period, the rice-planting tradition also disappeared in Samo village, about 10 kilometers from Gumira. According to former Samo village head Rusli Hi Aba, the community initially met their own food needs by planting rice, bananas, cassava, and sweet potatoes. They also collected the sago which grew naturally behind their houses. To pay for schooling or for making the haj pilgrimage, they would sell their clove, nutmeg and coconut crops.
This practice changed after a company with forest usage rights (HPH) arrived in their area in 1987 to cut down trees in the forests at the back of their village. Some of the local men were employed, including Rusli, who became a day worker. After making some money, they began leaving the fields and preferred buying what they needed. They cut down some of the wildly-growing sago plants, replacing them with coconut trees, which they thought would make more money. "The people became more accustomed to instant (purchasing)," said Rusli. When that company left the village in the 2000s, this newly-formed habit did not disappear. They relied on the sale of copra, nutmeg, and cloves to buy rice.
Tempo had a chance to visit the villages of Gumira and Samo upon the invitation of EcoNusa, which was conducting the Maluku Expedition. This expedition which began on October 22 lasted for 24 days, and consisted of visiting remote villages in Raja Ampat in West Papua, South Halmahera in North Maluku, and Banda Neira in Maluku, boarding the Kurabesi Explorer sailboat.
If using public transportation, Gumira and Samo can be reached by about six hours of driving from Ternate. This trip begins with a crossing by speedboat to Sofifi, the capital of the Province of North Maluku, which is located on Halmahera Island. The journey continues by car over poorly-paved roads. During heavy rains the river can overflow, resulting in muddy roads. The trip must continue by boat or motorcycle taxi. An alternative mode of transportation is taking a ship out of Ternate, with a travel time of about nine hours.
***
PakaTiva conducted some preliminary research before attempting to revive rice-planting. They talked to residents of Samo and rice vendors there. Their survey showed that each family in Samo consumes about 35 to 40 kilograms of rice per month, spending about Rp350,000. There are 166 families which live in the 49.9 square-kilometer village.
According to interviews they did with three vendors who sell rice in that area, they usually sell eight to nine tons of uncooked rice per month in that village. This means that residents there spend about Rp99 million a month on rice. This does not include the cost of buying vegetables, which is about Rp600,000 per month, and other daily needs. "Yet they are farmers who have quite a bit of land," said PakaTiva Director Faizal Ratuela. The same thing is happening in Gumira and Posi-Posi, their neighboring villages.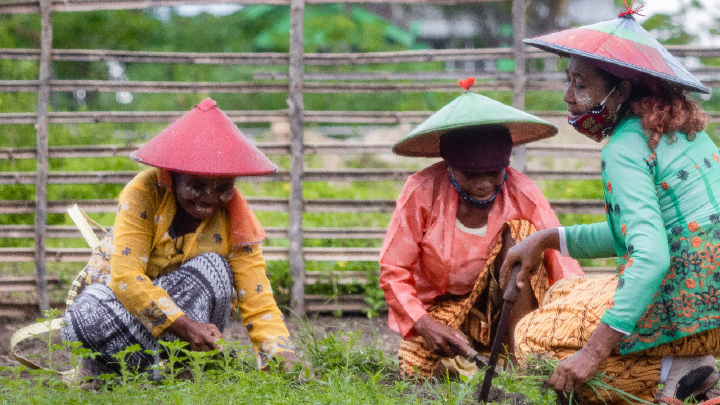 Women in Posi-Posi village are clearing wild grass in the pilot field in South Halmahera. EcoNusa/Kei Miyamoto
PakaTiva and EcoNusa want residents to think about reducing their monthly food expenditures. This can be done by planting crops which they can eat themselves. The money they make by selling copra, cloves, and nutmeg can be used for other needs, such as education for their children, health-related costs, or as savings for future needs. Samo village, where this effort has already been initiated, has harvested their rice two times. They were able to produce 2.5 tons of rice for each harvest.
This is also a preventative measure which can prevent residents' land being taken over by companies. After the company which had HPH rights left Samo, there was another company which began to approach those three villages, two years ago. "The residents did not really agree that this company come in. We learned from Gane Dalam, how their fields were lost to oil palm (plantations)," said Umar Haji Mustafa, a resident of Posi-Posi.
The Gane Dalam which Umar was referring to is a village about 50 kilometers from Posi-Posi. The trip from Gane Dalam to Posi-Posi takes 12 to 14 hours by a boat. Their land was initially taken over by a lumber company which had HPH rights in 2013. After the forest was cut down, 11,000 hectares of their land and forests (about the size of the City of Bogor) have been repurposed as a palm plantation.
Before the oil palm plantation began, residents of Gane Dalam planted cloves, nutmeg, coconut and banana trees. They could use the proceeds to send their children to college. Some of their lands were forested, which they preserved. When the company came in, the residents fought to hold on to the land which had been the source of their livelihood, including Mama Yani, 70.
She slept under an excavator which had encroached upon her planting field without her permission. However, her efforts were in vain. The field owned by her family since 1979 still changed hands. Mama Yani was given Rp25 million for her two hectares of land, which is about the same as a few months of income for her. "It has been painful for me," she said, tears in her eyes. Thirteen other residents have been imprisoned for trying to defend their lands.
Today Mama Yani and other residents work their land in another part of the village. However, the presence of the palm plantation and the loss of the forest have altered the natural balance in the village. The river which irrigates their fields has dried up. During heavy rains their homes are immediately flooded.
The nutmeg trees on their land have died due to such flooding. Mud which has flowed down to the sea from the palm plantations has wiped out the Baelama anchovy which used to be a daily food item for residents. "It used to be easy to find fish. Now there are none," said Salim, a resident of Gane Dalam. The Indonesian Forum for the Environment (WALHI) and local residents are working together to hold onto their remaining lands.
Learning from the experience of others, residents of Samo, Posi-Posi, and Gumira are holding on to their lands. They are learning to use organic farming techniques on the land which they had neglected. "The people here now know what the forest can be used for," said Umar Haji Mustafa.
NUR ALFIYAH