The Renewed Spirit of Rebana
The government prepares to develop the areas around Patimban Port, by involving regional administration and the private sector.
Edition : Monday, November 23, 2020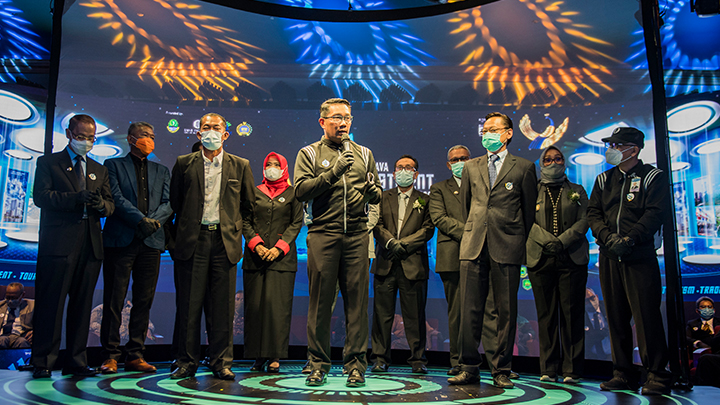 O
NLY three days after taking office as Rajawali Nusantara Indonesia (RNI) Chief Executive Officer (CEO), Arief Prasetyo immediately set the company in motion. Arief, a former executive of Food Station Tjipinang Jaya—an enterprise owned by Jakarta administration—has to deal with the company's 1,300-hectare land in Manyingsal, Cipunagara subdistrict, Subang Regency, West Java. He must also finish the feasibility study and master plan for the land in a short time.
"If the groundbreaking is to take place by the end of the year, feasibility study and master plan will have to be completed soon," he said to Tempo on Thursday, November 19. Meanwhile, a pile of other homework lay in wait. Arief, for example, is required to organize a holding of state-owned companies in the food sector, which was only formed days ago. He also needs to settle the matters of mergers, inbreng (transactions where assets of one company are transferred to another and treated as capital injection), and some companies on the verge of bankruptcy.
Manyingsal is situated around 35 kilometers to the south of Patimban Port. It takes around one and a half hour's drive from there to the port, located along the shoreline of Ciasem. The government proposed to develop an integrated industrial area on the land.
According to plan, RNI is to cooperate with other state-owned companies, namely Jakarta Industrial Estate Pulogadung (JIEP) and Pembangunan Perumahan (PP). Officials from the industry ministry and public works ministry, along with RNI board of directors and representatives from PP, visited the land in early September. Some parts of it were still being used as sugar cane plantation.
Arief said that the plan came from President Joko Widodo during his visit to Patimban in November 2019. Accompanied by Transportation Minister Budi Karya Sumadi, Public Works and Housing Minister Basoeki Hadimoeljono, Cooperatives and Small and Medium Enterprises Minister Teten Masduki, and Cabinet Secretary Pramono Anung, among others, Jokowi surveyed the dock. The wharf is part of the first phase construction of the project.
W251bGwsIjIwMjEtMDYtMjIgMTQ6MjQ6MDIiXQ
The government designed Patimban Port as a strategic national project meant to relieve the overburdened Tanjung Priok Port in Jakarta. Its construction will be done in three stages until 2027, with a total investment amounting to Rp43.2 trillion.
The first phase of construction requires around Rp 14 trillion. Initial package in this phase includes the construction of dock and terminal building, dredging for the turning basin and ship channels, reclamation, as well construction of buildings, clean water facility, sewage system, and electricity. Work on the package began in July, 2018, and is expected to finish in November this year.
On Friday, November 20, Sea Transportation Director-General Agus Purnomo briefed stakeholders, such as representatives of the automotive industry, on the development of the project, including the state of readiness and operational coordination of Patimban Port. The transportation ministry has established the class-II mandatory pilot waters designation, the customs area, sailing route in the entrance channel, offices for customs officers, immigration, and quarantine. Docking trials was done on October 31.
Minister Budi Karya requested limited operation to begin this month. "Construction will be finished by the end of November, and on to limited operation," he said during a webinar with Liputan6.com, on November 20.
Therefore, the development of Manyingsal integrated economic area must soon follow suit. RNI acts as provider of the project's site, while construction is handled by PP. "JIEP manages the project as well as its sales and marketing," explained Arief.
Arief said that he is not yet able to elaborate on the model of cooperation between the companies. "Whether it will be a joint venture or else." Further, he added, there is a chance that the Subang Regency Administration and West Java Provincial Administration will join in.
Development of the industrial area, according to Arief, will probably be financed using the state budget in the public works ministry. It will be listed as a national strategic project by the government.
• • •
PATIMBAN Port will be connected to existing industrial areas in East Bekasi, Karawang, and Purwakarta, all in West Java. Automotive factories are clustered in these regions. Not only producing cars, but there are also motorcycles factories and supporting component industry. The government plans to focus the shipment of automotive products from these areas through Patimban.
Industry Ministry's Director-General of Metal, Machinery, Transportation Equipment, and Electronic Industry, Taufik Bawazier, said that six companies are ready to export cars from Patimban Port. "I will not mention the brands, but with Patimban Port, the industry will be competitive in foreign markets by reducing logistics cost," he said on November 20.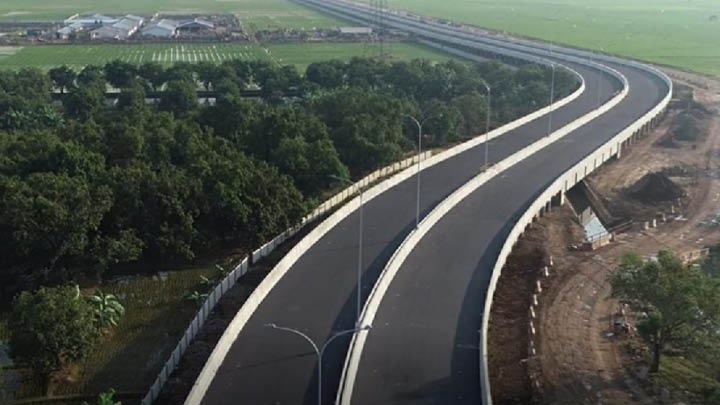 Road development project to Patimban Port, in September./pu.go.id
Toyota Motor Manufacturing Indonesia Director Bob Azam said that his company has always been exporting vehicles through Tanjung Priok Port. "Moving forward, when Patimban becomes operational, we hope to route shipment through there," he said to Tempo on Thursday, November 19. However, there is the problem of tariff in Patimban, which is not yet certain. Companies would also like to make sure of the port's facilities and access. "Whether it is interesting, and also if the tariff is competitive or not." Regarding automotive export, Bob drew a comparison with Thailand, which owns modern and efficient port infrastructure. This increases the competitiveness of their products.
Bob said that the government invited him several time to discuss Patimban. In mid-November, for example, he talked about customs technicalities and also the inflow and outflow of goods in Patimban with local customs officials. He also met with port authorities to discuss technical requirements related to ship docking, depth of water, and plan for trials. Next week, he was invited by the industry and transportation ministries, also to talk about technical matters.
• • •
REBANA is set to become a new icon of West Java. Governor Ridwan Kamil launched the project during the West Java Investment Summit on Monday, November 16. He explained that Rebana will be the third metropolis in the province, after Bogor-Depok-Bekasi (Bodebek) and Greater Bandung. "A metropolis is a cluster of cities," he said. The plan calls for 13 cities to be developed from 10 to 20 years ahead, with an investment of up to Rp300 trillion.
Rebana is situated between Patimban Port in Subang, Kertajati Airport in Majalengka, and Cirebon. The West Java Investment Summit also saw the signing of Rebana development partnership agreement, involving seven regencies/municipalities, namely Sumedang, Subang, Majalengka, Indramayu, Kuningan, Cirebon Regency, and Cirebon City. West Java Administration will establish an authoritative body to supervise and coordinate the development of every new city that makes up the Rebana metropolis.
The governor assured that Rebana's development is firmly outlined in the city and provincial spatial planning policies. "So that the new capital will undergo balanced development. It must be clear which agricultural land should be kept."
Chief of West Java Province Highways and Spatial Planning Office, Koswara, explained that active and technically irrigated agricultural lands will be maintained. Regional government regulation on the changes to spatial planning has been passed by West Java Legislative Council and currently awaits approval from the central government. "It is still being improved with assistance by the agrarian and spatial planning ministry," he said.
Suryacipta Swadaya will be developing a new city in Rebana area. Suryacipta is a subsidiary of Surya Semesta Internusa founded by Benjamin Suriadjaja—the younger brother of William Soeryadjaja, one of the founders of Astra Group.
According to the plan, the new city is to be built by Suryacipta at kilometer 89 in Subang, with land permit encompassing some 2,700 hectares. "We will possibly be the very first to start construction," said Surya Semesta CEO Johannes Suriadjaja during the West Java Investment Summit 2020.
He explained that the new project, called Subang Smartpolitan, will become an industrial city ecosystem that not only serves as a place for industry, but also township. Construction is scheduled to begin this year and expected to take between five to 10 years, with an estimated total investment of Rp5-8 trillion.
The company will also build Patimban toll road worth some Rp7 trillion, by partnering with Jasa Marga, Jasa Sarana, and region-owned enterprises. "Hopefully it could start next year."
RETNO SULISTYOWATI, FRANCISCA CHRISTY ROSANA, AHMAD FIKRI (BANDUNG)