Racing against Patimban
The plan to operate Patimban Port raised concerns of a market war with Tanjung Priok Port. Pelindo II has chosen to focus on improvements.
Edition : Monday, November 23, 2020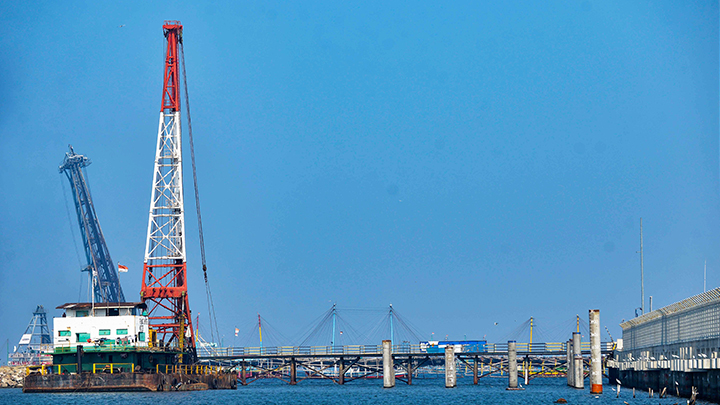 THE sun was scorching hot as dozens of workers resumed their activities at the project site of Kalibaru Port development in Tanjung Priok, North Jakarta. That Thursday, November 19, they were making modules from bamboo poles to be used in the New Priok Container Terminal phase II (NPCT 2) project. "We will use them as cushions for the rocks," a worker shouted when Tempo asked what they were making.
The bamboos will be used as the foundation for a pile of stones that serve as a breakwater. NPCT, a container terminal construction project owned by Pelabuhan Indonesia (Pelindo) II, is built on a reclaimed land. The rock piles help protect the outer areas from abrasion.
Started in 2017, the NPCT 2 project is an expansion of NPCT 1, a terminal with a capacity of 1.5 million twenty-foot equivalent units (TEUs) that began operating in August 2016. This new pier, along with the NPCT 3 project, extends across the NPCT 1. Once the project is completed, Kalibaru's capacity will increase by 3 million TEUs. Pelindo II has allocated up to Rp8 trillion for the two New Priok development projects.
The entire project is actually a government request. Kalibaru is expected to serve as a new resource for Tanjung Priok, which is estimated to no longer be able to catch up with the increasing rate of flow of goods.
Aji Suwandi, a fisherman whose boat Tempo was boarding that afternoon, said that construction activities in the NPCT 2 area had resumed only recently. The 29 year-old, who routinely crosses port area, said that the project had been suspended quite some time. "In the last two months, we can see people start working on it again," he said.
W251bGwsIjIwMjEtMDYtMjIgMTQ6NTc6NTkiXQ
News of the NPCT 2 project's termination surfaced in October 2019. At the time, Pelindo II said that the development was entering the land maturation stage. They needed to ensure that the reclaimed land is sufficiently dense before any infrastructure can be constructed.
Now, as the project is resumed, Pelindo II is still restless. Government's plan to start operating Patimban Port in Subang, West Java, has raised an old concern: that Tanjung Priok Port's market will be stolen. If both ports indeed take over each other's markets, then Pelindo II's efforts to expand their container and vehicles terminals would go to waste.
Their worry is not without reason. Patimban's development plan, with an investment of Rp43.2 trillion, is indeed quite ambitious. Developed in stages, Patimban is expected to have 7.5 million TEUs container capacity and able to take in 600,000 units of vehicles per year. This is far above Pelindo II's overall capacity in Tanjung Priok, which is only 5.5 million TEUs and 350,000 units of vehicles.
According to a research by the Workers Union of Jakarta International Container Terminal (JICT), a subsidiary of Pelindo II, in a year or two there is an 80-percent possibility that Tanjung Priok's market would shift. The estimate was calculated using the benchmarks of container terminals managed by NPCT 1 for one year of operation.
The potential for market loss stems from the fact that 70 percent of Priok service users are industries in the Bekasi and Karawang. The vehicle export-import terminal, for example, has been relying on automotive factories in that industrial corridor.
A JICT official said that this issue had been discussed several times during company meetings, especially by the marketing and commercial departments. The main concern, he said, is more on how to keep the company's business sustainable.
Although the Bekasi-Karawang industrial estate corridor is closer to Priok than to Patimban, the possibilities of losing customer is still huge. The Patimban project, which is supported by Japanese government funding, is likely preferred by automakers from Japan. On the other hand, the traffic from Bekasi-Karawang to Priok is heavier than that to Patimban.
Siswanto Rusdi, an observer from the National Maritime Institute, said that the presence of the two adjacent ports would only split the market. "If Patimban is eyeing a new market, there is no problem. However, taking away Priok's market is not healthy," he said on Tuesday, November 10.
Actually, according to Siswanto, Priok and Patimban are almost identical in terms of terminal design. Both are equipped with container and dry bulk terminals. In the short term there will be almost no new markets, especially for Patimban, as long as there is no massive development of industrial estates around the port. However, the problem for Priok was that the government, from the start, would not allow Patimban to compete directly. "That's why Patimban is under the umbrella of various policies, a number of national strategic projects. If left head-to-head, Patimban would be finished," he said.
JICT management was reluctant to respond to Tempo's request for an interview regarding the threat of market competition. "For the strategy interview, shareholders' approval must be obtained," JICT's Corporate Affairs Manager Indhira Gita Lestari said on Monday, November 16.
However, Pelindo II Chief Executive Officer Arif Suhartono said he has no worries. According to his calculation, the presence of Patimban would only cause Tanjung Priok Port's market to shrink by less than 10 percent.
Arif chose to focus on continuing with Pelindo II's existing work plans. The construction of NPCT 2, for example, was resumed last August. "Perhaps the previous management had a lot of considerations. I am an engineer; I understand the operation, and so I immediately made a decision," Arif said in his office, Friday, November 20.
According to Arif, the construction of New Priok is just one of Pelindo II's strategic projects. Right now, the company is working on the Kijing Terminal, one of the national strategic projects that are part of the Pontianak Port development in West Kalimantan. Pelindo II is also focusing on the Cibitung-Cilincing Toll Road project, which will connect the industrial areas in Cikarang, Bekasi Regency, West Java, with the Tanjung Priok Port.
Arif said Pelindo II must improve, given the huge potential for market competition with Patimban. A number of projects, he said, are Pelindo II's efforts to answer that. Arif also said there is a possibility that the company will offer services or technology to Patimban. "Now is an era of collaboration. We hope that Patimban can produce something new there," he said.
The transportation ministry said that the development planning for both Tanjung Priok and Patimban ports was based on the port master plan. Spokesperson for the Transportation Minister, Adita Irawati, said in a written answer that the government guarantees that the operational aspects of each port will be carried out with an integrated market mechanism.
According to Adita, Tanjung Priok will play a major role in cargo for areas in Jakarta, Tangerang and Bekasi. Meanwhile, Patimban will provide services for areas around Karawang, Purwakarta, and Subang. "Each has been planned with clear, firm, demand-based cargo calculations," she said.
AISHA SHAIDRA