From Protected Forest to Farmland
An environment and forestry minister regulation is allowing the development of food estates on protected forests. Developing food estates in former peatland will threaten the ecosystem.
Edition : Tuesday, Desember 1, 2020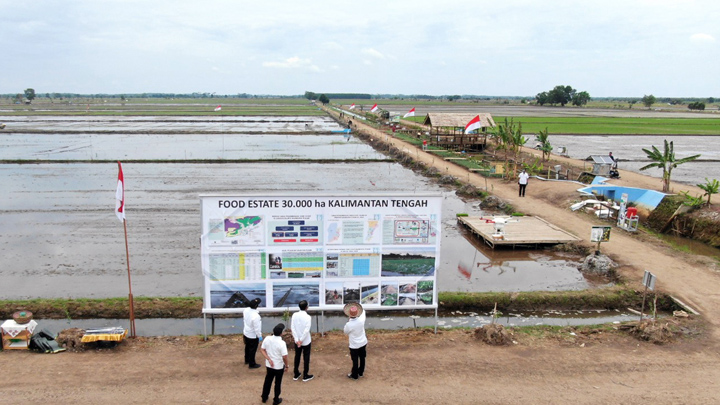 THE government's excuse for allowing the development of food estates in protected forests which has already lost its 'protection' function does not make any sense for Wahyu Perdana. This campaign manager for food, water and essential ecosystems of Indonesian Forum for the Environment (Walhi) said that if protected forests are damaged, they should be restored rather than be abandoned. "This is the same pattern as in the omnibus Job Creation Law, which accommodated permits already issued in forest areas," said Wahyu on Wednesday, November 25.
Wahyu's criticism refers to the government's explanation for issuing Environment and Forestry Minister Regulation No. P.24 MENLHK/SETJEN/KUM.1/10/2020, regarding the provisioning of forest area for food estates. Article 19, paragraph 1, of the regulation signed by Minister Siti Nurbaya on October 26, speaks about developing food estates in protected forests and production forests. Paragraph 2 stipulates that it refers to protected forests that no longer fully function as protected forests according to the law.
Sigit Hardwinarto, environment and forestry ministry's director-general for forestry and environment planning, said in a written statement that forests which no longer have a protective function are those which are open, degraded, or no longer have a uniform type of trees, or tegakan. He claimed that food estate activities would restore protective forests. "This will be done by combining forest plants with food crops (agroforestry), forest plants with cattle farming (silvopasture), and forest plants with fisheries (silvofishery)," Sigit said.
Hariadi Kartodihardjo, professor of forestry and environment at the Bogor Institute of Agriculture (IPB), said that Sigit was incorrect. Hariadi pointed out that a forest cannot be deemed as protective just based on tegakan, but rather through scoring methods with variables such as its slope, soil type, and rain intensity. "The more sloped it is, with a type of soil sensitive to erosion and high rain fall, the more suitable it is to be a protected forest," he said on November 26.
The criteria and determination method of protective forest status described by Hariadi fits in with what is stipulated on Government Regulation No. 44/2004 regarding forestry planning. Hariadi also quoted another similar regulation, which is the Agricultural Minister Regulation No. 837/1980, regarding the criteria and determination system of protected forests. "So, it needs to be explained in more detail: is there a mistake in determining protected forests, such that its protective function is not working?" he said.
W251bGwsIjIwMjEtMDUtMTEgMDQ6MzU6NDMiXQ
Hariadi further said that he did not find laws that allow the development of food estates in protected forests. Actually, he added, the ministerial regulation goes against Law No. 41/1999 Article 26 paragraph 1 regarding forestry, which has now been changed into Law No. 11/2020 on the Job Creation Law. "Utilizing the area does not diminish its main function as protective forest. Thus, activities allowed are mushroom cultivation, animal shelters, and cultivation of medicinal and ornamental plants," he said.
Walhi National Executive Director Nur Hidayati said that this regulation issued by Minister Siti strengthens corporate domination over Indonesia's forestry. Large-scale food industries—with big capital, technology, and other resources resulting in food crops, horticulture, farming, and fisheries—will add to more permits in forest areas, which consequently will further accelerate the deforestation of natural forests, said Nur Hidayati. "Food estates are farming concepts without farmers," she points out in a written statement on November 16.
On July 9, President Joko Widodo launched food estate project in a former peatland development area (PLG)—the one million hectares of farm fields established by President Suharto in 1995—in Central Kalimantan. The former PLG area measuring 1.462 million hectares cover the regencies of Kapuas, Pulang Pisau, Barito Selatan, and the city of Palangka Raya. This mega food estate project aims at 770,000 hectares, with the first stage of development involving 165,000 hectares between 2020 and 2022.
Based on document of the rapid strategic environmental study of the program for crop area development of Central Kalimantan, there is a road map for the use of cultivation area which is in line with Presidential Instruction No. 2/2007 on the acceleration of rehabilitation and revitalization of PLG area in Central Kalimantan. On that map, Block A and B are planned for rice fields, crops, or vegetable horticulture, and annual plants or fruit horticulture. Meanwhile, Block D is for rice fields, or crops or vegetable horticulture, and fishponds. Block C is for rice fields or crops or vegetable horticulture, annual plants or fruit horticulture, and forestry cultivation.
Dimas N. Hartono, executive director of Central Kalimantan Walhi, said that protected and peat forests are present in all former PLG blocks, except in Block D, which has been used as settlement areas for transmigrants since 1980s. Dimas stressed that peat ecosystems, particularly in Blocks A, B, and E, must be restored. According to the aforementioned study, heavily damaged peat ecosystems cover 4,711.6 hectares in Block A, 18.3 hectares in Block B, and 240.5 hectares in Block E. "Block E must really be protected, since it is a peat dome, and supports water for Blocks A, B, and C," said Dimas.
Nazir Foead, head of the Peat Restoration Agency (BRG), said that some parts of the former PLG area, and several areas that were damaged by fires in 2015 are the focus BRG's peat restoration activities in Central Kalimantan. However, Nazir added, he is in the midst of doing a five-year report of BRG activities for the period of 2016-2020 ending in December. Thus, he is not yet able to give explanations regarding the peat restoration's implementation and achievement in Central Kalimantan. "We can only relay that once the report is completed," he said.
Nazir concurred that developing food estates is one way to restore degraded peat land. "One of BRG's programs is to revitalize people's standard of living by turning degraded peat areas into cultivated farming, plantation, or fisheries areas which are in line with the peat ecosystem structure," Nazir said through WhatsApp on Friday, November 27. "This is also part of food diversification, because many types of plants are suited for peat land."
However, Wahyu Perdana pointed out that so far there has been no proof of any successful large-scale food project, or food estate, in Indonesia's history. He referred to the PLG mega project which failed to reach harvesting targets, and was halted in 1988. PLG's failure, Wahyu said, has left massive environmental destruction, because the government has ignored the peat ecosystem. "As a result, the destroyed peat is easily caught on fire. Former PLG areas contribute to forest fires every year."
Dimas added that the presence of food estates in former PLG land will corner protected forests in the blocks. The total protected forests in that area are some 897,000 hectares. "The protected forests in Block C, for example, support the Sebangau National Park," said Dimas. Meanwhile, protected forests on the north of Blocks A, B, and C, and the mangrove ecosystems on shores are crucial habitats for endemic animals such as orangutans, proboscis monkeys, and silvered langurs. They are also habitats for rare plants such as ramin (Gonystylus bancanus), nyatoh (Palaquim sp), jelutung (Dyera costulata), kempas (Koompassia malaccensis), and ketiau (Madhuca motleyana).
DODY HIDAYAT