Post-Pandemic Picnic
The tourism business relies on the implementation of health protocols. Nature tourism will be the trend for travels next year.
Edition : Monday, Desember 7, 2020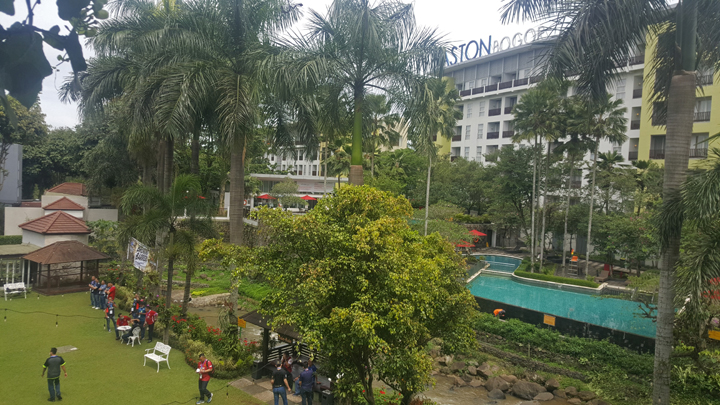 JALAN Legian in Bali's Kuta area looked deserted on Tuesday afternoon, December 1, with only some shops and restaurants open. Before the coronavirus pandemic, it usually took about 30 minutes to drive through it due to traffic jams. That afternoon, it was a mere 10-minute drive.
Ni Putu Suartini, the shopkeeper of a gift shop on Legian, said the Kuta area became quiet after Covid-19 arrived to the island. Putu's shop, which sells statues and accessories, was no longer visited by tourists. Before the pandemic, she could make Rp500,000 to Rp1.5 million a day, but these days she only gets about Rp50,000. "Hopefully there will be more tourists during the New Year's holidays," she said.
The pandemic has also smashed Bali's hotel industry. I Made Ricky Darmika Putra, chairman of Bali Hotel Association, said that only 25 percent of all hotels in Bali are operating, with only around 30 percent occupancy. Usually, towards the end-of-the-year holiday period, room occupancy could reach 80 percent. "Domestic tourists still dominate (Bali tourism)," said the corporate general manager of Santrian Resorts & Villas.
The Bali tourism office noted that as of September there were only 1 million foreign tourists on the Island of the Gods. It is far less from the 6 million that visited during the same period of 2019. The number of local tourists visiting Bali was only 3.7 million people as of last October, very low compared to 2018's 10.5 million people.
Made Ricky said hotel guests were more selective and careful in choosing accommodation in the midst of the pandemic. Since Bali tourism reopened last July, visitors inquire about the implementation of health protocols as well as the health and hygiene certification from the tourism office or the tourism and creative economy ministry. Customers would only book rooms after they believe the hotel complies with health protocols. "We predict that this trend in consumer behavior will continue until the pandemic is gone," he said.
W251bGwsIjIwMjEtMDUtMTMgMTg6NDc6MTgiXQ
The tourism ministry issues certificates for cleanliness, health, safety and environmental sustainability. This is a protocol that tourism business managers must comply with in order to resume operations. As of Saturday, December 5, the program known as CHSE certification has reached nearly 11,000 tourism businesses in 333 cities and regencies.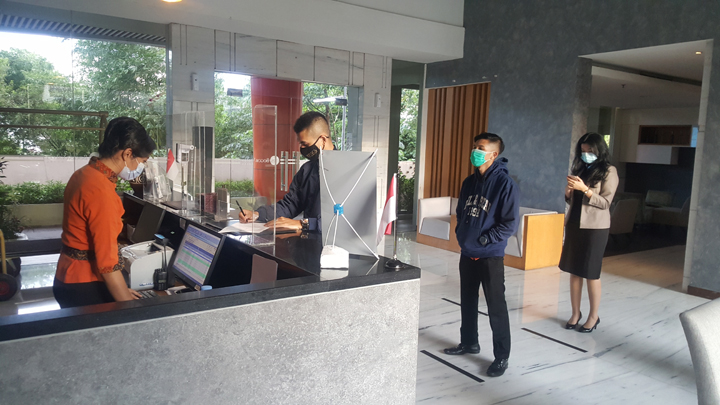 Guests queuing to check-in at Bogor Valley Hotel, December 1./ TEMPO/M.A MURTADHO
Like Bali, hotels in Bogor, West Java, apply CHSE protocols to attract guests. Mega Jayanti Sutisna, the public relations officer of Hotel Salak The Heritage, said that staying guests not only undergo body temperature checks, they are also required to fill medical history forms. The same is true for hotel employees. "We reject guests from abroad who have not been gone through 14 days of quarantine," said Mega.
At Hotel Aston Bogor, the manager sprays disinfectant at least twice a day—or more if guests request their rooms re-sterilized before they arrive. To prevent crowding, restaurant patrons are arranged according to an odd-even system; based on their room numbers. Managers also provide a number of hand sanitizer dispensers in several parts of the hotel vicinity. "There are unexpected operating costs due to the adaptation of health protocols," said Aston Bogor Hotel & Resort's Assistant Public Relations Manager, Meida Sari.
Bustamar Koto, acting secretary-general of the Indonesian Hotel General Manager Association, said the implementation of health protocols in hotels in Bogor managed to bring occupancy rate to almost 70 percent by December this year, above the average hotel occupancy rate in West Java which is around 50 percent. Bustamar believes the tourism business will recover next year if entrepreneurs consistently implement and maintain health protocols.
To convince guests to stay, the Accor group—with a network of more than 130 hotels in Indonesia—does not only apply the CHSE standards set by the government. Adi Satria, vice president of sales marketing distribution and loyalty for Accor Malaysia, Indonesia and Singapore, said the hotel also launched the ALLSAFE label, which comprises of some 100 hotel hygiene and security standards. According to Adi, the standard includes increased cleaning of public areas and rooms, physical distancing in restaurants, as well as contactless hotel payment solutions.
Adi said that the future of tourism business is still difficult to predict due to the dynamic situation. Foreign visits, he said, would take even longer to recover. However, according to the Accor group's records, the tourism and hotel business in Jakarta and several other big cities are starting to rebound. "Government policies will determine the pace of tourism recovery," he said.
Like Adi, the Indonesian Hotel and Restaurant Association's Secretary-General Maulana Yusran said the tourism business will not recover quickly by next year. He estimated that the tourism sector will remain sluggish until the first quarter of next year. Tourism is expected to revive during long holidays, such as end-of-fasting month Lebaran, school holidays, and the end of the year.
Wawan Russiawan, director of strategic studies at the tourism ministry, said there were at least four tourism trends that will be popular after the pandemic. First, domestic tourism will be travelers' main choice. Second, millennials and middle-upper class tourists will be more enthusiastic about traveling. Third, travelers would opt for locations that still apply social distancing. Finally, nature tourism spots would be even more popular than ever. "The ministry will focus on improving areas for natural tourism," said Wawan.
Among Indonesia's developing natural attractions is the Belitung Mangrove Park in Bangka Belitung Islands. The 757-hectare area was built on a former tin mining area. In 2018 and 2019, the area received almost 80,000 visits. During the pandemic, the number dropped and the Park only recorded 16,000 visits as per November.
Marwandi, chairman of the Seberang Bersatu Forest Community, manager of the Belitung Mangrove Park, said that the tourist destination was developed to support environmental conservation-based tourism trends. At the Belitung Mangrove Park, tourists can, among others, catch bamboo clams, fish and crabs in ponds that were formerly mine holes. "We have prepared hygiene facilities and health protocols to attract tourists next year," said Marwandi.