Mama's Letter for Her Champ
A number of regional head candidates are taking advantage of their family ties in government. The Chasan family moved simultaneously in the Banten area.
Edition : Monday, Desember 7, 2020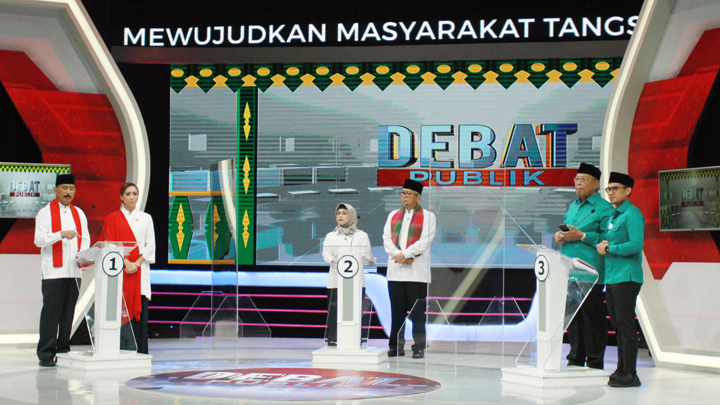 THE name Ma'ruf Amin is apparently inseparable from the candidate for mayor of South Tangerang, Siti Nur Azizah. On a number of electric poles along Jalan Siliwangi, Pamulang, for example, there were banners reading Siti Nur Azizah Ma'ruf. Likewise, Azizah's Instagram account was added with the name Ma'ruf. On Azizah's official website, she also included the name Ma'ruf in her profile.
In fact, there is no Ma'ruf in Azizah's full name. The South Tangerang General Elections Commission's (KPU) website confirms this. "No matter what it's going to stick with me, and I can't very well choose whose child I want to be. Of course I have to use the name wisely," Azizah said on Friday, December 4.
Running with a politician from the Justice and Prosperity Party (PKS), Ruhamaben, Ma'ruf Amin's fourth offspring initially had low electability. The Saiful Mujani Research and Consulting Survey Institute last August released the electability of Azizah-Ruhamaben in a distant position with 10.5 percent. Polling ahead of them is the pair Benyamin Davnie-Pilar Saga Ichsan with the electability of 39.3 percent, followed by the Muhamad-Rahayu Saraswati pair at 20.8 percent. Last November, a polling by the Indonesian Political Indicator recorded the electability of Azizah and Ruhamaben at 16.4 percent.
While Azizah did not deny that her father's name was considered to have contributed to her electability, she said other factors such as teamwork and volunteers also helped leverage her electability. "People accept our vision and mission," said the deputy secretary-general of the Democrat Party.
Spokesperson for Vice President Ma'ruf Amin, Masduki Baidlowi, said Ma'ruf only ever gave prayers and advice so that Azizah would try hard to win the regional head elections. Masduki stated Ma'ruf was not directly involved in his daughter's campaign. "Kiai Ma'ruf has the principle that state officials must be neutral."
W251bGwsIjIwMjEtMDUtMTMgMTg6MjE6MDQiXQ
Azizah's opponents are also relatives of politicians at the central and regional levels. Deputy mayor candidate Pilar Saga Ichsan is the son of Serang Regent Tatu Chasanah, who is again competing in the regent election. Tatu, daughter of the late Banten champion Chasan Sochib, is the younger sister of the former Banten governor, Atut Chosiyah, and an in-law of the Mayor of South Tangerang, Airin Rachmi Diany. Pilar's partner, Benyamin Davnie, accompanied Airin for two periods.
During the registration, Airin—who is also the chair of the Golkar Party in South Tangerang—also accompanied her relative to the KPU. At the end of November, Airin also consolidated with the Indonesian People's Wave Party (Gelora Indonesia) at the Marilyn Hotel, Serpong, to win the Benyamin-Pilar pair. Gelora Party Chairman Anis Matta hopes the pair can continue Airin's leadership.
Golkar Party Deputy Chair Ahmad Doli Kurnia said South Tangerang is now a tough battle arena. This, Doli said, is because Azizah and the niece of Defense Minister Prabowo Subianto, Rahayu Saraswati Djojohadikusumo entered the scene. "At first we thought we had South Tangerang in the bag because we've won for decades. But, once the two of them entered, this became a tough battle," he said.
To increase the number of votes for its champion, Golkar has assigned all cadres to work. Tangerang Golkar held a consolidation last November. Andika Hazrumy, Pilar Saga's uncle who is also deputy governor of Banten, said his party is targeting victory in all regions in Banten. "The target is Golkar wins a 100 percent in Banten. So all cadres are obliged to help," said Andika.
Pilar's mother, Tatu Chasanah, chair of Banten Golkar, also intervened. Written on the Golkar website, Tatu issued a letter of assignment to Golkar cadres and administrators throughout Tangerang to help her son win. "God willing, even though Golkar races alone in the South Tangerang regional election, with the help of Banten Golkar (members) all over Tangerang, victory will be achieved," said Tatu.
In the election for mayor of Makassar, South Sulawesi, the Munafri Arifuddin-Rahman Bando pair was also supported by the family of former vice president Jusuf Kalla. Munafri is the son-in-law of the founder of the Bosowa Group, Aksa Mahmud, who is also Kalla's brother-in-law. Munafri, who is familiarly called Appi, returned to the race even though, in the 2018 regional election, he lost against the 'empty box'.
Unwilling to repeat such loss, the Kalla family is in full-support mode for Munafri, against three other pairs of candidates, namely Mohammad Ramdhan Pomanto-Fatmawati Rusdi, Syamsu Rizal-Fadli Ananda, and Irman Yasin Limpo, younger brother of the Minister of Agriculture Syahrul Yasin Limpo, who is paired with Andi Muhammad Zunnun Armin. The boss of the Kalla Group, Solihin Kalla, provided support by forming the Kalla Volunteer network. Kalla's head of volunteers, Taqiuddin Jabar, said that 6,000 Kalla Group employees in Makassar were employed to support Munafri-Rahman, including their family members and relatives.
Jusuf Kalla also gives his support. Through the Appi-Rahman YouTube account, Kalla said Appi is a Makassar leader who has abilities in various fields. Even Kalla admitted that Appi is his successor. The reason is that Kalla has also been in charge of the PSM Makassar football club. "Appi is my successor," said Kalla.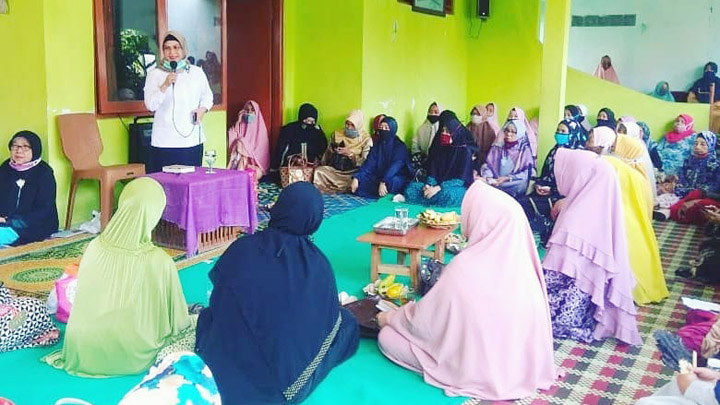 Siti Nur Azizah campaigning in Cipayung, Ciputat, South Tangerang, in September. Situ Nur Azizah Official Instagram
In Kediri, East Java, the son of Cabinet Secretary Pramono Anung, Hanandhito Himawan Pramono, will compete against an 'empty box' because he is the sole candidate. According to a number of political party officials met by Tempo, Pramono Anung, a politician from the Indonesian Democratic Party of Struggle (PDI-P), also help to lobby for his son to get full support. Golkar Party Chairman Airlangga Hartarto did not deny about the lobbying. "Of course we had discussions with the PDI-P," he said. When asked to comment, Pramono did not respond to Tempo's enquiry.
Meanwhile in Jambi, the family of the former Jambi governor, Zulkifli Nurdin, again enlivened the regional elections. Ratu Munawaroh, wife of Zulkifli and stepmother of the former Jambi Governor, Zumi Zola, is running to become a candidate for deputy governor of Jambi and partnering with Cek Endra, Regent of Sarolangun.They are supported by the PDI-P and Golkar and have the full support of the late Zulkifli Nurdin's family. Sum Indera, Ratu's nephew who now sits in Senayan as a member of the Regional Representative Council (DPD) from Jambi, also participated in campaigning for Ratu Munawaroh.
Ratu will be competing against the incumbent governor Fachrori Umar, who is paired with Safril Nursal. Fachrori Umar's political power is quite large. His wife, Rahimah Ibrahim, is a member of the Jambi's House of Representatives. His daughter, Ria Mayang Sari, is also in Senayan as a DPD member after winning a seat in the 2019 General Election.
Fachrori's success in Jambi's political arena cannot be separated from the role of the extended family of Ibrahim, his father-in-law. Ibrahim's son, Syamsudin Ibrahim, who is a businessman, is said to have helped Fachrori's win. Meanwhile, Syamsudin's younger brother, Muhammad Syafi'i, was the chief of the Police Special Detachment 88 unit during the tenure of Indonesian National Police Chief Tito Karnavian.
DEVY ERNIS, HUSSEIN ABRI, RAYMUNDUS RIKANG, MUHAMMAD KURNIANTO (TANGERANG SELATAN), DIDIT HARIYADI (MAKASSAR), MUAWWIN (JAMBI)