Half Hearted Induction Stoves
The government and PLN are promoting the use of electric stoves to reduce LPG consumption. Initial procurement cost proves to be a barrier for consumers.
Edition : Monday, Desember 14, 2020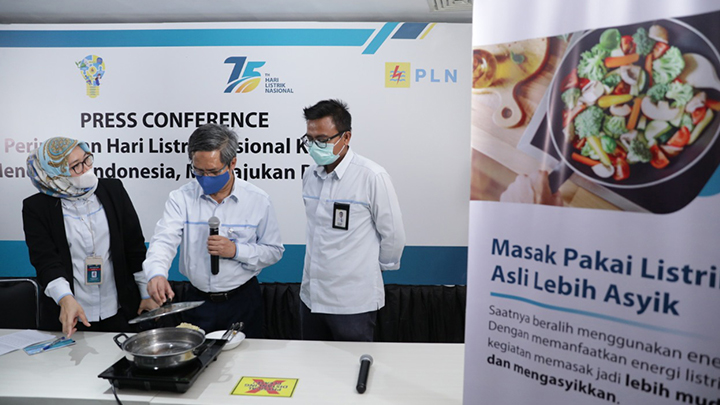 LIKE a déjà vu, Suharti received another set of complimentary kitchenware. Fourteen years ago, the 65-year-old woman was given free 3-kilogram liquefied petroleum gas (LPG) cylinders—or 'melons' as they are usually called—for use in her kitchen. Back then, the government was pushing for conversion of kerosene to LPG.
In August this year, she earned an induction cooker. Suharti is one of 120 residents of Neighborhood Units 05, Batu Ampar, East Jakarta, who received the electricity-based stove from the state electricity company PLN. Unlike her old stove, the single burner cooker harnesses electrical induction to generate heat via a magnetic field. The allocation is part of PLN's social responsibility program, but the government has been promoting electrical stovetops as a means to reduce LPG consumption for quite some time.
Three months later though, Suharti still keeps her old gas stove because the new one only has a single burner and its utility is rather limited. Moreover, the free kitchenware she received consist of only a pot and a small pan. "I only use it for frying and sauteing," she said when Tempo met her on Thursday, December 10.
Two of her neighbors, 38-year-old Solehah Khusnul Khotimah and 50-year-old Puji Hartini, have not fully converted their kitchens to induction cooking either. Their reasons are similar. "The cookware is limited and expensive," said Puji.
Migration to induction cooker does incur significant cost. Suharti, Solehah, and Puji are lucky to get theirs for free from PLN. At least they did not need to pay some Rp750,000 to purchase single-plate induction stove from the same brand as the one distributed by PLN.
W251bGwsIjIwMjEtMDUtMTIgMDk6MTM6MDYiXQ
Single-plate induction cookers are easily found in numerous online shopping platforms today. The least expensive ones cost around Rp400,000, while high-end models may come with a price tag tens times higher than that, depending on brand and features. More burner means higher price as well.
Having the cooker itself is not enough as specific kitchenware is also required. One cannot simply use ordinary pot or pans that worked with conventional stoves. The wares, which may cost hundreds of thousand of rupiah each, must be made of ferromagnetic material.
On top of that, the cost of additional electricity need to included as well. So far, PLN has been distributing induction cooker to customers who have upgraded their homes' electrical power to between 1,300 to 2,200 volt-ampere (VA). This is because induction cooker requires up to 1,000 watt of power when working. Even so, Suharti, Solehah, and Puji said they have been saving money since using the induction stove. They no longer need to purchase as many as four to five melon LPG cylinders every month. "Electricity bill is increased by around Rp50,000, but the expense on gas is also reduced, said Solehah.
A similar experience is shared by 53-year-old Widi Artati, a resident of Binong Permai Housing Complex in Tangerang Regency, Banten, whose neighborhood is also targeted by PLN's social responsibility program of distributing free induction cookers. Widi has even moved away from gas burners completely, and it is not just about saving money. "There is no smoke in the kitchen and the kitchen wares stay clean. Cooking time is also faster," said Widi on December 10.
• • •

BATU Ampar in East Jakarta and Binong in Tangerang became the pilot project of PLN's national electric village program. A total of 232 families have received the induction cooker with accompanying kitchenware.
PLN Customer Management and Commerce Director Bob Saril said his company is formulating an ecosystem to help bring the induction stoves migration plan into realization. A number of steps are taken, including cooperating with electric stove makers, mapping distribution channels, and providing easy-to-reach outlets for customers. PLN is also preparing to cooperate with some marketplaces as partners of micro, small, and medium businesses so that they would migrate to induction cookers as well. "These steps need to be always synergized with the policies of the central government," said Bob on December 8.
The government is also trying to reduce LPG consumption, which has been a major cause of deficit in trade balance and balance of payment. A large sum of LPG needs to be imported because the high consumption is not balanced off by domestic production capability.
A program to reduce LPG consumption had actually been proposed since 2017, when Ignasius Jonan was energy and mineral resources minister. In the induction stove migration roadmap devised by the energy ministry, the government is aiming for 15 million customers to switch to induction cookers by 2030. That number is in line with targeted electricity sales increase of 80.71 terawatt-hour and LPG subsidy cut of Rp4.48 billion, as well as carbon gas emission reduction of 253,872 kilograms.
In West Java, conversion from gas stoves to induction cookers has been made a featured program of Governor Ridwan Kamil. On March 5, 2019, Ridwan signed a circular letter in which he calls upon PLN customers who have 2,200 VA of electrical power to start using induction cookers. The appeal was launched alongside the conversion program, marked by the distribution of 4,130 units of 900-watt induction cooker.
West Java Province Energy and Mineral Resources Agency Chief Bambang Rianto claimed that using electricity to replace LPG is beneficial for households. By the agency's calculation, the cost of operating a gas stove in a household may reach up to Rp170,000 per month. Meanwhile, an induction cooker costs only Rp132,000 per month to use.
The conversion program became part of cooperation between the West Java administration and PLN. Bambang said that his region is currently home to 12.76 million households. Assuming that each household uses its induction stove for three hours every day, carbon dioxide emission could be reduced by about 5.48 gigatons. "Contribution (from induction stoves) towards the targeted achievement of electrical consumption is around 6.08 kWh (kilowatt hour) per capita," said Bambang on December 10.
Bob Saril said that the policy of migration to induction cookers is supported by service units in each region. Induction stoves have also been provided to 112 families in Buku Limau Island, and 34 families in Tinggi Island—both in Bangka Belitung Islands—last November. Bob said that PLN expects 1 million customers to switch to induction cooker by October 2021 at the latest. Should this be realized, electrical consumption is estimated to rise by around 2.4 terawatt hour (tWh) in a year. "One goal of this migration is to increase demand," he said. "It is more focused on Java-Bali, around 65 percent."
As the initial step, the government is directing the migration program towards well-off groups in the society. In its early stage, the plug-in ready program will be aimed at households using 2,200 VA of electrical power in areas where the basic cost of electricity is lower than electricity base rate. The targets are some 4 million households in some areas in Java, Madura, Bali, Sumatera, and Sulawesi.
In the second stage, the migration program will be targeting 792,232 households using 2,200 VA of electrical power and above. This will be followed by migration program for 900 to 1,300 VA customers, who amounted to some 34.8 million households. Lastly, the migration will be carried out towards 31.5 million households using between 450 to 900 VA.
Electrification Director-General Rida Mulyana said that determining which households to target is just one among many work plans in the migration program. According to him, the central government, regional administrations, and PLN also need to approach businesses such as property, restaurants, and hotels. "The government cannot do all that alone. That is why a consolidation with regional administrations and others is necessary. This is a program for all," said Rida on December 11.
At the same time, he continued, the government is evaluating some policy options to help make induction stoves more affordable and easily obtainable. "Including by calculating the value of subsidy that may be given," he said, while admitted that induction stove procurement cost is still currently subject to lengthy discussion in the government.
AISHA SHAIDRA, AHMAD FIKRI (BANDUNG), AYU CIPTA (TANGERANG)