Limited of Swab Testing
Due to the government limiting the level of covid testing, people in several regions are having difficulty accessing swab tests.
Edition : Monday, January 4, 2021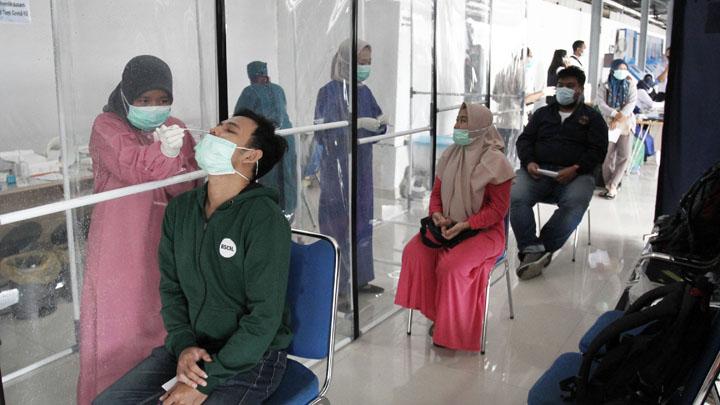 SITI Lestari was given a letter when she returned home from the Covid-19 isolation shelter at the Agriculture Resource Development Center Building in Bantul, Yogyakarta, on Sunday, December 20, 2020. It said that she was healthy but was required to undergo self-isolation at home until Thursday, December 24. "I had no health issues while in isolation at home," she told Tempo on Wednesday, December 30.
Siti stayed at the Covid-19 isolation shelter for five days, starting on December 15, when she tested positive for a coronavirus infection according to the results of a swab test. The 32-year-old woman had taken that test at the Bantul Community Health Center on December 10, because she had been in contact with her aunty, who had died after contracting Covid-19.
Despite being found healthy when she left for home, she was not convinced that she was absolutely free from coronavirus. The letter mentioned that patients are allowed to return home if they have taken an evaluation swab test which comes back negative or if they have completed the isolation period. However, she was not given a swab test before she left the quarantine location. She does not know why she was not given an evaluation test or was allowed to return home after staying at the isolation shelter for just five days.
Things were different for Rubiyem, Siti's aunt, who was said to be positive for coronavirus infection and stayed at a special Covid-19 hospital in Bantul. The 55-year-old woman entered the quarantine ward in the second week of December. She stayed there for 10 days, then tested negative on a swab test before returning home. However, she still had to enter into self-isolation at home.
W251bGwsIjIwMjEtMDQtMjEgMTU6Mjc6MTMiXQ
Rani, who was Siti's roommate at the special Covid-19 quarantine ward, also left the isolation building without taking an evaluation test. The 35-year-old woman was said to be infected with coronavirus on December 11. After staying in self-isolation for two days, she was taken to the emergency isolation facility. She stayed there for four days.
Rani asked the team of doctors about routine swab testing. According to her, the provisions regarding repeat swab tests are posted in the isolation room. This regulation states that such tests are conducted in the hospital and patients are obligated to comply with the schedule which has been set. "There should have been more swab tests, but now they are not being done," she said.
Rani asked Anugrah Wiendyasari, a doctor who works at that hospital, about the lack of evaluation tests. Anugrah told her that the Bantul Regency government is following the 5th revision of the Covid-19 Guidelines and Prevention Measures which were issued by the health ministry in July 2020. Those guidelines mention that asymptomatic patients and patients with minor symptoms can leave isolation without having a repeat swab test.
Not wanting to potentially infect others, Rani decided to pay for her own test at a private clinic in Kotabaru, Yogyakarta, on December 26. She had to pay Rp900,000 for a polymerase chain reaction (PCR) swab test, the results of which come back in three days. "Some people in the isolation ward did not want to get tested on their own for various reasons," she said.
Irene, Chief of the Yogyakarta Center for Public Health and Disease Control Techniques explained that they have begun conserving the use of PCR-based swab tests. According to her, this policy was taken because the number of weekly tests being conducted in Yogyakarta was already above the standard set by the World Health Organization (WHO), which was at 5,600 compared to the targeted 4,000 tests per week. "The epidemiological investigation pattern is now targeted," said Irene.
Medical personnel conducting interviews and swab tests for residents of Gandekan, Surakarta, Central Java, last October. Photo: Tempo/Bram Selo Agung Mardika
Berty Murtiningsih, spokesperson for the Covid-19 Task Force for Yogyakarta, said that in their area they are following the test guidelines set by the government. On Sunday, December 13, 2020, Covid-19 Task Force Chief Doni Monardo asked the regions to conserve their budgets used for dealing with Covid-19, including funds used for testing. Doni asked for the testing to be scaled down to the WHO's standard, namely one out of every 1,000 residents per week.
The reduced number of PCR swab tests also takes place in other regions. In South Tangerang, Banten, Ajeng Satiti Ayuningtyas had to search hard just to find a place offering the test. Initially, she and her husband, as well as some family members, took antigen rapid tests. The test results on December 2 indicated that Ajeng had tested positive for coronavirus infection, while her husband tested negative. "I decided to go into self-isolation at home," she said.
Ajeng, who had a fever, coughing, and stuffy nose, contacted the Covid-19 emergency hotline. She was suggested to go into isolation at a quarantine facility and immediately seek treatment at the Pondok Benda Community Health Center in Pamulang, Banten. Once there, she was told that no sample could be taken, as the quota for swab tests had been used up. The 30-year-old woman was informed that swab test samples were only being collected twice a week, on Tuesdays and Thursdays. A clinic worker scheduled a test for her on Thursday, December 10.
Arriving together with five family members on the scheduled date, Ajeng was informed that the test results would come back in five days. She was asked remain in home isolation during that time. Three days after taking the test, Ajeng came down with severe diarrhea. She sought medical treatment at two private hospitals and one government health clinic, but was denied service because she informed them that she was currently isolating.
On December 15, five days after taking the swab test, Ajeng had still not received any notification about her test results. Her husband, who had initially tested negative, based on an antigen rapid test, began experiencing shortness of breath. After he went to Permata Hospital in Pamulang for treatment, they asked him to take a repeat PCR test and x-ray on December 19. Two days later, Ajeng received the results from her swab test from the Pondok Benda Community Health Center. A day later, the private facility swab test results came back. Those two tests indicated that Ajeng and her husband had tested positive for coronavirus. "The laboratory results showed that the virus was still multiplying in my body," said Ajeng.
Halik Malik, a spokesman for the Indonesian Doctors Association (IDI), said that IDI has found that some regional health facilities have not been conducting periodic testing of the public. One of the reasons for this is the policy to target vulnerable groups or to test during times when there is a chance of a sharp increase in cases, such as during the regional head elections and long holidays. As a result, the public has to pay for their own swab tests. Halik considers that this reduction in testing could have an impact on the spread of the virus. "The spread should be able to be anticipated if the number of swab tests is increased," he said.
RAYMUNDUS RIKANG (JAKARTA), PRIBADI WICAKSONO, SHINTA MAHARANI (YOGYAKARTA)