The (Literary) Arts in the New Reality
The pandemic brought changes to the arts in Indonesia in 2020. Many art events had to be delayed or even cancelled. Slowly, artists have bounced back. They began adapting the pandemic, refusing to be kept down. Despite the limitations imposed by the situation, artists have continued to put forward their best work—in part by utilizing digital technology as their medium. This new phenomena, which has impacted the world of arts, was taken into consideration when selecting and discussing the nominees before making decisions about Tempo's choice for outstanding artists and artworks for 2020.
Edition : Monday, January 11, 2021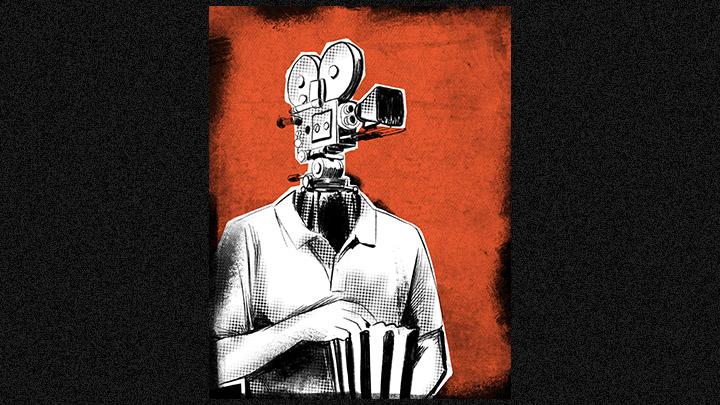 IN December 2020, the Koma Theatre group put on the play Cinta Semesta at the Jakarta Arts Building. This show—the third part of the Gemintang trilogy by N. Riantiarno—was performed without a live audience. The actors from the Koma Theatre group performed in an empty building. The Jakarta Arts Building has been closed to the public since early March when the pandemic hit. Video of the play was broadcast on a virtual pay-per-view basis through Loket Live and GoPlay on December 12-13.
No matter how unusual it was to act without an audience there to clap or laugh, the actors from the Koma Theatre group were still enthusiastic. The stage scenery was still given its full treatment—arranged to appear like the previous Gemintang performance, complete with all the visual effects. Nothing was left out by the Koma Theatre group. Cinta Semesta is a love story about an astronomer from the Bosscha Observatory in Lembang, Bandung, West Java, named Arjuna and an alien named Sumbadra from a galaxy far, far away. The stage is flooded with digital imagery, such as panoramic views of space and solar systems. In order to capture this scenery for this 95-minute online performance, the Koma Theatre group used about 10 cameras, enabling viewers to enjoy the show via laptop or cellular phone.
Readers, as is our annual tradition, in early January we take a look at what happened in the previous year in the world of arts, literature and music. We select some of the most innovative and inspiring works. In judging these works of art, literature and music for Tempo's choice for 2020, in addition to our editorial staff, we invited literary figure Seno Gumira Ajidarma; literature enthusiast Zen Hae; lecturer at Gadjah Mada University's faculty of Culture Science in Yogyakarta, Faruk; art critic Bambang Bujono; music critic David Tarigan; and lecturer at the Jakarta Fine Arts Institute's Post-Graduate School, Nyak Ina Raseuki. Unlike previous years, due to the pandemic the judging process took place virtually.
The Covid-19 pandemic has put limitations affecting nearly every field of human activity, including the arts. In 2020, many art events were delayed or even cancelled. In the performing arts, in January and February, one could still attend some rather large-scale performances, such as the re-staging of Panembahan Reso by W.S. Rendra, which was performed at the Ciputra Artpreneur in South Jakarta, starring Ine Febriyanti and Whani Darmawan. However, in March the usual venues for theatrical, dance and musical performances were shut down. Artists soon began to take stock of this new reality. Like it or not, they had to adapt to this new situation. The pandemic forced them to adapt to digital technology. Initially one or two theatre and dance groups experimented with digital performances, after which many virtual art events began to be held. Large theatre troupes such as the Garasi Theatre and the Payung Hitam Theatre groups, or even stage performances of Butet Kartaredjasa and Happy Salma, were finally taking advantage of the possibilities created by this digital space. By September many virtual theatre and art festivals were being held.
W251bGwsIjIwMjEtMDQtMjEgMTU6MzA6MzAiXQ
The efforts of artists to adapt to the digital technology medium became a new parameter for us to add when selecting notable artworks from 2020. One advantage of watching digital performances is that most of the shows which had already been staged were available on YouTube, and could be searched and repeatedly viewed. This enabled us to explore their new ideas, to see the extent of their artistry in the digital format.
In addition to the performance of the Koma Theatre group already mentioned, another online performance from 2020 which we found interesting was the Kinjeng Tangis dance performance by choreographer Fitri Setyaningsih. This performance was held in the teak forest in Panggang, Gunungkidul, Yogyakarta. The camera closely recorded the dancers moving among the teak trees and dry leaves. The camera—which became the eyes of the audience—recorded the faces, feet and hands of the dancers in the defoliated forest, combining close-ups, medium shots, and long shots. The editing resulted in a dense, narrative-free work. The bodies of the dancers interact with the ground, trees, dry branches, wind, sounds, and their surroundings make for a very discernable presence. The panoramic shots of the forest are the main strengths of this artistic work.
Kinjeng Tangis was one performance which was broadcast on the fourth day of the "Tribute to Suprapto Suryodarmo" series of events for the 2020 Borobudur Writers & Cultural Festival (BWCF), which was held virtually on November 19-23. The dances recorded in the teak forest by filmmaker Indra Tirtana were uploaded on BWCF's YouTube channel. Fitri's dance presents a freedom of movement which took in nature. Those two elements are a part of the philosophy of movement as taught by artist and dancer Suprapto Suryodarmo. The key concepts in this free-movement philosophy called Joget Amerta—which was developed by Suprapto, who died on December 19, 2019—are breathing, sensing, listening, and moving.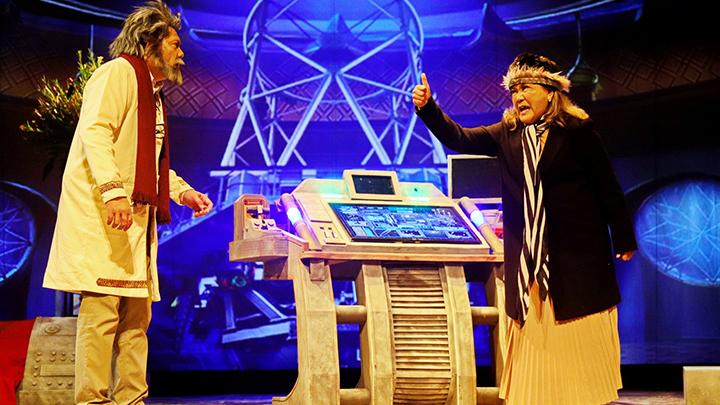 Online performance of Cinta Semesta by Koma Theater, in December. Teater Koma Doc.
We considered other works of visual art, such as the shows which took place during National Culture Week and at the Indonesia Dance Festival. One in particular which caught our attention was the theatrical performance of five female directors, entitled Waktu tanpa Buku. This show presented a translation of the work of Lene Therese Teigen. Teigen is a contemporary Norwegian dramaturge. A translation of her written work is something new in Indonesian theatre. The play, which was translated by Faiza Mardzoeki, tells the story of the first-hand account of a Uruguayan who was tortured during a military dictatorship. Faiza brought this topic into an Indonesian context by calling on five female theatre directors from Aceh, Jakarta, Bandung (West Java), Yogyakarta, and Makassar (South Sulawesi) to each stage this play virtually. These five directors had their own interpretations of the play, each having their own concept, format, and context. Each performance was strong and gripping.
After a lengthy discussion, we decided that Waktu tanpa Buku was Tempo's choice for 2020 for performance art, and chose Faiza Mardzoeki and those female directors as Tempo's Artists of 2020 for the performance category. We feel that Faiza played a role in choosing those five female directors and producing their online performances. It is rare to have one work interpreted by five directors at the same time as part of a single performance. This is an interesting idea because it can produce multiple artistic approaches.
Director Ruth Marini, for instance, adapted the entire work to become a film. To maintain logical cohesion, she changed the structure of Teigen's story to have continuity in a film format. She did not follow the exact script. Heliana Sinaga and Mainteater from Bandung followed the structure and dialogue as found in Teigen's original script. Only the performance created by Shinta Febriany from Makassar combined performance, motion and a dramatic reading.
• • •
IN the field of fine arts, we saw many exhibitions in 2020 which were quite interesting. Early last year, similar to the case with the performing arts, many art exhibitions were held as usual. The exhibition of Dolorosa Sinaga at the National Gallery in Jakarta, for instance, was held in the normal fashion. This exhibition was marked by the launching of a deluxe edition of a book documenting all of Dolorosa's sculptures, including those held by collectors. In mid-March, the National Gallery held an exhibition for senior sculptor Srihadi Soedarsono entitled Man x Universe. As he nears the age of 90, Srihadi displayed large sculptures. We remember that the exhibition only lasted one night—on opening night—because at that time Jakarta was hit by the pandemic. The opening was held by following strict health protocols.
The fine arts found it more difficult to go entirely online, like was done by the performing arts. During the pandemic, galleries and artists held some solo and joint exhibitions by combining offline and online events. ArtJog, for example, was allowed to be attended in limited numbers under strict health protocols. Art Jakarta was fully online. Some combined the two—holding a limited-attendance opening followed by distribution of a digital catalog for the public. However, there were also in-person exhibitions which were held for limited numbers, providing no materials online. In early December, for instance, sculptor Ipe Ma'aruf, at the age of 82, held an exhibition at the Jakarta Cultural Center. Tisna Sanjaya held an exhibition in Bandung in an abandoned movie theatre.
Of the dozens of fine arts events held during 2020, we settled on the three which were most outstanding. The first was the exhibition of the Investigation on Male/Female Gaze art project by Nindityo Adipurnomo, which was held at the Cemeti Institute for Art and Society in Yogyakarta from July 15-August 5. Then there was Ugo Untoro's art project, titled Homage to the Blackboards which was held on September 26. Finally, there was Tisna's exhibition which was mentioned above, namely the Dian Lentera Budaya art installation which went on exhibition in the former Dian Movie Theatre in Bandung from December 20, 2020, to January 21, 2021.
Nindityo Adipurnomo's project experimented with what he called the 'gaze'. Nindityo considered that the world is currently overly controlled by the 'male gaze'. He experimented by turning himself into an object to be looked at. He made a public announcement seeking female and non-heterosexuals male to take part in his project. He gave them some fabric and asked them to use the textiles to dress him up according to their respective views. The results were surprising. One put the fabric over Nindityo's bald head, and turned it into a sort of burqa, so that only his eyes could be seen. Someone else put it on like a regular headscarf. In this way, Nindityo placed himself as an object to be controlled and exploited. After the participants dressed him up he was photographed. Based on those photographs he made watercolor paintings. He wanted to bring out the binary opposites between the male and female gaze. The resulting tens of watercolor paintings were put on exhibit at Cemeti. It needs to be recognized that this work is very bold.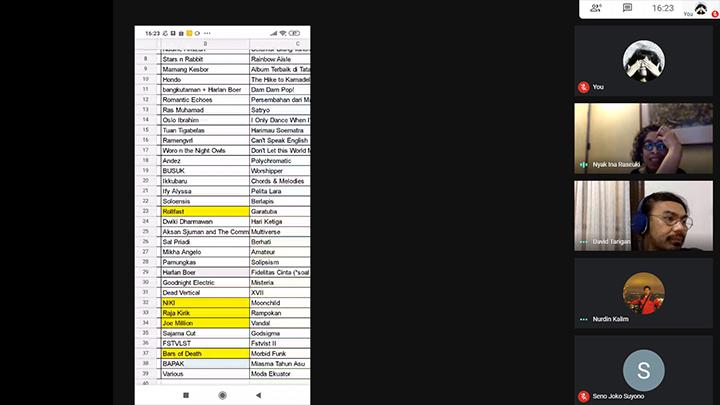 The online judging process for Tempo's selected album at the end of December. Tempo
Ugo Untoro made chalk drawings on 10 blackboards, then erased them, replacing them with new drawings. This process continued for 10 hours, and could only be viewed on Zoom. This project was said to be done out of respect of temporariness, because the drawings were there for just an instant before being erased.
Tisna Sanjaya held an exhibition during the pandemic by using the dilapidated Dian movie theatre in Bandung. In that partially-ruined building he conducted an art intervention with art attractions and an artwork exhibition. Tisna's work was inspired by a childhood memory of often being taken to that theatre. He consistently combined artwork with activist practices, because this neglected building should be saved in the name of cultural preservation.
We agreed that Ugo Untoro's art project Homage to the Blackboards was Tempo's choice for the fine arts of 2020. We judged it to be a successful breakthrough in adapting to the pandemic. In addition to presenting a virtual exhibition, Ugo's art project was designed with a fine arts exhibition concept and format that was well-suited to the pandemic situation. "Ugo discovered the right language for this time. As a fine arts event, it is very suited to its time. Whether intentional or not, he found a way to create art which could adapt to the pandemic," said Bambang Bujono.

• • •
FOR literary works, as was the case in previous years, we selected the best works of prose and poetry. Out of dozens of works of prose, we chose five nominees: Aib dan Nasib (Minanto), Kisah-kisah Perdagangan Paling Gemilang (Ben Sohib), Kokokan Mencari Arumbawangi (Cyntha Hariadi), Mengapa Tuhan Menciptakan Kucing Hitam? (Sasti Gotama), and Serdadu dari Neraka (Arafat Nur).
From those five we agree that the novel Aib dan Nasib was Tempo's choice for 2020 in the prose category. We noticed that, from the technical aspect, prose works in 2020 generally tended to use the storyteller model in the oral tradition. The storyteller style talks directly to the reader. There was also the phenomena of tell a story by blurring the lines between a short story and a novel, turning a novel into a sort of collection of short stories which were not connected by any particular plot, but only through the storyteller or location. We judged that the novel Aib dan Nasib was different. "Differing from many other novels, Aib dan Nasib is a novel which features realism and even naturalism. The style of its story is interesting, realist-naturalistic," said Faruk. "This novel by Minanto is also relatively complex, dense, and required a lot of exacting preparation to arrange its flow and characters."
Aib dan Nasib, Minanto's third novel, is about the lives of some people from Tegalurung village in Indramayu, on the north coast of West Java. In this 270-page novel, Minanto—born in Indramayu in 1992—invites us to explore a fragment of the lives of the people of Tegalurung, from their poverty, households, tales of scandalous passion, the arrival of digital technology and social media, to one person who failed to become an elected official and went insane.
Using simple and flowing language interspersed with northern coastal humor, Minanto was able to bring together all those problems in the book's five chapters. As the story skips back-and-forth in time, Minanto presents the various episodes about the interconnectivity between the main characters in an interesting manner. Each event has its related causes and effects, without losing continuity. This is what led us to pick the novel Aib dan Nasib as Tempo's choice for the prose category.
In the poetry category there were five poetry collections which we nominated: Belok Kiri Jalan Terus ke Kota Tua (Isbedy Stiawan Z.S.), Kertas Basah (Dea Anugrah), mBoel (Sapardi Djoko Damono), Nabi Baru (Triyanto Triwikromo), and Prometheus Pinball (Afrizal Malna). We narrowed down this selection to three candidates: Kertas Basah, mBoel, and Prometheus Pinball.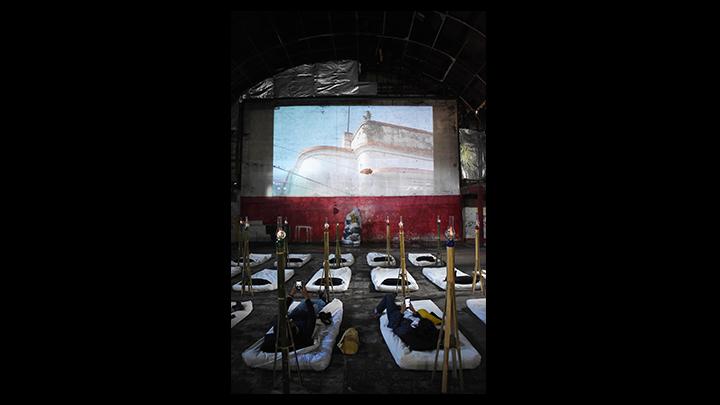 The work of artist Tisna Sanjaya at the former Dian cinema building in Bandung, West Java, last December. Tempo/Prima Mulia
A rather lengthy debate took place when deciding whether the poetry collection by Sapardi, mBoel, or the one by Afrizal, Prometheus Pinball, was the best. We considered both to have their respective strength of character. Sapardi also found new ways of expressing what could be called similar experiences. The poems in the mBoel collection are very interesting: poems which consist of lyrical dialogue. Consistently turning daily conversation into lyrical dialogue in this collection is something which generates a lot of interest for the reader.
In mBoel, we find that Sapardi is mature in his poetic ability through lyrical, imaginative and prosaic expression. "His ability to pour poetry into imaginative expression transforms his poems into incredible moods," said Zen Hae.
Afrizal's Prometheus Pinball strings together poems set in random historical events. The poems in this collection attempt to reconstruct the poet's personal history by juxtaposing a number of archives and documents. The results are rather surprising. He was very serious with the data, which is often presented as an infographic timeline. In today's world of mass media, whether print, digital, or on television, timeline-based information is inevitably used. It usually provides a chronology, pointing out important events which took place over the years, months or days. The poems in this book were made by overlapping personal history with some world timelines which he felt were important but often overlooked by people.
It can be said that amid the current trend of poets to stick with the emotionality and romanticism of nature and humanity, mBoel and Prometheus Pinball have a different feel to them. In their own way, Sapardi and Afrizal have shown that there is always a way to renew poetry to make it worthy of our time. Sapardi and Afrizal have their own ways of restoring the appeal of poetry, so as not to be trapped in poetic expression itself. This is why we agreed to choose mBoel and Prometheus Pinball as Tempo's choices for 2020 in the poetry category. This is the first time we selected two poetry collections for this recognition.

• • •
IN the field of music, we noticed a new phenomenon in the musical industry during the pandemic: bedroom recording or home recording. Musicians dealt with the limitations imposed by the pandemic by making home recordings. Most of them produced singles and mini-albums. Over 3,000 singles were released during the 2020 pandemic, whereas in previous years this figure has been in the 2,000s song range.
Even so, many artists released full albums, some of them recording at home. There were tens of albums of pop, jazz, rock, hip-hop, and other genres of music which were released in 2020. Of those, we narrowed down the field to nominate 10 albums from several genres. From those, we chose one best album as Tempo's best, after settling on three top candidates: Garatuba (by Rollfast), Morbid Funk (Bars of Death), and Selamat Ulang Tahun (Nadin Amizah).
After a lengthy discussion, we agreed on Selamat Ulang Tahun by Nadin Amizah as Tempo's choice for album of 2020. As a pop music album, the music in Selamat Ulang Tahun is good, and Nadin's vocals are excellent. The lyrics penned by this 20-year-old singer are simple and unpretentious. "Nadin wrote simple lyrics that reflect her age, about growing up and the restlessness experienced by her generation. Despite being simple, her lyrics are critical of the issues of her era," said David Tarigan.
---
SPECIAL REPORT TEMPO'S ARTISTS OF 2020 TEAM
Team Leaders: Seno Joko Suyono, Nurdin Kalim Coordinators: Moyang Kasih Dewimerdeka, Isma Savitri, Mustafa Ismail Jury Members and Writers: Seno Gumira Ajidarma, Faruk, Zen Hae, Bambang Bujono, David Tarigan, Nyak Ina Raseuki, Seno Joko Suyono, Nurdin Kalim, Kurniawan, Mustafa Ismail, Isma Savitri, Moyang Kasih Dewimerdeka, Dian Yuliastuti Editors: Seno Joko Suyono, Nurdin Kalim English Editor: Luke Edward Photographers: Ratih Purnama Ningsih (Coordinator), Jati Mahatmaji, Gunawan Wicaksono Digital: Rio Ari Seno, Riyan R Akbar, Imam Riyadi

---
Selamat Ulang Tahun is an example of a bedroom recording made during the pandemic. This homemade album was created using simple elements and technology. Nadin wrote the songs and recorded the music in her bedroom. "While many albums were made like this in 2020, only a handful of them were really good. And Nadin's album is one of the very best," said David.
Nyak Ina Raseuki and Ubiet said that Selamat Ulang Tahun is a pop music album which reflects that artist's generation. In musical terms, it demonstrates Nadin's efforts to depart from her previous works. The results are quite incredible, as there is much more variety compared to her previous works. "It is rare for a young singer today to color her vocals like that. It is very interesting," said Ubiet.