Lack of Ambition for Emission Reduction
The Climate Ambition Summit was organized to help push for a renewed commitment on emission reduction, in order to achieve the target of limiting global temperature rise to 1.5 degree Celsius by 2030. Indonesia is seen as lacking ambition to meet its emission reduction target.
Edition : Monday, January 18, 2021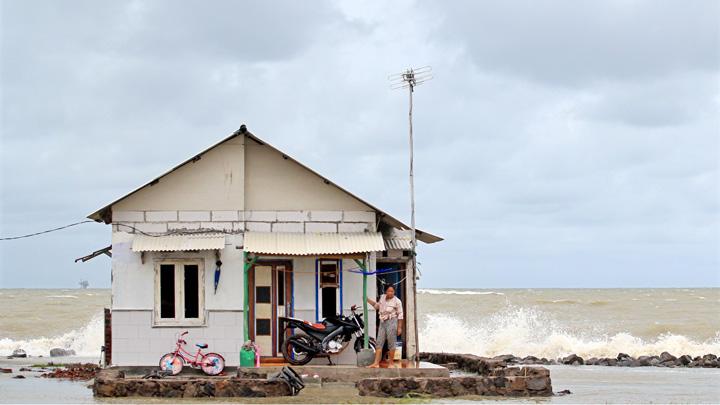 HELD online on December 12, the Climate Ambition Summit 2020 was not only meant to commemorate the fifth anniversary of the Paris Agreement. The international meeting, jointly organized by the United Nations, France, and the United Kingdom, with support from Chile and Italy, aimed to provide space for government and non-government leaders to show their more ambitious commitment in limiting global temperature rise to 1.5 degree Celsius by 2030.

Edvin Aldrian, a meteorology and climatology professor from the Agency for the Assessment and Application of Technology (BPPT), said that the meeting was a follow up to 2018 report by the Intergovernmental Panel on Climate Change (IPCC), which stated that the voluntary scheme proposed by signatory countries of the Paris Agreement was no longer sufficient to meet the target. "It is a sure miss. Global temperature rose 1.2 degree Celsius in 2020 alone. Therefore the commitment needs to be increased by three folds," said Edvin, the only Indonesian scientist in IPPC's Working Group, on Friday, January 15.
In its press statement, organizers of Climate Ambition Summit 2020 said that the countries representing around 65 percent of global CO2 emission, and around 70 percent of the world's economy, will renew their commitment to achieve zero emission or carbon neutrality this year. Some 24 countries announced their commitment, strategy, or new plan in order to become carbon neutral, including China, Japan, South Korea, the European Union, and Argentine. Some even declared the year in which they aim to meet the goal, such as Finland in 2035, Austria (2040), and Sweden (2045).

Indonesia, while a signatory of the Paris Agreement on April 26, 2016, was not among the speakers in the Climate Ambition Summit 2020. Other Southeast Asian nations listed as speakers in the event were Singapore, Laos, Cambodia, and Myanmar. "Around 70 countries were invited as speakers, Indonesia, as well as Australia, were absent," said Adila Isfandiari, a climate and energy researcher from Greenpeace Indonesia, on Saturday, January 16. The reason, according to Adila, was that Indonesia does not increase its emission reduction target, remaining at 29 percent with own effort and 41 percent with international assistance.
Adila said that, based on a study by the Climate Action Tracker (CAT), Indonesia's target is far from ambitious, being categorized as "highly insufficient." According to the CAT, if all countries were to assume targets similar to Indonesia's in reducing emission, global temperature rise may reach as high as three to four degree Celsius by 2030. "Whereas, the Paris Agreement targets to limit the increase to below two degree Celsius, or 1.5 degree Celsius if possible."

Indonesia's absence in the summit raises questions among environment activists at a time when the threat of climate crisis is becoming dangerously real. According to Climate Justice Campaign Manager of the Indonesian Forum for the Environment, Yuyun Wahyono, data from the Meteorology, Climatology and Geophysics Agency show that hydrometeorological disasters have been increasing in intensity during the last 10 years, from landslides, floods, abrasions, to field and forest fires.
W251bGwsIjIwMjEtMDUtMTEgMDQ6MjU6MDciXQ
The National Institute for Aeronautics and Space (Lapan) studied the impact of climate change towards the coastline in Yogyakarta. It was found out that the coastline has been retreating due to abrasion. In Srandakan, Bantul Regency, for example, the coastline retreated some 80.1 meters between 2001 to 2018. This is caused by high waves and strong winds. "Climate change triggers anomalies in the seasons," said a researcher in Lapan's Center for Atmospheric Science and Technology, Amalia Nurlatifah, on Monday, January 11.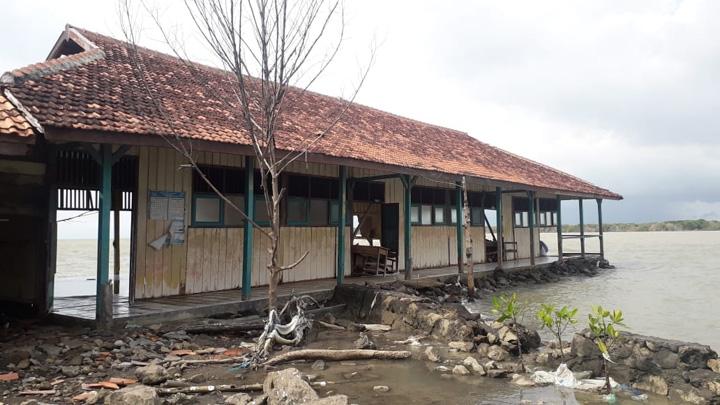 An elementary school in Bedono village, Demak Regency, is damaged by tidal waves in December. Tempo/Jamal A. Nashr
Sukarman, a resident of Bugel village in Kulon Progo Regency, Yogyakarta, is among those affected by abrasion in the last 10 years. "Massive abrasion occurred since two years ago," said the 63-year-old man on Wednesday, January 13. According to Sukarman, the village's residents planted whistling pine trees, pandan, and quickstick plants some 200 meters from the beach. However, abrasion dragged the plants into the sea. The 500 meters of land that once stood between the coastline and nearby road have now shrunk to 150 meters.
The study in Yogyakarta reaffirms a previous research on the impact of the climate crisis, which yielded similar result. A researcher from the Bandung Institute of Technology Geodesy Expertise Group, Heri Andreas, said that the climate change has, among others, led to rising sea level, numerous coastal floods, and stronger abrasion along the northern coastline of Java Island. The effects are made worse by land subsidence, which may be caused by various factors ranging from excessive groundwater extraction, oil and gas drilling, to natural and tectonic factors.
A researcher from the Indonesian Institute of Sciences Oceanography Research Center, Aan Johan Wahyudi, said that sea level in Indonesia is rising between 0.6 to 1.2 centimeter per year. Due to the relatively small number, the increase may not always be felt immediately. "There has not been any report of a missing or sunk island in Indonesia. Maybe there was, but we are unaware," he said on last December 30.
Aside from a less than ambitious target of emission reduction, the Indonesian government is also criticized due to its policies, which are not entirely in line with the Paris Agreement commitment. According to Adila, the energy sector is recognized as the largest contributor of green house gas. The IPPC therefore recommends shutting down 80 percent of coal-fired steam power plants (PLTU) by 2030. Indonesia, however, chose to go down a different path. "Even now 63 percent of power plants are coal-fired," she said. This trend is likely to continue as the government keeps constructing new PLTUs.
Yuyun pointed to other policies of omission of environmental permit in the omnibus Job Creation Law, and the extension of coal concession in the new Coal and Mineral Law. There is also the planned food estate development which will further contribute to release of emission. A policy in the forestry sector is actually rather positive, concerning a moratorium on primary forest and palm oil plantation permits. He hopes that the moratorium will go on for 25 years, instead of just three years.
Indonesian Centre for Environmental Law Executive Director Raynaldo Sembiring said that contradicting policies are some of the problems plaguing Indonesia's climate policy. On one hand, the government implemented the moratorium on palm oil and the likes. On the other, new policies are making it harder to reach the emission reduction target. "They lean too heavily towards economic growth," he said. "In an interview with the BBC, President Joko Widodo said that environmental concerns are not his priority," said Raynaldo.
Edvin mentioned field fires as one of the largest problems facing Indonesia in the climate crisis. Edvin, a lecturer in the University of Indonesia and IPB University, also underlines the dominance of coal and minimal utilization of clean energy such as geothermal, solar, and hydro sources. He reminded that the rest of the world is moving towards green economy. "If Indonesia does not follow suit, we will be left behind," he said.

Environment and Forestry Ministry Director-General of Climate Change Control, Ruandha Agung Sugardiman, did not respond to the queries sent by Tempo last week. Neither did the Ministry's Chief of Public Relations Bureau, Nunu Nugraha. In the Pojok Iklim online discussion on January 7, Ruandha said "Indonesia has compiled its NDC (Nationally Determined Contributions) update, despite the numbers being not increased nominally. It explains realistically and logically how the achievements from the adaptation and mitigation actions may be reached, although we do not increase the numbers."
Environment and Forestry Ministry Senior Adviser Sarwono Kusumaatmadja said that Indonesia could not take part in the Climate Ambition Summit. He admitted that Indonesia's targets are less than ambitious, particularly in the energy sector. However, Sarwono is convinced that changes are bound to come due to the development of electric cars, and countries in the Organization of the Petroleum Exporting Countries (OPEC) shifting their strategy towards renewable energy. "Oil is no longer economical, with the cost of storage exceeding sales price. So, old power plants will undergo transformation," he said on Monday, January 11.
ABDUL MANAN, PITO AGUSTIN RUDIANA (YOGYAKARTA), ANWAR SISWADI (BANDUNG)