Considering Nuclear Power
Private US power producers are interested in setting up a nuclear power plant with thorium as fuel. Shaped as a boat, this fourth-generation reactor is a molten salt reactor.
Edition : Monday, February 1, 2021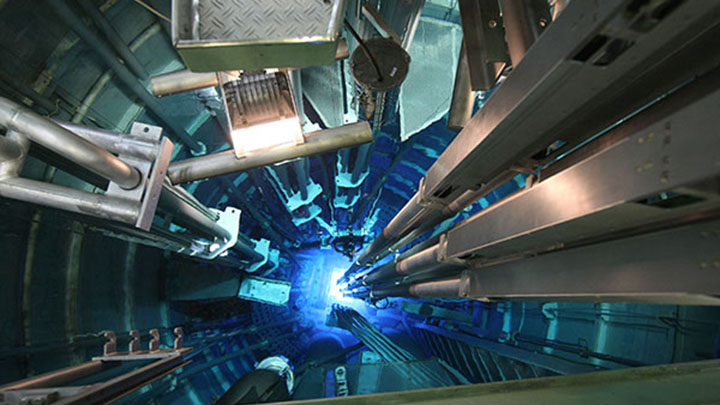 BOB S. Effendi enthusiastically showed the scale model of the thorium molten salt reactor 500, or the TMSR500, lying on his office desk on the 20th floor of the World Trade Center 3 building in Jalan Jenderal Sudirman, Jakarta. As the chief representative of ThorCon International Pte Ltd, which aims to set up Indonesia's first nuclear power station (PLTN), he is aptly versed in the details of the nuclear reactor designed by this private United States power producer.
Bob is confident that this reactor, fueled by liquid thorium and cooled by liquid molten salt, called the Thorium Power Plant, is the answer to two issues that have barred the construction of nuclear power plants in the past two decades. "The MSR (molten salt reactor) addresses the issue of safety and economics. It can be constructed quickly and anywhere, and doesn't need a specific location," said Bob, who has been active in the oil and gas industry for 25 years, on Thursday, January 28.
From the safety aspect, Bob explained that the TMSR500 reactor operates under normal pressure (3-10 bars), while light water reactors (LWR) using solid uranium and water cooling operates at pressure of 160 bars. Bob further said that MSR's fuel is already liquid, and salt has a boiling point of 1,400 degrees Celsius, so there is no more need for pressure. "Because the pressure is normal, there will be no explosions if leaks occur, like what had happened at Japan's Fukushima nuclear reactor," he said.
The MSR is also safer, Bob said further, because it cancels out radioactive radiation to the environment if a leak occurs. When an explosion happens at water-cooling reactors, radioactive components iodine (I-131), strontium (Sr-90), and cesium (Cs-137) would be in the form of gas. With the MSR, however, those three radioactive components will remain bound by the liquid salt. "Say there's a leak: then the liquid salt will trickle onto the bottom of the reactor. When salt gets cold, it will solidify," he explained.
W251bGwsIjIwMjEtMDUtMTEgMTg6MTk6NDUiXQ
Satrio S. Prilianto, Greenpeace Indonesia's campaigner for climate and energy, said high costs and long construction time were the main reasons for the lack of urgency to build nuclear power plants in Indonesia. "Compared to renewable power plants such as solar (PLTS) and wind (PLTB), the same investment would result in higher capacities," Satrio said through WhatsApp on Wednesday, January 27.
Satrio further said that the solar and wind capacities are more flexible, because it can be constructed for small or big capacities. With the small modular reactor (SMR), a nuclear plant could indeed be built on a smaller scale, but its commercial development has yet to be proven. "Based on the World Nuclear Industry Status Report (WNISR) 2020, many SMR projects are stagnant after a long start-up period," Satrio noted. According to WNISR 2020, several SMR projects in Argentina, Canada, China, India, Russia, South Korea, the United Kingdom, and the US have been postponed or abandoned altogether.
Bob Effendi admitted that the construction of a conventional nuclear power plant is expensive and takes a long time. This, he said, is why ThorCon chooses a fourth-generation MSR reactor. "We can compete with coal reactors," he said.
The costs for MSR are low, Bob said, because of its normal pressure. He compared pressure in the reactor as that of water taps in homes. "So, there is no need for thick steel. It can be built from almost any kind of steel, including those produced by PAL Indonesia," he said. Construction can be done in less than 10 months, he said. Usually, nuclear power plants take between five to 10 years to set up.
ThorCon International, Bob said, cooperates with South Korea's Daewoo Shipbuilding and Marine Engineering (DSME) to construct TMSR500. "DSME has already confirmed that it will be able to build the first TMSR500 within 30 months. The next one can be done in 10 months," Bob said. "For them, TMSR500 is like a ship." Bob claimed that TMSR500, with a dimension of 176 x 66 x 35 meters, can be operational by 2028.
Zaki Su'ud, nuclear researcher at the Bandung Institute of Technology (ITB), said that fourth-generation nuclear plants can only enter its full commercial function after 2030 because a number of technological issues still need to be resolved. "This includes corrosion problems faced by the fourth generation nuclear plants as they use cooling by lead (Pb), lead-bismuth (Pb-bi), and molten salts. My estimate is that this will be resolved completely after 2030," said Zaki, who teaches at the Nuclear Physics and Biophysics Group of ITB's Math and Physics Faculty.
Zaki further said that based on regulations, the construction of this type of power plant is managed by the National Nuclear Agency (Batan), or in cooperation with the agency. "Government regulations based on the new Job Creation Law can impact all this," said the expert of the Indonesian Nuclear Society Association (HIMNI).
Meanwhile, Bob said the company needs a legal basis to construct this power plant with an investment of Rp17 trillion. "Just like the 223 large-scale strategic national projects by private or state parties, under the Presidential Decree No. 109/2020," he said.
Batan Chief Anhar Riza Antariksawan said his institution received orders from the Research and Technology Ministry, based on Research and Technology Ministerial Decree No. 38/2019 regarding national research priority to prepare the pre-project stage of PLTN. "These preparations are then translated into comprehensive site and non-site feasibility studies. The decision to build or not to build will be based on various considerations, including the feasibility study," said Anhar on January 15.
In this national priority research, Anhar continued, Batan has already planned to review the light water reactors, as it is already a proven technology. "The feasibility study product is a document. I had heard in the beginning that it was hoped to produce a prototype, but time-wise, it was not possible," he said. Also, Anhar added, there was a change in funding that was different from the original plan, because the government prioritized the handling of the Covid-19 pandemic. "It is much lower than the original Rp6.2 trillion."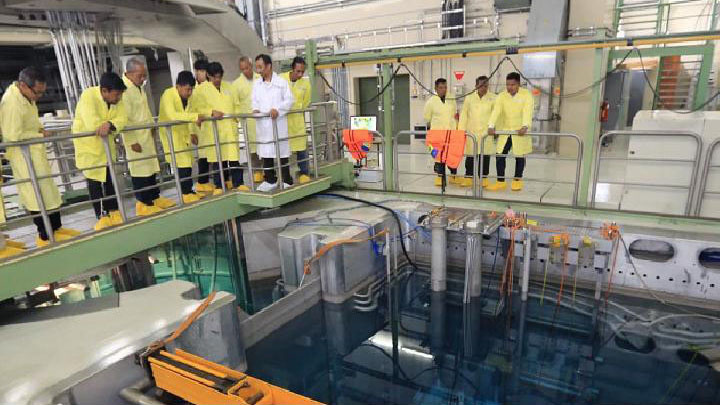 Residents visit RDE's nuclear reactor at the National Nuclear Energy Agency in Serpong, South Tangerang, September 25, 2018. batan.go.id
The construction of a PLTN by private companies, said Anhar, is outside of Batan's scope, which focuses on developing non-commercial nuclear power plants. "The one in Bengkayang (West Kalimantan) will also not be built by Batan. However, if the regional administration asks for assistance, of course we will be happy to do so," he said. Meanwhile, Bob said the reactor types developed by Batan and ThorCon are different. The location sites are also different: Batan's is on the mainland, while ThorCon's is offshore.
Indra Gunawan, Chief of Legal, Cooperation, and Public Communication Bureau at the Nuclear Energy Regulatory Agency (Bapeten) said that based on Government Regulation No. 2/2014, regarding nuclear installation permits and utilization, construction of a nuclear installation site must be on the mainland. "An offshore location is possible when it is connected to a dock, but that is not yet a policy as it needs research and operational experience from other countries," said Indra on Thursday, January 28.
Indra further said that until now, Bapeten has not yet received a permit application to build a PLTN from ThorCon International. Indra noted that in order to build a power plant, there are technical requirements from the Energy and Mineral Resources Ministry that must be fulfilled. "Bapeten can evaluate if a nuclear installation can be constructed or not, or if it needs design improvement, after it has gone through a design evaluation process on a specific location," he said.
Andri Slamet Subandrio, lecturer at ITB'S Geology Faculty, said that a PLTN construction not only needs a permit from the Energy Ministry, but also from other related ministries for tight security reasons. "The US, for example, categorizes uranium and thorium mining as strategic assets for the country's security and development," said Andri. He further said that efforts by various parties to explore radioactive materials needs support from the government.
DODY HIDAYAT, ANWAR SISWADI (BANDUNG)