The Angel's Lost Haven
The construction of smelter and nickel mines in Central Weda, North Maluku, threatens the population of protected endemic birds. The lush primary forests in mining concession areas are still full of large trees. This coverage is a collaborative work of Tempo and the Pasopati Project 2020 fellowship.
Edition : Monday, February 8, 2021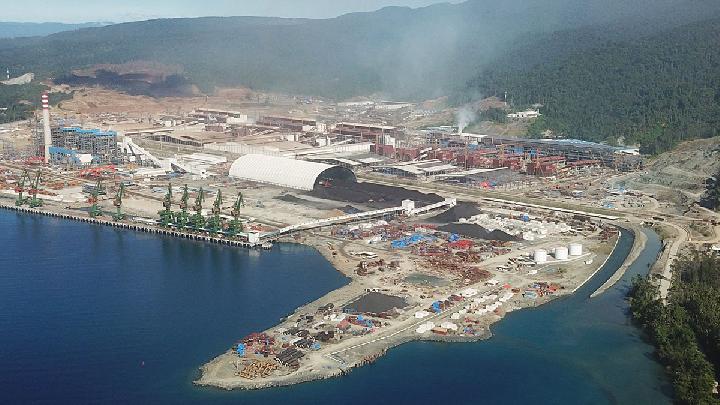 ALBORAN Memele, 39, ran towards a bird which was struggling between tree branches. He was walking to his coconut plantation on the edge of the forest in Kobe village, Central Weda subdistrict, Central Halmahera Regency, North Maluku, on Friday, January 22, when he saw the bird, called the weka-weka by locals, trapped in a net set by hunters to catch parrots.
He embraced the female weka and quickly untangled the net trapping its wings. The beautiful bird received the nickname "Halmahera angel" as the species is closely related to the bird-of-paradise, or cendrawasih (Paradisaea raggiana), a native of Papua. For a moment, Alboran stared at the bird before releasing it. "We have to free it. Nowadays, it's hard to see birds like this. Since mining activities began, the number of birds in the Weda Bay forest has decreased," Alboran told Tempo, January 22.
The Halmahera angel bird (Semioptera wallacii) was first discovered in 1858 by Alfred Russel Wallace on Bacan Island during his expedition to the Maluku islands. Wallace called it the "bird of paradise" because of its beauty. The male bird measures about 28 centimeters, with a greenish brown feathers on its body and with emerald green feathers on the chest, and has a shiny purple crown. The female is smaller, but has longer tail, and two pairs of milky white feathers coming out of the base of its wings.
According to Alboran, about 10 years ago, male weka-weka were hunted and sold for Rp250,000 each. Because of the ban on bird-hunting, and the fact that weka-weka have become increasingly difficult to find, hunters have switched to parrots, which are sold for from Rp150,000 to Rp300,000 per bird. "These birds only appear at dawn, before sunrise," said Alboran, a freelance worker at the Indonesia Weda Bay Industrial Park (IWIP) smelter construction project.
W251bGwsIjIwMjEtMDUtMTEgMDQ6Mzk6MzIiXQ
Alboran said that in the wilderness of Central and North Weda, which are part of the Aketajawe-Lolobata National Park, there are many types of birds flying freely. Ten years ago, residents could easily find various types of birds along the Trans Halmahera Weda-Sagea road. However, the bird population in the area has been decreasing since the mining and smelter construction project in Tanjung Ulie began. "Today, it is very difficult to get just one parrot," said Alboran.
According to Alboran, during the four years of smelter construction carried out by IWIP, many birds that originally nested on the coastal area have migrated further into the forest. The big trees on the coastal region that used to be a stop area for various bird species are now no longer visible. Some of the hills often used by villagers as hunting locations have also disappeared. "Now it's difficult to find birds at the smelter location," he said.
Weda Bay Nickel's smelter in Tanjung Ulie is one of the national strategic projects for developing the IWIP, which would serve as a place to process minerals into electric vehicle (EV) battery components. The US$10 billion project is built on an area spanning 2,600 hectares in size. The IWIP is a joint venture of investors from China: Tsingshan Holding Group, Huayou Cobalt Co, and Zhenshi Holding Group.
Weda Bay Nickel itself is a nickel and cobalt mining company, which has a concession area of 54,874 hectares. The nickel smelter runs on pyrometallurgical technology with an annual capacity of 30,000 tons of nickel. As we went pass the smelter construction area, the roars of tree cutters could be heard clearly from either side of the Trans Halmahera Weda-Sagea road.
On top of the hill, dozens of excavators were busy unearthing the mountains' riches, loading boulders onto trucks with eight-ton capacity. Next to the vehicles were people in project uniforms, light-colored coats and safety helmets, helping a colleague get out of an overturned truck.
Three kilometers from the site, smelter facility towers. Heaps of coals, 600 meters long and 10 meters high, were seen in a building not far from the port. Four heavy machineries were busy digging a mangrove forest north of the area. There were no more trees in sight. The 2018 Forest Watch Indonesia annual report stated that over the past 15 years Central Halmahera has lost at least 48,000 hectares of its forests, at least ​​16,000 hectares lost due to mining.
Hernemus Takuling, a farmer from Lelilef Sawai village in Central Weda, said that since the smelter and nickel-mining project began, the forest clearing has been colossal. Animal population dropped dramatically. Primary and secondary forests from Weda to Patani, which are vital for maintaining environmental balance, are gone.
"In the past, there were lots of birds and cuscus at the smelter location. Now that a lot of the forests are opened, the mountains have become bald," said Hernimus, who spent one year in jail in 2013 for resisting the mining activities.
Researches by ornithologists on avifauna groups in Halmahera found that the Kobe forest area is home to 126 species of resident birds. A survey conducted by Burung Indonesia in 2011 found 30 species of birds endemic to the central forest area of ​​Halmahera, including the Halmahera cikukua (Melitograis gilolensis), Halmahera hawk (Accipiter henicogrammus), Halmahera cenderawasih (Lycocorax pyrrhopterus), Halmahera kepodang (Oriolus phaeochromus), Halmahera paok (Pitta maxima), Halmahera angel, and white cockatoo (Cacatua alba). "The central part of Halmahera forest is the last hope for endemic species, now that the northern and southern parts are lost to oil palm (plantation) and mining," said Benny Aladin Siregar, a researcher from Burung Indonesia.
Benny said observations have revealed that primary forests in central Halmahera, particularly in mining concessions, are still full of trees with large diameters. The forests are still very dense and good for endemic animals to survive. Parrots, such as the white cockatoo, the Ternate musk, and the Irian's sparrow, are highly dependent on the existence of central Halmahera's primary forests. "This is also what makes us worried," said Benny, questioning the presence of smelters and mines in the forest.
The North Maluku Indigenous Peoples Alliance (AMAN) also found that forest areas located in mining concessions were the biggest contributor to forest destruction in Central Halmahera. Massive smelter constructions have fast-tracked the rate of forest destructions, especially at the coast of Tanjung Ulie. "Corporations require large areas of ​​land. The first stage alone takes up 3,250 hectares of land and the second stage 5,356 hectares. Not to mention the concession area, which reaches 70,000 hectares," Munadi Kilkoda, Chairman of AMAN North Maluku, said on Tuesday, February 2.
Agnes Ide Megawati, Associate Director of Media & Public Relations at the IWIP, declined to answer Tempo's questions. "You may contact me via IWIP's public relations number. This is a private number," she said on Friday, February 5. Meanwhile, Head of North Maluku Provincial Forestry Service, Syukur Laila, declined to accept Tempo's visit to his office in Sofifi, North Oba, Tidore Islands City. Letters of questions were not responded, and phone calls were not answered.
BUDHY NURGIANTO (HALMAHERA)