Bitter Aftertaste of Sugar Import Licensing
The government issued permits to import raw sugar for the refined sugar industry in order to cover demand. This policy, however, is deemed insufficient to solve supply shortage for high-quality raw material suffered by a number of food and beverage companies.
Edition : 8 February 2021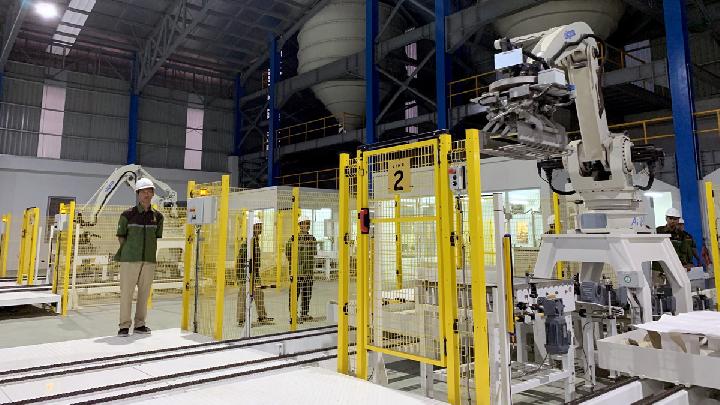 EFFORTS to reactivate the Cross Forum for Refined Sugar Industry Users Association are being discussed again among business players in early February. Three industrial vehicles have agreed to breathe life into the dormant forum: the Soft Drinks Industry Association, the Dairy Processing Industry Association, and the Indonesian Cocoa and Chocolate Industry Association.
This initiative grew after some members of the three associations suffer from the same problem: a shortage in refined sugar, a basic ingredient for their products. "Supply for sugar is hampered as the closest suppliers have yet to get permits to import raw sugar that is to be processed into refined sugar," said Dwiatmoko Setiono, Coordinator of the Cross Forum for Refined Sugar Industry Users Association, on Saturday, February 6.
Dwi—as Dwiatmoko commonly referred to—said that several food and beverage companies, especially those in East Java, are in short supply of sugar. Dwi, who is also the director of chocolate processing factory Sekawan Karsa Mulia, pointed out that industries using premium-quality refined sugar—with purity levels of up to 99.9 percent—are having problems in producing quality products. Producers of baby food, biscuits, and cereal milk are among those companies that need high-quality refined sugar. The refined sugar industry usually has a standard of 99.75 percent.
At the end of January, the trade ministry issued raw sugar import licenses for 1.9 million tons to be processed into refined sugar needed by the industry. The permits were given to 11 companies that are members of the Indonesian Refined Sugar Association (AGRI). Those 11 are Angels Products, Dharmapala Usaha Sukses, Berkah Manis Makmur, Makassar Tene, Permata Dunia Sukses Utama, Duta Sugar International, Jawa Manis Rafinasi, Medan Sugar Industry, Andalan Furnindo, Sentra Usahatama Jaya, and Sugar Labinta.
W251bGwsIjIwMjEtMDItMjYgMjM6MjY6MDAiXQ
Trade Minister Muhammad Lutfi said the import permits are in line with the recommendation of the industry ministry. "I signed whatever was recommended by the industry ministry. Not more, not less, even though I was able to revise it," Lutfi told Tempo.
Dwi declined to name the refined sugar suppliers of several food and beverage factories in East Java that did not get an import license. However, sources familiar with the sugar import business said that one of the companies was Kebun Tebu Mas. Operational since 2015, this sugar factory in Lamongan, East Java, produces consumer sugar as well as refined crystal sugar for industrial use.
The industry ministry had approved Kebun Tebu mas as refined sugar supplier for sweetened condensed milk manufacturer Indolakto in Purwosari, Pasuruan, East Java. Airlangga Hartarto, who was industry minister at the time, inaugurated the first shipment to this subsidiary of giant Indofood on March 16, 2019. The company also supplied refined sugar to Coca-Cola Indonesia and Nestle Indonesia.
Refined sugar supply for those three food and beverage companies is in the form of sugar syrup or sugar tankers in 30-ton packaging. Sugar in liquid form, or delivered by tankers, was seen as a solution agreed upon between the government and industrial parties in 2017, partially to prevent the sale of industrial sugar to household consumers. Refined sugar in crystal form in bags of 50 kilograms is deemed too easy to filter into traditional market.
•••
INDOLAKTO, Nestle, and Coca-Cola have set up new production lines in their East Java factories. These high-tech facilities were in preparation to enter the so-called 4.0 industrial stage which was proclaimed by the industry ministry under Airlangga Hartarto, who is currently the Coordinating Minister for the Economy. These companies invested hundreds of billions of rupiah in order to upgrade their factories with high-tech infrastructure.
In order to adjust from getting raw material in the form of refined crystal sugar in bags to sugar tankers, for example, a businessman explained that both supplier and receiver must upgrade their facilities. A special fleet of sugar tankers is prepared so that the sugar, which is hygroscopic, does not become humid and solidify.
As sugar syrup is delivered using 30-ton tanks, and the receiving party must have silo-sized containers. These facilities would have machinery that would automatically refill the container once the sugar syrup is used up within four hours. "Special technology is also needed to take the sugar out of the tanks, and get it into the silos without manpower. The process is very hygienic," said the businessman. "That's expensive."
The businessman is confident that this is the most efficient way of delivering raw material, even though it requires high initial investments. From the supplier side, delivering sugar syrup means that they do not need to crystallize the sugar. The raw sugar is processed into liquid with a certain concentration thickness.
The receivers can then immediately use the sugar syrup. Usually, food and beverage factories must warm up the refined crystal sugar in order to use it in liquid form, using up a lot of power.
Deliveries using 50-kilogram bags are anything but cheap. Both supplier and receiver must use small-sized bags, and employ workers to carry the sugar to the pallets, or pour the sugar. "There is no spillage in delivering liquid sugar. There is no human contact, so it's more hygienic," said the businessman.
The innovation and technology renewal were all done in the name of efficiency. By being more efficient, refined sugar industrial users can sell products with competitive prices, particularly when competing with similar products from abroad. "We are facing heavy challenges in a time when the industry is trying to recover," said Triyono Prijosoesilo, Chairman of the Soft Drinks Industry Association.
The current problem is uncertainty in the supply of raw material for refined sugar. Indonesian Business Association Executive Director Danang Girindrawardana said that he has heard complaints from some businesses about shortages in refined sugar supply. Some of those companies, he said, are even postponing expansion plans due to this shortage. "If the government doesn't improve its policies, not just new investments, but existing investments would be under threat," said Danang on Thursday, February 4. He declined to name which companies he spoke about.
This condition is worrisome since the food and beverage industry is deemed as the frontrunner in supporting economic growth in 2021. The industry ministry noted that in the third quarter of 2020, the food and beverage industry was the larger contributor for Indonesia's gross domestic product, namely 7.02 percent. This sector was also the highest export contributor in the manufacturing group: US$27.59 billion between January and November 2020. From the investment side, this industry brought in Rp40.53 trillion between January and September 2020.
•••
DIRE shortage of sugar supply in the food and beverage industry started in early November 2020. At that time Susiwijono, Secretary of the Coordinating Ministry for the Economy, said he had received a letter signed by several companies. "From Wings Food, Indofood, and others," said Susiwijono then.
To the government, those food and beverage players relayed their concern about the diminishing supply of raw material for refined sugar towards the end of the year. They asked the government to immediately issue licenses to import raw sugar for factories supplying refined sugar.
Almost simultaneously, the Indonesian Food and Beverage Association (Gapmmi) asked the government to immediately discuss the diminishing stock of refined sugar. They were concerned that the sluggish supply would lower productivity in the national food and beverage sector. Gapmmi Chairman Adhi S. Lukman said that he also received information from refined sugar suppliers grouped in the AGRI that Indonesia's stock was at a bare minimum, and only enough to cover demand until January 2021.
Supriadi, Industry Ministry's Director for Food, Seafood, and Fisheries, assured that safeguarding raw material supply for the food industry is a focus of the government's attention. The availability of raw material, both domestic and from imports, will be discussed based on commodity balance sheets. This balance will be constructed by involving all related ministries and institutions, from upstream till downstream, under the umbrella of the coordinating ministry for the economy.
At the end of last week, Gapmmi changed its tune. As a number of industries waited with abated breath on raw material supply assurance, Adhi Lukman said "everything is settled." He said the government has been looking for solutions to cover stock to fulfill production demand.
Recommendations from the industry ministry, and even licenses to import raw sugar from the trade ministry, have been issued. However, Indolakto, Nestle, Coca-Cola, and a number of big and mid-sized industries are said to still be in dire need of sugar syrup and sugar tankers. "It's not here yet," said Dwiatmoko Setiono.
RETNO SULISTYOWATI, AISHA SHAIDRA