Rokan's Ongoing Saga
Only five months left to prepare for the transition towards a new operator for the Rokan Block. A number of problems are still unresolved, while others already await Pertamina.
Edition : 15 February 2021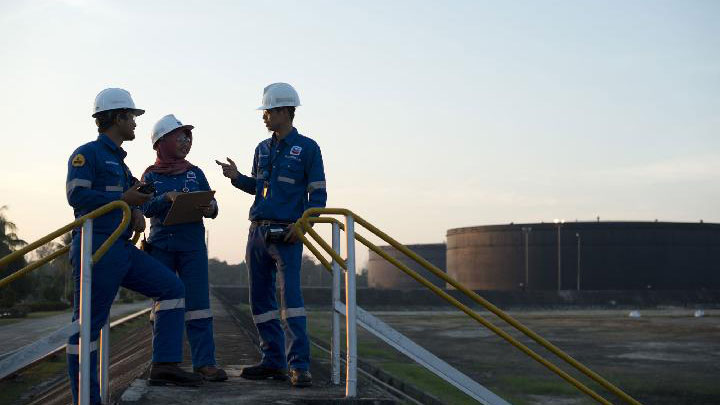 STATE electricity company PLN has been waiting for over two months for the outcome of the Cogen Integrated Gasification Combined Cycle Plant (PLTGU)'s tender at the Rokan Block in Riau. The plant's owner, Mandau Cipta Tenaga Nusantara (MCTN), is supposedly planning to let go of its assets by the time the working contract with Chevron Pacific Indonesia (CPI) at the Rokan Block ends on August 8, 2021. "We are following the process," said Bob Saril, PLN's Business and Customer Management Director, to Tempo on Thursday, February 11.
PLN is in the process of acquiring the North Duri Cogeneration Plant, with a power capacity of 3 x 100 megawatts (MW). This plant has a steam kettle which uses exhaust gas to heat up water with steam production capacity of up to 360,000 barrels of water a day. This facility supplies the majority of electricity and steam needs for Rokan's oil and gas wells.
CPI actually has four power plants with a total nameplate capacity of some 600 MW. In addition to the North Duri Cogeneration, similar infrastructure is present at the Minas power plant (100 MW), Central Duri (105 MW), and Duri power plant (21 MW). But facilities at the Duri Field have hardly been operational since the new plant, North Duri Cogeneration, has been able to cover needs. Just as at North Duri, the Central Duri power plant produces both electricity and steam. The latter is distributed and injected into the Duri oil field.
PLN hopes it could win the tender and operate the North Duri Cogeneration power plant. It has committed to supply electricity and steam to Pertamina Hulu Rokan, a subsidiary of state oil company Pertamina, which will take over operations at the Rokan Block after Chevron's contract expires. PLN and Pertamina Hulu Rokan have signed an electricity and steam-purchasing contract on Monday, February 1.
W251bGwsIjIwMjEtMDItMjYgMjM6MDU6MjIiXQ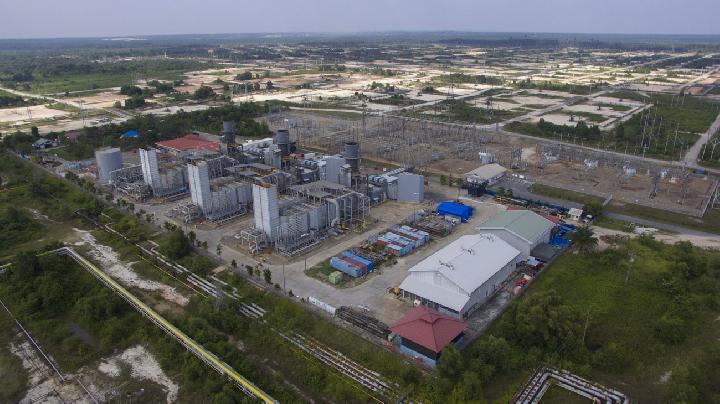 The Rokan Block in Duri, Riau. Chevron Pacific Indonesia Doc.
Based on that agreement, PLN divides service to the Rokan Block in two phases. The first one is the transitional period of three years between August 9, 2021 and August 8, 2024. During that period, PLN will manage facilities that provide power for the Rokan working area.
The second stage is the permanent servicing phase, which goes in on August 8, 2024. The plan is that PLN would connect Rokan Block's network to Sumatra's power system. This power infrastructure interconnection development project is expected to take three years, which will be done during the transition time.
Then, in 2024, Sumatra's power reserve of some 3,811 MW is projected to be able to cover Rokan Block's needs. PLN has even assured that the interconnection network would not only replace the existing demand, but can also multiply supplies to Pertamina Hulu Rokan.
•••
POWER is one of the unresolved problems in the operator transition period of the Rokan Block in August. The problem is that North Duri Cogeneration, operated by MCTN, is separated from the oil and gas working contract of CPI at the Rokan Block. Until now, MCTN has provided electricity to CPI. Both firms are affiliated because Chevron Corporation through Chevron Standard Ltd. also controls MCTN's shares.
The Upstream Oil and Gas Regulatory Task Force (SKK Migas) had sent a letter to Chevron to discuss this problem some time ago. In the letter, the SKK Migas expressed its hope that Chevron would grant the North Duri Cogeneration.
SKK Migas Chairman Dwi Soetjipto estimates the plant's assets, already operational for over 20 years, have already broken even and yielded profits. "Thus, it makes sense that Chevron grants it to the state," said Dwi on Monday, February 8.
He further said that the SKK Migas has also reminded that Pertamina, as the new operator for the Rokan Block, may not use the same power technology for the longer term. "It would be a maximum of three years before Pertamina is able to get a more efficient replacement," Dwi said.
While waiting for Chevron's answer, the SKK Migas heard that MCTN plans to auction the assets of its power plant. An official familiar with the auctioning process said that divestment plans have been ongoing since late last year. In addition to PLN, some regional and private companies have expressed interest in the auction.
CPI Corporate Communications Manager Sonitha Poernomo declined to give details about the auctioning process. She only pointed out that Chevron Standard Ltd—MCTN's shareholder—supports CPI in Rokan Block's transition activities to the new operator. "Various things are being discussed, but we can't give details about those discussions," said Sonitha on Friday, February 12.
•••
ROKAN Block's transition team is now racing against the remaining five months towards the operator switch deadline of August. Formed in the middle of last year, the small team—consisting of people from the SKK Migas, Pertamina, and CPI—must smooth out nine main issues.
In addition to power, Dwi Soetjipto said, the team has to assure that data and technology information transfer goes smoothly. Until early February, the technical and operational data migration has been realized for 80 percent. "CPI hands it over to the SKK Migas as the government's representative, and then the SKK Migas will give it to Pertamina Hulu Rokan," said Dwi. For information technology, CPI has transferred 50 out of the total of 142 applications targeted to be completed by April.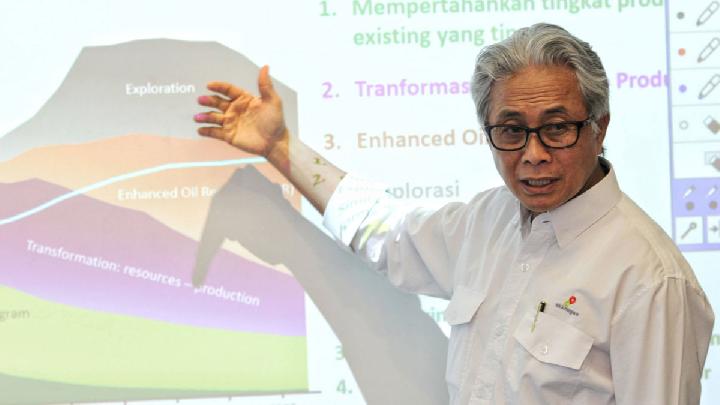 SKK Migas Chairman Dwi Soetjipto at the SKK Migas office, Jakarta, July 30, 2019. Tempo/Hilman Fathurrahman W
Another prime focus is well drilling, optimizing workover, well services, and flushing wells using the enhanced oil recovery (EOR) method. The EOR has been a key hitch, as it will be under Pertamina to maintain or even increase production at Rokan Block's old wells. Chevron, however, is reluctant to hand over the chemical formula it has been developing especially for the EOR activities at Rokan.
Dwi further said that Chevron has given five material components mixed into the EOR process at the Minas Field. Those five components are surfactant, co-surfactant, ice soda, polymers, and ethylene glycol monobutyl ether. Surfactant and co-surfactant are products of the Chevron Oronite factory. The three other components are produced by many chemicals producers within the oil and gas industry. "Pertamina is negotiating with Oronite," Dwi said.
The SKK Migas can also breathe a sigh of relief after CPI finally committed to put in capital of US$150 million for drilling oil wells at the end of its contract period. Chevron, Dwi continued, will drill 190 wells, with some of the drilling already starting in December last year, delayed from the original plan of November. Dwi said that drilling will be intensified in February. "There was a shortage of rigs. Now many have been added already," he said.
To support these plans, the SKK Migas has accelerated the investment return scheme, which Dwi said has been approved by the finance ministry. "In August, when Chevron leaves, the funds can be returned," he said. "Investment for drilling is done now, and profits can be reaped in three to four years. This is for the state, and also for Pertamina."
Chevron has halted drilling new wells at Rokan since the government rejected a contract extension the American company requested in July 2018. Consequently, production at the Rokan Block, which used to be the biggest supplier of national oil, has continued to decrease in the past two years. In 2018, the Rokan Block produced an average of 210,000 barrels a day. This has slipped to the current production of only between 160,000 and 170,000 barrels a day.
It is in the government's interest that drilling continues towards the transfer of operators. A sharp decline in production will complicate Pertamina's efforts to boost Rokan Block's production back to the level of 200,000 barrels a day. Although the oil block is old, the government is still depending on it to support national production in the next several years together with the Cepu Block, which currently produces 220,000 barrels a day.
Pertamina Hulu Rokan, the new operator replacing CPI, is optimistic that a number of development programs will increase Rokan Block's production and reserves. The Pertamina subsidiary is targeting production of at least 1.5 billion barrels for the next 20 years. Under CPI's management in the past 50 years, it has produced a total of 11.9 billion barrels of oil. In its report to the House of Representatives' (DPR) Energy Commission on Tuesday, February 9, Pertamina's management said it has prepared plans to drill a total of 1,246 wells in stages until 2025.
Currently, Dwi explained, Pertamina is preparing an analysis document regarding environmental impact, which is needed for every new activity at Rokan. Pertamina is also going through 420 contracts supporting Rokan's operations during CPI's time, and which are worthy to be continued or not. "Transfer of employees from CPI to Pertamina Hulu Rokan has reached agreements for some 70 percent," Dwi said.
While all of the above transition processes have yet to be completed, Pertamina is already facing new challenges. In a meeting with the House of Representatives' working group for oil and gas on Tuesday, February 9, the Riau Province Administration urged Pertamina to involve regional companies in the future as working partners at the Rokan Block, as operators as well as supporting oil and gas services. Results from that meeting will most likely form the next chapter in Rokan's continuing saga.
RETNO SULISTYOWATI