We Almost Stumbled
Muhammad Lutfi immediately stepped on the gas right after he was sworn in as trade minister on December 23, 2020. The former envoy to the United States must focus on three main duties mandated to him by President Joko Widodo: to maintain price stability; to help MSMEs penetrate the export market; and, to expand the export market to non-traditional territories by making use of the international economic cooperation agreements Indonesia has signed. According to him, China and the United States are extremely important to Indonesia.
Edition : Monday, February 22, 2021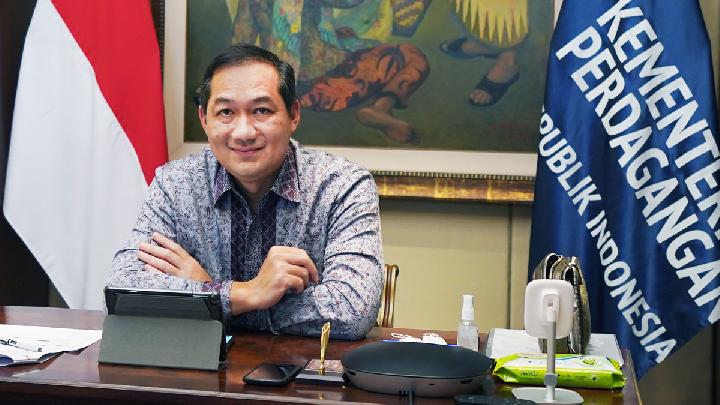 MUHAMMAD Lutfi had been in his post as ambassador to the United States for only three months when he was called back home last December. President Joko Widodo had chosen him as the minister of trade, the same post he held back in 2014, in the first reshuffle of the Indonesia Forward Cabinet. "I'm replacing someone this time and the challenges are far more complex," Lufti, 51, said during a special interview with Tempo via video conference last Wednesday, February 18.
The raging Covid-19 that continues to wreak havoc on the national economy worries Lufti. He highlighted the trade surplus due to a plunge in imports which is sharper than the fall in exports. Last year's import value dropped by 17.35 percent in comparison to the previous year's. The problem is that the three quarters of imported goods are raw materials and auxiliary goods. Lufti said the fall was in proportion to the decline in production and certain industries amid dwindling consumer spending. "In spite of the surplus, it still feels like we are gasping for air in the middle of a marathon," he said.
Jokowi has tasked Lutfi with three primary duties: to maintain price stability; to help micro, small and medium-sized enterprises (MSMEs) penetrate the export market; and, to expand the export market to non-traditional territories by making use of the international economic cooperation agreements Indonesia has signed. Lufti also have other priorities such as cleaning up the import problems that he 'inherited' from his predecessor and negotiating with western countries, particularly the European Union, for crude palm oil (CPO) and coal, the two largest contributors to the country's export revenues.
Lutfi explained to Tempo a number of issues, from the pandemic's effect on the trade sector, the luxury goods sales tax discounts on cars to Indonesia's position in trade relations with China and the United States. He was accompanied by Deputy Minister Jerry Sambuaga who assisted him particularly in exploring new trade and investment cooperation with several countries.
W251bGwsIjIwMjEtMDUtMTEgMDU6MTc6MTgiXQ
What are the pandemic's effects on the trade sector throughout last year?
If we look at the 2020 trading results, ours are actually not so bad. We have a surplus that strengthened rupiah at the start of 2021. When we last had our surplus in 2012, it was like we were running up or down on a slope in a breezy weather. But this time, even with a positive trade balance, it feels like we are gasping for air in a marathon or even had our ankle sprained.
Why?
Our non-oil and gas export fell only 0.6 percent or US$900 million. Considering the large-scale social restrictions, the changing global value chain situations, shipping problems and the absence of containers, this is actually not so bad. But if you look at import, the decline is sharper than the export adjustments and that is a very serious problem. Non-oil and gas imports dropped by 17.35 percent to US$127.3 billion last year, while oil and gas imports fell 30 percent to US$14.3 billion resulting in a surplus of US$21.7 billion. Oil and gas imports have been the bane given the fact that Indonesia produces 750,000 barrels oil a day but imports close to 1.5 million barrels. This causes a trade deficit and we have to take care of this but it will take time.
What are the causes for concern in the fallen imports?
From its structure, 72.9 percent or the three quarters of our imports consist of raw materials and auxiliary goods with the rest being 16.7 percent of capital goods and 10.4 percent consumption. This shows that when our imports are not good, the consumption and production sectors are also affected.
The government has issued a policy relaxing luxury goods sales tax (PPnBm) on cars. What impact has the policy given so far in driving the economy?
That is one of the strategies to reinvigorate our economy. The automotive sector has a huge multiplier effect. The industry absorbs high quality workforce with around 1.5 million people working in the sector including spare part manufacturing. They are paid far above the average regional minimum wages. From the supply and demand aspect, the annual car sales which usually is around 1 to 1.1 million dropped to just 550,000 last year, down by 48.35 percent. At the same time, production also dipped 46.73 percent. Consumption and production are highly correlated.
With the decline in people's buying power due to the pandemic, how effectively does the relaxing of sales tax on cars drive the economy?
The discount in the PPnBm is to stimulate consumption, to create consumer confidence. Last year's credit growth experienced 3.2-percent contraction as a result of people's reluctance to buy (non-essential) commodities. Meanwhile, consumption is a very critical part of our economy. Hopefully, with the discount in the PPnBM, consumers will take bank loans or use their savings to shop. People who delayed their purchase last year can buy cars this year.
How big will the impact of this policy be on automotive exports?
We want to improve our stock as quick as possible and get production going. Usually Japanese companies approve their annual company plan in April of a current year. They've already prepared strategies for this year. What we fear is that since the production is sluggish and the stock is high, they might opt to shut down the factories in Indonesia to save costs and move the production of Pajero, Expander, Fortuner, and Kijang to Thailand. I will visit their factories in Tokyo one by one to ask if we could export 120,000 units of their cars to Australia with a value of US$3-4 billion. Hopefully with the new export we can get up to US$10 billion from automotive sector this year, an increase from US$6,6 billion last year.
Some importers and business owners complain about the previous minister's policies, one of which was the transparency in issuing approval letters for horticultural product imports. Many also complain about the quota model for commodity imports. How will you ensure that the regulations are implemented in a transparent manner?
We just had problems with sugar import for refineries and idle capacity. I was appointed on December 23, 2020, and the next day all the permits for 1.9 million ton for refineries and 640,000 tons for idle capacity—around 2.5 million tons in total—were issued.
Why were they issued simultaneously?
It was necessary because I saw that the sugar price was beginning to take an upward trend. To give certainty to the industry, particularly the food and drink industry, that we have a sufficient sugar stock. If I issue them today, maybe the difference is 3 to 4 percent. So, businesses can position themselves and that's part of the incentives we give to make sure that our domestic needs are met. But we can't do everything in the same way.
For example?
For example, other horticultural commodities. If I issue permits at the same time, the market will be flooded with goods. Sometimes, we can be 'trapped' and targeted by exporters, for example horticultural product exporters. So, we can't use a one-size-fits-all tactic for everything. But for sure, we will improve transparency and management at the trade ministry. We can't also disclose all our strategies to the market because it can affect the market. Discretion is warranted sometimes. The bottom line is that my priority is to benefit both buyers and sellers which will in turn benefit the 270 million citizens.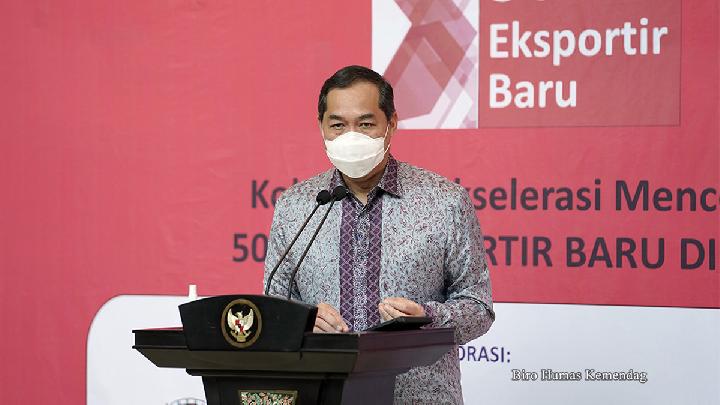 Trade Minister Muhammad Lutfi gives speech at the inauguration of the 500,000 New Exporters program in Jakarta, February 17. Trade Ministry Public Relations
Crude palm oil (CPO) and coal are still Indonesia's prime export commodities although both are linked to deforestation and carbon emission. What is your strategy to address this issue?
Let me first separate the two. CPO has got a bad rap in the west, particularly in Europe, for unsustainability and its role in deforestation. We have a strong argument though that in fact planting CPO is more efficient than planting other oil seed crops in terms of land use. We've also imposed a long-term logging moratorium. CPO also has better abilities of absorbing CO2 and releasing O2 compared with other oil crops. We compared all this in line with their scientific standards.
What is the difference between this argument and the one that the government previously used?
Lutfi: In the past, we never spoke in one voice. As a developing country, we never debate based on their standards. Today, I can guarantee that we have apples-to-apples debate with them. And they know that our argument is strong. The question now is why they gave a bad name to palm oil using negative campaigns.
Jerry: As regards deforestation, European Union's (EU) approach is inconsistent, inappropriate and not objective. We sued the EU for their discriminative treatment at the WTO (World Trade Organization) forum. One of the arguments they presented was deforestation. They said we were not pro-environment. But the data I received showed the opposite. Compared with EU countries, particularly France which has been the most aggressive but conserves less than 20 percent of its environment, Indonesia protects 51 percent of its natural forests. The second contradiction is that the EU has always advocated for free trade. But upon close examination, it's clear that this is all about competition, about their national interests. Their local products cannot compete with our CPO.
What about coal?
It's a bit different with coal. Western countries are not concerned with sustainability but rather the CO2 emission which is a huge nuisance to them. Western European countries have pledged not to build coal-fired power plants any more. They outcast and punish the (western European) companies that are still dependent on coal.
Why did it become a problem for Indonesia?
It actually poses a dilemma for us. Indonesia has much more coal than other countries. But many large corporations started to sell their coal-dependent assets. The latest example is Paiton which previously was owned by Électricité de France (EDF). After France vowed to stop relying on coal, EDF as one of the owners of Paiton East Java sold its stakes.
Why is Indonesia's dependency on coal commodities so high?
If we look at the trade deficit, we produced 750,000 barrels crude oil a day but import more than 1 million barrels. One of the steps to reduce the deficit is to use the native energy, one of which is coal. But there's a new trend now. An example is Amazon's zero carbon emission vision. I heard that their data storage sites in Singapore are mandated to be powered by new and renewable energy. Where in Singapore will they build a wind farm or solar panels? Nowhere. So, they (Amazon) is exploring possibilities to build a solar farm in Bulan Island (in Riau Islands) to power their data centers in Singapore. This is the trend we must respond to and we must have clear strategies and plan.
During your stint as the ambassador to the United States, you did explore cooperation with potential investors there. Given the Job Creation Law is now in effect, how enthusiastic American investors are to invest in Indonesia?
Actually, they are still in a wait-and-see mood but there are signs that they may be moving ahead. For example, Kimberly-Clark, a female sanitary napkin company, has just acquired Softex for more than US$1 billion. That shows that they see Indonesia as an investment destination. Kimberly-Clark invested in Indonesia in 1973 and now increased their investment. They would also make Indonesia a production base for the regional market. But we are at the same time racing against time to find bigger and more significant investors.
From which country?
I see that we have a lot of Chinese investors, for instance, in Morowali (Central Sulawesi) and Weda Bay (North Maluku). Even the nickel factory sold by the French and Japanese investors was bought by Chinese investors to produce lithium batteries which are a very crucial product for Indonesia. Chinese investors are also building an alumina and aluminum ingot smelter in Bintan Island (Riau Islands). I think aluminum also could become a prima donna product for our export. I mentioned this to American investors and they show special interest in the fact that Indonesia is very pivotal not only as market but also for production of goods.
How many potential American investors have the interest to come to Indonesia?
They will come into Indonesia for important industries. First, they will invest in heavy metal and basic chemicals industries. Second, I would not disclose the identity of the investor but a large US company is set to invest in East Kalimantan to convert coal into methanol. Third, they will enter via digital platforms particularly into our large retail market, education and health sectors.
---
MUHAMMAD LUTFI
• Place and Date of Birth: Jakarta, 16 August, 1969 • Education: Bachelor of Economics, Purdue University, Indiana, US (1992) • Career: Chair, Young Indonesian Entrepreneurs' Association (Hipmi) (1998–2001), Chair, National Hipmi (2001–2004), Chair, Investment Coordination Board (2005-2009), Ambassador to Japan (2010-2013), Minister of Trade (2014), President Commissioner, Medco Energi Internasional (2015-2020), President Commissioner, Darma Henwa (2019-2020), Deputy Chair for MSMEs, Indonesian Chamber of Commerce (since 2018), Ambassador to United States (September 14, 2020-December 22, 2020), Minister of Trade (since December 23, 2020) • Awards: Young Global Leaders from World Economic Forum (2008), Bintang Mahaputra Adipradana (2014)
---
What is the estimated value of investment from these potential investors?
In the first year, 2021, the US will be among the top 10 investors with around US$4-6 billion. We hope that the value will increase in the coming years to US$10 billion.
To what extent does the trade relation with the United States influence Indonesia's position as China's trade partner?
We should not choose between China and America. We have to improve our trade and interaction with both. Both countries are extremely important to us. The export value to China is US$29 billion and import value US$39 billion. The US is in the second place with the export value of US$18.62 billion and import value US$7.49 billion. Indonesia is among the six key countries in President Xi Jinping's BRI (Belt and Road Initiative).
Indonesia has turned down Israel's invitation to establish diplomatic ties but the value of the bilateral trade amounted to US$146 million in 2019 which continues to increase. What is your opinion about this?
This is a highly sensitive matter. To borrow Pak Hassan Wirajuda's words, our brotherhood with Palestine and the two-state solution that we espouse are part of our constitutional debt. Egypt and Palestine were the first countries that acknowledged our independence. But the trade relation (with Israel) is inevitable. As an example, Israel produces one of the world's best turbines for geothermal systems. Indonesian already has many of these. Since we can't buy straight from Israel, we buy through the US at 17-30 percent higher prices. Trade knows no country or nationality. It will keep on running. Our trade relations with Israel have been going on for 30 or 40 years.