A Promise of Coffee at the Promised Land
The East Nusa Tenggara Prosecutor's Office is looking into suspected corruption involving government-owned land in Labuan Bajo worth Rp3 trillion. Retired Police Commissioner Gen. Gregorius Mere and senior journalist Karni Ilyas are mentioned in connection with this case.
Edition : Monday, February 22, 2021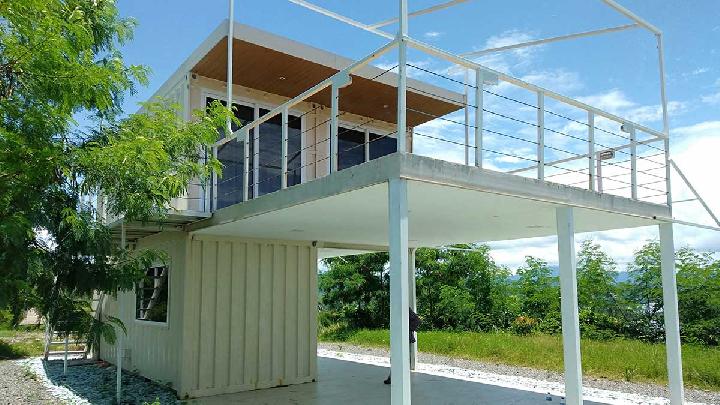 BLUE waters and a chain of small islands could be seen from the Promised Land Villa and Café. Being the only modern building in the area, this villa, which is partially constructed from used shipping containers, prominently stood out on top of Hill Toro Lemma Batu Kallo in Labuan Bajo, West Manggarai, East Nusa Tenggara (NTT), on Monday, February 15.
The gate to this villa which faces the Flores Sea was clearly locked. The café is closed. There is old cordoning tape on the villa fence which reads "NTT Prosecutor's Office." "We only know that this belongs to Pak General from Jakarta, Gories Mere," said Karaeng Ota, a resident who lives near the villa, speaking to Tempo.
He said that the villa was built sometime in mid-2019. Karaeng used to cut grass and pull weeds around the villa. This stopped when the NTT Prosecutor's Office sealed the two-story building at the end of 2020.
The NTT Prosecutor's Office is currently looking into suspected corruption involving the transfer of 30 hectares of land belonging to the government of the West Manggarai Regency. The land is valued at Rp3 trillion. Government losses are estimated to be Rp1.3 trillion.
W251bGwsIjIwMjEtMDUtMTEgMDU6MDM6MzUiXQ
A preliminary investigation began in September 2020. Four months later, the NTT Prosecutor's Office named 16 suspects. These included Regent of West Manggarai Agustinus Christoforus Dula and an advocate named Muhammad Achyar. In the criminal investigation phase, prosecutor's office officials questioned a former special staff member to President Joko Widodo, Comr. Gen. (ret) Gregorius Mere, on December 8, 2020. Yulianto, Chief of the NTT Prosecutor's Office, said that his subordinates questioned this man better known as Gories Mere in order to clarify information regarding the purchase of land.
Senior journalist Sukarni Ilyas, known as Karni Ilyas, is also suspected to have purchased government-owned land as well. However, the criminal investigation concluded that they did not play any role in that suspected corruption case. "To date, the team of criminal investigators continues to conclude that Gories Mere and Karni Ilyas fall into the category of buyers with good intentions," said Yulianto.
It is believed that Gories Mere purchased two plots of land at Toro Lemma, measuring 3 and 0.4 hectares respectively. He bought that land from Achyar, a lawyer. That land is suspected of being part of the 30 hectares of land owned by the regional government. Karni is suspected of purchasing about 4,000 square meters of land next to the one bought by Gories.
A land sales agreement between Gories and Achyar was signed on November 17, 2017. In that agreement, three hectares of land was sold for Rp3 billion. Gories made a down payment of Rp500 million. He planned to pay the remainder once he received a land certificate.
Gories said that he bought the land because it was offered by Achyar and his cousin, Gabriel Mahal. Achyar and Gabriel convinced Gories by saying that Karni had already purchased land in Toro Lemma. "They had gone ahead and bought a land there. They said that it would nice to hang out and drink coffee there later," said Gories.
He trusted their offer. Moreover, Gories has known Karni Ilyas for 30 years. Tempo could not obtain confirmation of this story from Karni. He did not respond to phone calls and messages sent by Tempo as of Saturday, February 20.
However, Gories said that he cancelled that sales agreement in early 2018, once he found out that the land was in a legal dispute.
•••
DOZENS of uniformed and plain-clothes police officers arrived at the residence of Anton Us Abatan, Komodo subdistrict head from 1989-1993, one day in July 2018. Four people entered Anton's house which is located in Tenda village, Labuan Bajo.
Anton personally received those guests which he had not invited. "Among those who came at that time were Pak Gories Mere and his lawyer," said Anton's wife, Agnes Manggol, and son, Benyamin Us Abatan, on Tuesday, February 16. Anton passed away last January.
According to Agnes, Gories and the lawyer brought a request for a land certificate for land at Toro Lemma Batu Kallo. The two asked Anton to sign it. Anton declined it. He said that the land in question was owned by Muhammad Adam Djudje.
Anton also knew that the land in question was a part of the 30 hectares belonging to the government of the West Manggarai Regency. He knew this because he was one of the witnesses when Ramang Ishaka and Haku Mustafa, functionaries of the Kedaluan Nggorang Customary Community, donated the land to the government in 1989.
It was the then regent of Manggarai, Gaspar Parang Eshok, who received the land donation document. The West Manggarai Regency was formed when it separated from the Manggarai Regency. That land was going to be used as a site for a fisheries and maritime school.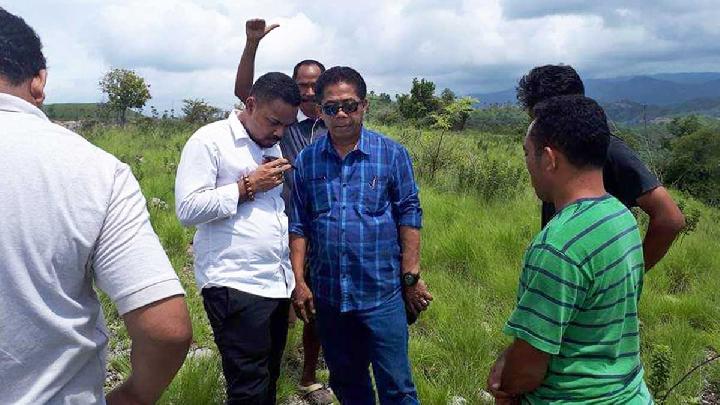 Muhammad Achyar (in long-sleeve white shirt) with Gories Mere (blue shirt) and the land keepers at the site in Kerangan, Toro Lemma Batu Kallo, in 2018. Special Photo
Anton explained the land's history to his guests. Upon hearing Anton's explanation, Agnes said that Gories Mere blurted out, "Whoa, if that's the case then I lost out here."
Adam Djudje first claimed ownership of that land in 2013. At that time, according to Agnes, Djudje said that he found the land transfer document in a cabinet. "At that time, Haji Djudje was secretary for the customary community as well as village secretary," she said.
That land transfer document was signed by the then chief of Labuan Bajo village, Kuba Usman, and Anton Us Abatan. Later on doubts emerged regarding that document's authenticity.
Anton has said that his signature on that document held by Djudje was a forgery. Another unusual thing about Djudje's document is that it mentions that the east and north sides of the land border a road. However, this road was not made until 1991, two years after the land transfer process took place. The fonts of the typed letters on Djudje's land transfer document also appear to be different from that used on other land documents.
When claiming to be the owner of that land, Djudje used the services of advocates Muhammad Achyar and Gabriel Mahal. Djudje died last December. Gaspar passed away in 2016.
Using Djudje's letter, Achyar went to the West Manggarai Land Office in 2017. Achyar submitted requests for land certificates for himself, Gabriel Mahal, Sukarni Ilyas, and Gories Mere.
Oddly, it was said that the initial legal basis for that land came from the King of Pota Daeng Malewa, not from Djudje. This is strange because the authority of the King of Pota is in East Manggarai, and does not reach to Toro Lemma Batu Kallo, which is located far to the west. The efforts of Gories and Achyar to process that land certificate continued by visiting the Regent of West Manggarai Agustinus Christoforus Dula at his official residence in January 2018. Agustinus then summoned Chief of the West Manggarai Land Office, I Gusti Made Anom.
During that meeting, Gories and Agustinus inquired about the status of that land. Agustinus was not convinced that the land in question belonged to the government. He even made a duty-stamped written statement which stated that the regional government no longer has any interest in controlling the 30 hectares of land in Toro Lemma Batu Kallo.
Achyar took Agustinus' written statement to the land office. He again requested a land certificate be issued at the same location for five hectares of land. This time, Achyar used Adam Djudje as the legal basis for that land. He listed David Andre Pratama as being the applicant for the land certificate. David was mentioned as an informally adopted child of Gories Mere. However, Gories denied that information. "I have never adopted anyone," he said.
Even though the land certificate request was still being processed, David built the Promised Land Café and Villa at Hill Torro Lemma Batu Kallo. Adam Djudje built a gateway and wire fence on the 30 hectares of land. It was said that Gabriel Mahal put up a sign reading "(This) ± 30 Ha of land belongs to H. ADAM DJUDJE under the supervision of Lawyers/Advocates GABRIEL MAHAL and MUHAMMAD ACHYAR."
Gories Mere said that he met with the Regent of West Manggarai Agustinus Dula, I Gusti Made Anom, and other parties in November 2017. He said that he intended to clarify the status of that land. At that time, according to him, Anom showed him two different maps for the same location.
The first map of Toro Lemma showed six plots of land in the names of other people for the land which Djudje claimed to own. Six people suspected of holding certificates for that land, along with some other land brokers, were named suspects at the Kupang Corruption Court in January.
The second map showed that the land belonged to the regional government. Gories received information that land which was donated by functionaries of the Nggorang Customary Community was not in Toro Lemma, but in Keranga. Gories considered those to be two different areas. Toro Lemma is in the hills, while Keranga is on the coast in front of Toro Lemma.
Adam Djudje's son, Zulkarnaen Djudje, said that Keranga and Toro Lemma are two different areas. Harun Fransiskus, a man who claimed to be a witness when the functionaries of the Nggorang Customary Community pointed out the location of the donated land, believed that the Keranga area is not the same place as Toro Lemma.
Zulkarnaen and Harun stated this view of theirs when testifying in a pre-trial hearing regarding the Regent of West Manggarai Agustinus Dula being named a suspect. The NTT Prosecutor's Office then arrested Harun and Zulkarnaen on February 11 on suspicion of perjury.
The prosecutors said that Keranga and Toro Lemma refer to the same place. Agustinus' legal representative, Antonius Ali, was arrested on Thursday, February 18. He is considered to be one of the masterminds behind the perjury.
I Gusti Made Anom, a former chief of the West Manggarai land office, was reluctant to give any details about his meeting with Agustinus and Gories Mere regarding the land in Torro Lemma. He also did not answer questions about the history of the donation of land in Toro Lemma. "This matter is currently in a legal process," said Made Anom.
Frans Tulung, a lawyer for the Regent of West Manggarai Agustinus Dula, was reluctant to comment. He said that he had only been appointed as their attorney a few days earlier. "I have not yet studied the case file," said Frans in mid-February.
Muhammad Achyar's lawyer, Hendrik Jehaman, believes that his client did not receive Rp500 million from David Andre Pratama, as the criminal investigators have accused. He considers Achyar to be innocent. "That money has already been returned. Why is Achyar being asked to be accountable?" asked Hendrik.
David did not answer when contacted by telephone. He also did not respond to messages sent via WhatsApp. In addition to denying that David is his informally adopted child, Gories said that he did not know that David had requested a land certificate and built a villa on Torro Lemma. "I did not know about the construction of that café and villa," he said.
LINDA TRIANITA, AKHYAR M. NUR (LABUAN BAJO), YOHANES SEO (KUPANG)