Survival Mission
The government sets out to release new antidumping policies and national standards for steel products, in response to local industries' complaints against the onslaught of imported goods.
Edition : Monday, March 15, 2021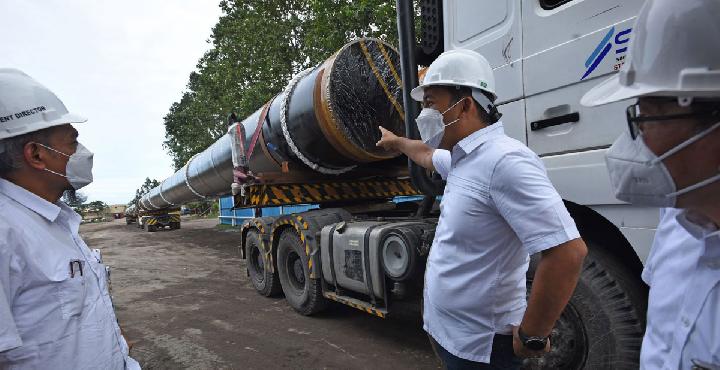 BACHRUL Chairi, Chairman of the Indonesian Antidumping Committee (KADI), double checked the documents on his desk as he planned to submit them to Trade Minister Muhammad Lutfi. With the authority to investigate unfair international trade practices, KADI seeks to propose the application of antidumping duties for imported hot rolled coil (HRC) alloy steel products from China. "HRC alloy, soon," Bachrul told Tempo, that Friday, March 12.
The policy recommendation was the second decision KADI made for the iron and steel sector this year. Previously, KADI issued the instrument trade remedies in the form of antidumping duties (BMAD) on zinc aluminum coated steel products (BjLAS), on February 11.
Bachrul said the policy serves as a sanction for global exporters that have been cheating on goods exported to Indonesia. The punishments would create an equal level playing field between domestic and foreign industrial players. "They may export, but they have to do it under proper international trade rules," he said.
The government is pushing antidumping duties policies on BjLAS in response to local steel industry complaints over the flood of imported goods, with unrealistic prices, since 2016. The Indonesia Zinc-Aluminum Steel Industries and the Indonesian Employers' Association recorded that BjLAS factories' utilization rates were around 50 percent, far from profitable. The data from the Indonesian Iron and Steel Industry Association (IISIA) also showed that up to 2019, steel of all types were only produced at around 41 percent of the available capacity.
W251bGwsIjIwMjEtMDQtMjIgMDc6Mjg6MzQiXQ
On January 11, Krakatau Steel (IDX: KRAS) Chief Executive Officer (CEO) Silmy Karim sent letters to Finance Minister Sri Mulyani Indrawati, Trade Minister Muhammad Lutfi, and Industry Minister Agus Gumiwang Kartasasmita. The state-owned steel company asked the government to protect the industry from the invasion of imported alloy steel products.
According to the Central Statistics Agency (BPS), the import volume of steel products under the Harmonized System (HS) 72 code reached 3.7 million tons as of October last year. Roughly 1.1 million tons were alloy steel products, of which more than half came from China. The imports of BjLAS products had also been on the rise since July 2019, reaching its highest volume in December 2020.
Krakatau Steel suspects that the Chinese goods were imported with unfair methods, such as dumping and circumventing the HS code. The company worries that such unfair practices would make things worse for the national iron and steel industry, which is already grappling with the impact of the Covid-19 pandemic.
Silmy, who is also IISIA Chairman, sought support from the three ministers. He pleaded the government to put strict control over the imports of iron or steel products, alloy steel, and their derivative products. This can be done by not providing recommendations or rejecting the import of products that can be made locally, or goods suspected to have been traded by circumvention. Silmy also requested for stricter supervision and inspection over imported goods at the ports of arrival, especially imported alloy steel products from China.
Krakatau Steel also hoped that the government would support KADI's investigation on suspected antidumping practices for HRC alloy from China. Lastly, Silmy hoped the government would set an antidumping import duty, a policy that has been put on hold for cold rolled coils from Japan, Korea, China, Taiwan, and Vietnam. "Without support from the government, it would be tough for the national steel industry to compete with imported products," wrote Silmy in his letter.
•••
MARCH 10 was an important day for Krakatau Steel. On that day, which is about a year since the pandemic arrived and weakened almost all of Indonesia's industrial sectors, Krakatau Steel resumed its product shipment to export destinations.
It was not the company's first export shipment for 2021, however, as it had already sent HRC, hot rolled plates (HRP), and hot rolled pickled oils to Malaysia. But last week's shipment was special, as they sent some 20,000 tons of goods to the European nations Portugal, Spain and Italy. "First of all, our goods entered Europe, and secondly, the price is good, around €800," said Silmy Karim.
Silmy said that this year Krakatau Steel has established export partnerships to send HRP to Australia. The company is also negotiating for further shipments to Europe. "We are also exploring a new export destination, India, for the second semester of 2021," he said.
A year of Covid-19 pandemic has disrupted the global steel supply chain. To Indonesia, it has been a blessing in disguise. The imports of steel had declined as importers had a rough time getting goods from overseas, whilst facing the rupiah's fluctuating rate against the US dollar.
The IISIA noted that the supply of various types of imported steel to the domestic market dropped by an average of 36 percent throughout 2020. This made Silmy glad, as it had led Krakatau Steel's sales volume to go up by 20 percent.
Nevertheless, there are still challenges that the steel industry must face. Amid the tight competition between local and imported steel goods, the domestic market was shrunken by the pandemic. Therefore, domestic producers must expand their global market reach and at the same time requesting government interventions by means of protectionist policies.
The government has actually been observing the problems of import in the national steel industry. On February 12, 2020, a month before Indonesia identified its first case of Covid-19 infection, President Joko Widodo had mentioned steel as one of Indonesia's top three import commodities. "(Steel) is one of the main sources of the trade balance deficit," he said during a closed meeting at the Presidential Office in Jakarta.
Over the last five years, the imports of iron and steel pipes had indeed soared. In 2016, the import value was only around US$537 million. But in 2019 it jumped significantly to US$1.15 billion.
The President then instructed for changes and adjustments to the ecosystem of the iron and steel industry, from the availability of raw materials, all the way to stabilizing prices. Not only that, President Jokowi also asked to calculate the impact of steel imports on the quality and price competition with local products. He also instructed non-financial policies—such as the Indonesian National Standard (SNI)—to be implemented strictly in order to protect the domestic steel industry as well as the consumers. "We must not allow reckless granting of SNIs weaken our defense against low-quality steel imports," he said.
According to Silmy, the SNI provisions for steel products must be applied from upstream to downstream—particularly steel for construction. The IISIA has discussed the intensive application of SNI with the industry ministry. Silmy said that a regulation draft for making SNI mandatory from upstream to downstream had been completed. "To my knowledge, the draft is on the minister's desk. Hopefully he would sign it immediately."
Taufiek Bawazier, Director-General of Metal, Machinery, Transportation Equipment and Electronics Industry at the industry ministry, said that the process of making SNIs is carried out by a committee, which comprises several ministries as well as associations, industry players, and the National Standardization Agency (BSN). "After a consensus is reached, it will then be sent to the Industrial Standardization Center, to seek BSN approval," Taufiek explained on March 13.
Taufiek said that right now there are 28 mandatory SNIs in the steel sector. The purpose of mandating SNI is to curb the influx of imported commodities. "If there are (goods) in distribution that does not meet the SNI standard, it is prosecutable by law," he said.
Previously, Industry Minister Agus Gumiwang Kartasasmita said that economic recovery efforts would run faster if imports could be curbed, or substituted, by 35 percent until the end of 2022. One of the instruments to control imports is the SNI requirement.
The IISIA had also visited the public works and people's housing ministry to discuss this issue. Silmy said that there are SNIs for reinforcement steel (BjTB) and general purposes steel (BjKU). "(But) in the market, the general public cannot tell apart which is BjKU and which is BjTB," he said.
What is dangerous about this, Silmy said, is that BjKU is or could be used for infrastructure projects. The public works ministry, he said, responded positively. "Projects within the public works ministry are required to use BjTB, using a blast furnace process, or an electric arc furnace."
RETNO SULISTYOWATI