Ignoring the Signs
A year after Covid-19 broke out in Indonesia, cases of infection exceeded 1.4 million and the number of deaths reached 38,000. Indonesia is in 18th position in the world in terms of the number of victims, far surpassing China, the country of origin of the outbreak.
Edition : Monday, March 15, 2021
LIFE began to gradually return to normal for the Ambassador of the Republic of Indonesia to China, Djauhari Oratmangun. "Now we are free to go anywhere, but still (we have to) wear a mask," said Djauhari while in Fujian, China, on a business safari during an online conversation with Tempo, last Wednesday, March 10. Even though citizens are free to travel, health protocols are still in place and the Covid-19 case tracker application, Health Kit—a must-have for all residents in China—must be green.
Free but alert. Liky Sutikno, Chair of the Indonesian Chamber of Commerce in China, described the situation of cities in China. He recounted the incident a few days earlier when a positive case was found at a restaurant in Shanghai, China's largest city with a population of 26 million. "There are two million people identified through the application to be at that location within 48 hours. They were asked to do PCR tests and self-isolation," said Liky, who ate at the restaurant two days before the virus broke out.
The readiness of the Chinese government to handle the Covid-19 pandemic should be an example. A year after Covid-19 was declared a pandemic by the World Health Organization (WHO) on March 12, 2020, China recorded a low number of transmissions. According to reports received by the Indonesian Embassy (KBRI) until March 10, 2021, the total number of infection cases in China was 102,152. From those cases, 44,848 patients died, and 96,835 patients recovered. In Worldometer data, China is in 86th place, far from Indonesia which is in 18th position because it recorded 1.4 million cases of infection and 38,000 dead.
•••
NUR Musyafak was studying in China when Covid-19 broke out in Wuhan, the capital of Hubei Province. He studied linguistics at the Central China Normal University in Wuhan. "I learned about the outbreaks through the Internet and conversations on WeChat," he said in an interview via Zoom, Tuesday, March 9. WeChat is China's most popular chat application.
W251bGwsIjIwMjEtMDQtMjIgMDY6Mzk6NDAiXQ
According to Nur, who is also the Chair of the Wuhan Branch of the Indonesian-Chinese Student Association (PPIT), it was at the end of December 2019. The campus was on holiday and the Chinese community was preparing to welcome the Chinese New Year. Most students choose to take a vacation out of town. Meanwhile, Nur decided to return to Indonesia. He had ordered a plane ticket for departure on January 20, 2020. "I was able to return to Indonesia before Wuhan was locked down on January 23, 2020 because there were more cases," he said, recalling his experience.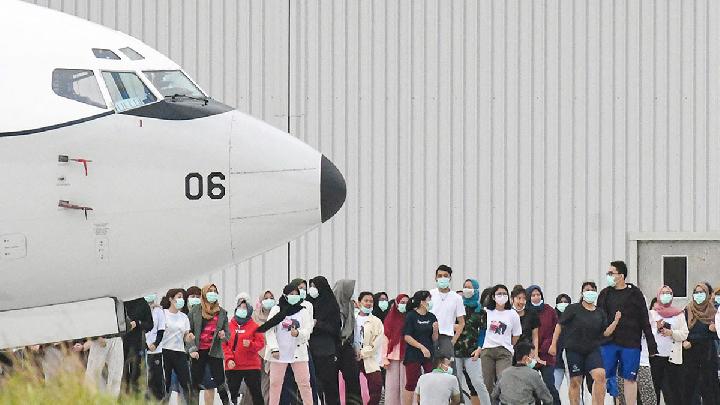 Indonesian citizens, evacuated from Wuhan, China, on their 9th day of quarantine at the Raden Sadjad Airbase in Ranai, Natuna, Riau Islands, February 2020. Antara/M Risyal Hidayat
According to Ambassador Djauhari Oratmangun, the Indonesian embassy, which does not have a consulate in Wuhan, was fortunate with the existence of the PPIT. "We were in contact with the PPIT through the WeChat group," he said. "After that, the Indonesian embassy made daily reports to the ministry of foreign affairs." This line of communication was also used when Indonesia repatriated Indonesian citizens, most of whom were students, from Wuhan, early February 2020.
In January 2020, the virus was known to have spread to neighboring countries. Thailand reported its first case on January 13. Meanwhile, Singapore announced its first case of infection on January 23 and Malaysia announced patient number one on January 25. What the three neighboring countries have in common are positive cases of Covid-19 identified in visiting Chinese citizens.
At the time, Indonesian government officials stated that it has not found any cases. International researchers questioned this statement. The institution that first predicted a Covid-19 case in Indonesia was Harvard T.H. Chan School of Public Health in Boston, United States. Chief Strategist Center for Indonesia's Strategic Development Initiatives (CISDI) Yurdhina Melissa Diah agreed. "With daily flights from Wuhan to Indonesia, it is certain that within the second week of January there would already be (Covid) cases," she said on March 9.
The government was not unaware of this threat. Apart from regular reports from the Indonesian embassy in Beijing, the second sign came from the aviation industry. Minister of National Development Planning/Head of National Development Planning Agency Suharso Monoarfa said that in January there had been discussions in the cabinet regarding the impact of the pandemic, especially after reports of falling demand from the aviation industry emerged. "The decline increased in February, so the government provided incentives," said Suharso, March 11.
Minister of Research and Technology/Head of the National Research and Innovation Agency Bambang Brodjonegoro also mentioned another sign in January 2020. "There has been discussion of anticipatory steps by the government if a corona case enters Indonesia," said Bambang via a video conference on March 9. "The nuance of the discussion meant to find a way to keep the virus out of Indonesia. Reflecting the localized handling of SARS cases."
For Irma Hidayana, an activist for the Covid-19 information sharing platform, LaporCovid-19, the government's ignorant attitude and failure to take preventive steps despite being aware of the potential dangers was a grave mistake. "In December 2019-January 2020, preventive measures should have been in place in order to mitigate the impact by closing state borders," she said. "We know there are flights to Bali three times a week. That's a potential carrier of the virus."
Yurdhina Melissa also did not see any preemptive steps taken by the government when the whole world had learned about the outbreak. "From the beginning of January, the whole world knew there was an outbreak. There were no steps taken to find, test, or reactivate the laboratory network that has been prepared after the H1N1 case," she said. H1N1 is the influenza virus that caused a pandemic in 2009.
Former Director of Regional Infectious Diseases for WHO Southeast Asia, Tjandra Yoga Aditama, acknowledged the uniqueness and unusualness of the Covid-19 pandemic. According to him, the WHO independent team in its preliminary report stated that governments around the world, including WHO, were late in finding out about it. "The interim report stated that the disease had spread in January," he said, on March 9.
According to Minister Bambang Brodjonegoro, anticipation of the coronavirus was actually discussed at a cabinet meeting on February 4, 2020. In that meeting, Bambang explained, President Joko Widodo conveyed the steps to be taken by the government, such as banning tourists from mainland China and repatriating Indonesian citizens who were abroad, including from Wuhan. "There was a discussion whether goods from China should also be banned. The health minister assured that transmission was not through goods," said Bambang.
An epidemiologist from the University of Indonesia, Pandu Riono, considers what the government did in January and February as an act of neglect. He referred to the statement made by the health minister at the time, Terawan Agus Putranto, who said that the coronavirus would not enter Indonesia. "There is an anti-science sentiment coming from our officials, they believed that the virus would not enter Indonesia," he said.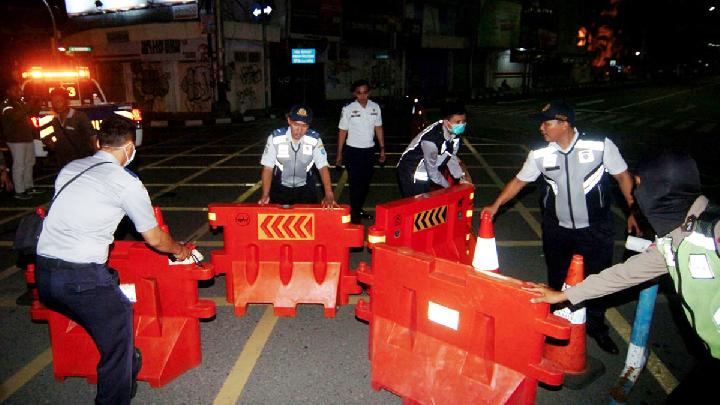 Officers divert traffic when closing streets in Tegal, Central Java, when tests indicate an increase of positive patients in March 2020. Antara/Oky Lukmansyah
A cabinet meeting at the Bogor Palace on February 11, 2020 also discussed the coronavirus. During the meeting, President Jokowi revealed that there were 62 people suspected of being infected with the coronavirus. However, after checking, everyone was found to be negative. A Tempo source who was aware of the atmosphere of the meeting said Minister Terawan denied that the coronavirus had entered Indonesia. His argument was that the virus needed certain weather conditions to survive and spread.
Terawan, who was replaced by Deputy Minister for State-Owned Enterprises Budi Gunadi Sadikin as Health Minister on December 22, 2020, could not yet be reached for confirmation of his statement at the cabinet meeting. Text messages sent to his cell phone number on Friday, March 12, were not returned. Likewise, when the number was contacted, there was no response.
•••
FEELING unwell, Sita Tyasutami decided to go to Mitra Keluarga Hospital, Depok, West Java, on February 27, 2020. Even though she thought she only had the common cold, she ended up being hospitalized. However, three days later, she was transferred to the Prof. Dr. Sulianti Saroso Infection Center Hospital (RSPI), North Jakarta. According to the test results, Sita was suspected of being positive infected with coronavirus.
Sita's mother, Maria Darmaningsih, was brought to the Sulianti Saroso RSPI for the same reason. Sita found out that she and her mother were positive for Covid-19 through a television broadcast. On Monday, March 2, 2020, President Jokowi and Health Minister Terawan held a press conference regarding the virus, the President announced Sita as patient number 1 and Maria as patient number 2 of Covid-19 in Indonesia.
After officially receiving its first case, the Indonesian government fumbled towards a decision whether or not to lockdown. According to Ambassador Jauhari Oratmangun, the lockdown was one of the things conveyed by the Indonesian Embassy in Beijing regarding the Chinese government's steps to stem the spread of Covid-19.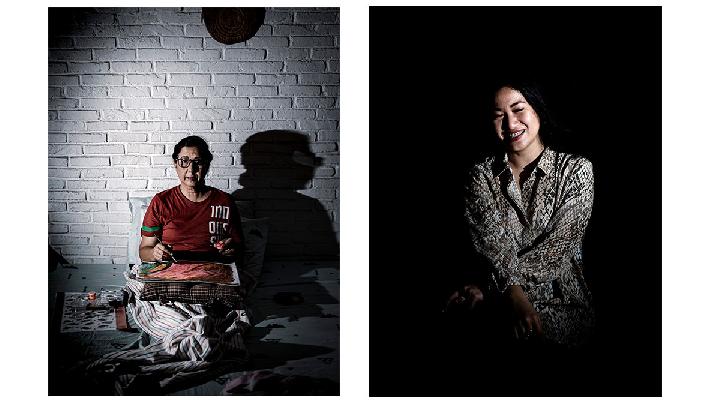 Covid-19 Patient One Sita Tyasutami (right) and Covid-19 Patient Two Maria Darmaningsih in Depok, West Java, May 2020. Tempo/Muhammad Hidayat
Djauhari explained that the Chinese government locked down Wuhan City and Hubei Province, an area with a population of 70 million. At the same time, the Chinese government also opened emergency hospitals, diverted factories to mass produce masks, formed a Covid-19 control team, extended the Lunar New Year holidays to keep people at home, and cancelled all activities involving the masses, including the annual session of the Chinese Communist Party.
Arief Anshori Yusuf from Padjadjaran University, Bandung, West Java, supported the lockdown option. Arief once made a comparison of economic calculations between strict quarantine and loose quarantine. He not only calculated general economic decline, but also the economic cost of people dying. "The economy is not limited to whatever comes out of our wallets," he said on March 12.
The results of the analysis released on April 14, 2020, concluded that strong interventions, such as through effective large-scale social restrictions, could reduce 2020 economic growth to 1.0 percent without fiscal stimulus and 1.8 percent with fiscal stimulus. "But in the long term (2019-2030) it will result in higher economic growth, 5.1-5.2 percent, than the minimal intervention scenario," wrote Arief.
The economic consideration that the government focused on was neither strict nor loose. According to Suharso Monoarfa, the National Development Planning Agency made a simulation of a lockdown in Java in a month. If this were done, workers would lose 60 percent of their work hours. But if the lockdown lasts for 10 weeks, the potential loss of workers' income is around Rp72 trillion. "Those who are directly affected," he said.
Furthermore, there is an indirect impact that is felt by small and medium enterprises: the loss of customers. "What is worrying is that if there are no jobs, the level of unrest will increase," said Suharso.
Bambang Brodjonegoro echoed Suharso's sentiment. According to him, handling public health crises takes a long time, including for vaccinations. Because of this, the economy cannot be idle for long. However, Bambang continued, many people need food and work. "It could all be borne by the state, but even rich countries have difficulty bearing everything. If it is forced, how much more (debt) could we owe," he said.
Suharso added that the lockdown will make domestic consumption levels fall. There are two possibilities: people losing jobs or shops closing. If the shops are closed, the result is that no one works, the economy does not work, and consumption dies. "We have to walk between two things: Covid safety and economic safety. That is the policy taken by the President," said Suharso. Finally, Jakarta became the first area to implement a loose lockdown called large-scale social restrictions or PSBB on April 10, 2020.
Diah Saminarsih, Senior Adviser of the WHO Director-General on Gender and Youth, said that after the lockdowns were established, the government needed to test, trace and treat or 3T. "The WHO had released the strategic plans for response and preparedness the state members to respond Covid-19 since February 24, 2020, including an appeal to implement 3T as a foundation for science based pandemic response," said Diah.
She added that the tests were not carried out because of limited human resources and tools. It was not merely happened in Indonesia, but also in other countries.
The PSBB did not last long and was plagued by wide gaps between enforcement due to the holiday period and allowing mass gathering activities, including the regional head elections. Director of Policy for the Center for Indonesia's Strategic Development Initiatives Olivia Herlinda said that a country that has been disciplined to implement 3T and 3M from the start, a.k.a. washing hands, maintaining distance, and wearing masks seriously and implementing lockdowns when needed has proven to be able to control the pandemic. "Countries like Taiwan and New Zealand are successful without vaccines," he said on March 10.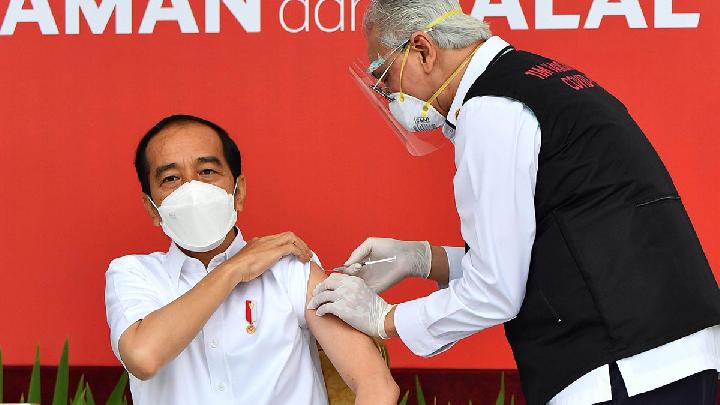 President Joko Widodo injected with the first dose of the Sinovac Covid-19 vaccine at the Merdeka Palace, Jakarta, last January. Antara/HO - Setpres/Agus Suparto
Seeing the course of the Covid-19 pandemic this year, Suharso acknowledged the vulnerability of primary health service especially in the community health centers (Puskesmas). "Community health centers are now not focused on promotion and prevention, but on curative efforts," he said. "The ideal (number of) health workers is nine people, but only 31 percent of Puskesmas have that much manpower."
Bambang said that if there were things that could be done to correct the situation, one of them was testing on a larger scale and on target. "If at the beginning there were more tests, perhaps the level of spread could be more manageable," he said. Additionally, people who are positive for Covid-19 should be immediately quarantined or undergo independent isolation.
Olivia Herlinda said the two things mentioned by the two members of Jokowi's cabinet showed that the problem had long been known to policy makers. Until now, said Olivia, in implementation, the two of these issues—testing and treatment—are still an afterthought, especially regarding primary health services. "This can be seen from the budget for health in the Covid-19 Mitigation and National Economic Recovery Committee or the State Budget which is much smaller than other budgets (for other institutions)," she said.
Arief Anshori Yusuf cited the World Bank which two months ago projected Indonesia's economy in 2021-2023 to be at the level of 4 percent, a maximum of 5 percent. The pandemic has left Indonesia lagging behind in growth due to the previous year. Arief called it a consequence to the decisions made in March and April of 2020 where the government failed to establish a strict lockdown. "Look at India and the Philippines, their cases have dropped significantly (because they performed lockdowns). And thus their economic growth prospects are now higher."
---
The Pandemic, One Year On Special Report Team
Team Leader: Dody Hidayat
Coordinator: Nur Alfiyah
Writers: Abdul Manan, Dody Hidayat, Hussein Abri Dongoran, Linda Trianita, Mahardika Satria Hadi, Nur Alfiyah
Contributors: Anwar Siswadi (Bandung), Dini Pramita, Kukuh S. Wibowo (Surabaya), Yogi Eka Sahputra (Batam)
Editors: Bagja Hidayat, Dody Hidayat, Sapto Yunus
English Editor: Luke Edward
Photo Researchers: Jati Mahatmaji (Coordinator), Ratih Purnama, Gunawan Wicaksono
Layout: Munzir Fadly
Digital: Riyan R. Akbar