Power Plant Ash Controversy
The government takes fly ash resulting from coal combustion off the list of hazardous and toxic waste. There is concern that this will endanger the environment and ignore any impact on those living around coal power plants.
Edition : Monday, March 22, 2021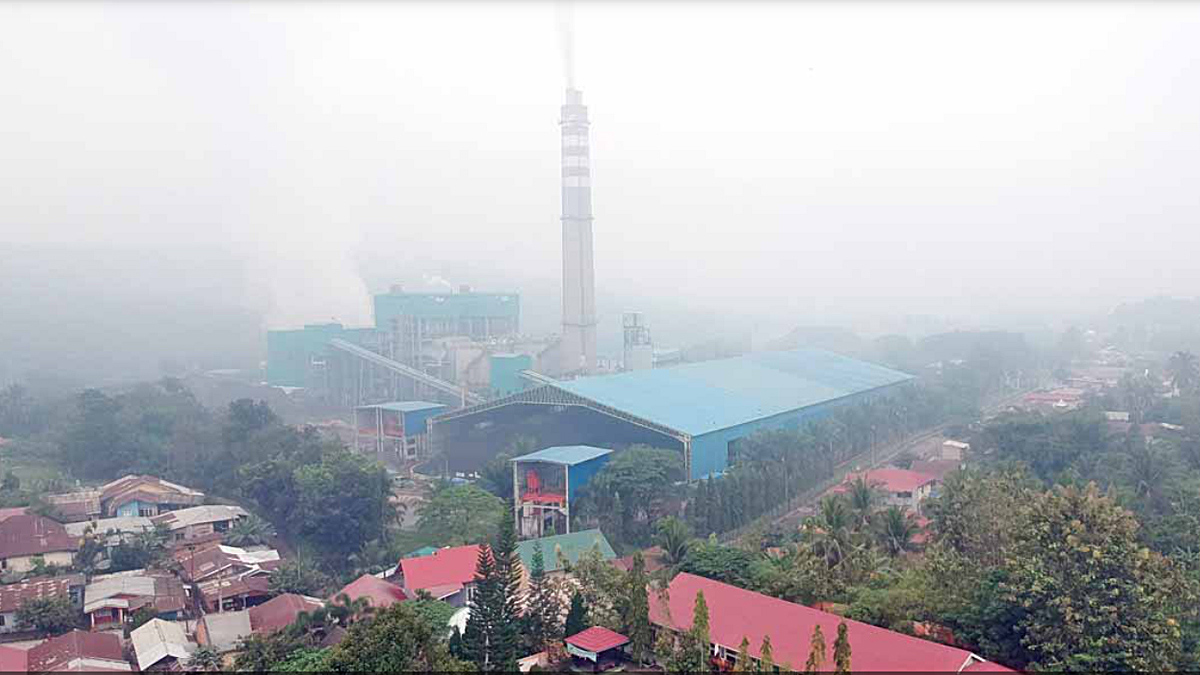 AFTER a heavy rain fell on the night of Tuesday, March 16, Gusrinal found it much easier to breathe. The resident of Sijantang village in Talawi, City of Sawahlunto, West Sumatra, said that the rain enabled him to take deep breaths of fresh air. The sky was bluer, and the street in front of his house, as well as flowers and plants, were not covered in ash produced by the burning of coal at the Ombilin Steam Power Plant (PLTU), which is located just 20 meters from his home.
A fine ash powder originating from the PLTU's smoke stack floats down and covers the village, especially at night. Ash resulting from coal combustion also piles up behind the PLTU. This part of the waste from firing coal is better known as fly ash and bottom ash (FABA). "Those piles of coal waste are covered with ripped-up tarps. The ash is often blown into the air by the wind and it reaches our houses," said Gusrinal on Wednesday, March 17.
The trucks carrying coal to the PLTU exacerbate the situation. Dust is kicked up by the passing trucks, which infiltrates their homes through ventilation and settles on food, as well as sticking to wet clothes which are hung out to dry in the sun. "Look at the clothes of my students. The sleeves are no longer white, but grey. Every day they are affected by the ash dust from the Ombilin PLTU, which is not far from the school," said Gusrinal, who teaches at the State Elementary School No. 19 in Sijantang, about 10 meters from the entrance to the PLTU.
Each day that PLTU produces 400 tons of FABA. According to Ahmadi, Assistant Manager of Human Resources at the Ombilin PLTU, the resulting FABA is taken to Semen Padang to be used as a cement additive and to Kunango Jantan in Padang to produce paving block. "As an industry, it is not possible to eliminate all of the impact. However, to date we have attempted to minimize it," he said on March 18. This power plant cannot be shut down because, according to him, it supplies 200 megawatts or a quarter of the electricity need for West Sumatra.
W251bGwsIjIwMjEtMDQtMjIgMDY6Mzg6MjkiXQ
Gusrinal said that he was surprised when he learned that the government had taken FABA off of the list of hazardous and toxic materials (B3). This new provision is found in Government Regulation No. 22/2021 regarding environmental protection and management, derived from the omnibus Job Creation Law. "I don't know how they researched it. As members of the public who are constantly covered in ash, we can confirm that FABA is very dangerous to health," he said.
•••
BUSINESS owners have been trying to take FABA off the list of B3 waste for a long time. According to Hendra Sinadia, Executive Director of the Indonesian Coal Mine Association, this effort started back in 2012. At that time, the government was drawing up a government regulation on B3 waste. "We tried to get FABA off the list," he said on March 18. This association met with some cabinet ministers, including the minister of industry, minister of trade, minister of the environment and forestry, and the minister of justice and human rights.
In a two-page letter dated October 15, 2012, associations belonging to the Cross-Industrial Association Communication Forum for the Environment and Sustainability asked that the management of B3 waste not create a high-cost economy for businesses, even though its environmental impact still needs to be prevented. In essence, this association did not want FABA to be classified as B3 waste. Their effort was unsuccessful.
Government Regulation No. 101/2014, which was issued at the end of Susilo Bambang Yudhoyono's administration, still categorized FABA as B3 waste. That policy, according to Hendra, made it difficult for the industry to utilize their waste. "Many domestic studies stated that FABA was not B3 waste. Using FABA as an industrial material is common in many countries, including Japan," said Hendra. Some of it can be used as building material and for hardening roads.
According to Hendra, by classifying it as B3 waste, very strict protocols have been applied to FABA, whether in terms of its storage, shipping, and processing. This has led to high costs. According to Liana Bratasida, Executive Director of the Indonesian Pulp and Paper Association, in other countries FABA can be used for various purposes. "The high management cost is not the only problem," she said.
According to a study done by the Indonesian Business Owners Association (Apindo), 10 to 15 million tons of FABA are produced annually. The utilization of flying ash is less than 1 percent, and less than 2 percent for bottom ash. The reason for such low utilization is that licensing is difficult and the procedures are time-consuming. On top of that, the number of laboratories authorized to test for toxicity levels is very limited. "If it is not processed, it piles up on empty land. Would it not be better to recycle it into products?" said Apindo General Chairman Hariyadi B. Sukamdani on March 18.
Minister for the Environment and Forestry Siti Nurbaya issued Minister Regulation No. 10/2020 regarding characteristic testing methods and determining the status of hazardous and toxic waste materials on April 17, 2020. However, according to Hendra, the industry considers that the regulation in question has not solved any problems. The trouble is, it is difficult to test for characteristics in the field due to the limited number of accredited laboratories. "That ministerial regulation was made without the involvement of the affected business owners," he said. Since this regulation was issued the industry players have come together to once again voice their old aspirations.
This moment came during the deliberations on the Job Creation Law. According to Hendra, the government asked business players who claimed to be restricted by regulations to present their suggestions. The Association then proposed reviewing the regulation on the management of hazardous and toxic materials. According to Hariyadi, the coordinating ministry for the economy listed to that aspiration. "Because many complained about it," he said. The Association also conveyed this matter to the ministry for the environment during the "Taking in Aspirations for the Implementation of the Job Creation Law" event held on December 2, 2020.
According to Agus Pambagio, a senior advisor to environment minister, the matter of FABA has been subject to lengthy discussion at his ministry. He suspects that initially it was only about the amount of FABA involved, as is the issue with tailings, which led to it being categorized as B3 waste. Both are useful for the construction and agricultural industries. "However, no one went ahead to process it because it requires an environment impact analysis (AMDAL), which costs at least Rp400 million," said Agus on March 18.
The PLTU management, Agus added, has long said that they have high costs for managing FABA. All of the processing for B3 waste is done on Java. Transportation costs average Rp1.2 million per ton. According to Law No. 32/2009 regarding the environment, it can be kept in piles for three years at most. When the land is full of piles of ash waste, according to Agus, the PLTU must purchase more land to store it.
When it has been stored longer than the allowed time, Agus continued, law enforcement authorities sometimes pay them a visit. If waste is not stored in line with the provisions, there are fine of up to Rp3 billion. In these situations, PLTUs must 'reach an understanding' with the authorities. "Where do the funds for those expenditures come from? It ends up being added to the basic electricity rate," said Agus regarding the complaints of those PLTU managers.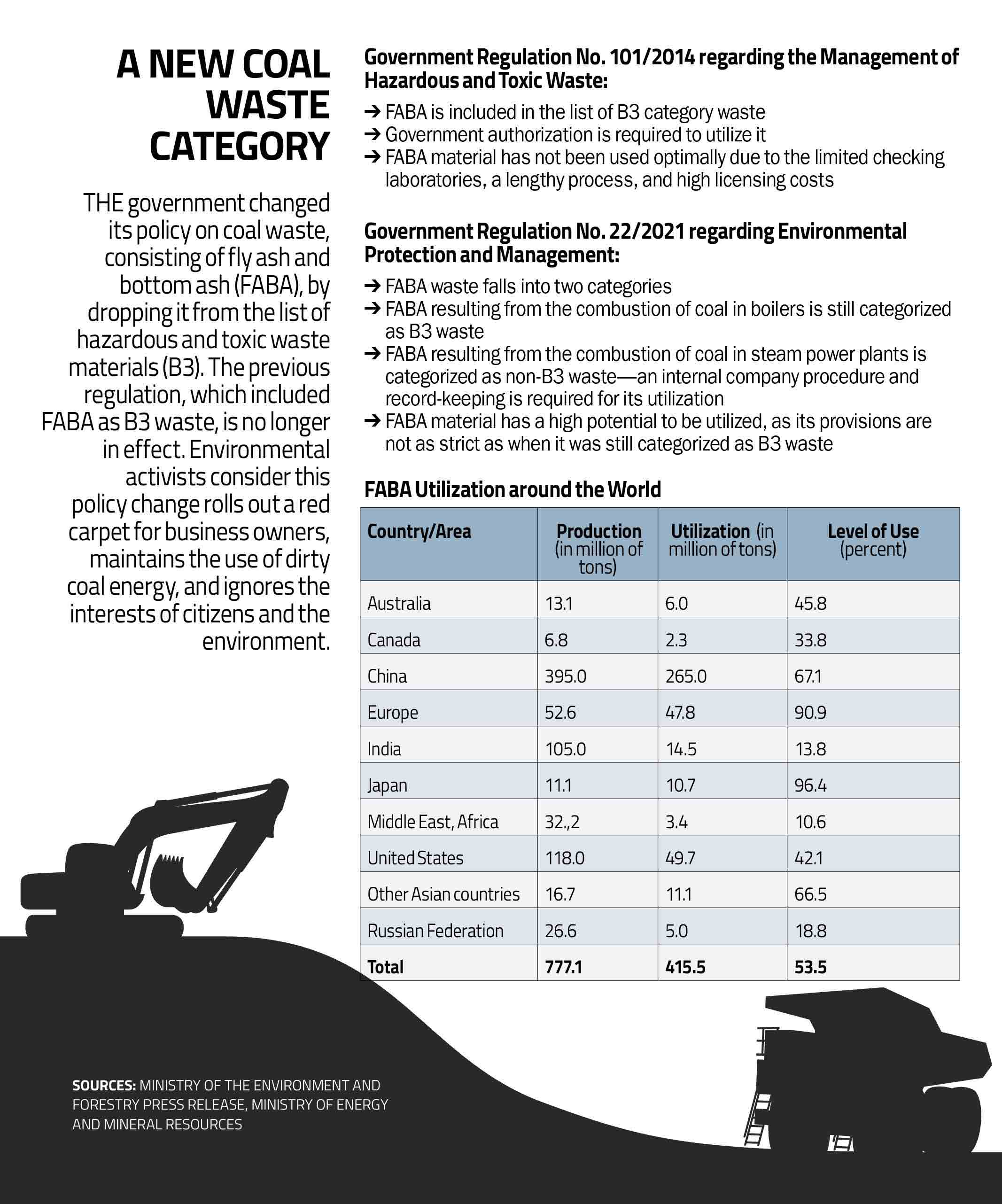 Agus said that he heard about the letter that Corruption Eradication Commission (KPK) Chairman Firli Bahuri sent to President Joko Widodo asking that FABA no longer be categorized as B3 waste. Agus suspects that their consideration might have been that there are costs which are being paid by state-owned enterprises. This would be a part of an effort to prevent corruption. "Such cases end up resulting in state losses," he said.
According to Agus, any FABA policy needs to be assessed scientifically. Based on an internal study done by the environment ministry, the combustion of coal at PLTUs is done at high temperatures, such that the amount of unburned carbon in the FABA is minimal and is more stable when stored. The combustion of coal in other industries—which use stoker boilers to produce steam—use lower temperatures, and the resulting FABA is categorized as B3 waste. It was this scientific study, according to Agus, which led the government to remove FABA produced by PLTUs from the list of B3 waste.
One party which quickly reacted to the new policy was the Padang Legal Aid Institute, which has been working with the locals living near the Ombilin PLTU. "The people of Sijantang Koto village have been suffering for a long time as a result of poor FABA waste management at the Ombilin PLTU, even when FABA was still categorized as B3 waste," said Padang Legal Aid Institute Director Wendra Rona Putra.
Wendra said that the impact of FABA has been proven by data from the Central Statistics Agency (BPS) in Sawahlunto in 2020, which provided statistics on the number of acute respiratory tract infection cases, which topped the list of top 10 illnesses encountered at all public health centers in the City of Sawahlunto. He also quoted the findings from a report on respiratory screening done on 50 students at the State Elementary School No. 19 in Sijantang, from December 2016 to January 2017. Based on the examination of the lungs of the students, 88 percent were found to be normal, while just 11 students were normal based on the examination of thorax scans.
Ahmadi, Assistant Manager of Human Resources at the Ombilin PLTU said that those examinations were done upon the initiative of the Ombilin PLTU. That research found some cases of bronchitis. However, this was based on visual observation, while the specifics must be confirmed through laboratory testing. "According to us, that analysis is mistaken. To date there have been no unhealthy children. No one has told us their child has a chronic illness."
Merah Johansyah, Coordinator for the Mining Advocacy Network (Jatam), said that FABA is categorized as B3 waste based on the cautionary principle. Regarding the industry's difficulties for utilizing it, improvements needs to be made in the areas which they are complaining about. "This (new policy) will make its handling more reckless," he said. Jatam believes that FABA contains dangerous gas because its base material contains gas, and that there will still be danger, regardless of combustion method.
Dwi Sawung, Manager of the Energy and Urban Campaign for the national office of the Indonesian Forum for the Environment (WALHI), said that it is true that some countries, such as Japan and the United States, do not categorize FABA as B3 waste, but put it into its own category, including for its utilization. The government must assist the industry with things like testing. This is also the case if there is a problem with financing. "There are other risks which have not been considered in taking it off the list of B3 waste materials," he said.
Grita Anindarini, Deputy Director for the Indonesian Centre for Environmental Law, is also concerned about accountability for FABA becoming less strict. There used to be a specific article of law on the management of B3 waste which carried criminal charges for industry if they did not process it according to the provisions. Grita's suggestion is clear: "Immediately revoke the lax regulation on the management of coal ash and continue to categorize it as B3 waste."
Rosa Vivien Ratnawati, Director-General for the Management of Trash, Waste, and Hazardous and Toxic Materials at the Ministry for the Environment, explained that even though FABA is not B3 waste, it still must be managed. "At present, the environment ministry is finishing up work on a regulation on the management of non-B3 waste," she said in an online press conference on Monday, March 15.
For industry, according to Hendra, this new regulation is still considered to be half-hearted because FABA outside of PLTUs is still categorized as B3 waste. However, Liana Bratasida, Executive Director of the Indonesian Pulp and Paper Association, appreciates the government's efforts. "Although it is difficult to fulfill everything sought by business owners, at least there is a step in the right direction," she said on March 19. "Everyone should work together on those technical conditions to make it safe for the environment," said Liana.
Merah feels that the step taken by the government and the KPK recommendation regarding FABA seemingly shifts the cost burden resulting from waste onto the public and the environment. New ideas are needed on how to utilize this waste, not to drop its B3 classification. Merah said that the environment ministry has not used an environmental perspective, but has used a business paradigm. "I suggest that the ministry changes its name to the ministry of environmental and forestry business."
ABDUL MANAN, MAHARDIKA SATRIA HADI, FEBRIANTI (PADANG)